Baez, Schwarber ignite Cubs' offense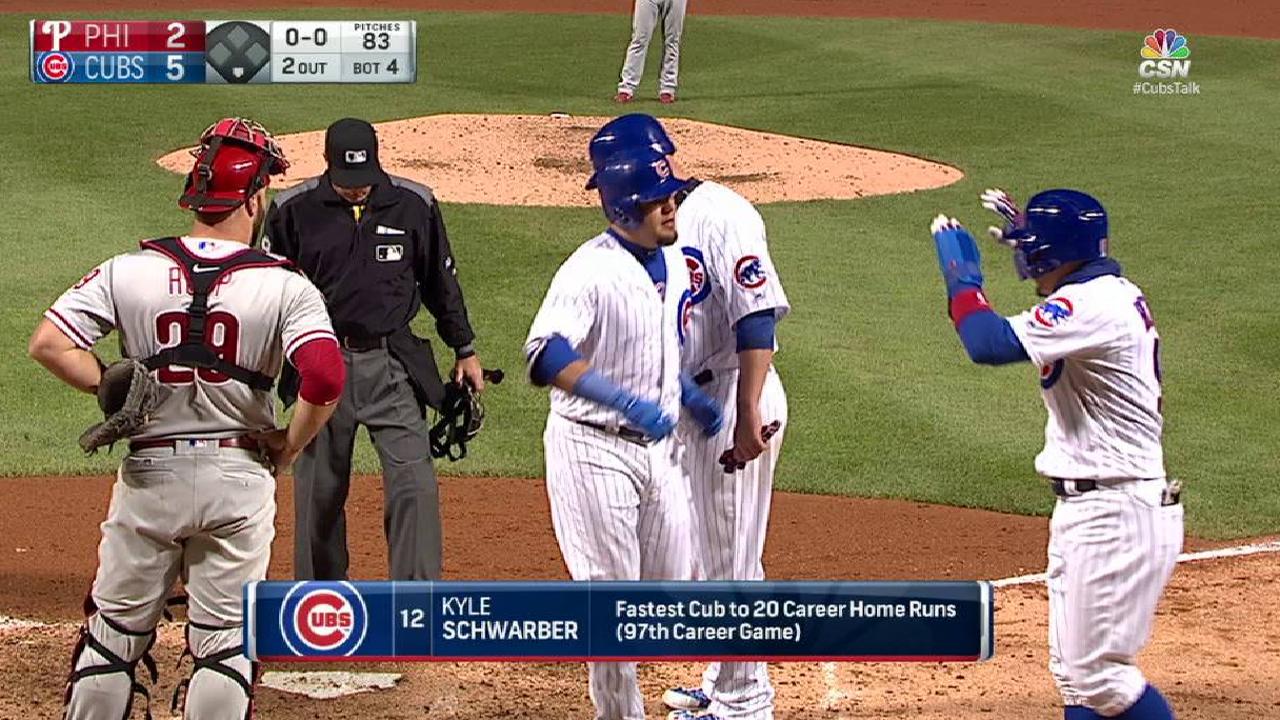 CHICAGO -- Before Tuesday night's game, an 8-3 win over the Phillies, Cubs manager Joe Maddon approached Kyle Schwarber and delivered a simple message.
"It takes one at at-bat to have a great night," Maddon said. "Whenever anybody's struggling the way he has been, I often tell the player it takes one at-bat to have a great night.
"He had a great night."
• Cast your Esurance All-Star ballot for Javy, Schwarber and other #ASGWorthy players
Schwarber, who began the night batting .196, cracked a three-run homer off Jeremy Hellickson to give the Cubs the lead for good. But as good as he was, he may have been upstaged by Javier Baez, who went 4-for-4 (tying a career high for hits), drove in three runs and finished a double shy of the cycle.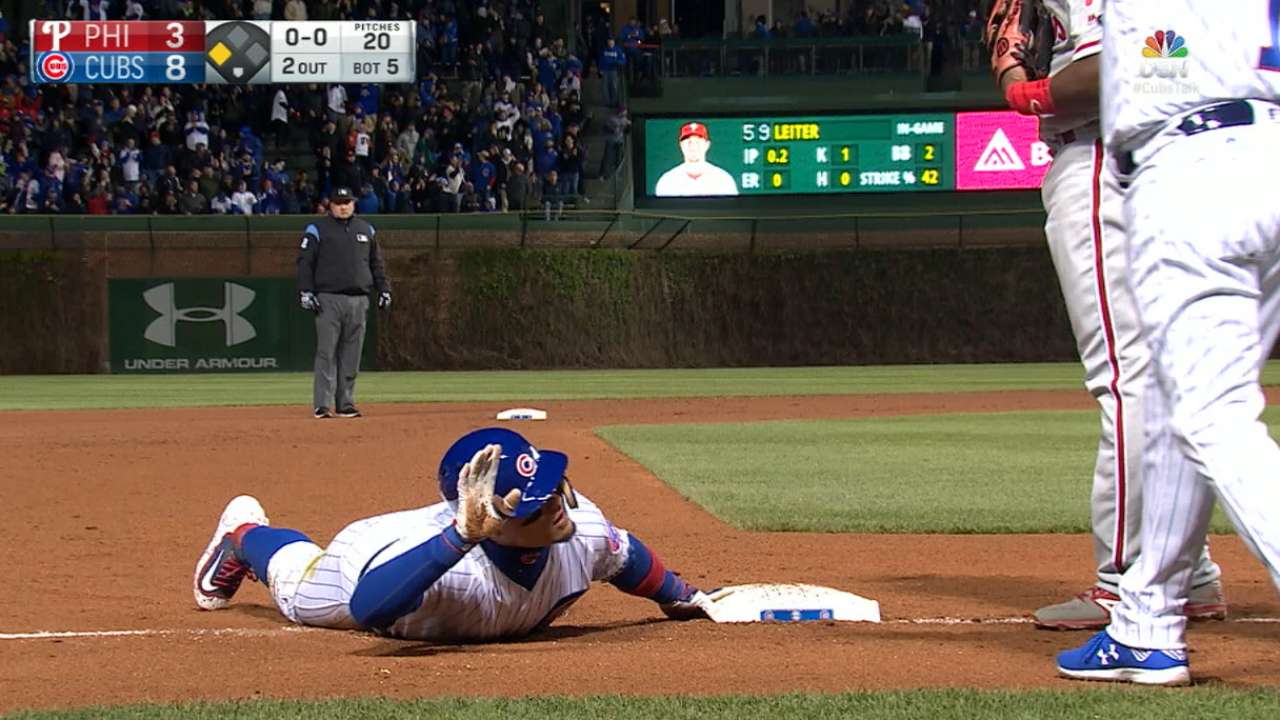 Both players had been symbols of the Cubs' early-season offensive woes before busting out to key the victory.
"I really started slow in April, which is usual for me, although not this slow," said Baez, who raised his average to .269. "I kept trying and made my adjustments. I didn't give up during the games and went back to the cage during the games.
"I'm finally seeing the ball really good."
Maddon also likes what he sees.
"The homer was pulled, but I like some of the hits on the right side," he said. "He needs to start accepting a few walks. If he does that, then he'll really start to hit again."
After not playing for six months following major reconstructive surgery on his knee, Schwarber seemingly came out of nowhere to bang out big hit after big hit in the Cubs' World Series run last fall.
But so far this season, the hits haven't come as easily -- or as frequently -- for the left-handed slugger. It probably shouldn't be a surprise; after all, he's played less than a full season in the Major Leagues and missed nearly all of last season.
"I think we all kind of forget that," Cubs pitcher Jon Lester said. "It's been such a small sample size from him. You know, obviously being hurt last year and not playing a lot. I think that has a lot to do with where he's at right now. You take a full year off from baseball ...
"Obviously, we saw what he did in the World Series, and I think that's just more kind of adrenaline and all that stuff. I think now, kind of with the grind of every day, he's seeing how he's pitched to and he has to make adjustments. He'll be fine. Obviously, the talent's there."
Leading into the series, though, many were wondering whether Schwarber's new position in the lineup, batting leadoff, has anything to do with the slow start.
"It doesn't make any difference," Schwarber said. "I think it's about just going up there and doing the job. Obviously, getting on base to start the game, I want to do that. You only lead off once. You can come up anywhere in the batting order after that. My job's to get the job done any way possible."
Despite his low batting average, Schwarber didn't believe he was struggling or in a major funk.
"I feel like I'm right there; I really do," he said. "Obviously, I just have to stick with the process. I can't be outcome-based to where you focus on just numbers. That's why it's called 'average.' It's an accumulation of something over the course of time.
"It's a game of millimeters. I feel like I'm putting some swings on balls and I'm just fouling them right back. I'm going to make a few adjustments here and there."
John Jackson is a contributor to MLB.com based in Chicago. This story was not subject to the approval of Major League Baseball or its clubs.