Royals want Hammel to be more aggressive
Righty has struggled, posting 6.65 ERA through five starts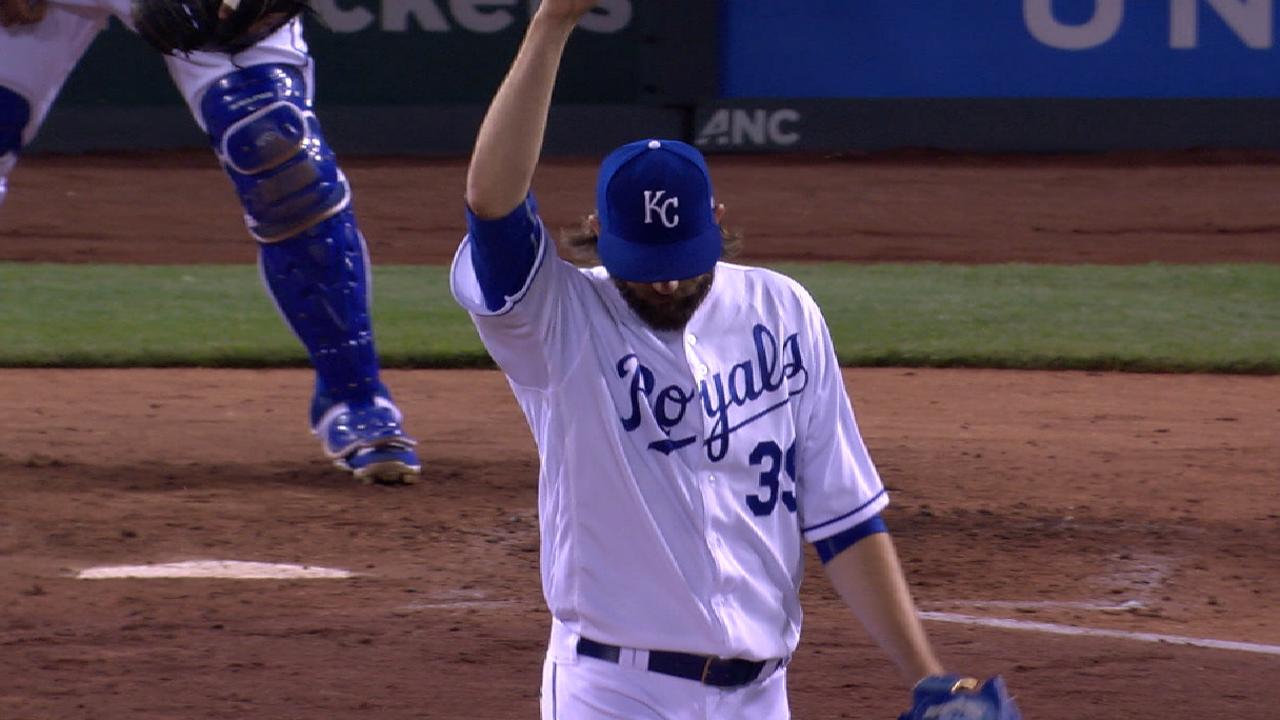 KANSAS CITY -- So far, this is not the Jason Hammel the Royals were hoping to get when they signed the right-hander to a two-year, $16 million deal in the offseason.
Hammel is 0-3 with a 6.65 ERA through five starts. In his last two outings, Hammel did not make it through the fourth inning either time. But manager Ned Yost said the Royals will be patient with Hammel as he fights his way through a rough stretch.
"It's inconsistency in his command," Yost said. "His stuff is good. He gets a little too picky on the corners sometimes.
"He's got good movement on his stuff, and sometimes it moves out of the zone. But when he doesn't attack, he can get behind in the count, and walks have hurt him. We talked to him about staying on the attack."
Hammel has walked 13 hitters in 21 2/3 innings. On Sunday vs. the Twins, Hammel gave up a 2-0 lead in the third inning when he walked two hitters in front of Miguel Sano, who promptly hit a three-run home run.
"The common denominator in the last couple of these is that we'll take the lead, and then he kind of hits a wall," Yost said. "As we go through the slow-bat period, pitchers think that once we get the lead, they have to be more perfect than they have to be. They don't have to be perfect."
Hammel endured a bad September for the Cubs last season, posting an 8.71 ERA in four starts. That inconsistency was triggered by elbow tightness. Now, though, Hammel is healthy.
"He's fine," Yost said.
Yost is expecting Hammel to be more aggressive and attack the zone in his next start Friday against the Indians.
"We're addressing all of this with him," Yost said. "A lot of times, it's just a gentle reminder of how they got to this point. That can be beneficial.
"But his velocity is good. Changeup is good. Slider is good. He's just too fine with his location."
Jeffrey Flanagan has covered the Royals since 1991, and for MLB.com since 2015. Follow him on Twitter @FlannyMLB. This story was not subject to the approval of Major League Baseball or its clubs.