Growing pains to be expected from Diaz, Pazos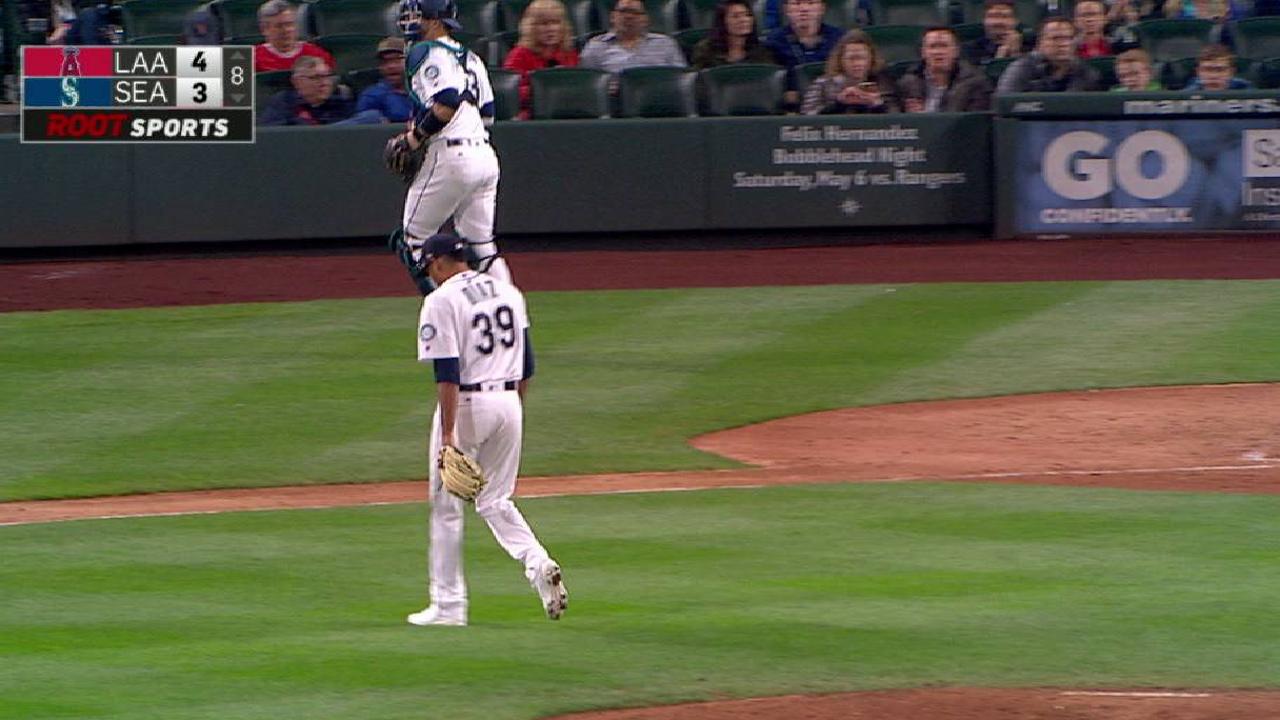 SEATTLE -- They're the young guns with the big arms, but Edwin Diaz and James Pazos are going to have their growing pains as well. And a couple of those were felt sharply by the Mariners on Tuesday night as the Angels rallied twice in the late going off Seattle's bullpen for a 6-4, 11-inning win at Safeco Field.
Diaz, the flame-throwing 23-year-old closer, gave up a two-run homer to Kole Calhoun on a 98-mph fastball with two out in the top of the eighth for his second blown save of the season. And Pazos, who has been outstanding as a rookie left-hander, took the loss on Albert Pujols' RBI double in the 11th.
Manager Scott Servais had Pazos warming in the eighth and could have brought him in to face the left-handed Calhoun, but he instead opted for Diaz, and the youngster paid the price after falling behind 3-1 and firing a fastball low and in that Calhoun drove over the right-field fence.
Pazos wound up striking out Calhoun as the first batter he faced in the 11th, but then he walked Mike Trout, gave up the double to Pujols, let Pujols steal third and watched him score an insurance run when Andrelton Simmons beat out a potential double play on a grounder to shortstop.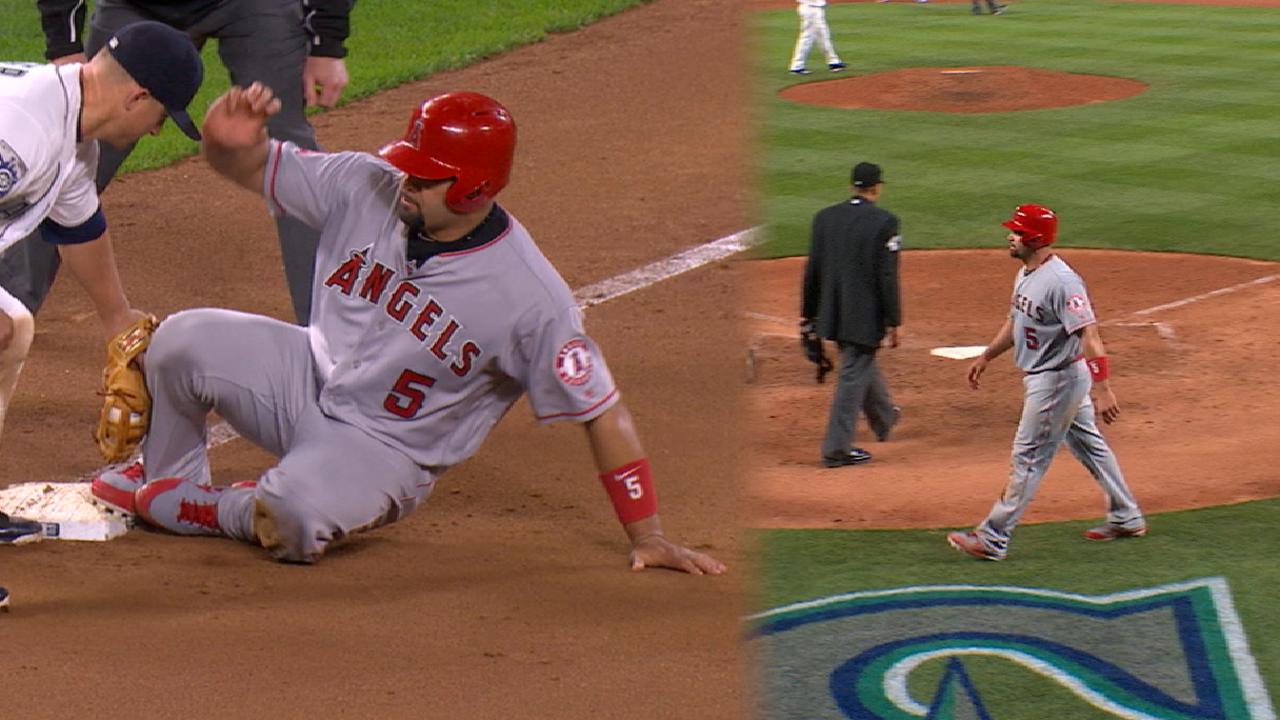 "The thought was I'd only go to Eddie for four outs tonight," Servais said. "If we'd have needed five, then Pazos probably would have faced Calhoun. But Eddie has been our guy. He's been one of our best guys, left, right, it doesn't really matter. He made a mistake. He got a pitch in a spot Calhoun could handle it, and he didn't miss it."
Diaz hasn't been as dominant as he was in his sensational rookie season last year when he caught the American League by surprise, but he still had allowed just one hit with five strikeouts over his last four appearances before giving up Calhoun's clout when called on Tuesday night.
Diaz now has a 4.35 ERA with two blown saves in six chances, with 13 strikeouts and six walks in 10 1/3 innings.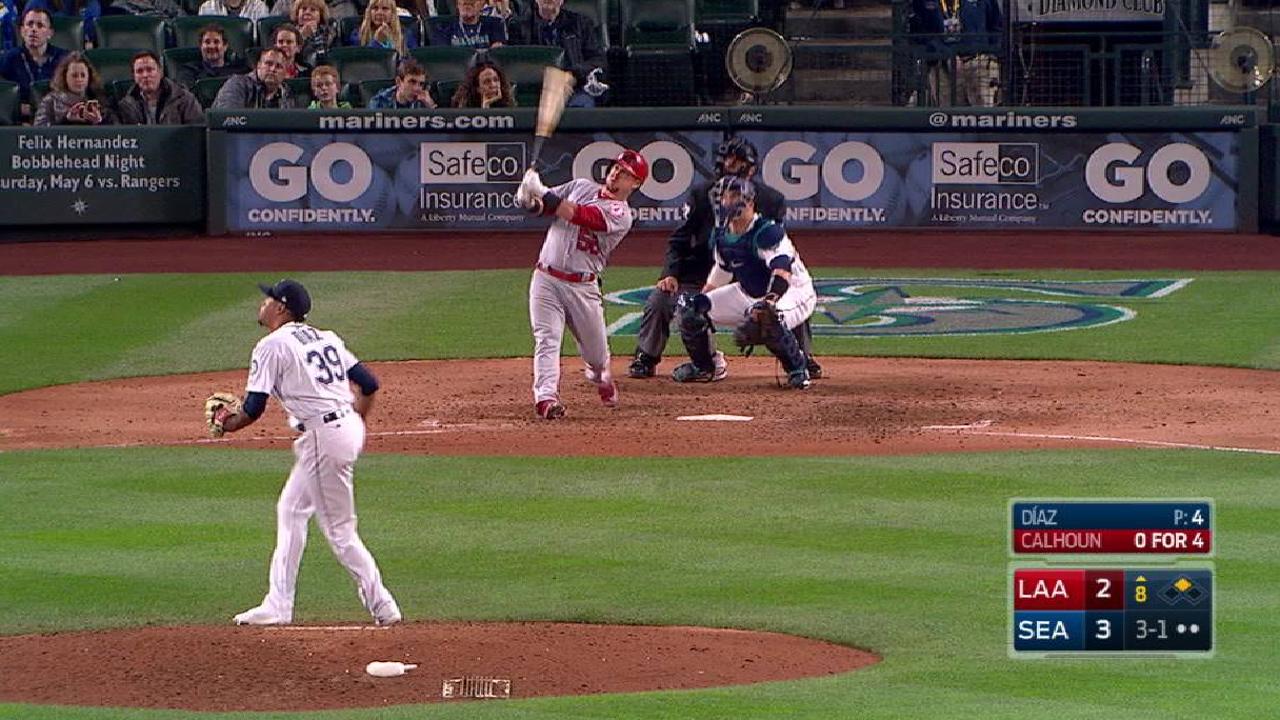 "He's missed spots at times," Servais said. "He's got a lively arm, there's no doubt. We like everything about him. But there are times he misses location and late in the game, down and in to lefties, that typically is the hot spot. And Calhoun got it."
Pazos, a 25-year-old rookie acquired from the Yankees, has been a pleasant surprise over the first month and hadn't allowed a run in 6 1/3 innings with just three hits and 10 strikeouts over his last five outings.
"Maybe just mechanically I wasn't quite as sound as my last time out," he said. "I could feel myself kind of searching for it. When I get back into it, it was good. Just those few for the walk and then the one to Pujols kind of hurt. Just too fine, trying to put him away, trying to make a pitch too nasty."
As for letting Pujols get a lengthy lead and steal third when he wasn't holding him? Pazos won't forget that anytime soon either.
"That's just a mental error," he said. "That can't happen. Especially in that situation right there. We have to keep him on second. If we keep him on second, he doesn't score. That's on me. He's sneaky."
Greg Johns has covered the Mariners since 1997, and for MLB.com since 2011. Follow him on Twitter @GregJohnsMLB and listen to his podcast. This story was not subject to the approval of Major League Baseball or its clubs.