Mariners add Machi, Pagan to bullpen
First baseman Vogelbach optioned; reliever Fien DFA'd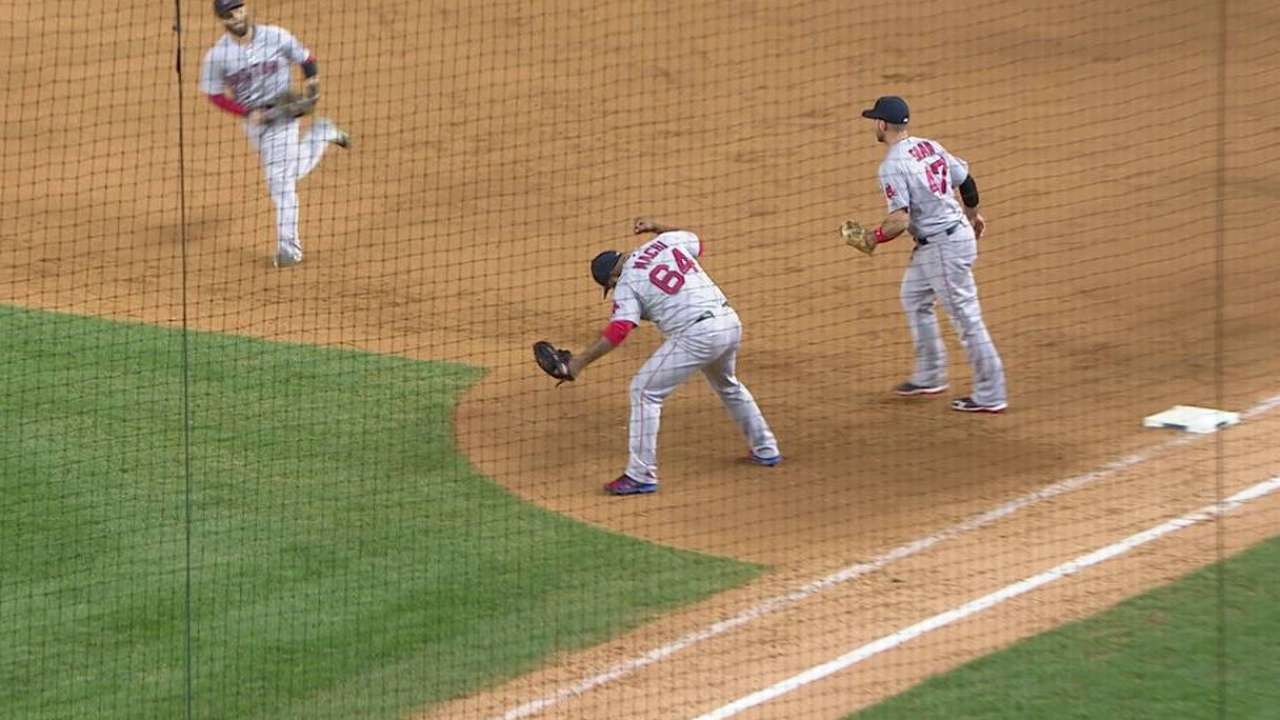 SEATTLE -- With their bullpen in need of reinforcements, the Mariners called up relievers Jean Machi and Emilio Pagan from Triple-A Tacoma on Tuesday, optioned first baseman Daniel Vogelbach back to Tacoma and designated reliever Casey Fien for assignment.
Both Machi and Pagan had to be added to the 40-man Major League roster, so utility man Shawn O'Malley was placed on the 60-day disabled list as he continues dealing with tendinitis in his right shoulder. The 40-man roster, at 39 prior to the moves, is now back at a full 40.
Seattle's bullpen had a 5.80 ERA in April. Both relievers were available for Tuesday's series opener with the Angels as the Mariners open a six-game homestand.
"Machi has experience," said Mariners manager Scott Servais. "He's been on World Series teams. He's been through the wars and the battles a bit and should help us with some stability down in the bullpen. And Pagan has a really good arm. He's a young guy we really like. We didn't see him a ton in camp, but he's got a good arm, a good breaking ball and we'll see what he can bring."
Machi, 35, didn't allow a run in eight innings for Tacoma, where he had four saves with seven hits, one walk and four strikeouts. The Venezuela native signed as a Minor League free agent in January after pitching for the Cubs and Giants' Triple-A clubs in 2016.
Machi has pitched 189 games in the Majors, mostly in his four seasons with the Giants from 2012-15. He also pitched 26 games for the Red Sox in '15 and has a career 3.47 ERA over 184 innings.
"It's the same as when I pitched in 2014 for San Francisco [when he pitched 71 games with a 2.48 ERA]," Machi said after working hard to regain his slider in Tacoma. "Everything is very good right now."
Pagan, 25, has never pitched in the Majors, but he did compete for Puerto Rico in this spring's World Baseball Classic. He was a 10th-round Draft pick of the Mariners in 2013 out of Belmont Abbey College, and he's still soaking in the news after letting his family know of his promotion.
"It wasn't really much of a conversation, just a lot of crying," Pagan said. "Mostly on my end and my dad's end as well. My wife was super proud and my mom as well. It's been a dream of mine, as it is with everybody in here. But since I was 3, all I wanted to do was play baseball. So now that I'm at the highest level, it's an awesome experience."
Pagan went 5-3 with a 2.49 ERA and 10 saves between Double-A Jackson and Tacoma last year and has a 3.27 ERA with one save with seven walks and 18 strikeouts over 11 innings in six outings this year for Tacoma.
Fien signed a one-year, $1.1 million deal as a Major League free agent over the offseason, but has struggled in six appearances for the Mariners with a 15.00 ERA (10 runs in six innings) on nine hits and four walks with three home runs. Seattle now has seven days to trade, release or outright Fien to the Minors.
The Mariners had hoped Vogelbach might provide a boost at first base after calling him up on April 23, but he's batted just .143 (2-for-14) with no extra-base hits in six games. Vogelbach's departure means the club will go with veteran Danny Valencia and utility infielder Taylor Motter at that spot for now.
"A lot of young players, when they come to the big leagues it doesn't click right away," Servais said. "But Vogey can hit. He has a track record of producing. He'll be back. I feel very strongly that he'll be a part of our future."
O'Malley missed the final two weeks of Spring Training after undergoing an appendectomy. He's recovered from that now, but has remained in Arizona dealing with a lingering shoulder issue.
Greg Johns has covered the Mariners since 1997, and for MLB.com since 2011. Follow him on Twitter @GregJohnsMLB and listen to his podcast. This story was not subject to the approval of Major League Baseball or its clubs.