Freeman homers as Braves edge Mets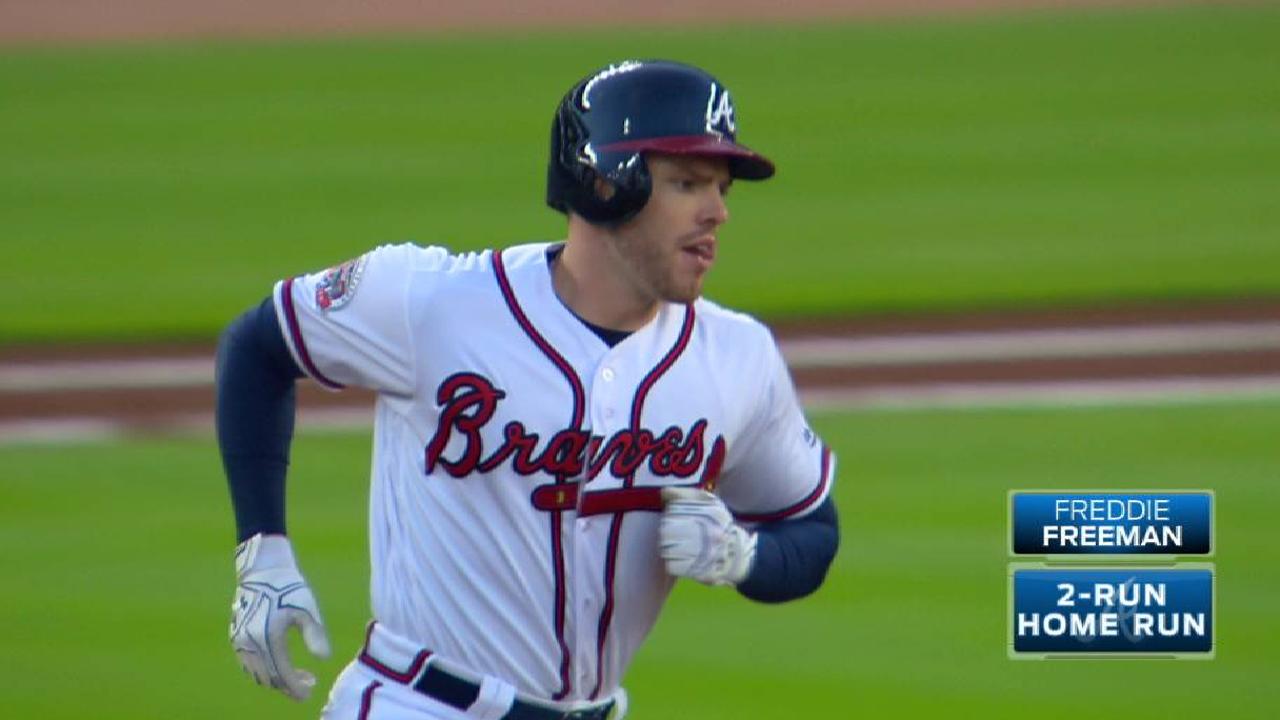 ATLANTA -- Freddie Freeman homered and Ender Inciarte produced his first three-hit game of the season as the Braves battered Matt Harvey and provided R.A. Dickey sufficient support during Tuesday night's 9-7 win over the Mets at SunTrust Park.
After Jay Bruce got the Mets rolling with a two-run homer, Freeman answered in the bottom half of the inning with his 10th home run of the season -- a two-run shot that traveled a projected 422 feet per Statcast™ and landed in the upper level of the Chop House in right field. Inciarte provided a go-ahead double in the second inning and capped a three-run fourth inning with a two-run single.
"When he's getting on base, we seem to work a lot better," Braves manager Brian Snitker said of Inciarte, who has hit .375 with a .429 on-base percentage as Atlanta has won five of its' past seven games.
While surrendering eight hits over 5 1/3 innings, Harvey allowed the Braves a season-high six earned runs for the second time in five days. The Mets' right-hander received some early support from Bruce's homer and the game-tying solo shot Asdrubal Cabrera provided in the third inning. But Dickey escaped damage over the remainder of his six-inning outing, within which he allowed just four hits.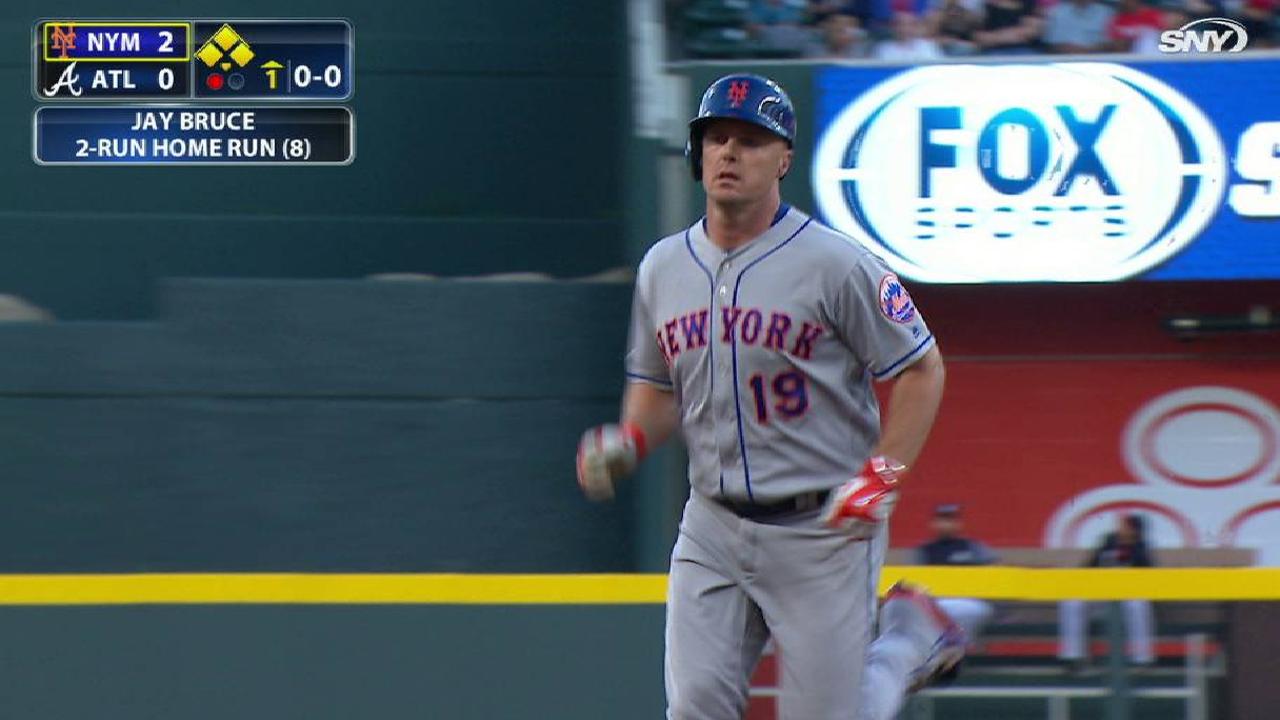 The Mets made things interesting against Matt Wisler in the ninth inning. But after Bruce drilled a two-out grand slam, Jim Johnson entered and recorded the game's final out to notch his fifth save of the season.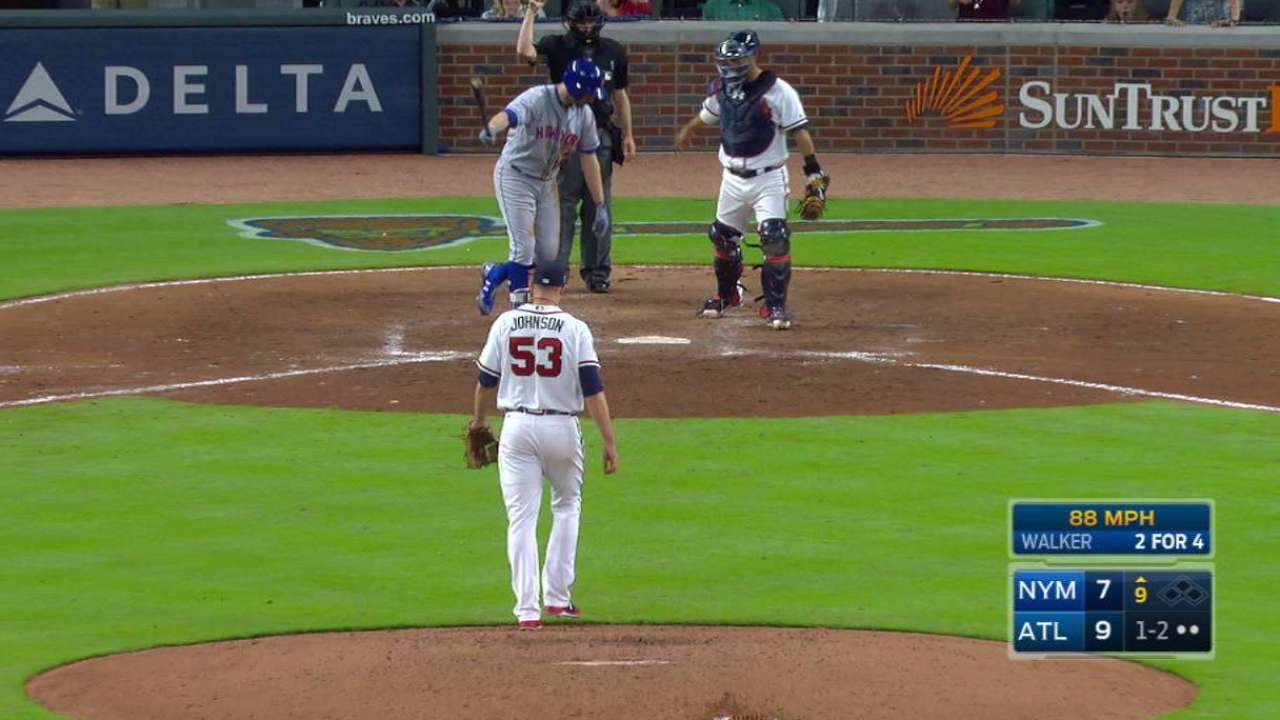 "We have to step up," Bruce said of the Mets' offense. "I wouldn't say that we need to try harder or try and do more. We just need to work and prepare and get ready to play."
MOMENTS THAT MATTERED
Bottom production: After surrendering three runs before facing his 11th batter of the night, Harvey went through the heart of Atlanta's order in perfect fashion during the third inning. But he surrendered an Adonis Garcia single, hit Kurt Suzuki with a pitch and walked Dansby Swanson to begin the fourth. That loaded the bases and set the stage for Dickey to give the Braves a lead with a high chopper behind the mound that scored Garcia and gave the knuckleballer five RBIs through his first 12 plate appearances -- matching the career-high total produced in 61 plate appearances for the 2010 Mets.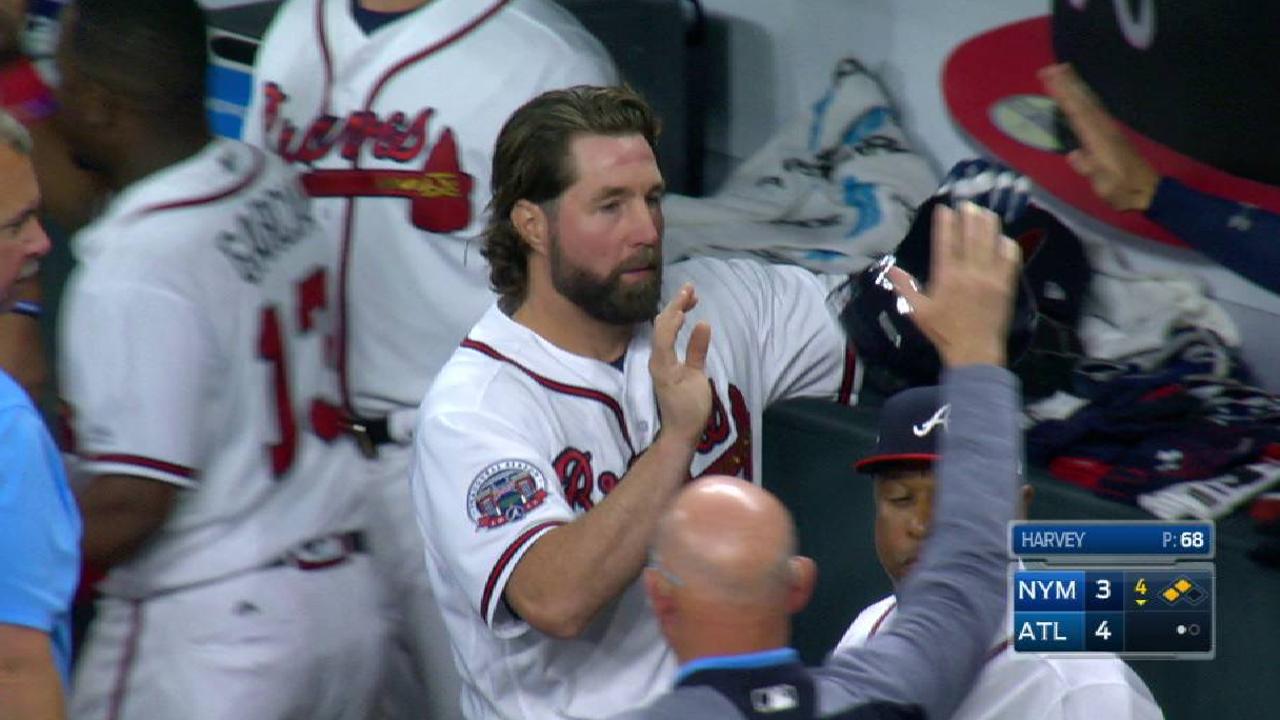 "We win last night and we get a two-run lead in the first, I want to go out there and do everything I can to keep them off the board," Harvey said. "Regardless of mechanics and whatnot, my job is to get people out."
Knuckleballer settles down: Dickey surrendered both of his home runs on 80.7-mph fastballs, but for the most part he spent most of his outing capably escaping trouble. With the help of Brandon Phillips' leaping catch, he pitched around consecutive walks to begin the scoreless second inning and then stranded two more runners in the fifth inning when Nick Markakis made a diving grab of Travis d'Arnaud's sinking liner in right field.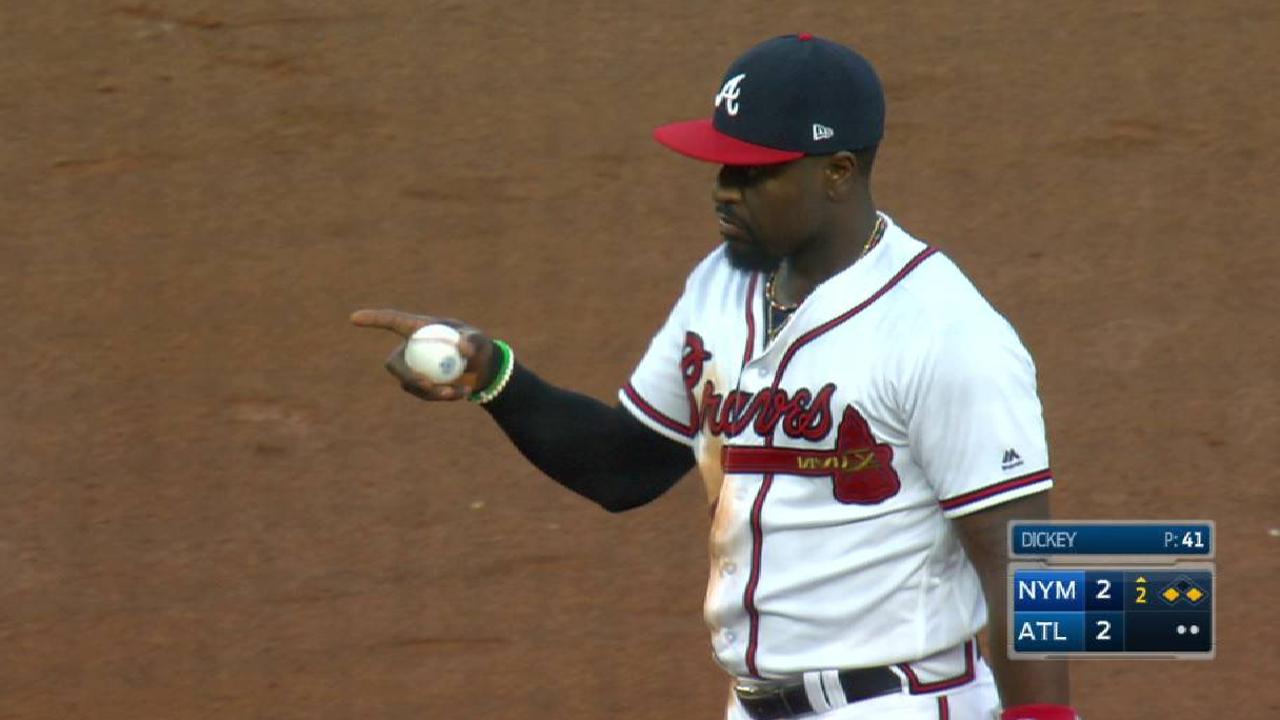 "On a scale of 1-10, I probably only had a four knuckleball," Dickey said. "I didn't really have a good one. I was trying to manage the game by changing speeds with it a bunch. I gave in a couple times and threw some cookie fastballs that they hit homers on. But they weren't squaring my knuckleball up for the most part. So, I should have been stubborn with it. But instead I left it for a little while and got hurt with it."
QUOTABLE
"It doesn't feel like a bandbox at all. But it seems like a good place to hit so far." --Bruce, on SunTrust Park, which has played host to 28 runs over the series' first two games
"Another day, I might have had two more hits. I'm babying this quad a little bit right now. It's just self-preservation. When I went up to bat for probably the fifth or sixth time with the bases loaded, I was thinking 'OK, I'm going to hit a fly ball here.' Then I chopped one off the plate that went as high as a fly ball. So, that was the irony of that at-bat." -- Dickey, who pitched through a sore left quad muscle.
SOUND SMART WITH YOUR FRIENDS
Freeman now has 42 HRs over his past 162 games (14.33 AB/HR) and 35 homers over his past 122 games (12.91 AB/HR).
UPON FURTHER REVIEW
The Mets gained a pair of baserunners thanks to instant replay: one in the second inning, when a review showed that Juan Lagares beat out a would-be double-play ball at first base, then again in the ninth inning, when Michael Conforto was safe on a ground ball down the third-base line.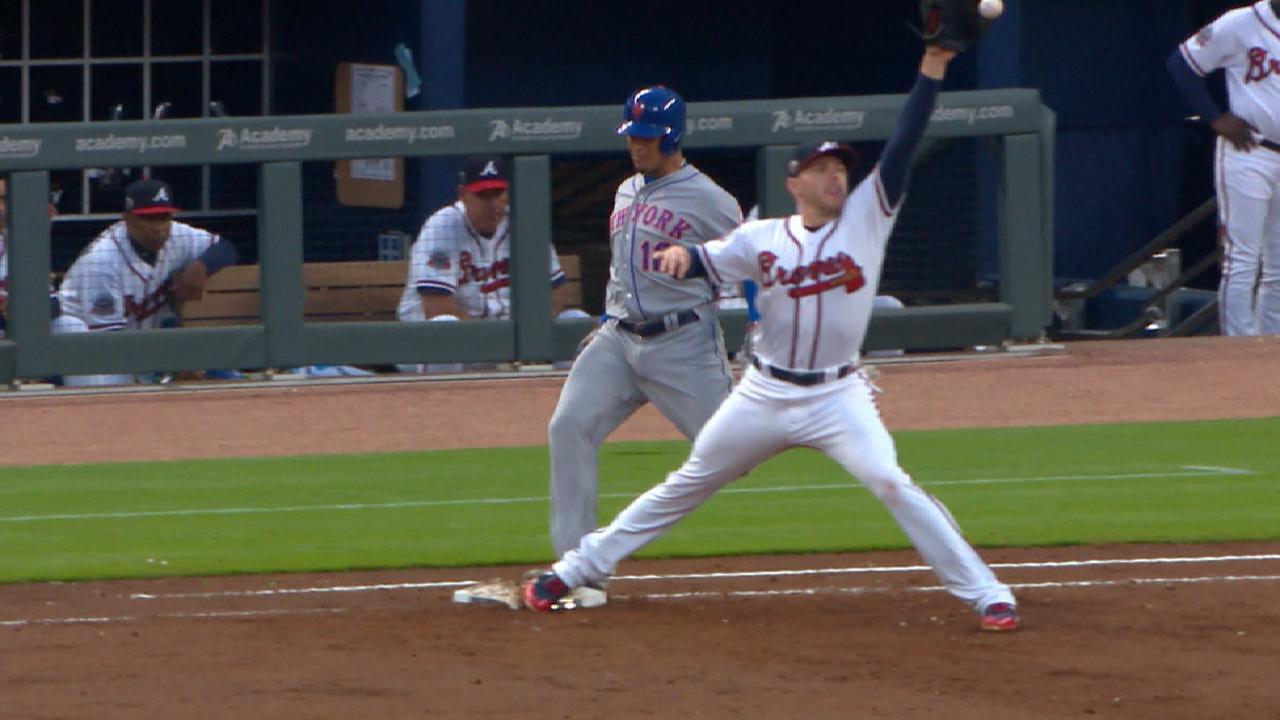 FROM THE TRAINER'S ROOM
d'Arnaud departed in the sixth inning due to a sore right wrist, which he aggravated when he lined out to right field in the sixth. But d'Arnaud does not expect to miss much, if any, time.
WHAT'S NEXT
Mets: Jacob deGrom, who has racked up 35 strikeouts over his last three starts, will return to the mound for a 7:35 p.m. ET game Wednesday at SunTrust Park. The Mets will also welcome Curtis Granderson back to the starting lineup, after benching their regular center fielder Tuesday due to an ongoing slump.
Braves: Bartolo Colon will be looking to bounce back from a couple of rough starts when Atlanta and New York resume this four-game set on Wednesday night. Colon has allowed at least four earned runs in three of the four starts made since he limited the Mets to one run over six innings on April 5.
Watch every out-of-market regular-season game live on MLB.TV.
Mark Bowman has covered the Braves for MLB.com since 2001.

Anthony DiComo has covered the Mets for MLB.com since 2008. Follow him on Twitter @AnthonyDiComo and Facebook, and listen to his podcast.

This story was not subject to the approval of Major League Baseball or its clubs.