Cards place Lyons on DL, recall Tuivailala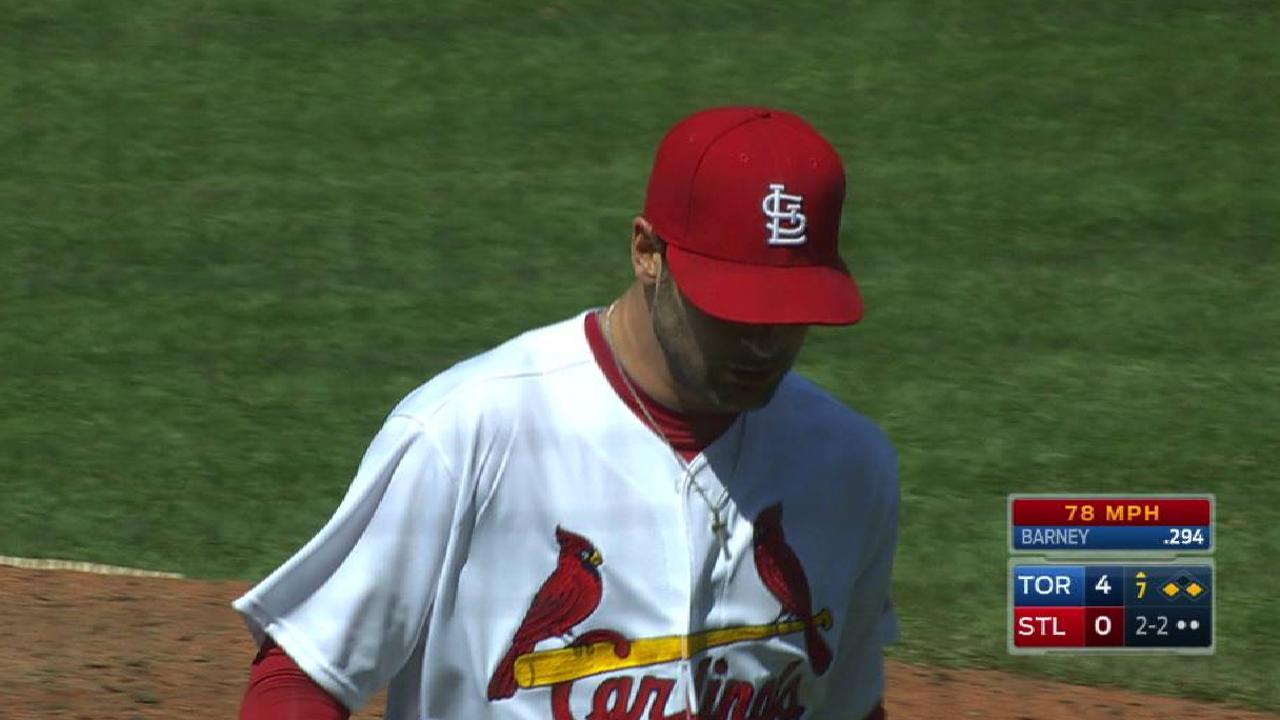 ST. LOUIS -- Having finally recovered from a right knee injury that had him sidelined since last July, left-hander Tyler Lyons landed back on the 10-day disabled list Tuesday, this time due to a right intercostal strain.
The injury opened up a bullpen spot for righty Sam Tuivailala, who has yo-yoed between St. Louis and Memphis since the season began. He returns this time having pitched 8 1/3 scoreless innings for the Triple-A club.
The duration of Tuivailala's big league stay likely depends on Lyons' recovery time, which the lefty is hopeful won't be long. Lyons described feeling "a little tug" of one of the muscles between his ribs while warming up for Monday's appearance. Lyons continued to throw anyway, pitched a scoreless inning, then informed the Cardinals' medical staff of the discomfort.
"I was hoping it would loosen up," Lyons said. "It never got better. But it never got worse."
The Cardinals did not consider the injury serious enough to necessitate an MRI, and according to manager Mike Matheny, Lyons could get clearance from the medical staff to resume throwing as early as this weekend.
"It feels better today, and I don't anticipate it being something that lingers for any extended period of time," Lyons said. "I don't think there's anything to be concerned with other than it's frustrating [for the] short term."
Lyons opened the season on the DL while finishing his recovery from knee surgery and didn't make his first appearance until April 27. In three innings, Lyons has allowed one run on one hit and two walks.
Prospect Weaver returns to the mound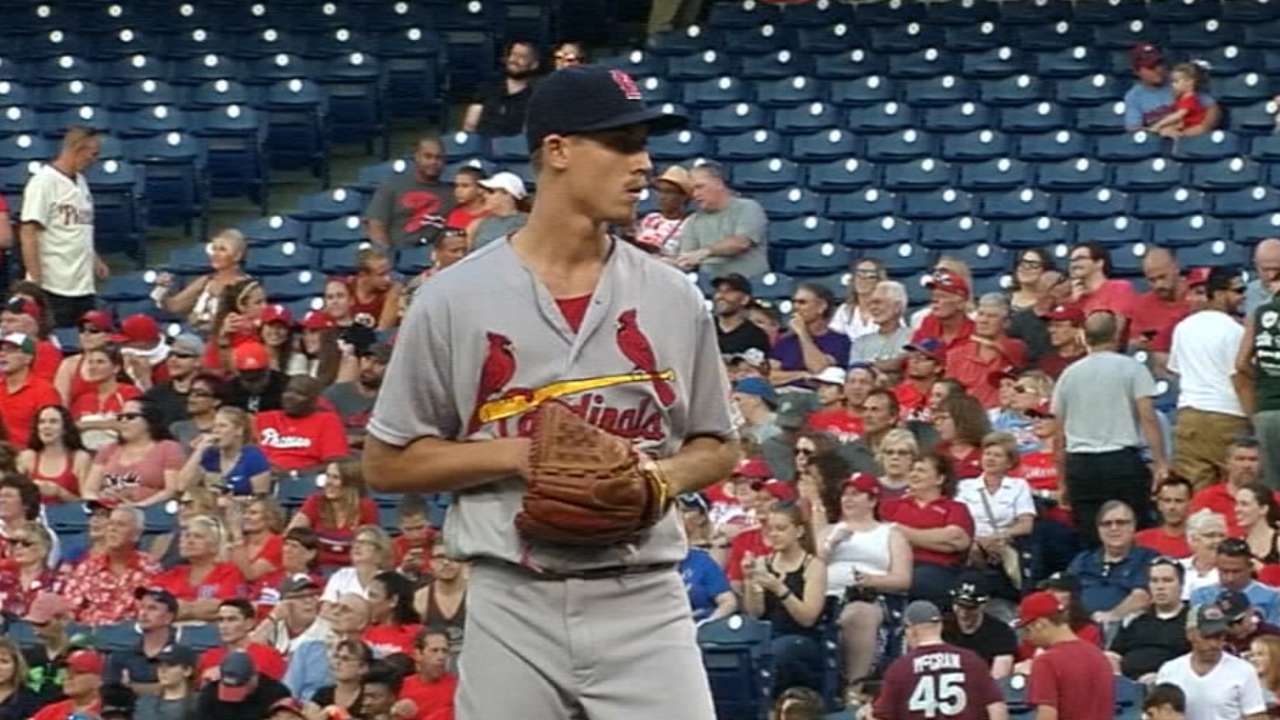 On a day when the organization's pitching depth took a hit with Lyons' injury, the Cardinals did get a bit of good news. Right-hander Luke Weaver, who exited his first Triple-A start of the season with back stiffness, came off the DL on Tuesday to start for Memphis.
Weaver, ranked by MLBPipeline.com as the Cardinals' third-best prospect, pitched two scoreless innings in that Opening Day start. He recently threw in an extended Spring Training game to prove he was no longer inhibited by back discomfort.
The Cardinals' Triple-A rotation is not yet at full strength, though, as Marco Gonzales (Tommy John surgery) and John Gant (right groin strain) remain sidelined.
Worth noting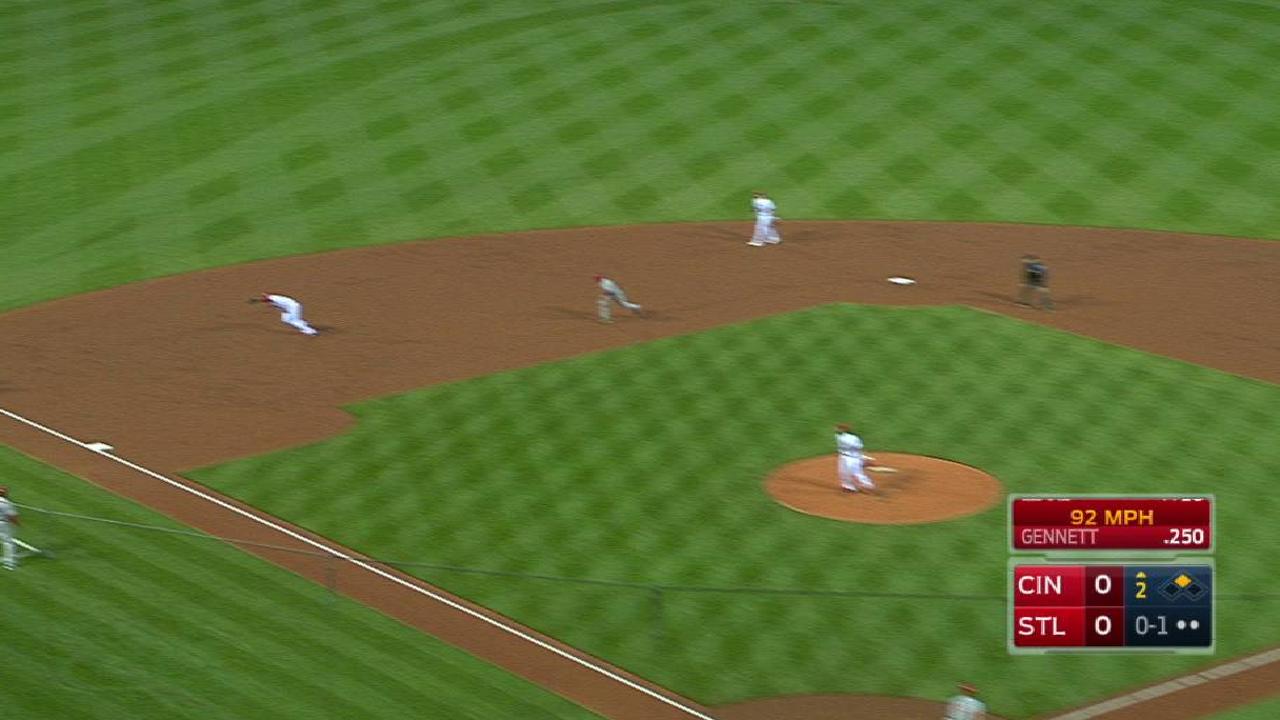 • Third baseman Jhonny Peralta (upper respiratory infection) took batting practice on the field for the second straight day on Tuesday and said he can feel that he has regained much of the strength loss from an adverse reaction to medication. The Cardinals' tentative plan is to send Peralta to Florida on Friday so that he can begin a Minor League rehab assignment there.
• After so much lineup fluctuation throughout April, the Cardinals have featured the same batting order in each of their past four games. How rare is this? Consider that in 2016, they didn't use the same batting order more than three times all season.
• A limited number of $9 ticket for the Cardinals' May 16-17 games against the Red Sox are now on sale, the club announced Tuesday. Tickets are limited to eight per customer and can be purchased at cardinals.com/boa.
Jenifer Langosch has covered the Cardinals for MLB.com since 2012, and previously covered the Pirates from 2007-11. Read her blog, follow her on Twitter, like her Facebook page and listen to her podcast. This story was not subject to the approval of Major League Baseball or its clubs.