Collins trusts process, becomes better hitter
Tigers OF not chasing pitches, swinging too hard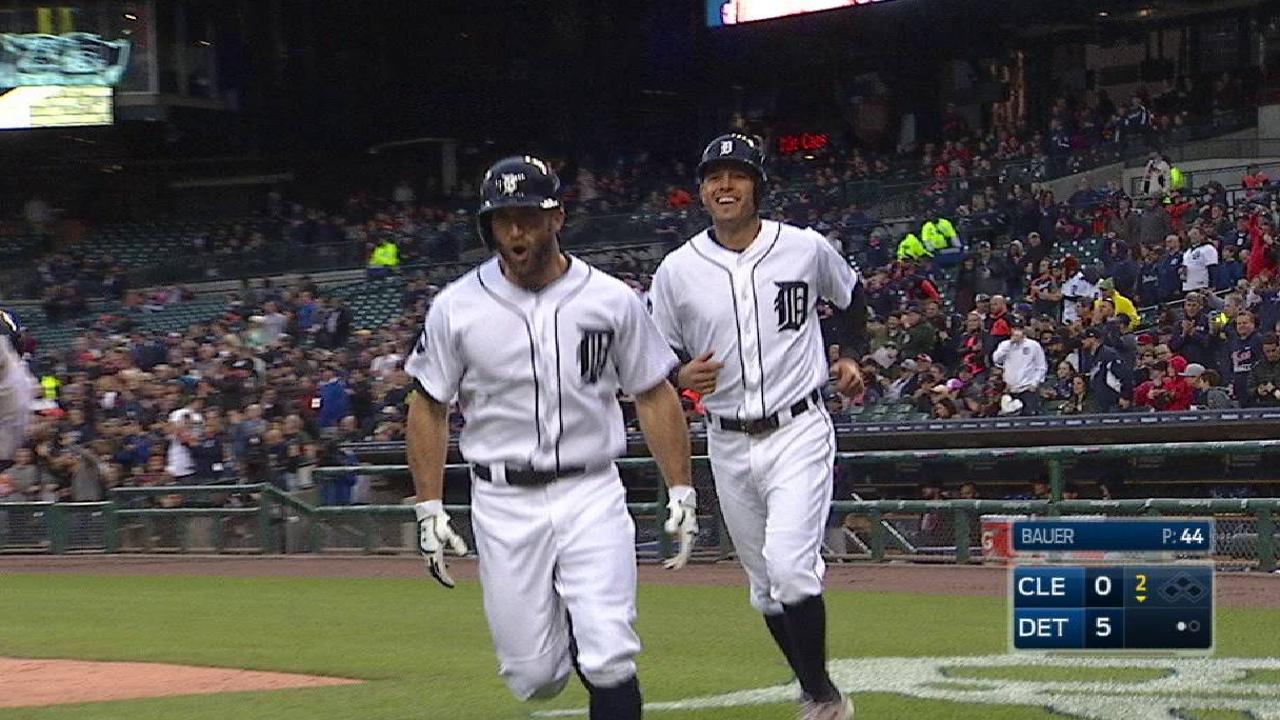 DETROIT -- The ripple effects of Miguel Cabrera's return from the disabled list Tuesday sent John Hicks back to Triple-A Toledo, Nicholas Castellanos back to the second spot in the order and Tyler Collins back down in the lineup. But if Collins continues to hit the way he has the past week and a half -- for most of the season, really -- the Tigers will reap the benefits.
While Hicks and fellow callup Jim Adduci earned a good amount of credit for helping the Tigers weather Cabrera's DL stint, Collins was a big factor in the second spot. He entered Tuesday's game against the Indians batting 10-for-21 this homestand with three doubles and six RBIs, including Monday's three-run home run into the wind off Indians starter Trevor Bauer in a 7-1 Tigers win.
Just as impressive, Collins has struck out just twice in that span, compared with five walks. Even when he got off to a hot start this season, batting 11-for-31 through his first nine games, he didn't have that type of discipline, striking out 10 times against one walk.
Collins has had his share of outfield adventures on wind-blown fly balls this year, but offensively, he has more than held his own.
"He's having much better at-bats," manager Brad Ausmus said Tuesday. "He's not chasing out of the zone as much. He doesn't look like he's trying to add on when he swings the bat, not trying to hit the ball an extra 50 feet. He's letting the pitcher's velocity provide the power, and he's just taking relatively consistent swings on pitches he can hit, as opposed to trying to generate power -- and with that generation, sometimes chasing pitches out of the zone. ... He's kind of had this approach since Spring Training."
Both of Collins' home runs this season have come off fastballs, a pitch he's hitting for a higher average this year despite a fair number of swing-and-misses. His spray chart might reflect why; Collins has a marked uptick in opposite-field hits. Two of his three doubles for the season went to left field, more than he had all of last season, and he's getting a better share of singles to left.
"I think he's always hit the ball to all fields," Ausmus said, "but I do think he's less concerned about hitting home runs."
Collins, for his part, said he's less concerned about results in general.
"I'd say it's a byproduct of the process," Collins said. "It's not like I am deliberately hitting the ball the other way. But if my swing is going to allow me to take that pitch the other way, yeah, we are going to run with it."
Collins is trusting the process.
"As long as the process is right and it's consistent, you are going to give yourself the best opportunity to produce," Collins said. "It's just not worrying about the results and just making sure I am taking care of business in here correctly."
Jason Beck has covered the Tigers for MLB.com since 2002. Read Beck's Blog, follow him on Twitter @beckjason and Facebook. This story was not subject to the approval of Major League Baseball or its clubs.