Kluber (tight lower back) may land on DL
Battling issue for few starts, Tribe ace will be re-evaluated Wednesday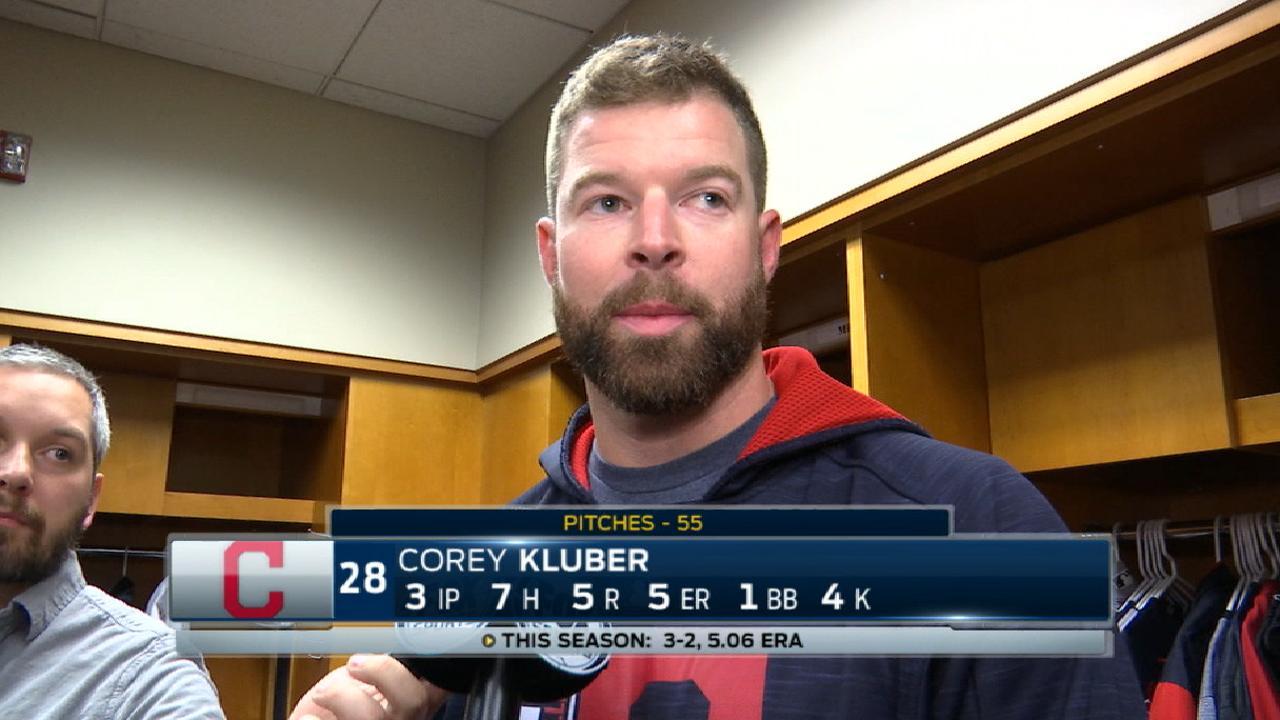 DETROIT -- Corey Kluber moved gingerly as he shifted out of his seat to stand in front of reporters on Tuesday night. It was evident that the lower back tightness that plagued his outing against the Tigers, leading to an uncharacteristically early exit, was still botheriing the Indians ace.
Even on tough nights like this one, Kluber prides himself on staying on the mound for as long as possible, chewing up innings to avoid taxing the bullpen. That made this 5-2 loss to Detroit a frustrating one for the pitcher, because not only was he ineffective, but an injury forced him out after only three innings.
"Obviously, it doesn't feel great," Kluber said. "It's been a few starts now, kind of on and off to different degrees. Tonight, for whatever reason, it just wasn't allowing me to go out there and pitch very well."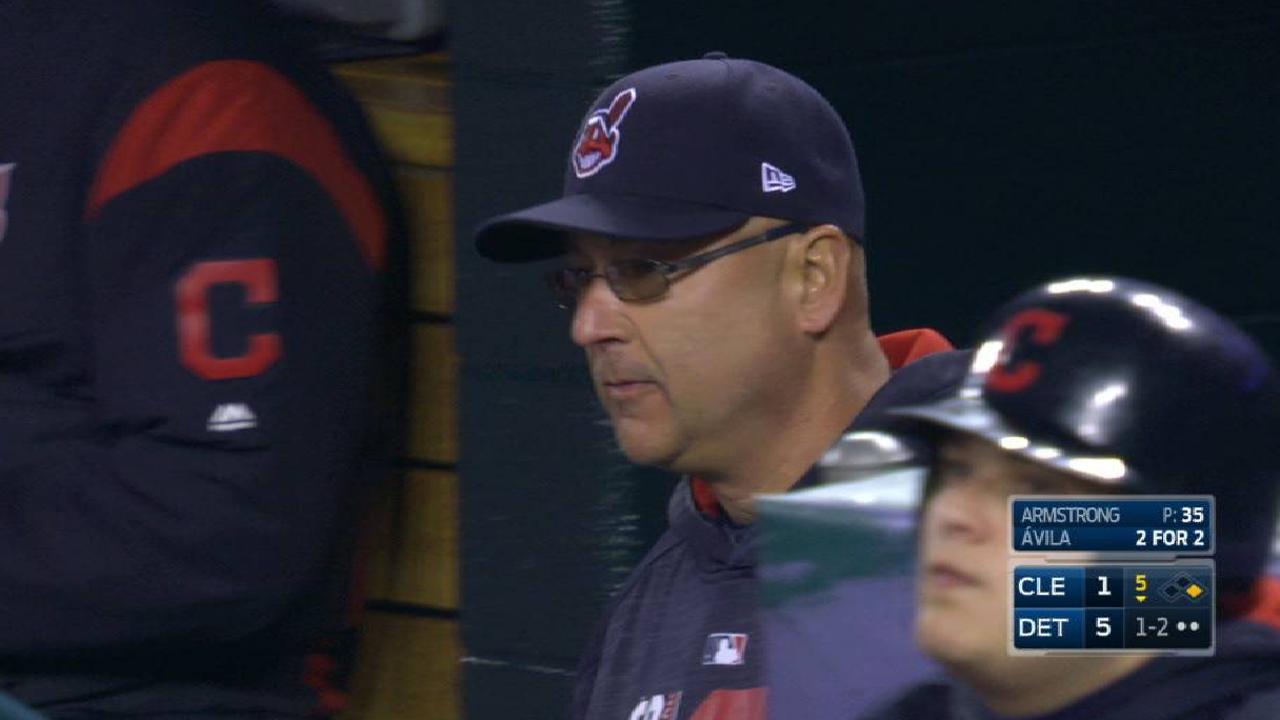 Kluber commended the work of relievers Shawn Armstrong, Nick Goody and Boone Logan, who combined for five shutout innings with no hits allowed. One night after Trevor Bauer lasted only four innings, their collective effort after Kluber's departure helped ease the burden on the bullpen as a whole. Kluber did not want to put them in that spot, and the goal now is to sidestep a repeat occurrence.
Indians manager Terry Francona noted that Kluber has been dealing with the back issue for a while now, and indicated that the team would re-evaluate the pitcher on Wednesday. It is possible that a trip to the disabled list might be in order, especially given that the timeframe for stints on the shelf has been reduced to a 10-day minumum.
The 10-day window would allow Kluber to only miss one start.
"It can be a factor," Francona said. "I don't think we want to rush [into a decision]. We'll just talk to him [Wednesday]. I think the best thing to do is wait and see how he shows up. We want to be fair to him and make good decisions. It's hard to do that tonight when a guy just pitched and he's still hot. We'll wait."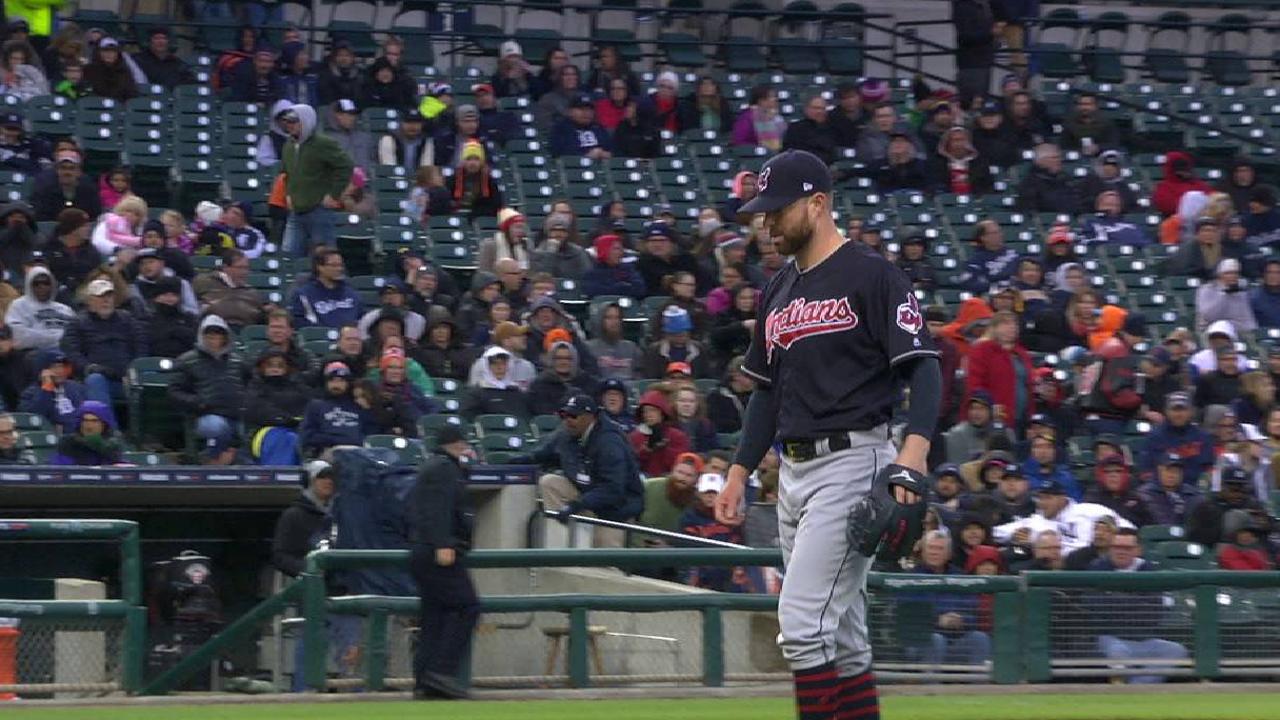 Part of the discussion will surely center around Triple-A right-hander Mike Clevinger, who started for Columbus on Tuesday night and logged six solid innings. Clevinger, who is considered the sixth starter on the Indians' depth chart, has a 1.50 ERA with 32 strikeouts and 10 walks in 30 innings this year.
Not only is Clevinger in line to potentially take Kluber's next start, but that outing would fall on Sunday against the Royals, who rank last in the Majors with a .608 OPS as a team. If Kluber were to land on the DL, he would be eligible to return on May 13, and Cleveland would not technically need a fifth starter until May 16 (thanks to a team off-day on May 11).
In his three innings, Kluber logged 55 pitches and saw the Tigers go 7-for-16 against him. The biggest blow came in the third, when Miguel Cabrera connected for a two-run home run off the righty, pushing Detroit to a 5-1 lead. Kluber dropped to 3-2 with a 5.06 ERA with the abbreviated showing.
Kluber dealt with the back issue in a start against the D-backs on April 9, and has pitched through the problem since then.
"He had been fighting it for a little while," Francona said. "He's been working hard at some maintenance and things like that. I just thought it was unfair to leave him in. You worry that he's going to hurt his arm or something. So, we'll go from there."
Jordan Bastian has covered the Indians for MLB.com since 2011, and previously covered the Blue Jays from 2006-10. Read his blog, Major League Bastian, follow him on Twitter @MLBastian and listen to his podcast. This story was not subject to the approval of Major League Baseball or its clubs.