Slider eludes Kershaw in uncharacteristic night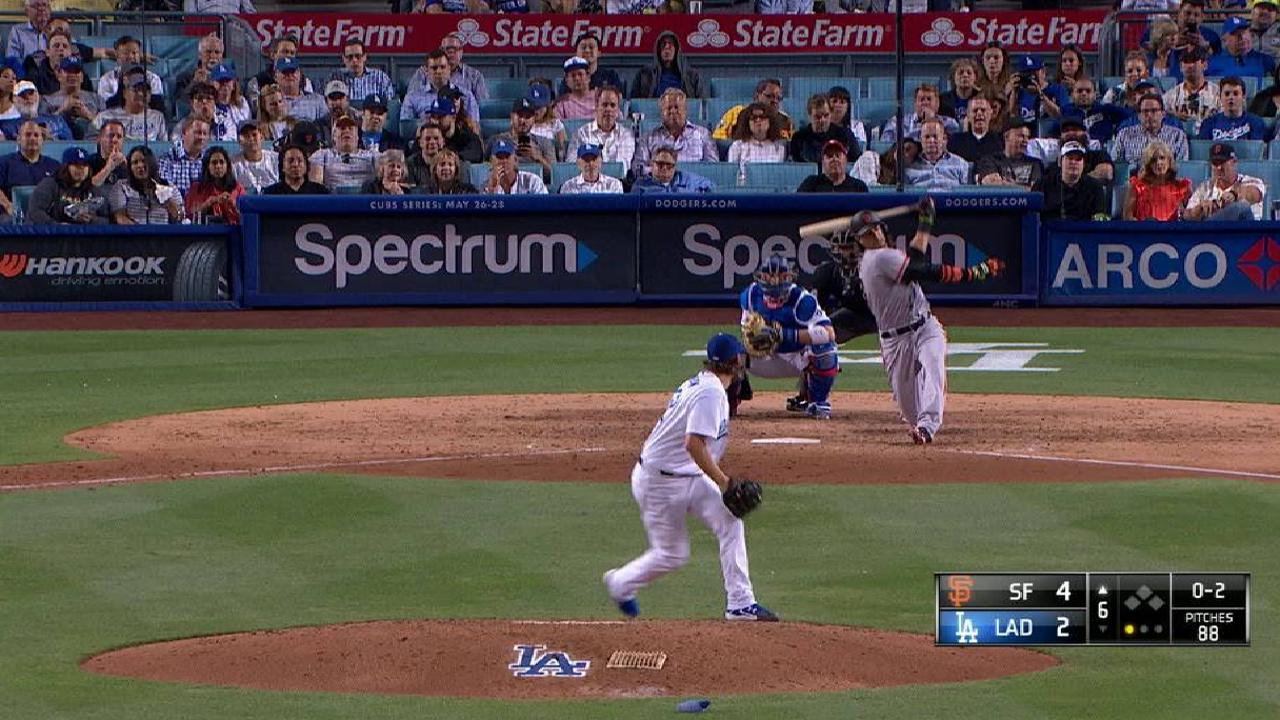 LOS ANGELES -- It speaks to the greatness of Clayton Kershaw that a quality start at home can be considered a rare off night.
The Dodgers ace battled through six innings and took the loss in Monday's 4-3 defeat to the rival Giants. Kershaw surrendered two home runs, a two-run blast by Hunter Pence in the first inning and a solo shot by Buster Posey in the third, and was charged with four runs (three earned) on eight hits.
"I think that obviously we expect perfection out of Clayton every time he takes the mound," Dodgers manager Dave Roberts said.
Roberts pointed out that Kershaw simply didn't have his best slider. In fact, the Posey homer came off the slider and gave the Giants a 3-2 lead.
"Uncharacteristic of Clayton," Roberts said. "For the most part, when he takes the mound that's the pitch that he can count on and finish guys, and tonight he just didn't have that one."
Kershaw did not want to place all of Monday's results on his slider. The homer by Pence came on a curveball.
"I don't know, I mean, it wasn't good," said Kershaw, who struck out five against no walks and tied the game at 2 with a run-scoring single in the second. "I don't know if I would pinpoint it all to that. It definitely didn't help that that wasn't great for me tonight. There's a lot of stuff; it just wasn't a great night."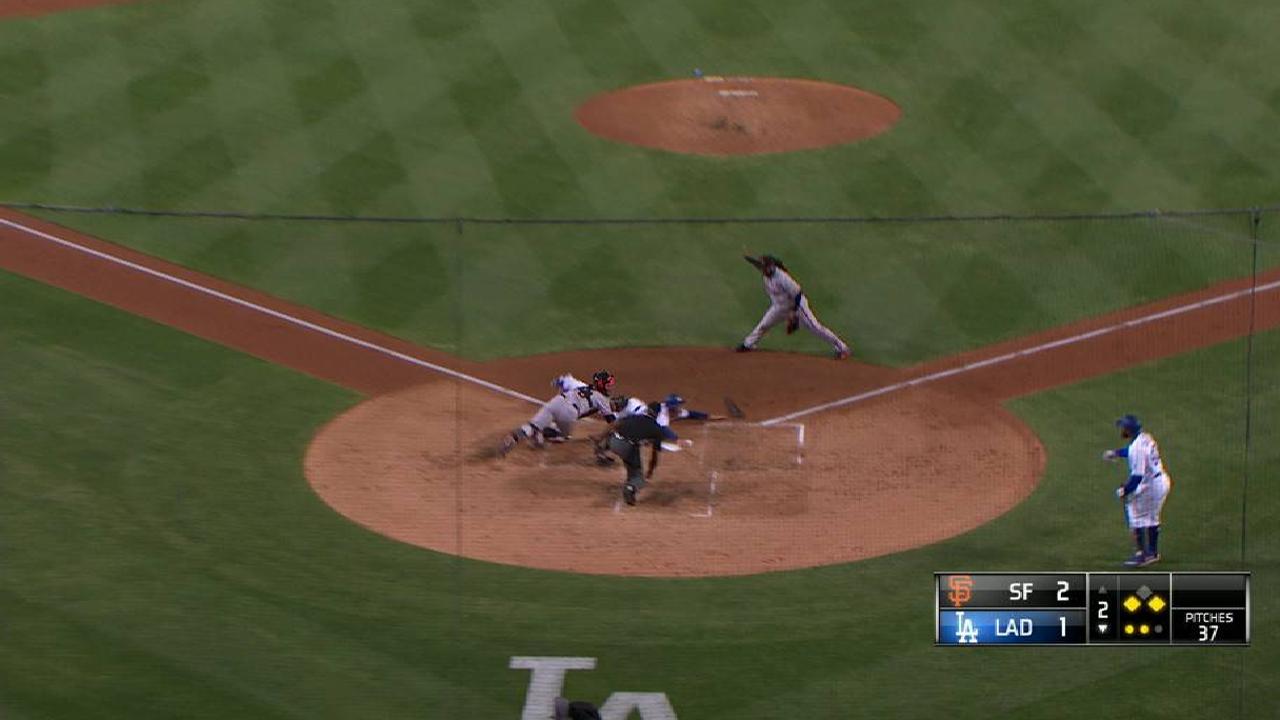 Kershaw had trouble with his slider when he returned from a back injury in 2016.
"He did, and I don't know if there is any connection," Roberts said. "I know that he feels strong in talking to him and the training staff and [pitching coach Rick Honeycutt]."
Kershaw and Roberts both gave the Giants credit for their offensive game plan and quality at-bats. Kershaw was forced to make 104 pitches, a season high.
"Definitely credit to them," said Kershaw, who entered the game 19-8 with a 1.60 ERA in 38 career appearances (37 starts) against the Giants. "I think just so many good at-bats, especially their two, three, four guys. They don't strike out. One of the few teams these days that don't. Seems like they kind of take pride in not striking out. Which, sometimes you can get through a game quick, pick up a lot of contact. But other times, like tonight, they just grind, foul off at-bats, and even when you get outs, it's six-, seven-pitch at-bats. I wasn't great, but they definitely had something to do with it as well."
Kershaw had been great in his last 11 starts at Dodger Stadium, going 10-0 with a 0.65 ERA entering Monday. In his Major League career, Kershaw has allowed two homers in a start only 15 times (plus three starts with three homers allowed). The Giants matched the most runs they've scored off Kershaw with four.
"They had a good game plan combined with Clayton's slider not as sharp," Roberts said. "I think that's just the story of the game."
Kershaw also made a rare error in the field in the fifth inning, which led to the Giants' fourth run. Kershaw fielded a Gorkys Hernandez bunt, but had trouble getting the ball out of his glove and made an off-target throw to first base, allowing Hernandez to advance to second. Christian Arroyo followed with a run scoring-single to put the Giants ahead 4-2.
"I kind of bobbled it for a second," Kershaw said. "I don't know, I don't think I would have gotten him, but probably should just eat it after you bobble it."
Austin Laymance is a reporter for MLB.com based in Los Angeles. This story was not subject to the approval of Major League Baseball or its clubs.