Schwarber gets a turn behind the dish
Left fielder catches, with Montero and Contreras manning infield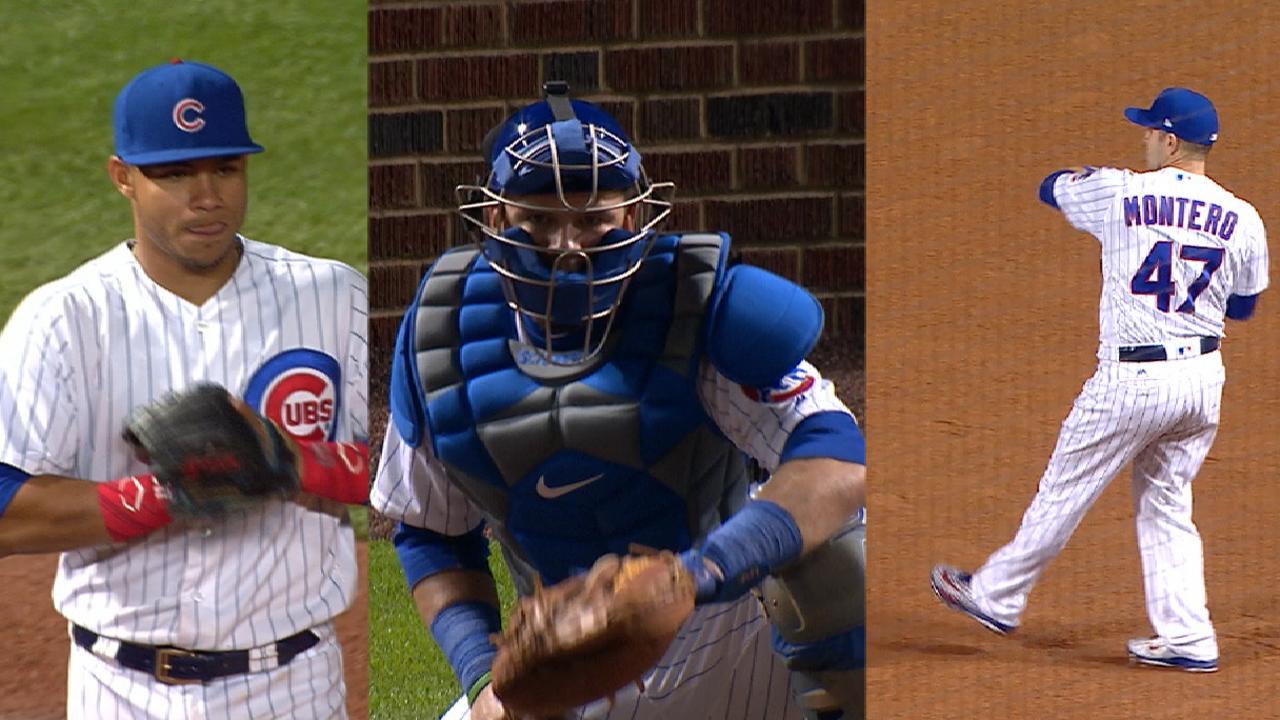 CHICAGO -- With the outcome long decided late Monday night, Cubs manager Joe Maddon saw an opportunity to give Kris Bryant and Anthony Rizzo a little rest for the final two innings of the 10-2 loss to the Phillies.
Catcher Miguel Montero took over at first base, catcher Willson Contreras moved to third base and Kyle Schwarber -- who was drafted as a catcher -- saw some rare action behind the plate.
"I'm not trying to rationalize anything -- we had a horrible night -- but I think the takeaways are stretching out [pitcher Mike] Montgomery and Schwarber getting behind the plate a little bit," Maddon said.
Since joining the Cubs in the middle of the 2015 season, Schwarber has spent much of his time on defense in left field. There was a widely held belief that he wasn't ready to be an effective catcher just yet, and the knee surgery that caused him to miss nearly all of the 2016 season hurt his progress as well.
"He's fine back there," Maddon said. "I don't want to do it too often. I just want to keep him current. If there's a game in progress and things happen and I have to throw him back there, even those two innings matter. Just getting him a refresher course back there."
Aside from saying Schwarber was "fine," Maddon didn't offer much of a critique.
"There's nothing to evaluate," he said. "I thought he looked comfortable. He went out there and he was fine.
"Schwarber's not intimidated by a whole lot, so I think moving forward, a couple of years from now, as he gets a chance to catch more often, he's going to be very good back there. For right now, it's just good to keep him active."
John Jackson is a contributor to MLB.com based in Chicago. This story was not subject to the approval of Major League Baseball or its clubs.