Living on the edge: Norris grinds way to win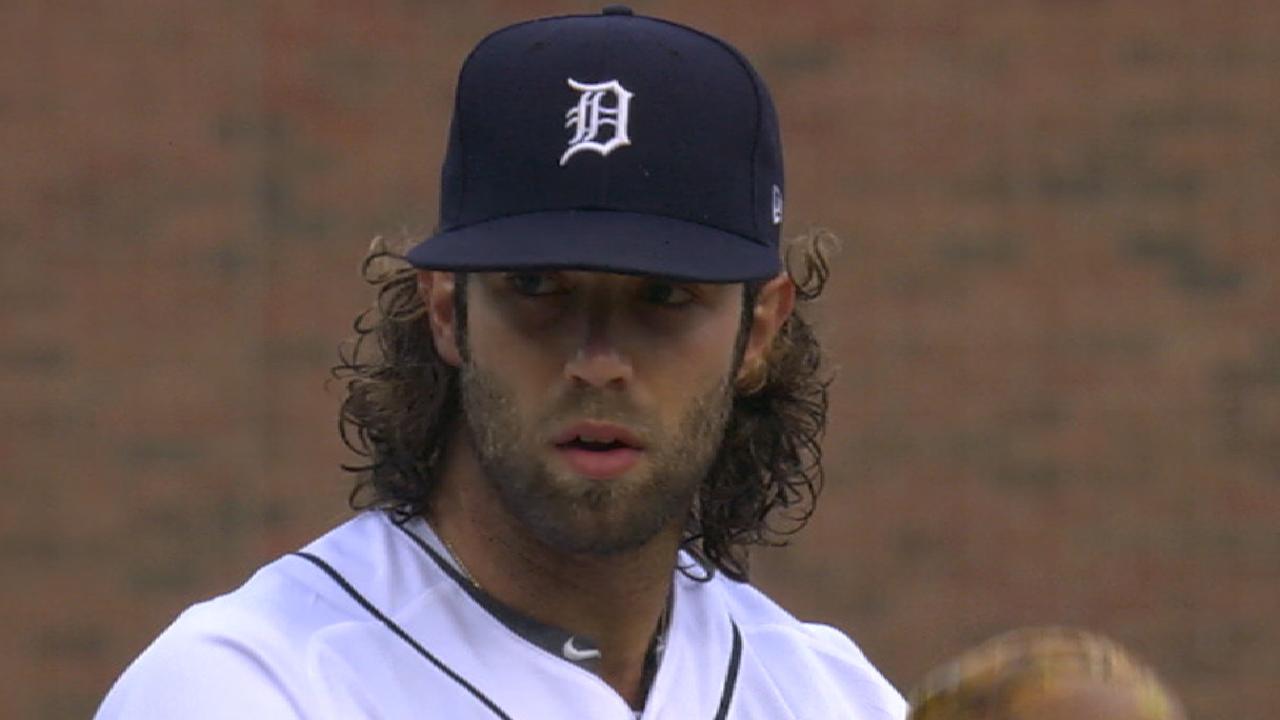 DETROIT -- Daniel Norris had a five-run lead, a mid-90s fastball and an electric slider. And yet, he had all the ingredients for a potential collapse and a third consecutive early exit. The way he pulled through it, producing six quality innings in a 7-1 Tigers win, was a step in the right direction for Norris after two rough starts.
As he stared at Jose Ramirez in the bottom of the third inning, Norris had a run in and two potential tallies on the bases. A mistake and a long ball would've nullified the Tyler Collins three-run home run that gave Norris a big lead to protect. A third walk in the inning would've loaded the bases and brought the potential tying run to the plate. Either would have forced manager Brad Ausmus to at least think about getting the bullpen stirring, and shortening the leash on his gifted young starter.
Instead, Norris produced one of his nastiest confrontations of the night, if not his last few starts, and a reminder why he deserves patience in the rotation. His first-pitch, 94 mph, hit the outside corner for strike one. His elevated second-pitch fastball hit 95 mph and induced Ramirez to chase, putting him in an 0-2 count.
He lost Michael Brantley from an 0-2 count in a first-inning walk, and nearly went from 0-2 to a full count on Roberto Perez in the second inning before spotting a 2-2 slider for a called third strike. Against Ramirez, he buried a slider and drew a wave, one of six swing-and-misses Norris induced with his slider on the night.
"Early, right out of the gate, really good slider," Indians manager Terry Francona said. "I mean, really good slider. And he's got plenty of velocity to go with it. He got in some deep counts, too, because he scattered some balls, but really good stuff."
Ausmus thought the slider was Norris' best pitch to throw for strikes. In the case of Ramirez, it was his best pitch not to.
"You'd still like to see him throw more strikes, get ahead of hitters -- and when he is ahead of hitters, not lose the hitters," Ausmus said. "But he's got raw stuff, and the stuff can get him through it."
Norris threw first-pitch strikes to just more than half of his 26 batters. He went to a half-dozen three-ball counts, yielding four walks and his only RBI -- an Edwin Encarnacion single ahead of Ramirez's at-bat -- out of them. But when he needed to make pitches, he did. For the third time since September, that separated him from Trevor Bauer in a matchup.
"It was hard for me to find the strike zone for a minute," Norris said. "I just got away from what I've been working on the last week. A huge positive was making that adjustment, and then getting back into it. It just shows me I'm maturing a bit as a pitcher, and making adjustments on the fly."
Norris has been inconsistent with his mechanics since coming out of his "dead arm" phase at the end of Spring Training. His fastball velocity dipped two starts ago at Tampa Bay, but was up around 94 mph his last two outings. But commanding it all is big for him.
"I finally got back into a good rhythm tonight," Norris said. "It was things I've been working on the last week, I put them to use. Minus that one inning, I was able to execute what we had been working on, and that was ultimately what led to getting deeper into the game."
Jason Beck has covered the Tigers for MLB.com since 2002. Read Beck's Blog, follow him on Twitter @beckjason and Facebook. This story was not subject to the approval of Major League Baseball or its clubs.