Giants missing difference Crawford makes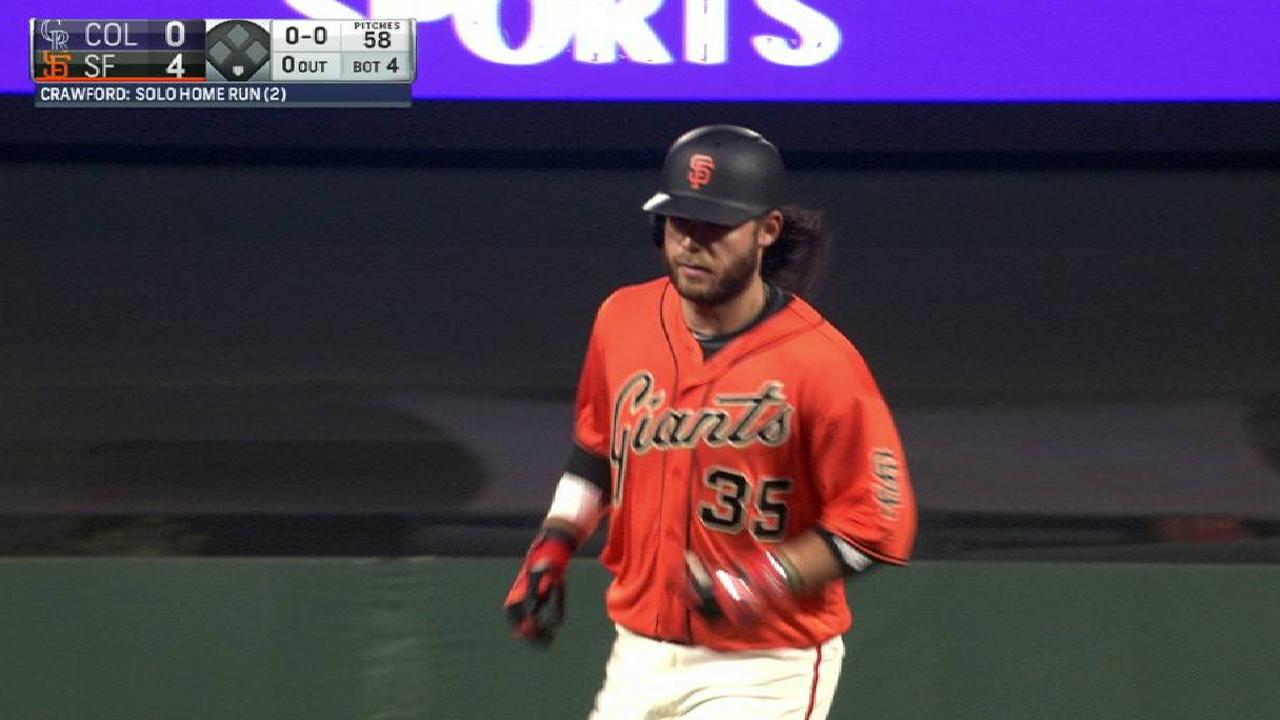 LOS ANGELES -- The Giants' recent struggles can't be attributed solely to Brandon Crawford's absence due to a strained right groin. But as the recent defeats have piled up, the All-Star shortstop's value has become more and more apparent.
Giants manager Bruce Bochy said Monday that Crawford could be ready to rejoin the lineup Saturday, the first day that he's eligible for activation from the 10-day disabled list.
Without making excuses, Bochy responded to a question about Crawford's impact by citing the difference the 2015 All-Star makes. Crawford's a Silver Slugger Award recipient (2015) and a two-time reigning Gold Glove Award winner.
"He's as good as anybody in the game. You're talking about one of the elite shortstops in our game, if not the best," Bochy said.
Crawford was batting .263 and ranked among the Giants' most productive players with two home runs and eight RBIs when he was injured Tuesday. Defensively, he had committed one error in 19 games and his range factor per nine innings of 4.40 compared favorably to his averages in previous years.
Bochy praised the efforts of Eduardo Nunez and Christian Arroyo as Crawford's replacements. However, Bochy noted Crawford plays an integral role in the club's success by batting fifth, occupying an up-the-middle position and knowing opponents' tendencies.
"We've seen how many times he's saved games for us with the glove. And there's no question that we miss his bat," Bochy said. "... But you have to deal with these things."
No looking back
Giants right-hander Bryan Morris entered professional baseball as a member of the Dodgers organization, which selected him in the first round (26th overall) in the 2006 Draft.
But Morris, 30, never dwells on what life might have been like had he remained a Dodger.
"My rear-view mirror doesn't go back that far," he said."I've got a lot of recent what-ifs that outweigh what happened 10 years ago."
Morris' progress was almost instantly stalled when he underwent Tommy John surgery at the end of that season. Two years later, Morris went to Pittsburgh in a three-team trade and reached the Majors with the Pirates in 2012. He spent parts of the previous three years with Miami before signing with the Giants as a Minor League free agent during the last offseason.
"I'm just grateful and fortunate to be in the postion I'm in," said Morris, who was promoted to San Francisco on Sunday when right-hander Neil Ramirez was designated for assignment. "It doesn't matter how you get here. Hopefully I stay healthy. That's the key."
Chris Haft has covered the Giants since 2005, and for MLB.com since 2007. Follow him on Twitter at @sfgiantsbeat and listen to his podcast. This story was not subject to the approval of Major League Baseball or its clubs.