Numbers won't add up until Pujols retires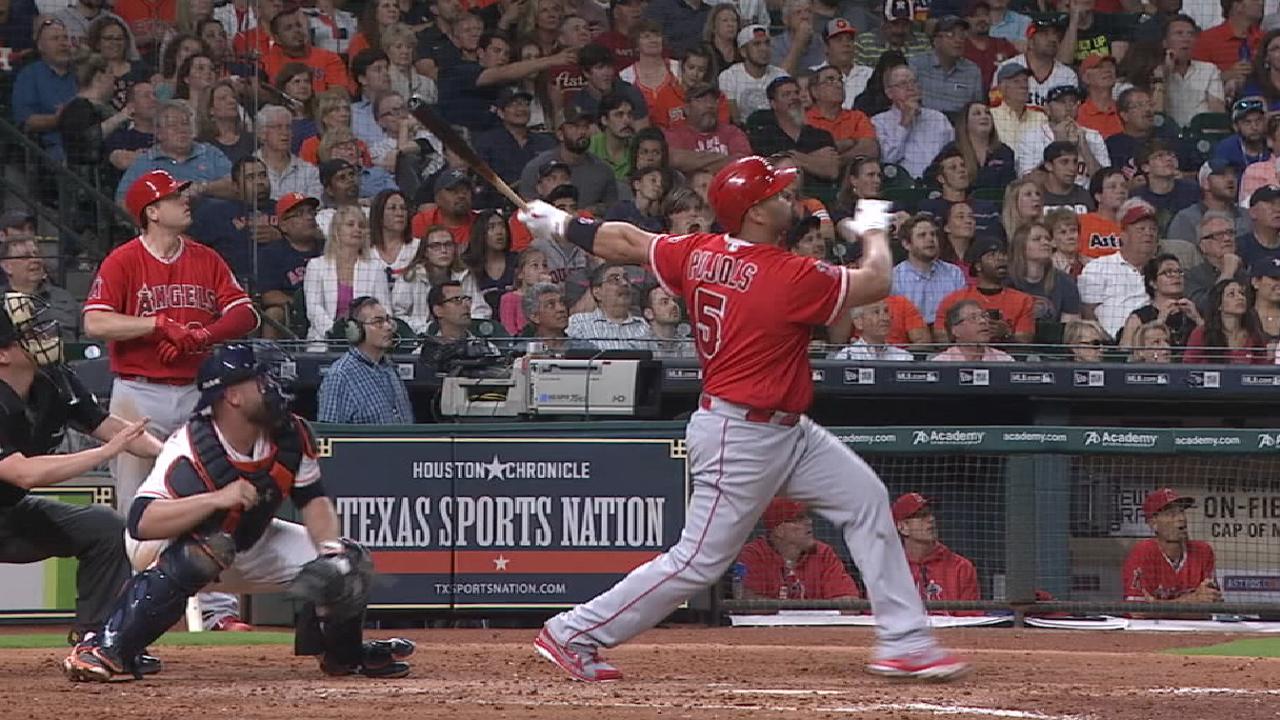 ANAHEIM -- Angels slugger Albert Pujols is keenly aware of his standing as one of the best pure hitters to ever play the game.
With 594 career home runs, Pujols needs only six more to become the ninth player in Major League history to join the 600-home run club, an exclusive fraternity headlined by Barry Bonds (762), Hank Aaron (755) and Babe Ruth (714).
But even as Pujols inches closer toward history, he says personal milestones are the last thing on his mind.
"I don't think about that," Pujols said in Spanish. "I think about helping my team win every day. That's my job. Numbers, at the end of the season and after your career, you can focus on that. Right now, that I'm active, I'm not thinking about that.
"For me, it's a blessing," he continued. "Not only to have a career like I've had, but to have my name in the same category as Hank Aaron and those great hitters in Major League history. But at the same time, I've always said that as long as I'm healthy, I'm going to help my team win. I'm going to have plenty of time after my career ends to think about what I've done. In the meantime, I'm going to focus on trying to help this team win a World Series."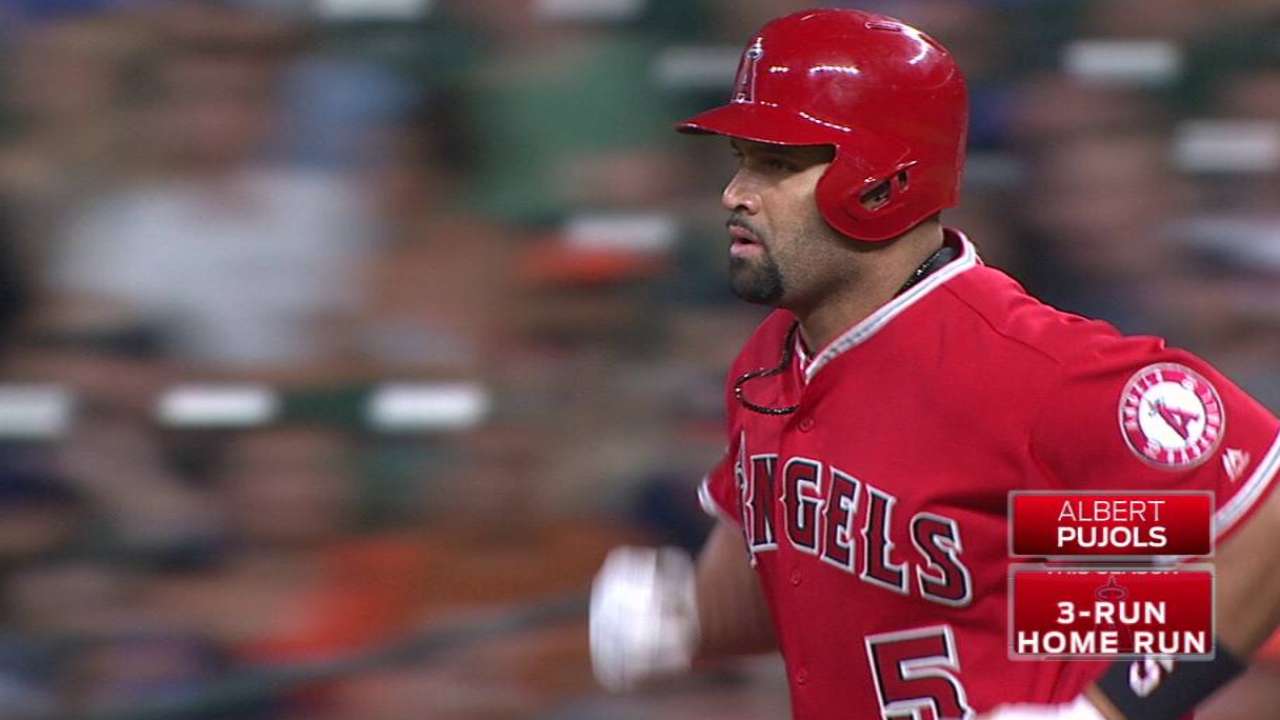 Pujols forged his greatness in St. Louis, where he made an improbable rise from a 13th-round Draft pick out of Maple Woods Community College to a three-time National League Most Valuable Player, a nine-time All-Star and a two-time World Series champion. During that 11-year stretch with the Cardinals, Pujols hit .328 with a 1.037 OPS, averaging 40 home runs and 121 RBIs per season.
Angels reliever Bud Norris had an up-close look at Pujols in his prime, as the two frequently played against each other in the National League Central from 2009-11 as a member of the Astros. Norris has faced Pujols 48 times, more than any other batter in his career. While he held Pujols to a .190 average with no home runs, Norris always knew he was inches away from trouble.
"He's just an intimidating figure," Norris said. "What he did and what he's done for as long as he's done, it's truly been incredible. I was lucky enough to throw really well against him, but you have to limit your mistakes. Any mistake that I've seen in the dugout or on the field, he punishes. He's done it for a long time. That's why he's going to go down in history as one of the greatest hitters of all time."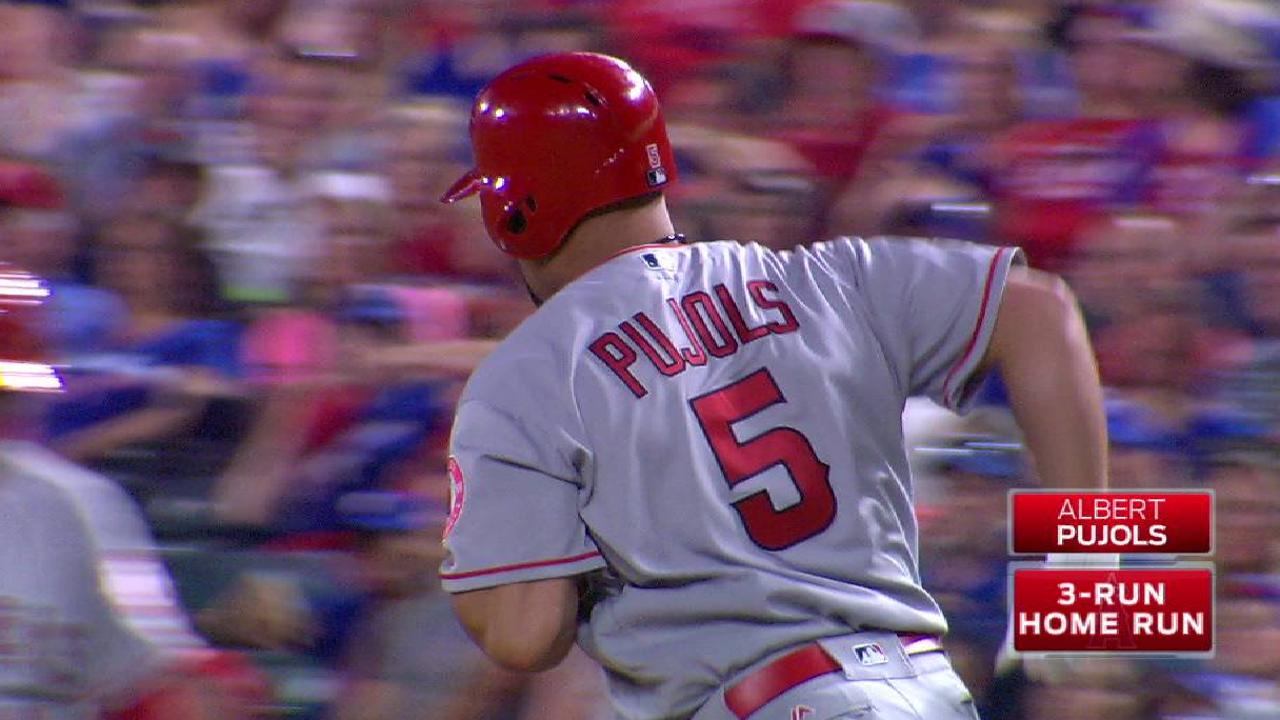 Now 37, Pujols is no longer putting up the gaudy numbers that made him a star in St. Louis, but he's remained productive since signing a 10-year, $240 million contract with the Angels before the 2012 season. Lower-body injuries have diminished his foot speed and limited him to the role as the designated hitter the last two years, but Pujols has still batted .266 and averaged 29 home runs and 98 RBIs in his first five seasons in Anaheim.
There was some question as to whether Pujols would be ready for the beginning of the 2017 season after undergoing foot surgery in December, but he recovered in time to bat cleanup for the Angels on Opening Night.
Though he batted just .177 through the Angels' first 16 games, Pujols has settled in during the last 10 games, going 13-for-42 to raise his average to .231. He entered Monday with 22 RBIs, which ranked third in the American League.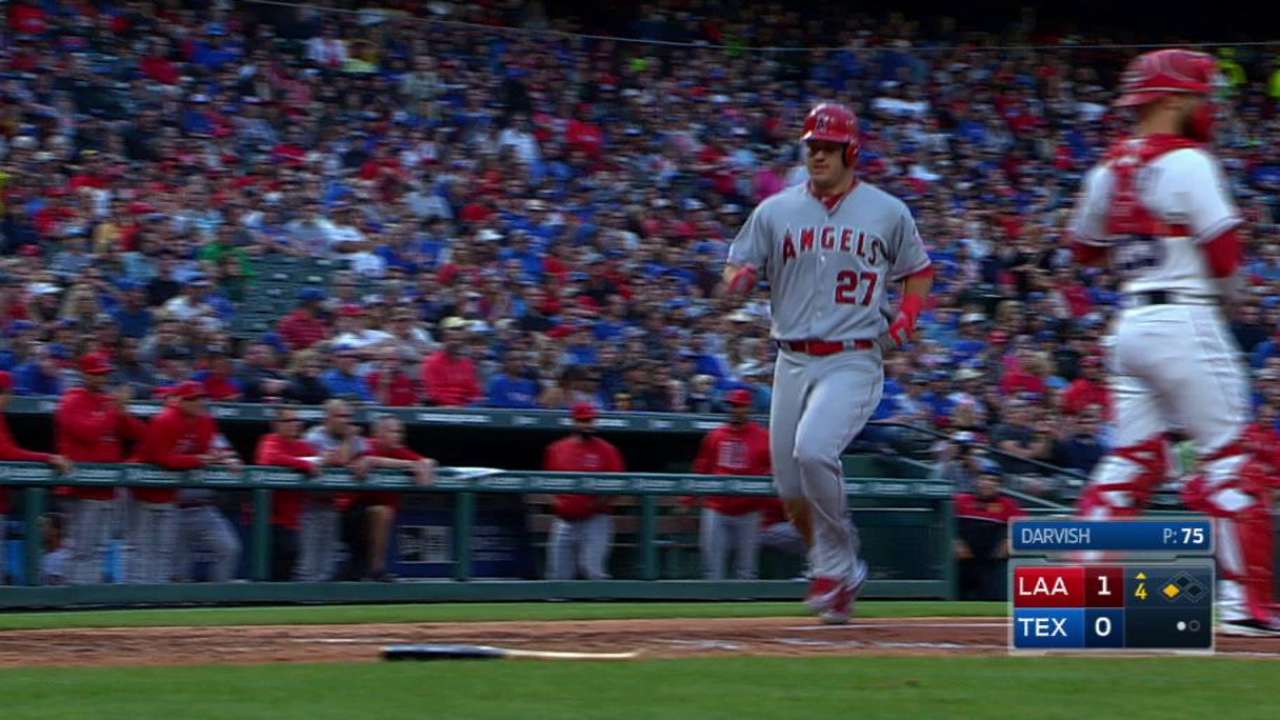 Pujols crushed his 594th career home run Friday against the Rangers, a three-run shot. On Saturday he hit a sacrifice fly that lifted his career RBI total to 1,839, which moved him into a tie with Ted Williams for 14th on the all-time list.
"Albert, he just keeps going," manager Mike Scioscia said. "Every time he does something, it's fun to watch the Hall of Famers and some of the immortals that he's in the same conversation with. It's the last thing on Albert's mind. He wants to help us win, first and foremost, and I think he doesn't chase numbers, he just goes out and plays."
Plenty of other milestones are well within Pujols' reach this season, most notably 600 home runs. And while Pujols might not outwardly relish his historic trek to 600, his teammates and other observers will.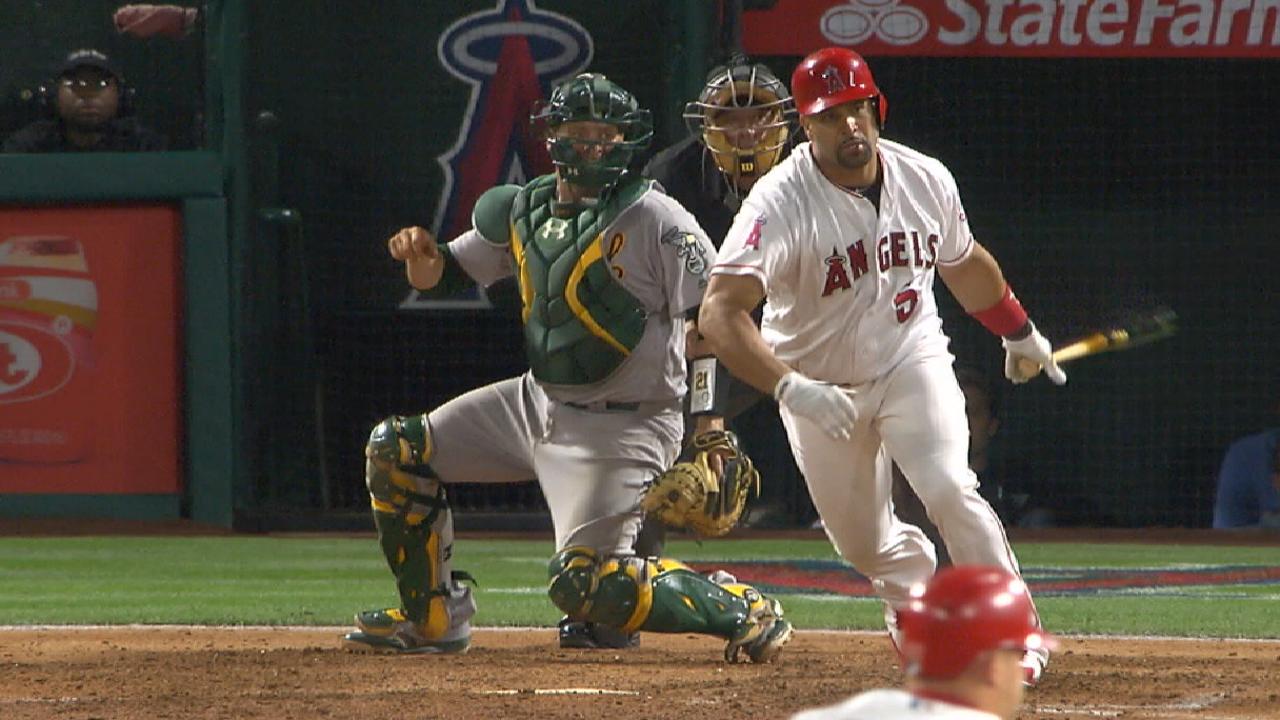 "To watch his pursuit is watching history right before your eyes every day," Norris said. "You don't take it for granted."
Maria Guardado covers the Angels for MLB.com. This story was not subject to the approval of Major League Baseball or its clubs.