Ellsbury's elbow sore after great leaping grab
Center fielder optimistic: 'Hopefully I'll wake up and it's fine'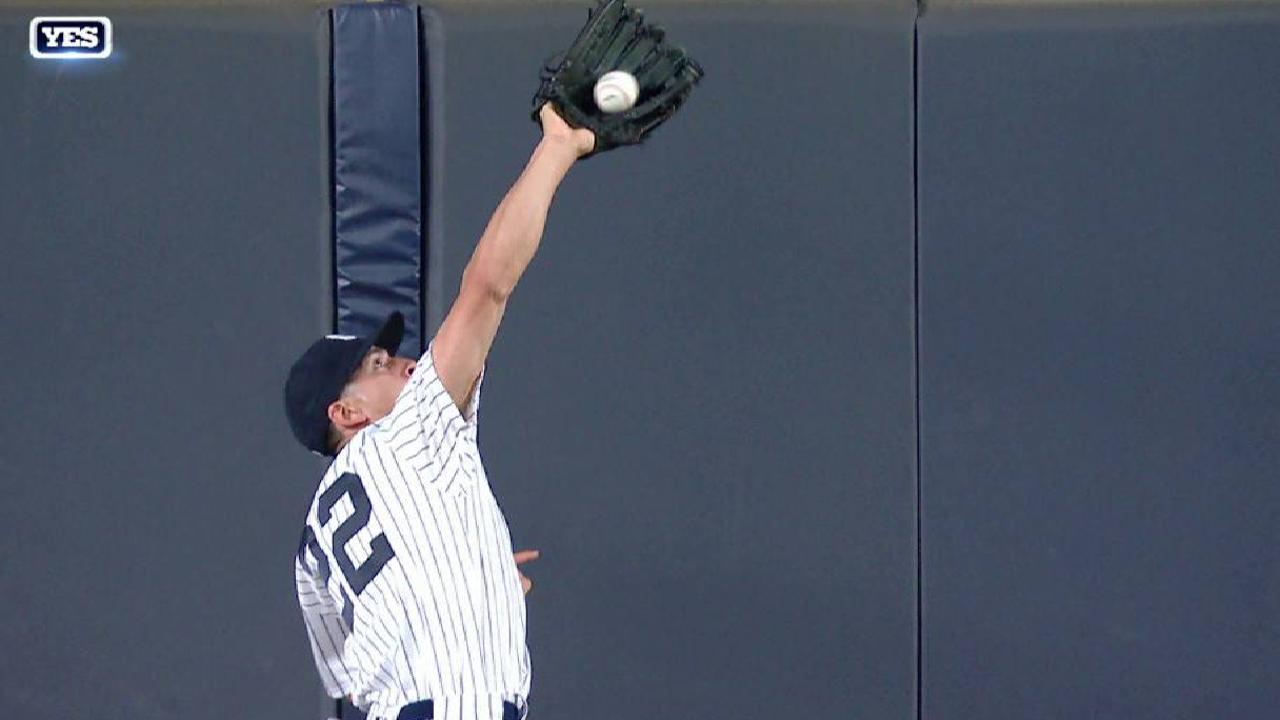 NEW YORK -- Jacoby Ellsbury said that he jammed his left elbow against the wall while completing a terrific leaping catch in the sixth inning of Monday's 7-1 loss to the Blue Jays on what was scored as a rare two-run sacrifice fly off the bat of Ryan Goins.
Turned loose on a 3-0 count, Goins barreled a Luis Severino offering to deep center field. Ellsbury tracked the ball and snared it before crashing into the wall, but he flipped the ball over right fielder Aaron Judge's head as Justin Smoak and Devon Travis both raced home.
"My elbow's sore, but we'll see how it feels tomorrow," said Ellsbury, who was icing it after the game. "Hopefully it's good, and I'm all right. I know it's going to be sore in the morning, but hopefully I'll wake up and it's fine."
Yankees manager Joe Girardi said that he initially feared that Ellsbury had injured his shoulder on the play, but Ellsbury made no attempt to come out of the game. He played catch lightly with left fielder Brett Gardner during a pitching change later in the inning.
"We were just loosening up in case we had to throw someone out at the plate," Gardner quipped. "I'm sure he's sore, but it's just one of those things. I think it's all good. He's a tough guy."
Ellsbury said that "pretty much my whole left side made contact with the wall," and said he had no choice but to toss the ball to Judge.
"I'm laying on the ground, so the best chance was to toss it to Aaron and then relay," Ellsbury said. "It'd have to be a double-cut anyway."
Oddly, Ellsbury was also involved in the last two-run sacrifice fly in the Majors, catching a ball hit by Wil Myers of the Rays on Sept. 6, 2014, at Tropicana Field. Ellsbury said that he was most surprised that Travis had returned to second base to tag on the well-hit drive.
"It's at the wall, what, 408 feet?" Ellsbury said. "I said, 'You were tagging on that?' He said, 'Yeah, I knew you were going to catch it.' That's respect. If he's off, he's probably touching third and then he's got to come back, then he's got 180 feet to make up."
Bryan Hoch has covered the Yankees for MLB.com since 2007. Follow him on Twitter @bryanhoch, on Facebook and read his MLBlog, Bombers Beat. This story was not subject to the approval of Major League Baseball or its clubs.