Anderson keeps learning, improving on job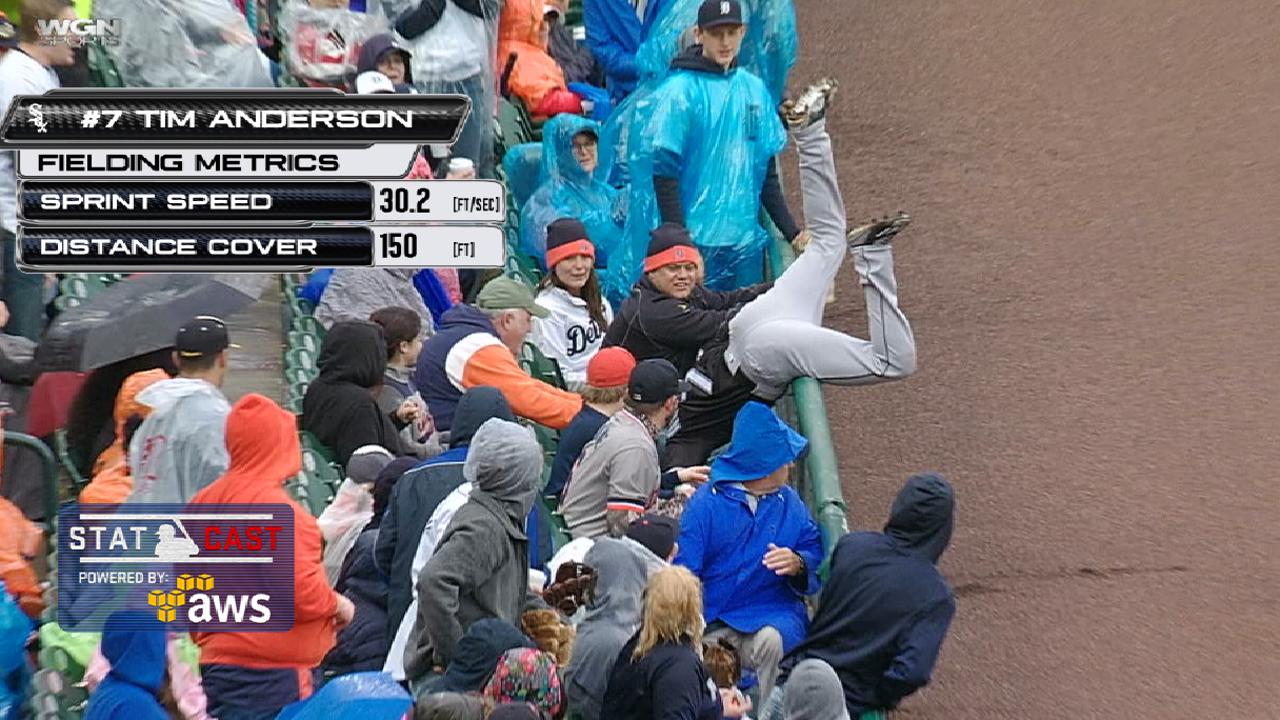 KANSAS CITY -- The six-year, $25 million extension already is in hand for White Sox shortstop Tim Anderson, who was listed for the first time on the American League Esurance MLB All-Star Game Ballot released on Monday.
But while it sounds more than cliché, every day remains a learning experience for the 23-year-old face of the franchise.
"I'm still in the point where I'm learning the game," Anderson said before Monday's series opener against the Royals. "It's more so just me playing. That comes with hitting, too. I feel like I'm more so learning the game more than I ever did.
"Before it was more go play and you know it was really what God put into me. Now it's more so I'm learning what pitchers are going to do to me, learning how to field a ground ball the right way and learning how to throw. Other than that, I was playing off mostly my athleticism."
Anderson came to the White Sox as the club's top pick and the 17th overall selection in the 2013 Draft. He hadn't started playing baseball at Hillcrest High School in Tuscaloosa, Ala., until his junior year, focusing more on basketball, so his level of experience on the diamond wasn't extensive.
Physical errors are going to come in the field, as was in the case in the series finale against the Tigers on Sunday. But Anderson also feels more comfortable defensively with each opportunity.
"Going to my right and left has been a whole lot better," Anderson said. "With popups, that's something really, I could say easy. It comes naturally because I've always been able to run and even when I was younger, I played football a little bit.
"It's easy to go run and get a ball in the air. It's tougher trying to catch one on the ground. With me getting better each and every day, it's more so the more reps I get. I feel like as I grow and mature and get older that the more reps that come, I find myself getting better. That plays a big role of who I am really and how I'm able to grow and succeed, and make some of the plays I've been making."
Patience at the plate, manifesting itself in only three walks over 93 at-bats this season, is another area manager Rick Renteria feels will develop with time for Anderson.
"Taking walks is a byproduct of staying locked in in a particular zone," Renteria said. "Right now if pitchers are trying to manage him, they're trying to stay out of the zone so he has to bring them back in.
"Basically focus on that hitting zone, he can manage and then when he gets two strikes, battle. He's been working a lot with the guys. They're looking at a lot of film, a lot of different hitters to see how they approach their at-bats. His experience in time allows him to develop his skill set at the plate."
Scott Merkin is a reporter for MLB.com. Read his blog, Merk's Works, follow him on Twitter @scottmerkin, on Facebook and listen to his podcast. This story was not subject to the approval of Major League Baseball or its clubs.