Profar sent to Triple-A to focus on shortstop
Rangers want infielder to get bat going, play every day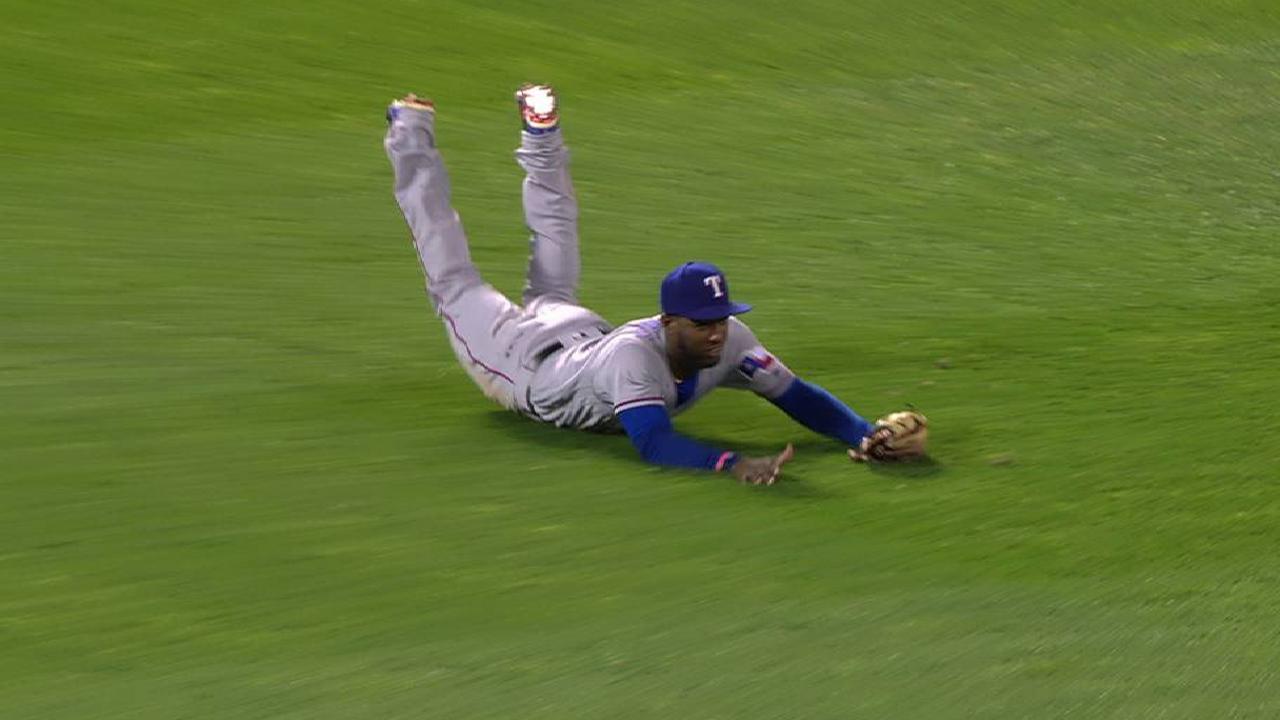 HOUSTON -- Jurickson Profar will go back to playing shortstop at Triple-A Round Rock. It could be the best way to rebuild his sagging trade value before the July 31 Non-Waiver Trade Deadline.
Profar was mainly playing left field for the Rangers and also serving as their utility infielder. But he was sent to Round Rock after hitting .135 in his first 15 games. Profar had fallen out of the left field rotation and the Rangers were able to fill their utility infielder role by claiming Pete Kozma off waivers from the Yankees.
The Rangers -- who dropped a 6-2 decision to the Astros on Monday -- want Profar to focus on one position at Triple-A so he can get his offense going again.
"He was originally a shortstop," manager Jeff Banister said. "Re-energize him, get the athleticism going. We gave him some opportunities here to get going and play the outfield and be one of the hitters. It got to the point where he needs to go out and play. We were able to get Kozma so it gives us that opportunity."
Profar was once one of the top young prospects in the game before missing 2014-15 because of a chronic shoulder problem. He returned last year as a utility player, but is blocked in the middle infield by Elvis Andrus and Rougned Odor.
Profar's name came up in trade discussions last summer leading up to the Trade Deadline but the Rangers held on to him. His trade value has diminished because of his poor start and other factors, but that could change with regular playing time at Round Rock.
"We are going to need Jurickson at some point," Banister said. "We would rather have him fresh and playing every day as opposed to sitting on the bench. The key is the ability to play every day. We are a better ballclub when Jurickson is playing every day and part of the rotation."
Darvish gets extra day: The Rangers are giving Yu Darvish an extra day of rest after his 125-pitch outing against the Angels on Saturday. Darvish will start on Friday against the Mariners in Seattle rather than Thursday against the Astros in Houston.
"We know he likes the extra day of rest and we have the opportunity to do it," Banister said. "He didn't want me to do it, I'll be honest. He wanted to compete but long term it is best to give him the extra day."
Cole Hamels is scheduled to pitch on Tuesday followed by Nick Martinez on Wednesday. A.J. Griffin, who is on the disabled list because inflammation and swelling in his left ankle, will pitch on Thursday if he makes it through Monday's bullpen session without any issues. The Rangers aren't expecting any issues.
"I'm back to normal," Griffin said. "It feels good."
Rangers beat:
• Tyson Ross, whose rehab program was slowed down by upper back spasms, came out of Saturday's bullpen session without any issues. He is expected to throw one more bullpen session later this week and then could go back to pitching in a game again.
• Third baseman Joey Gallo was selected as the Rangers Player of the Month for April after hitting .213 with seven home runs, 16 RBI and a .550 slugging percentage.
• Reliever Alex Claudio did not allow a run over 10 innings in April. He is one of seven Major League pitchers who did not allow a run in April pitching at least 10 innings. That's only happened twice in Rangers history -- Frank Francisco in 2002 and Jeff Russell in 1991.
T.R. Sullivan has covered the Rangers since 1989, and for MLB.com since 2006. Follow him on Twitter @Sullivan_Ranger and listen to his podcast. This story was not subject to the approval of Major League Baseball or its clubs.