Brewers call up Scahill, designate Milone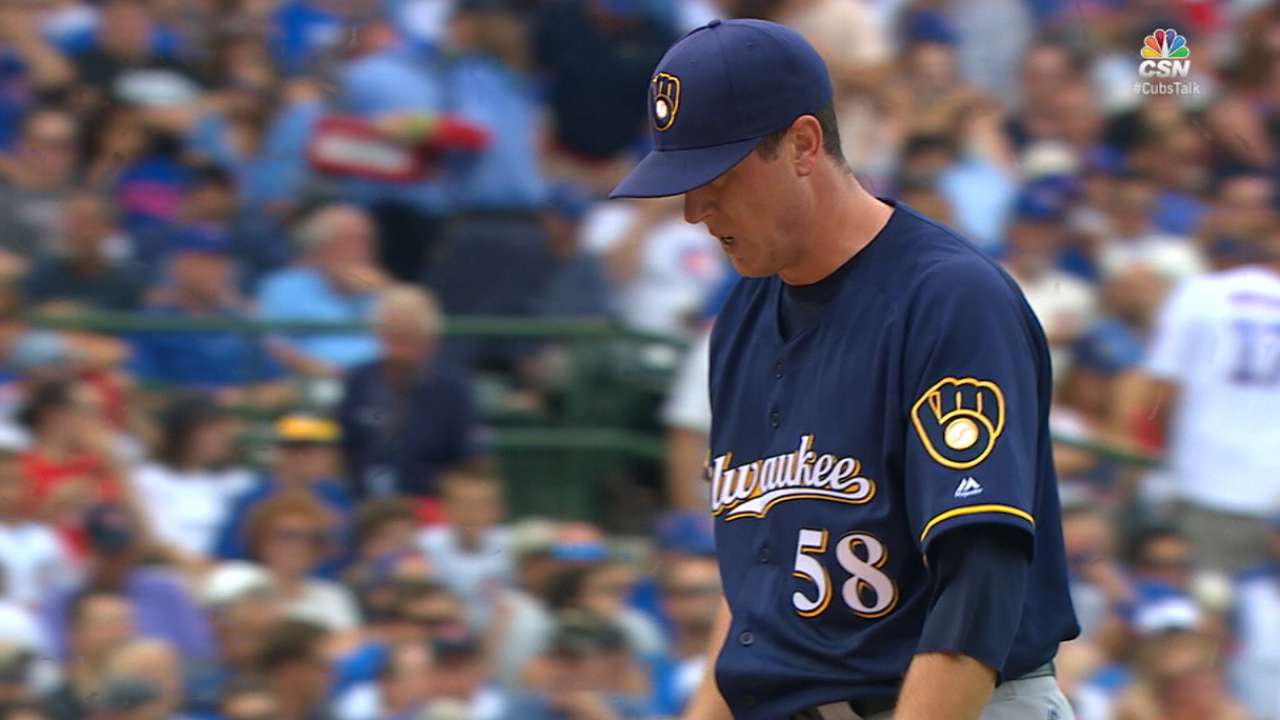 ST. LOUIS -- The Brewers tried Tommy Milone as a reliever, then as a starter, then a reliever again. On Monday, they designated the veteran left-hander for assignment and promoted Rob Scahill, one of the pitchers who had been thriving in the difficult environment of Triple-A Colorado Springs.
With Scahill on hand at Busch Stadium for the start of a four-game series against the Cardinals, the Brewers were back to an all-right-handed bullpen.
"I think our perspective with Tommy is that he should be in a rotation," Brewers manager Craig Counsell said. "We don't have a spot for him in our rotation right now. ... If he gets through the waiver process, we would hope that he gets to our Colorado Springs rotation. But that is a couple of steps away."
Milone, whose $1.25 million contract became guaranteed when he made the Brewers' Opening Day bullpen, was marginally more effective in his three starts (5.14 ERA, .842 OPS against, 1.36 WHIP) than in three relief appearances (9.00 ERA, 1.020 OPS against, 1.71 WHIP).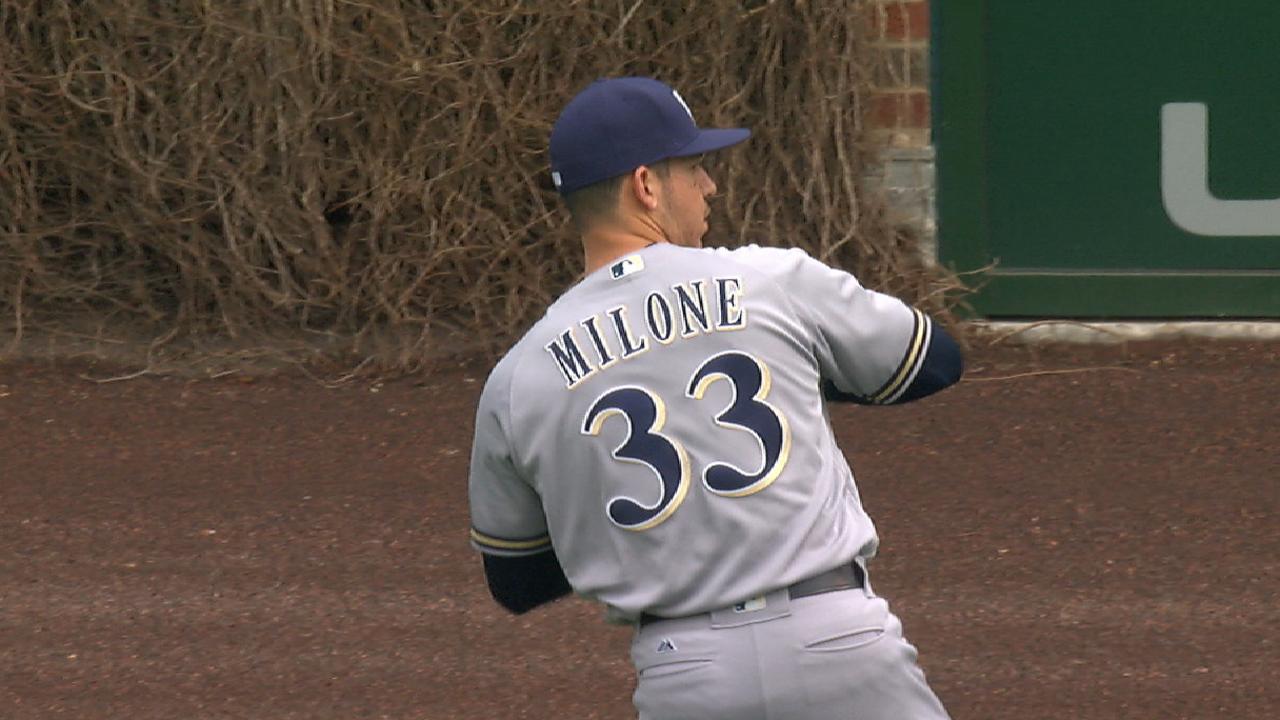 Scahill, meanwhile, posted a 1.04 ERA in nine relief appearances for Colorado Springs, with a team-best 0.92 WHIP.
He was among the Brewers' final cuts at the end of Spring Training, along with fellow right-hander Tyler Cravy. Both expressed frustration with the decision but went to the Minors and pitched well. In his first eight appearances, Cravy had a 2.79 ERA and a 1.14 WHIP there.
"They have a lot of guys in their bullpen pitching well," Counsell said. "They have a lot of starters pitching well, too."
The Brewers claimed Scahill off waivers from the Pirates last July, and he made 16 appearances for Milwaukee down the stretch, with a 2.45 ERA. But his bid for an Opening Day roster spot took a hit just before the start of Spring Training when the Brewers removed him from the 40-man roster.
"The big thing is Rob has been throwing strikes, and he has been getting ground balls. That's what he did for us last year when he got here," Counsell said. "That's what he did in Spring Training. Those are two combinations that make it hard to score."
Last call
• As expected, Ryan Braun was absent from Monday's starting lineup because of a tight right trapezius and other related arm issues. Counsell declined to hazard a guess as to how many games Braun might miss, saying he was not ruled out for at-bats off the bench.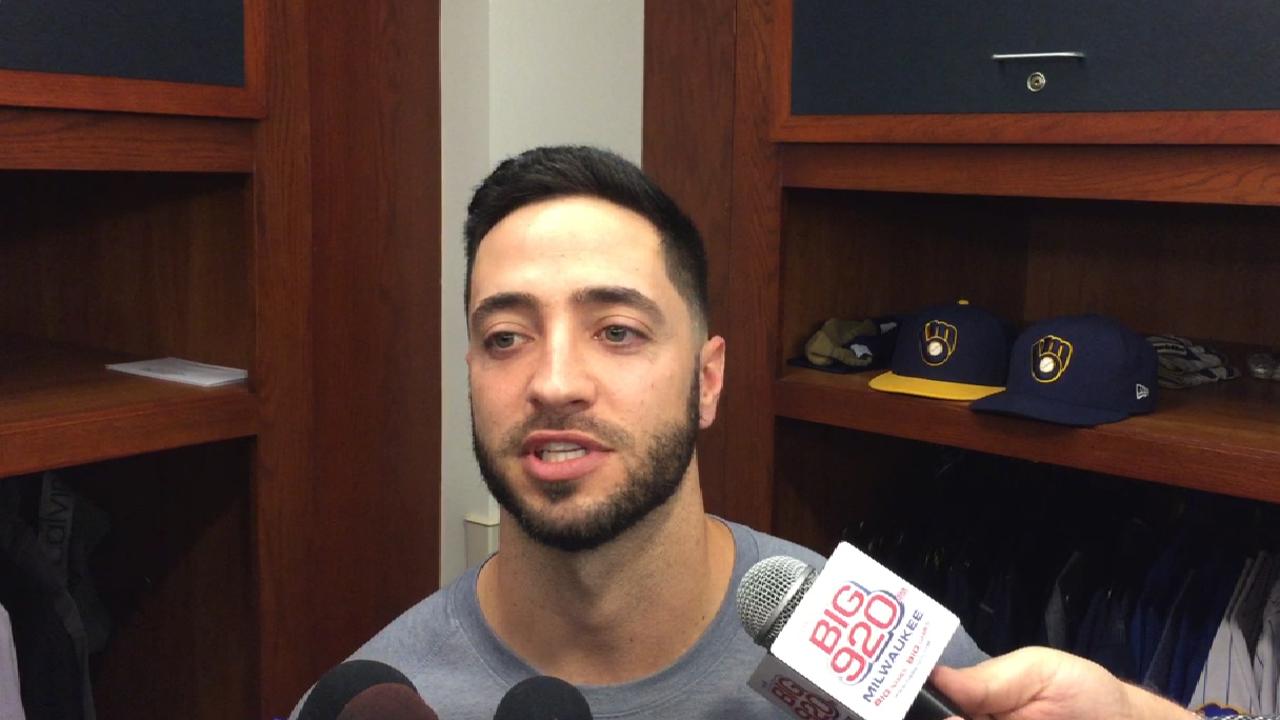 • Brewers officials and the team's traveling media voted Eric Thames player of the month for April, and Chase Anderson won pitcher of the month honors. Thames led the Majors with 11 home runs and ranked fourth with a 1.276 OPS. Anderson ranked sixth in the National League with a 2.10 ERA.
My thoughts and prayers go out to the victims and their families at UT today. May God shine his light on Austin today.

— Corey Knebel (@coreyknebel29) May 1, 2017
• Brewers reliever and former University of Texas Longhorn Corey Knebel took to Twitter on Monday to express condolences for victims in Austin, Texas, where a knife-wielding student killed at least one person and wounded three others earlier in the day. Knebel pitched three seasons for the Longhorns before the Tigers drafted him 39th overall in 2013.
Adam McCalvy has covered the Brewers for MLB.com since 2001. Follow him on Twitter @AdamMcCalvy, like him on Facebook and listen to his podcast This story was not subject to the approval of Major League Baseball or its clubs.