Gyorko taking game to a different level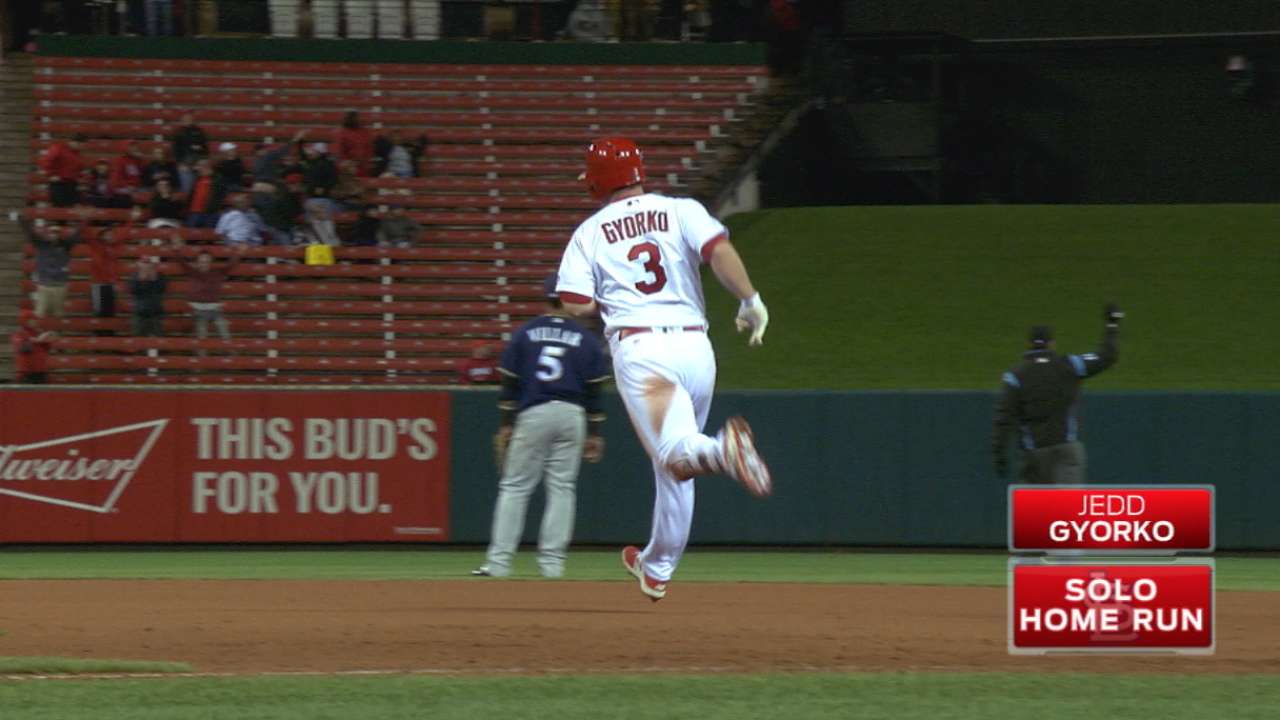 ST. LOUIS -- The Cardinals haven't found much consistency at the plate through the first month of the season, but they've found something in Jedd Gyorko.
Recently installed as the team's No. 4 hitter, the Cardinals' third baseman finished April batting .333 and started the month of May off with a bang. Two of them, actually.
Gyorko blasted two solo homers and had four hits to help the Cardinals overcome a four-run deficit on Monday night before falling to the visiting Brewers, 7-5, in 10 innings at Busch Stadium.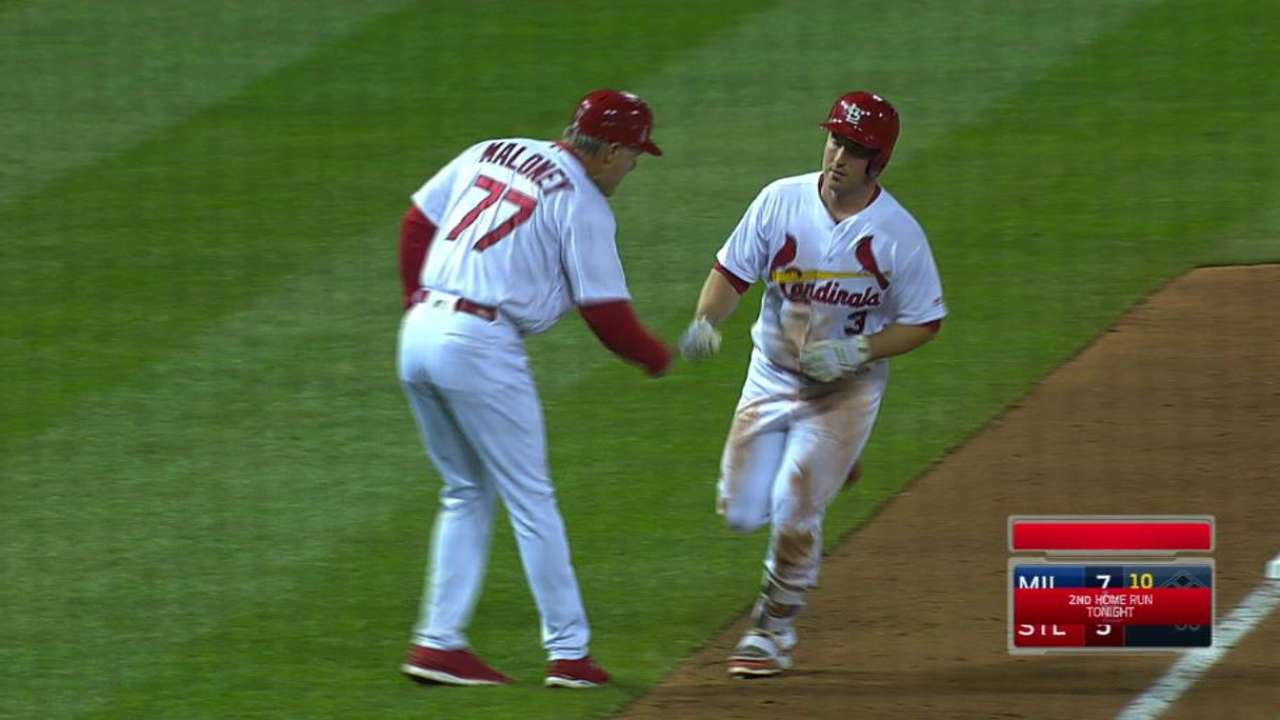 "Anytime you don't get the W, it's tough," Gyorko said. "It's good to see us fight back in the game, come back, tie it up, but just couldn't finish it off."
Gyorko, acquired in a trade from the Padres before the 2016 season, batted .243 with a career-best 30 homers in his first season in St. Louis. Through his first 20 games this season, he's hitting .369 with five doubles, a team-high six homers, 10 RBIs and a .431 on-base percentage.
"Jedd's a great hitter," Cardinals manager Mike Matheny said. "He's just continuing to put together solid at-bats for us no matter what the situation. To be able to drive the ball out of the ballpark, in this ballpark, the opposite way in the right-center gap, puts him in a rare class. Let's try to keep him going. He's playing terrific defense as well."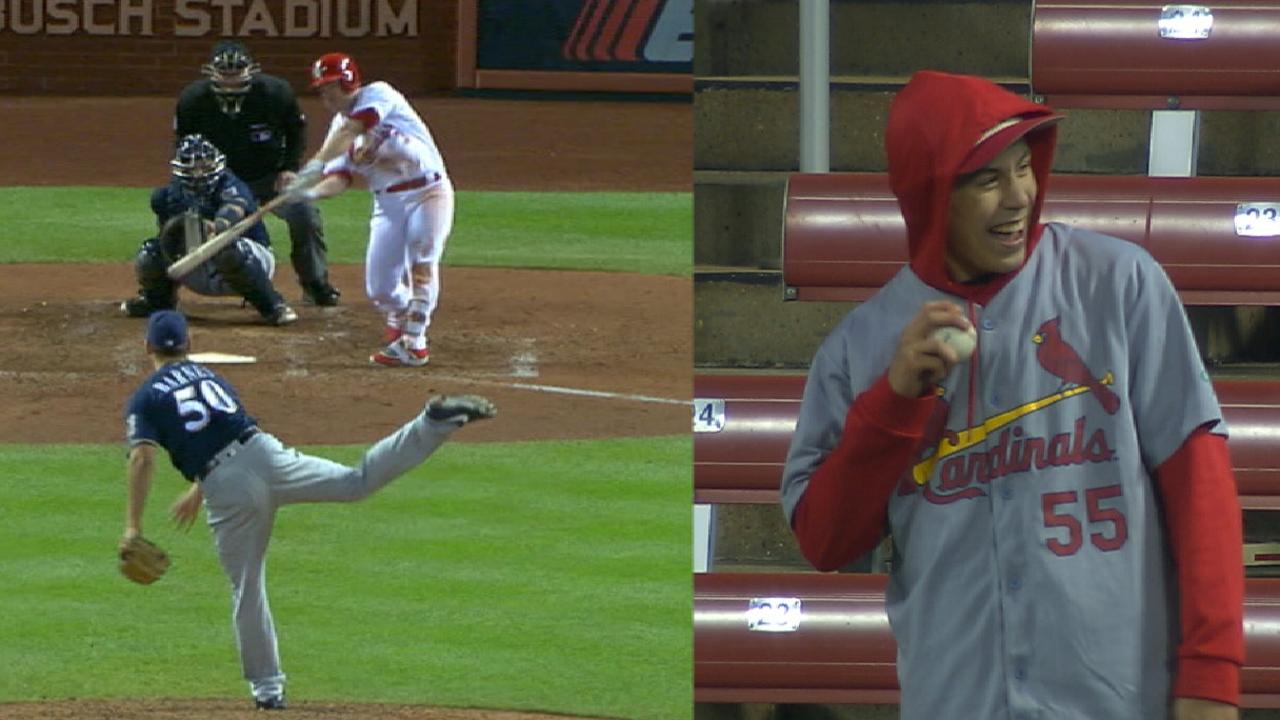 Gyorko's big game Monday tied his career high for hits in a game and was his fifth multi-home run game. It was also his third straight multi-hit game, which also tied a career high.
His swing feels good, Gyorko said.
"I think it's where it needs to be," he said. "Just kind of ride it out, keep it going as long as you can."
All six of Gyorko's home runs this season have been solo shots and have all come in the sixth inning or later.
His home run to right-center field off Jacob Barnes to lead off the eighth inning -- it came off the bat at 104.5 mph and traveled a projected 412 feet, according to Statcast™ -- trimmed the deficit to 4-3. He added a home run to right-center off Neftali Feliz in the bottom of the 10th inning that came off the bat at 104.2 mph and traveled a projected 414 feet.
Since joining the team in 2016, Gyorko is averaging one home run every 12.9 at bats for the Cards.
"That's the kind of hitter we've seen since he's been here," Matheny said. "We said that last year. We knew he had power and he comes up with 30 [home runs], but you could just see that there's a whole different level of player in there still that I don't think he's even seen. We need it right now, and he's helped lead the way."
Nate Latsch is a contributor to MLB.com, based in St. Louis. This story was not subject to the approval of Major League Baseball or its clubs.