Pipeline Podcast: Top tools among Draft prospects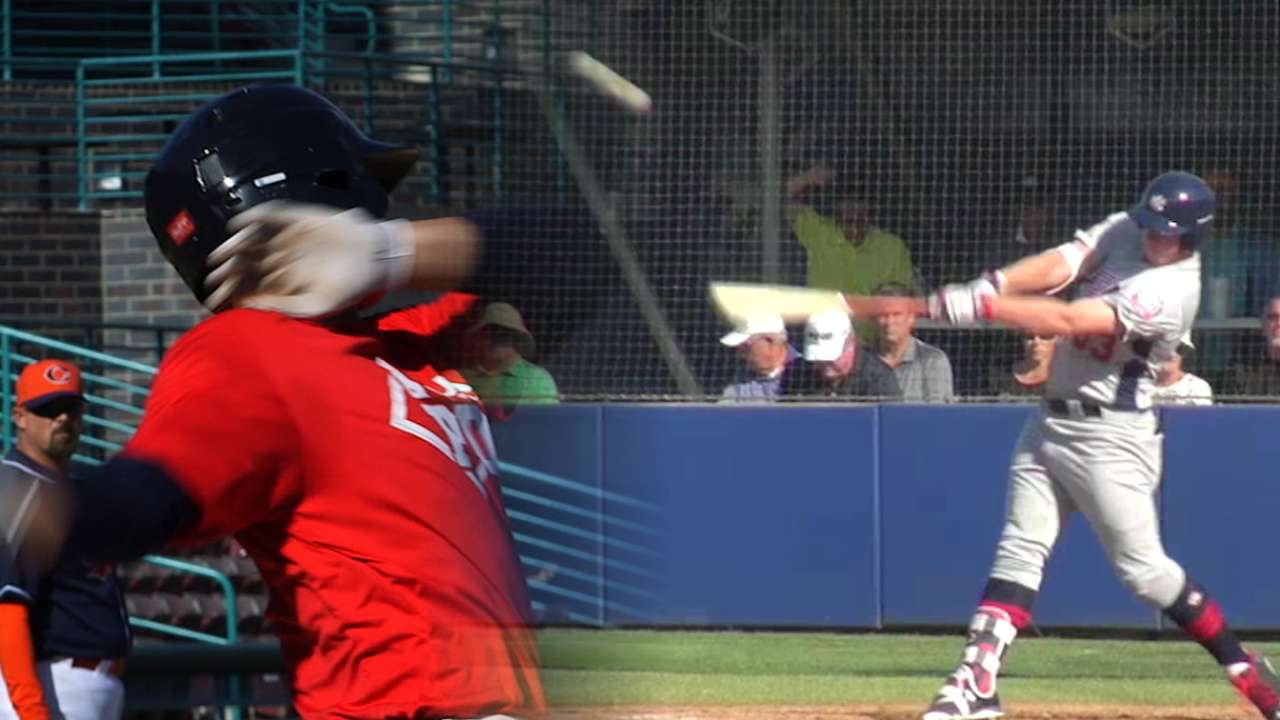 The 2017 MLB First-Year Player Draft is set to begin on June 12, and with the action now just over a month away, MLBPipeline.com's list of the Top 100 Draft prospects has been unveiled.
This week on the MLBPipeline Podcast, host Tim McMaster talks to resident prospect gurus Jim Callis and Jonathan Mayo about which players in the upcoming Draft class have the most impressive tools. The following is a transcript of a segment from this week's episode of the Pipeline Podcast.
McMaster: How about some tools? We're gonna break this down a little bit as far as hitters, and pitchers, and where the best tools come from here in the Draft. Obviously it's an interesting discussion because not only are you comparing tools between Draft prospects, but some of these guys are still in high school, and some of them are in the college ranks. We're going to start on the offensive side of things. I'll start with you, Jim. Of this new Draft Top 100, who has the best bat?
Callis: You know, that one is probably open for more debate than some of the other categories. I would say Brendan McKay. When we're talking about pure hitting ability, I would take Brendan McKay -- I think you could maybe even see him take it up another half-notch if he focused full-time on hitting. That said, some guys will tell you Pavin Smith, Virginia first baseman, would be on that list of candidates. On the high school side, Nick Pratto, interesting two-way guy who will definitely be drafted as a first baseman, I think would get a little bit of mention.
On the college side, there's some guys who think UC Irvine's Keston Hiura might be the best hitter. He's a little bit of a wild card. I think he'll go in the first round, but he has an elbow injury -- really hasn't thrown, you can go back to last summer with the Collegiate National Team -- and a lot of suspicion that he'll probably need Tommy John surgery. You'd like to see him at second base when he's healthy -- you're kind of guessing whether he can play there -- but he should have the bat to profile in the corners.
McMaster: So that's the best bat. Jonathan, how about the most power in this Draft?
Mayo: I'm torn. Because I think there are some guys who have shown it, and then there are the guys who will show it. You could make the argument that Hunter Greene has as much raw power as anyone, but he's not going to swing the bat at the next level. In terms of "now" power, maybe I'd go with Jake Berger, who made a nice little bump up our list and should be a first-rounder. He finished second last year in home runs for all Division I, and was among the leaders again this year. He's shown the ability at Missouri State to hit for power.
If you want a dark-horse candidate, Heliot Ramos from Puerto Rico has a tremendous amount of raw power. Now, there are some questions about how much he'll be able to tap into it consistently at the next level. But raw power-wise, it's right up there with Hunter Greene and Austin Beck, who's another high schooler with a lot of raw power.
McMaster: The interesting thing when you look at the top of that Draft -- obviously, the Twins taking No. 1, but the Reds, a National League team, sitting at No. 2, and the Padres 3. If one of those NL teams, they get Greene and McKay, it gets a little fun I think, because these guys, even if they end up pitching, are at least gonna get some at-bats once they get to the Major League ranks. And maybe Hunter Greene is that guy, like Madison Bumgarner, that can hit a couple of home runs per year while pitching as well. That'll be fun to watch, if he can become that kind of guy.
All right, speed. And we're back to you, Jim. Who's the fastest guy in this Draft?
Callis: I think it's one of two guys … Well, I think it's Quentin Holmes, the New York high school outfielder who has got a chance to perhaps go in the first round -- I think safely will go in the top two rounds. And if it's not him, it might be Kevin Merrell, infielder from South Florida, who's profile -- he's a guy who's got a lot of helium right now, moving up boards. Even if he can't stick in the infield, he'd be a center fielder, and he's sticking out as a guy who can play up the middle, having a good year in college, and there just aren't a whole lot of those guys. He's probably right there on Holmes' heels as the two fastest runners in this Draft.
McMaster: All right, defense. Jonathan: We're going to group everything into one here. This isn't arm strength, this isn't the ability to run the best routes in the outfield, or that kind of thing. It's just defense. So that opens it up for you to go a lot of different directions.
Mayo: I've got to go right to shortstop and take Nick Allen, who is one of my favorite guys in the Draft anyway. You talk to area scouts in Southern California, he's one of their favorite guys, but no one really has any idea where he might go just because he's really small. But there is no question that he can play shortstop. Just go and watch highlights from the Perfect Game All-American Classic; he made a couple of highlight-reel plays. He's got a really good arm, so that works as well. He can flat-out defend. And if a team thinks he's gonna hit enough, that he'll add enough strength, he could sneak into the first round I think -- because of the defense and the speed, but primarily because he can play that premium position for a long time.