Pirates call up catcher Diaz from Triple-A
Prospect was hitting .305 in Indianapolis; Kuhl, Freese, Frazier all on mend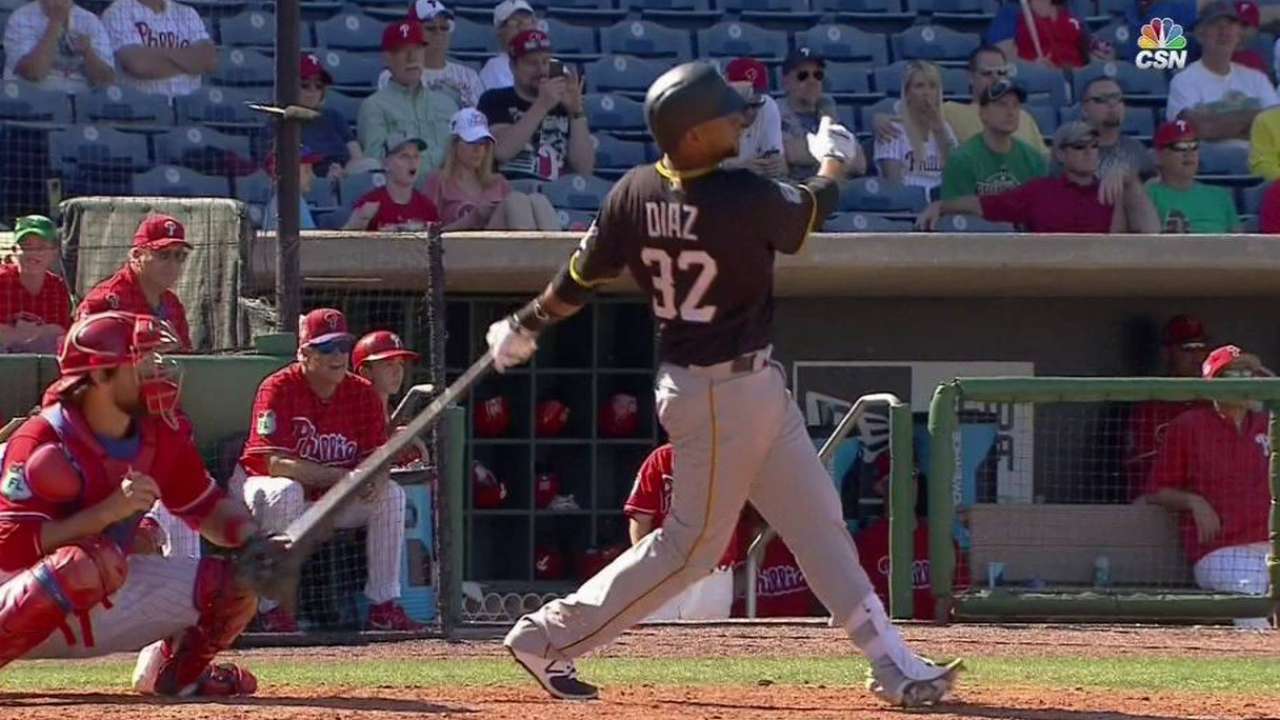 CINCINNATI - With catcher Francisco Cervelli still sidelined by nagging, intermittent foot soreness, the Pirates recalled Elias Diaz from Triple-A Indianapolis on Monday.
Cervelli said his right foot felt better on Monday afternoon, but he was not able to return to the lineup at Great American Ball Park. Catcher Chris Stewart got the start behind the plate. Until Cervelli is fully healthy, the Bucs will turn to Diaz while monitoring the 35-year-old Stewart's workload.
"Diaz is going to provide us a transition guy we can count on that knows our staff, knows most of the guys, has put in time and will be ready to provide some service for us here," manager Clint Hurdle said. "I'm not so sure what degree we need to push Stewart right now, early in the season."
Cervelli said his foot was sore when he woke up Sunday. That kept him off the field at Marlins Park and left him unavailable Monday in Cincinnati, where he received treatment. But Cervelli is not considering a trip to the disabled list to fully rest his foot.
"Not going to happen," Cervelli said. "It's much better today. … In the offseason, I'll take a week off. Not now."
Diaz, the club's No. 10 prospect according to MLBPipeline.com, was hitting .305/.317/.441 with a homer and 12 RBIs in 15 games for Indianapolis.
"I'm glad to be healthy. I'm glad to be here. That's my goal," said Diaz, who was set back by elbow and leg injuries last year. "Be healthy, no matter where I am. If I'm in Triple-A or I'm in the big leagues, I have to be healthy and ready all the time."
The Bucs wanted to promote Diaz on Sunday, but he could not have made it to Miami in time. So the Pirates had to call up emergency catcher John Bormann from Class A Advanced Bradenton, their closest available catcher. Bormann made it in time and struck out as a pinch-hitter during his unlikely, but memorable, day as a big leaguer. He was optioned back to Bradenton on Monday.
"I did tell him the story about the manager in the American League [Jeff Banister, the former Pirates bench coach] that had one Major League at-bat as well," Hurdle said. "Hopefully, you'll get more. If you don't, it's played out well for somebody else."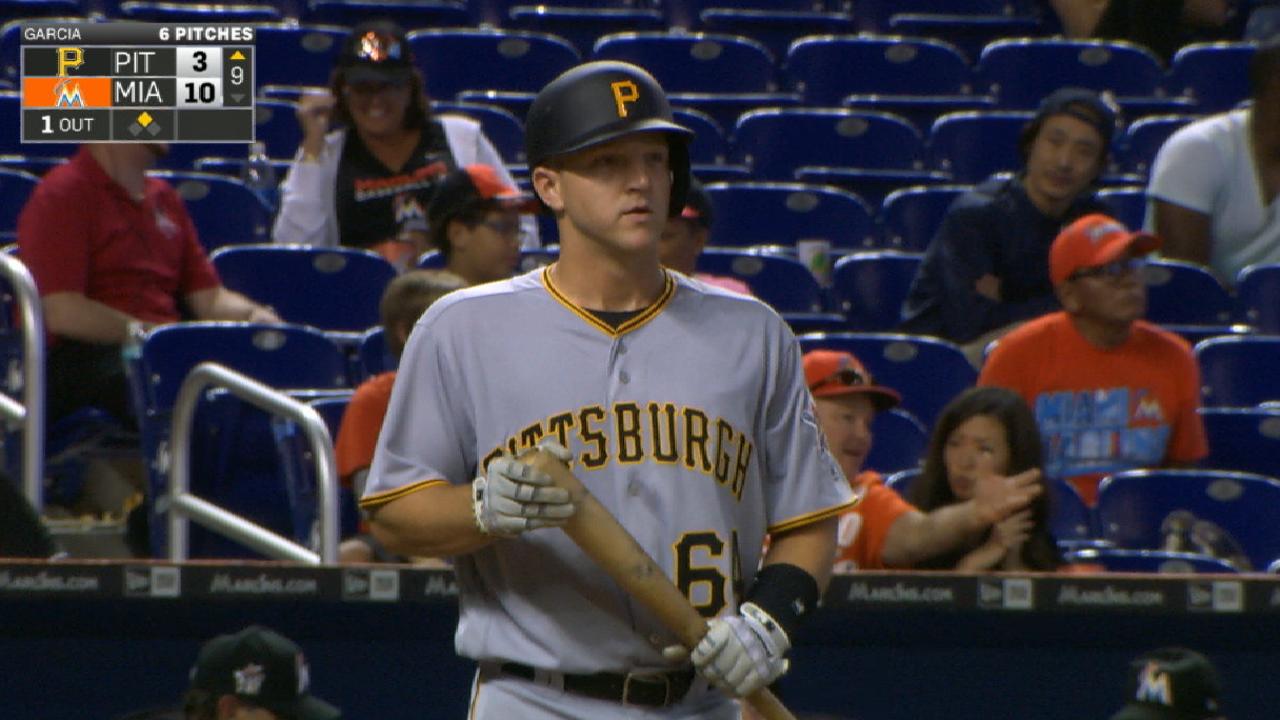 Kuhl improving
A day after being struck on the inside of his right knee by Dee Gordon's hard-hopping ground ball, right-hander Chad Kuhl said he was feeling bruised but better. Kuhl had to leave his start Sunday at Marlins Park in the fifth inning, but he plans to make his next scheduled start.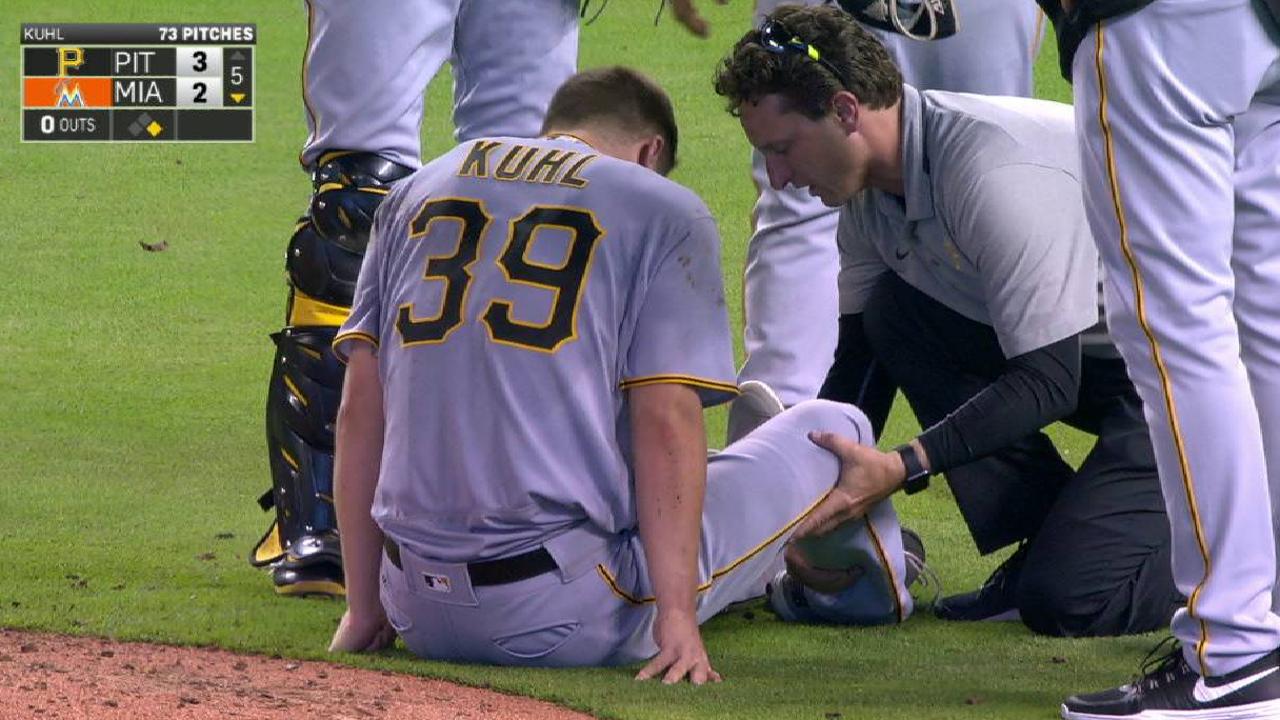 "I think I'm good," Kuhl said. "All good."
Kuhl said there is still the imprint of a baseball on his knee, which remains swollen. He threw a few warmup pitches after the ball knocked him off his feet, but it wasn't enough to convince Hurdle or head athletic trainer Todd Tomczyk.
"It was almost like I was unstable. I picked my leg up and just wobbled," Kuhl said. "I told myself to stand, and I just couldn't. I tried to trick them, and it didn't work."
On the mend
Adam Frazier and David Freese, both on the disabled list with hamstring injuries, played catch Monday afternoon under Tomczyk's watch. Frazier, eligible to return Wednesday but likely to do so a few days afterward, took batting practice on the field with the Pirates' final group.
Frazier is out with a left hamstring strain. Freese, sidelined by a right hamstring strain, is eligible to come off the 10-day disabled list on Friday.
Adam Berry has covered the Pirates for MLB.com since 2015. Follow him on Twitter and Facebook, read his blog and listen to his podcast. This story was not subject to the approval of Major League Baseball or its clubs.