Inbox: Is Berrios' return to Twins on horizon?
Beat reporter Rhett Bollinger answers fans' questions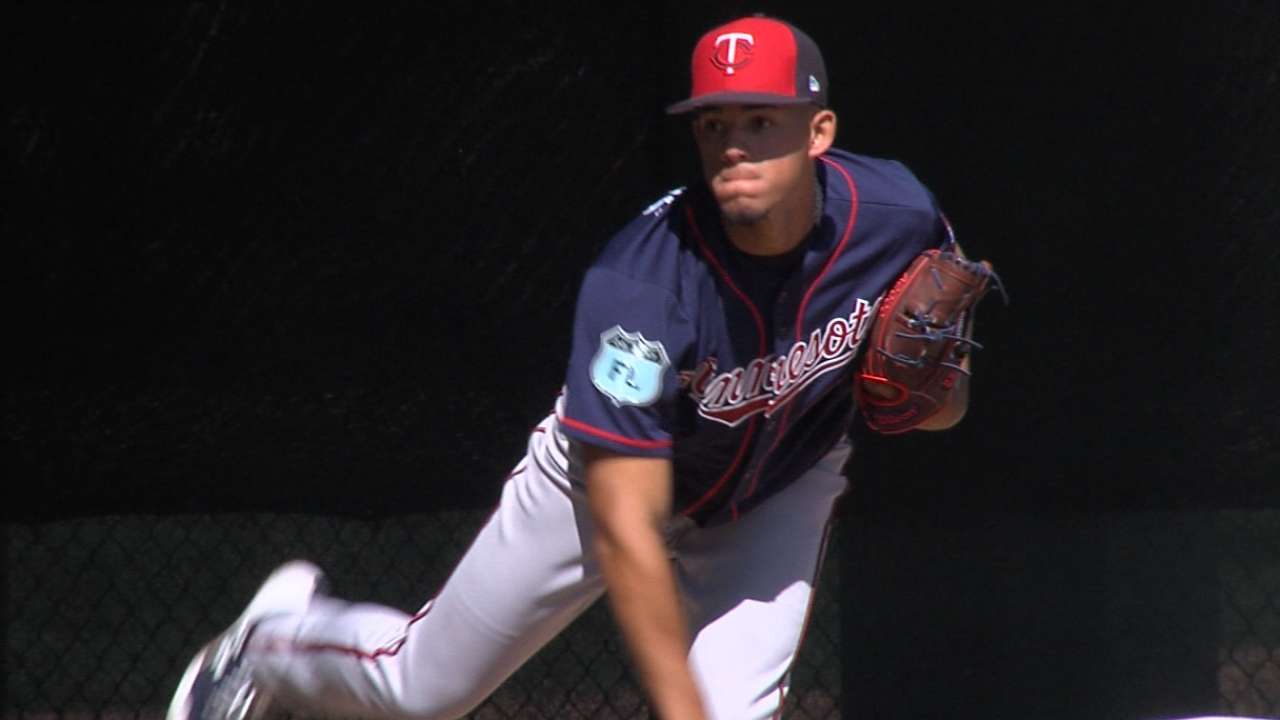 The Twins bounced back from their subpar homestand by going 4-1 on their road trip through Texas and Kansas City, finishing April with a winning record for the first time since 2014.
Miguel Sano has been one of the best hitters in baseball, and he helped carry Minnesota with nine RBIs in its two wins over the Royals. The starting pitching has held up, thanks in part to better defense this year, but the Twins will have a decision to make regarding a fifth starter for Saturday's game against the Red Sox. That leads us to the first question of this week's Twins Inbox:
@RhettBollinger how long until we see Berrios?

— Streich (@StreichForceDFS) April 30, 2017
Berrios made a strong case to be called up on Saturday with a dominant performance for Triple-A Rochester on Sunday, tossing eight scoreless innings of two-hit ball while striking out seven. The right-hander now has a 1.09 ERA with 35 strikeouts and eight walks in 33 innings.
• Submit a question to the Twins Inbox
But as we saw last year with Berrios, those Minor League numbers don't always translate to the Majors, and he's still working to refine his command. He's not a lock to rejoin the rotation, as there are other candidates such as Tyler Duffey, Nick Tepesch and Adalberto Mejia, but it makes sense to see what the organization has in Berrios.
Berrios has the stuff to be a quality starter, but he seems to put too much pressure on himself in the Majors, and one key way to overcome that is by gaining more experience.
@RhettBollinger How would you grade Molitor's performance so far? Good enough to manage next year? Too soon to tell?

— Chris Hanel (@ChrisHanel) April 30, 2017
It's still too early to make any definitive statements about Molitor's status, as he remains in the last year of his contract and was hired by the previous regime. But it's clear he's tried to embrace new data, referencing Statcast™ information such as exit velocity, and has been a major proponent of shifting, receiving help on defensive positioning from coach Jeff Pickler. Better positioning based on data is one reason Minnesota's defense has been solid this year, in turn benefiting the pitching staff.
The players also seem to respect Molitor, which is significant, and he's continued to stick with developing youngsters such as Byron Buxton, who is starting to shake off his slow start. But the next five months will be telling regarding Molitor's future.
@RhettBollinger Where does Perkins fit in when he comes back?

— Chad Elseth (@chadelseth) April 30, 2017
Perkins is coming along slowly from labrum surgery on his left shoulder, throwing his bullpen sessions every three days in Florida, but he is expected to continue his rehab in Minnesota soon. It's far from a sure thing he'll be back this season, however, as he's coming off an intensive surgery. At this point, it seems like it would be a pleasant surprise if he can come back healthy and effective this season.
@RhettBollinger who is your all time favorite #mntwins player with name alliteration? Will Buxton be best alliterative Twins player ever?

— J S (@jeremy_stimpson) April 30, 2017
This is a fun one, and the best alliterative Twins player in club history is a familiar one in Hall of Famer Bert Blyleven. Among position players, Buxton would have to catch Gary Gaetti and his 27.1 WAR while with Minnesota.
@RhettBollinger What's the update on Sano's appeal?

— Heather (@HeatherMarieWil) April 30, 2017
Nothing yet, as the Twins are still waiting for a hearing on Sano's appeal of his one-game suspension. But Molitor believes Sano has a strong case to get the ruling overturned, and his status should be resolved within a week or so.
@RhettBollinger Best rain-themed song?

— John (@kabyr) April 30, 2017
In Minnesota, is there any other answer other than Prince's "Purple Rain"?
Rhett Bollinger has covered the Twins for MLB.com since 2011. Read his blog, Bollinger Beat, follow him on Twitter @RhettBollinger and listen to his podcast. This story was not subject to the approval of Major League Baseball or its clubs.