Hard-hitting Sano named AL Player of Week
Twins third baseman went 11-for-21 with 11 RBIs in five games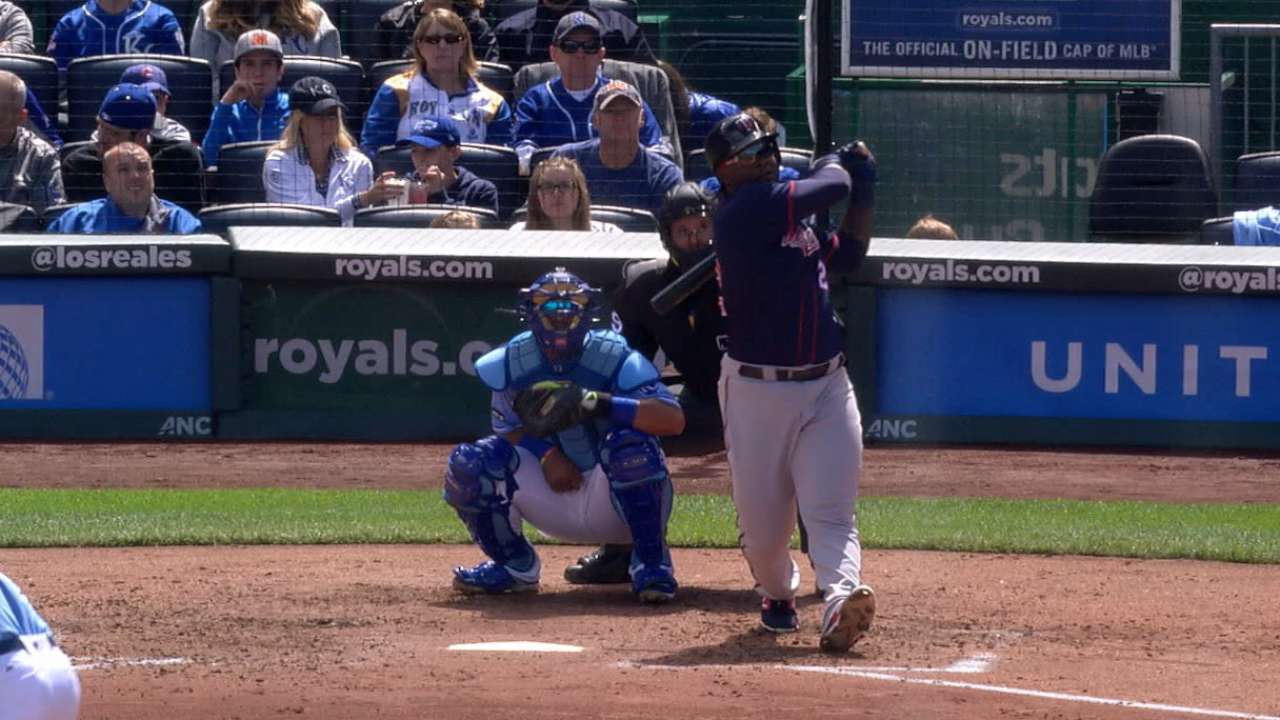 Miguel Sano, who continues to crush the ball this season, was named the American League Player of the Week for the final week of April on Monday after leading the Twins to a 4-1 road trip against the Rangers and Royals.
The Twins third baseman ended the week with a string of four straight multi-hit games, while crushing homers in three of the four. Sano hit .524 (11-for-21) in his five games during the week and slugged 1.000, with the three home runs and an AL-best 11 RBIs. His 1.545 OPS ranked fourth in the league.
Sano is hitting .316/.443/.684 with seven home runs in 2017. He leads the AL with 25 RBIs and 18 walks. This is the first career Player of the Week Award for the 23-year-old.
"He had a heck of a trip," Twins manager Paul Molitor said on Sunday. "He's tough to pitch to right now. He's handling all quadrants of the strike zone really well."
Sano has been hitting the ball as hard as anyone this year. His 99.3-mph average exit velocity is the highest in the Major Leagues, according to Statcast™, for anyone who's put even 10 balls in play this season. Sano's 12 barreled balls -- batted balls that produce an expected batting average of at least .500 and an expected slugging percentage of at least 1.500 -- are tied for fifth-most in baseball.
Just last week, Sano's average exit velocity was 99.9 mph, third-highest of anyone who put at least five balls in play during the week. He had five barrels, tied for the most in MLB.
David Adler is a reporter for MLB.com based in New York. Follow him on Twitter at @_dadler. This story was not subject to the approval of Major League Baseball or its clubs.