Inbox: Which Padres prospects are on deck?
Beat reporter AJ Cassavell answers fans' questions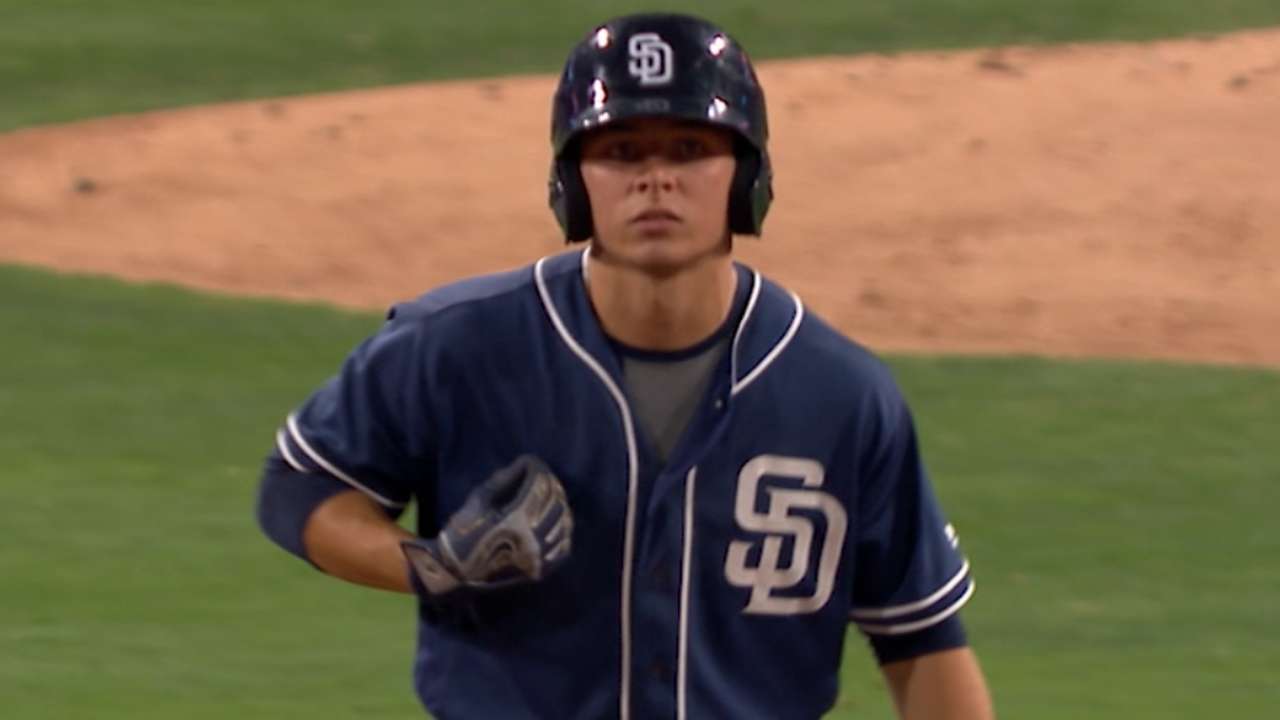 SAN DIEGO -- Following last year's youth movement, Padres fans have clearly spent time investing in the team's future. That much is evident in this week's Inbox.
Which starting pitchers are on the verge of a big league call? When (and where) will Luis Urias make an impact? In this installment, we take a look at those questions and more.
Who will be the best player on the team two years from now?
-- Kevin G., Austin, Texas
• Submit a question to the Padres Inbox
Lots of good options here. Wil Myers will be in his prime, doing the same kinds of things he's doing now. You know, like recording 35 hits -- 16 for extra bases -- over 27 games in April. He's clearly the safest bet, because he's already proven what he's capable of doing.
I'll take a bit of a different path. Myers will still be an All-Star-caliber first baseman in 2019. But Austin Hedges and Manuel Margot play positions that are far more valuable to the club. I expect all three to be in the discussion, but I'll take Margot, who opened the season as the Padres' top prospect, but recently graduated from MLB Pipeline's list. He's quickly proving he's the real deal.
Who do you see as the first starter prospect called up?
-- Chris, San Diego
A month ago, I would've answered this question without hesitation. Clearly it was Walker Lockett. The 22-year-old right-hander held his own against big league opposition in Spring Training, and when he faced the Padres in a Lake Elsinore scrimmage at the end of camp, he allowed one run over five innings.
But the recent performance of Dinelson Lamet has changed things a bit. San Diego's No. 10 prospect has been practically unhittable with Triple-A El Paso this season. In four starts (20 innings), he's allowed two runs on 12 hits, while striking out 28. Lamet profiles better as an option to work out of the 'pen, increasing his chances of a big league callup, so I'll give him the slight edge.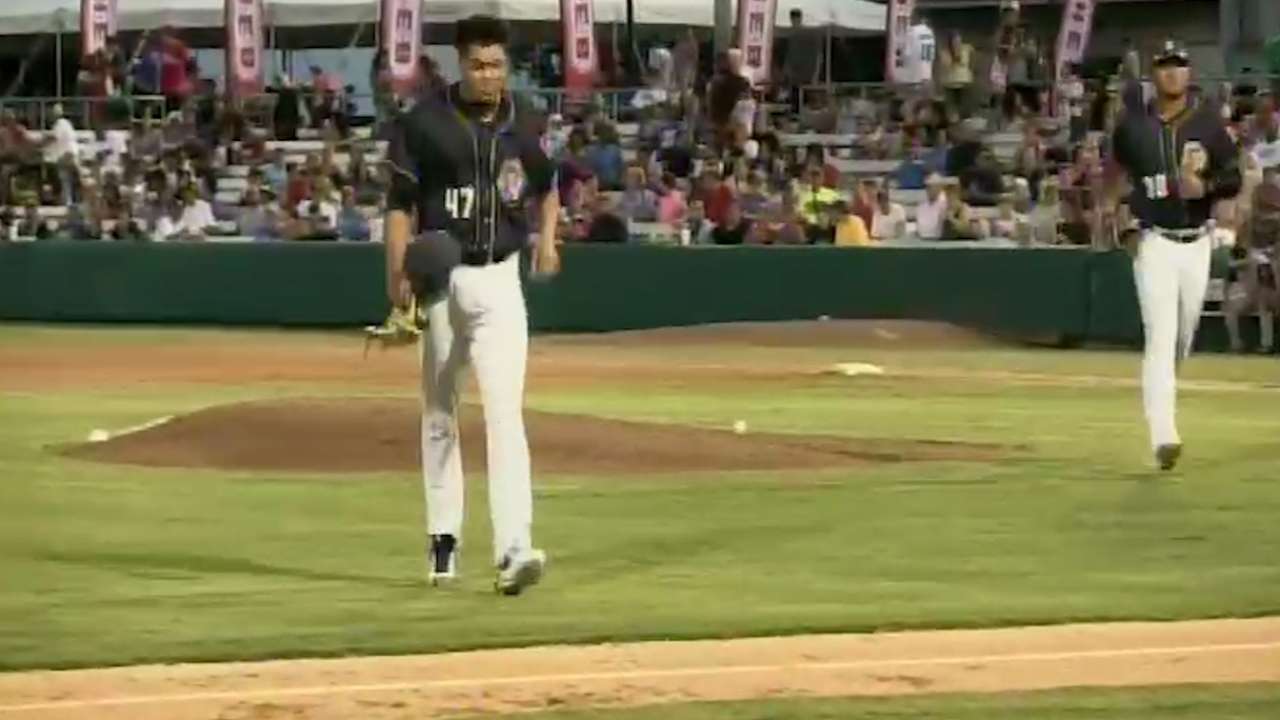 Will we see a no-hitter this year? Who has the best shot at one?
-- Kim G.
Regarding the first question, the answer is no, Kim. You've jinxed it.
Just kidding; jinxes aren't real. But statistical probabilities are, and it's statistically unlikely that we'll see a no-hitter by the Padres in 2017. (That said, it's also statistically unlikely that San Diego would have gone 7,679 games without one. It's got to happen at some point, right? Right?)
I'll play along with the next part of the question. I'm going to rule out Luis Perdomo and Clayton Richard, simply because they pitch to contact too frequently. At some point, a hard-hit ground ball is bound to sneak through the Padres' infield.
Both Jhoulys Chacin and Trevor Cahill have showed off swing-and-miss stuff at times this season. I'll take Chacin, because Cahill is coming off two seasons spent primarily as a reliever.
When do you think we'll see Luis Urias with the Padres?
-- Mario S., San Marcos, Calif.
Urias, as he has done at every level in the Padres' system, is tearing up the Double-A Texas League. He's hitting .330 and earned Player of the Week honors after going 12-for-22 from April 17-23. Oh yeah, he's 19.
As it stands, San Diego is attempting to see whether Urias -- primarily a second baseman -- can handle shortstop. Thus far, the results are mixed, but clearly he profiles better at second. Regarding a potential callup, it's not a stretch to say he's a late-season option -- like Margot last September. He's going to have to keep raking, though. Given his youth, the Padres are in no rush.
Are the Padres so deep at some Minor League positions that they could trade for a Major League guy before the Deadline, regardless of the standings?
-- CJ
The Padres' Minor League system is deep across the board; there's not really a deficiency at any position. That said, the front office has made it very clear that it won't sacrifice the future for the present.
If San Diego can land a young Major League-ready shortstop, maybe it would trade one of its second-tier prospects. But the Padres would only do so if they viewed said player as more valuble in the long term than the short term.
In case the rest of this Inbox wasn't clear enough -- it's all about the future in San Diego.
AJ Cassavell covers the Padres for MLB.com. Follow him on Twitter @ajcassavell. This story was not subject to the approval of Major League Baseball or its clubs.