Sanchez's clutch homer burns former team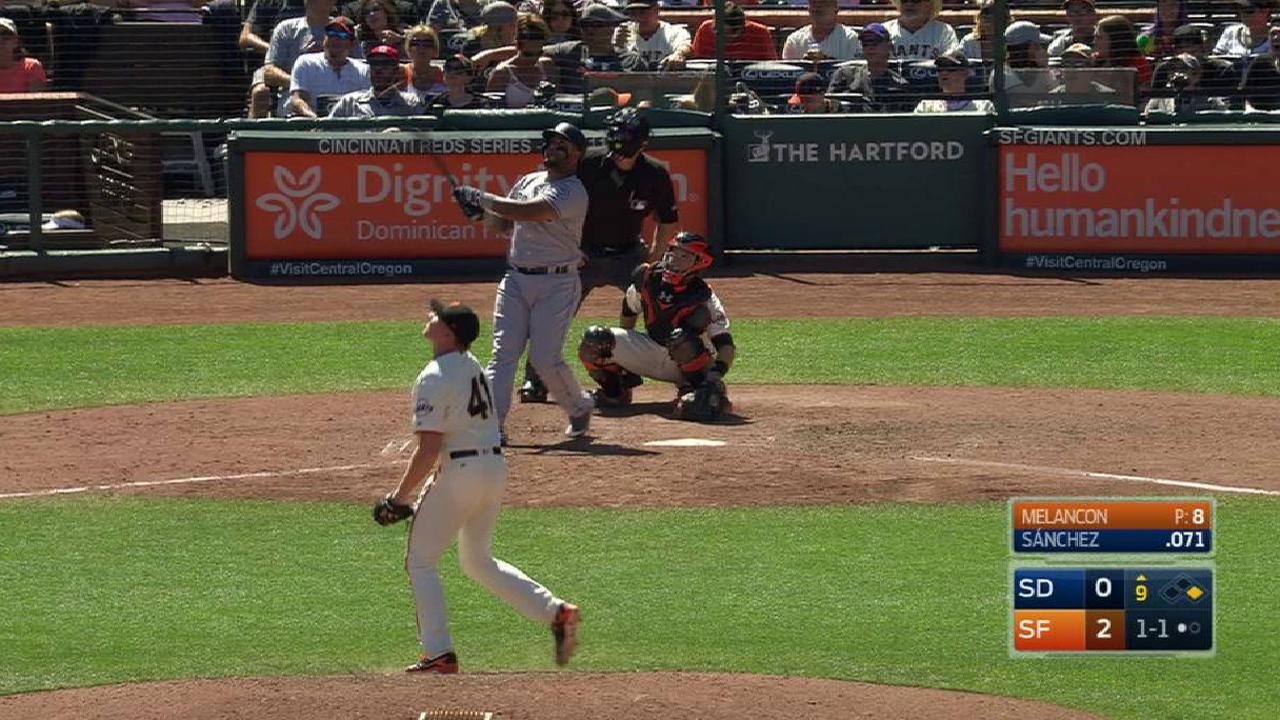 SAN FRANCISCO -- Hector Sanchez insists he still has plenty of affection for the fans in San Francisco. He just has a funny way of showing it.
The veteran backstop -- who spent five seasons with the Giants from 2011-15 -- has tormented his former club since joining the Padres a year ago. He did so again Sunday, launching a pinch-hit two-run homer to tie the game in the ninth -- a game the Padres eventually won, 5-2, in 12 innings.
"World Series, postseasons and the good fans that support the team -- it's a lot of memories," Sanchez said. "I can never forget every moment I spent with the Giants."
Sanchez's pinch-hit blast marked his eighth career plate appearance against the Giants. He has five hits (plus a walk that came at a pivotal juncture of the decisive rally in Saturday's game).
In his five seasons with the Giants, Sanchez went deep just twice at home in 297 plate appearances. He's stepped into the AT&T Park batter's box eight times since, and he's already matched that total. The switch-hitter went deep last year off Jeff Samardzija, sealing a Padres victory.
His homer Sunday came against All-Star closer Mark Melancon after the Padres offense had been stifled for 8 1/3 innings.
"I was anticipating the cutter," Sanchez said. "I know he throws a lot of cutters, so I was waiting for that pitch, and he threw me a good pitch. I put a good swing on it."
Said Melancon: "[It was] right where he was looking. You leave pitches out over the plate, and that's what's going to happen."
Sanchez is universally revered by his teammates, who went bonkers in the visiting dugout as soon as the ball left his bat. Their celebrations were audible throughout the ballpark, which went mostly silent otherwise.
"He's not getting a lot of at-bats, and he's not on the field a lot, but what he brings to the table on all those days he doesn't get in, it's invaluable," said Clayton Richard, who allowed two runs over 5 1/3 frames Sunday. "He's a tremendous asset for us, keeps us up and he's always positive. You always feel great when something happens to a guy that's there every day like he is."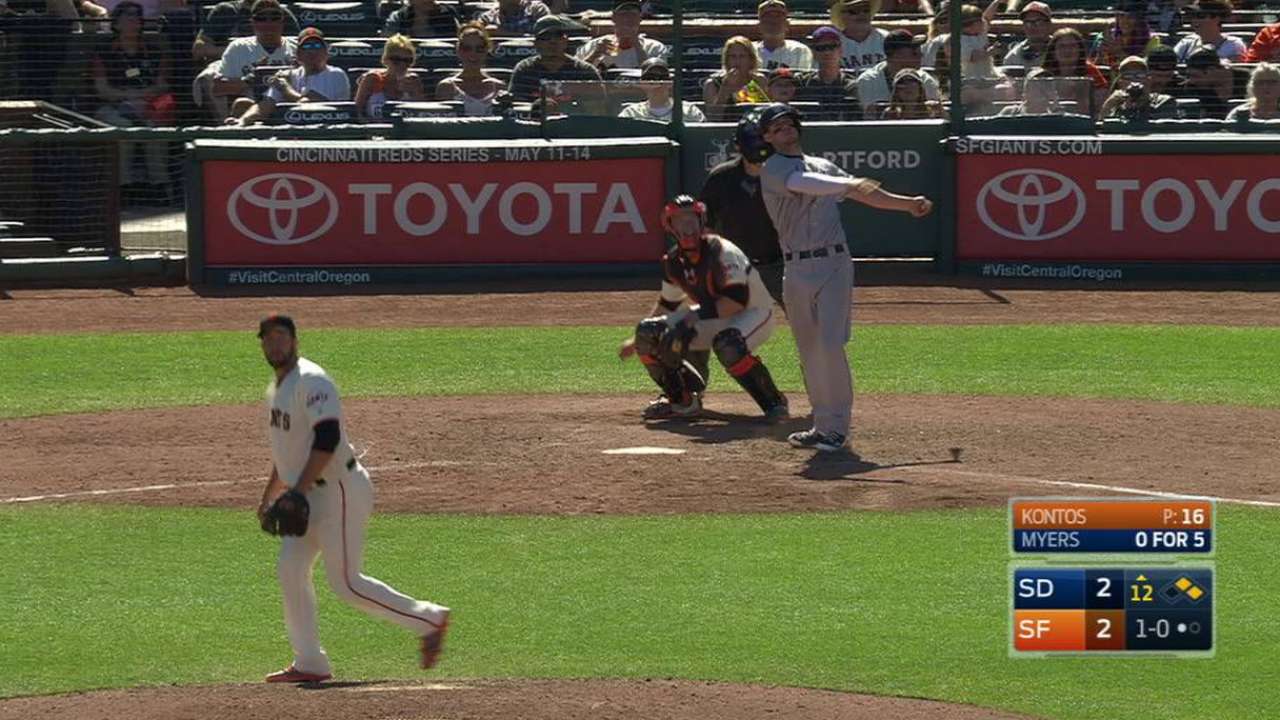 It was Wil Myers who put the Padres on top in the 12th with his second three-run blast in as many games. But he was quick to praise Sanchez afterward.
"He's something else," Myers said. "He's a fun guy to play with. He keeps the dugout, the clubhouse loose. I think he does a great job."
Sanchez's at-bats this season have been sporadic. His playing time behind the plate has been as well, with three catchers on the roster.
In the eyes of manager Andy Green, it takes a special kind of personality to thrive in that role.
"He's wired for it," Green said. "He just wants to come in and hit. He's not worried about how many times he's behind the dish. He's just going to step in the box and give his best effort. I know for a guy who caught here for a long time and was a part of some special things here in San Francisco, it probably feels really good to come back and get one."
AJ Cassavell covers the Padres for MLB.com. Follow him on Twitter @ajcassavell. This story was not subject to the approval of Major League Baseball or its clubs.