MLB.com Columnist
Richard Justice
Astros ready to 'bring it' in Rangers showdown
Houston hopes to make Lone Star Series less lopsided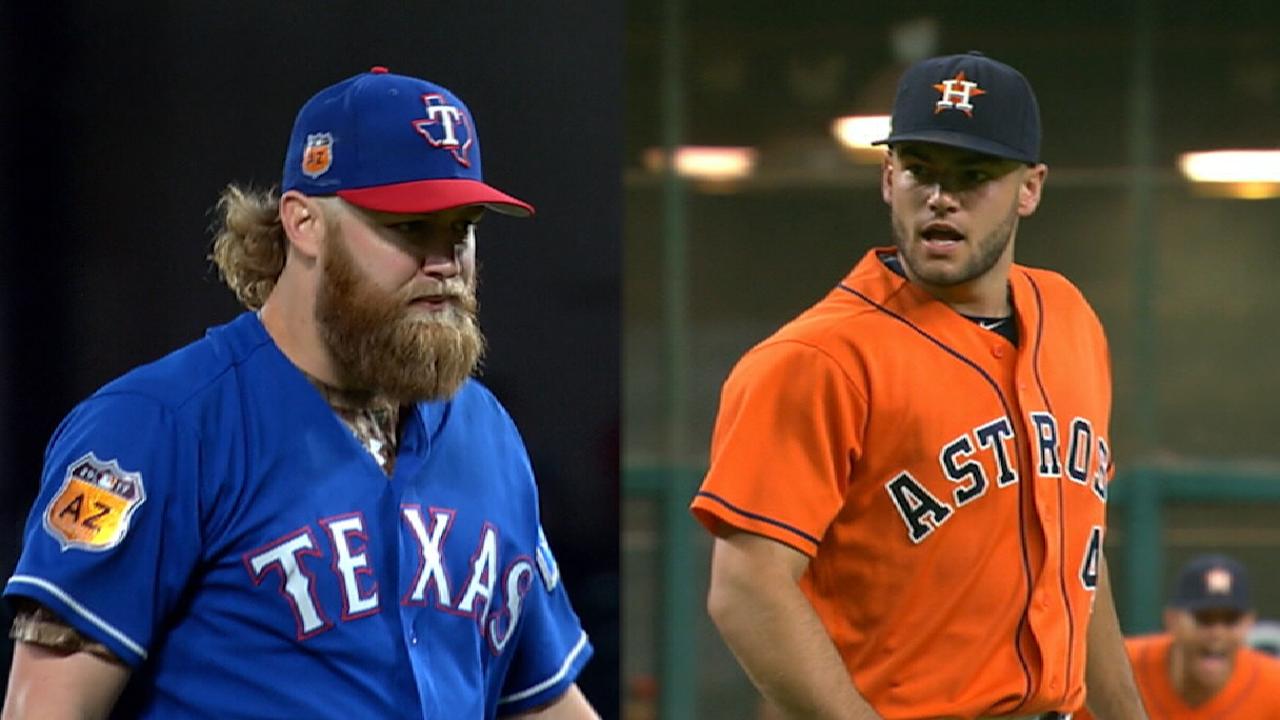 HOUSTON -- Nothing will be decided in the four-game series between the Texas Rangers and Houston Astros that begins Monday night. It's simply one little curve in a long, long road. Whatever happens could be long since forgotten by the dog days of August and September.
So why does it feel like something more?
That's because what has happened between these two teams the last two seasons is absolutely bizarre. The Rangers haven't just dominated the Astros, they've dominated them to the point that there surely has to be a smidgen of luck involved.
Let's review: The Rangers were 15-4 against the Astros in 2016 and 13-6 in 2015. Sixteen of the 38 games were decided by one run, and the Rangers won 14 of those.
Here's the fascinating part: The Astros have been competitive. They went to the postseason in 2015 and were in contention until the final week of 2016.
This isn't a good team beating up on a bad team. And the Astros have beaten every other team in the American League West, going 37-20 against the Mariners, Athletics and Angels in 2016 and 32-25 against them in 2015.
They just can't beat the Rangers. So while the Astros breezed through April at 16-9 and validated their status as the consensus favorite to win the AL West this season, this upcoming series at Minute Maid Park feels like more than just another brick in the wall.
In the Astros clubhouse, there are different views of this thing. One is that those other Astros teams bear no resemblance to this one.
"The team we have right now is head and shoulders above the team we had in '15," pitcher Dallas Keuchel said. "I think we played out of our minds in '15. It kind of showed in '16. We actually weren't that good, to be honest with you.
"We played the hide-and-seek method, and no one could find us. This year, we're pretty good, and we know that going in. That's why we're so confident each and every night we go out and play. It just makes it even more fun."
Indeed, that's the story so far. The Astros already had a solid nucleus, but general manager Jeff Luhnow aggressively added to it in the offseason in acquiring outfielders Carlos Beltran, Norichika Aoki and Josh Reddick, catcher Brian McCann and pitcher Charlie Morton.
Couple those additions with the 2016 in-season additions of third baseman Alex Bregman and first baseman Yuli Gurriel, and the Astros have been significantly remade.
"Half that room in there hasn't experienced the last couple of years," Astros manager A.J. Hinch said. "Maybe not half, but a large majority of the older players. We're not going to dwell a lot on what's already happened.
"[The Rangers] beat us. They won the division two years in a row. I don't need to relive the 38 games. Those are over. If I'm not going to replay them, I certainly don't want my players to. We've got to start fresh [Monday]."
Judging by the standings, the series should be more important to the Rangers, who are 11-14 and five games out of first place.
But they're accustomed to playing from behind. In 2015, they rallied to win the AL West after an 8-16 start and a 9 1/2-game deficit against the Astros.
This season has tested the Rangers in all sorts of ways. They haven't had third baseman Adrian Beltre for a single game, and their bullpen has been shaky. But their rotation has been better than expected, and as Hinch said, "You can throw records out for the month of April. This is going to be a nice first showdown."
Just before the start of Spring Training, Hinch drew a playful line in the sand when he said of the Rangers: "Bring it."
Rangers manager Jeff Banister responded to the challenge by indicating his players intended to do just that.
"Tell A.J., 'thank you,'" he said.
Banister acknowledged Sunday that the Astros are different, that the series is different and that the last two seasons have nothing to do with this one.
"They've got some guys over there now, they're a better team," he said of the Astros. "I think when you just add the fans, in the same state, with the proximity, and the two different fanbases, it makes for a fun series every time."
Richard Justice is a columnist for MLB.com. You can follow him on Twitter @richardjustice. This story was not subject to the approval of Major League Baseball or its clubs.