Conine, Perez named All-Star ambassadors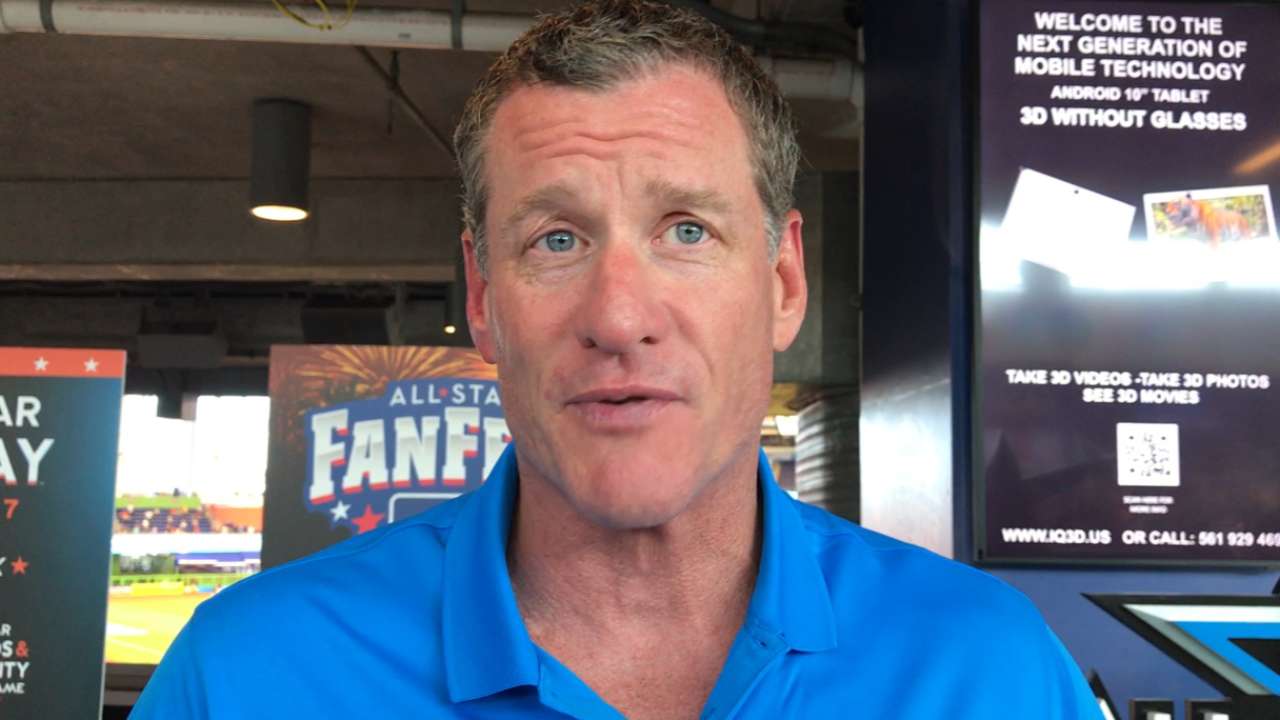 MIAMI -- Two of the most respected and recognizable faces of baseball in South Florida will be front and center during All-Star festivities in July.
Marlins special assistants to the president Jeff Conine and Tony Perez on Friday were named MLB All-Star Ambassadors for the 2017 All-Star Game presented by MasterCard, set for July 11 at Marlins Park.
Conine and Perez have been fixtures in advisory roles with the Marlins for years. Among their duties is representing the organization in the community.
• Complete All-Star Game coverage
In July, they have been tasked with generating public awareness for the Midsummer Classic and all the surrounding events. They will make appearances at MLB All-Star FanFest, ballpark events and community refurbishment projects.
MLB All-Star Week includes the 88th All-Star Game at Marlins Park on July 11, All-Star Workout Day featuring the T-Mobile Home Run Derby on July 10, All-Star Sunday featuring the SiriusXM All-Star Futures Game and All-Star Legends & Celebrity Softball Game on July 9, All-Star FanFest at the Miami Beach Convention Center from July 7-11, plus a lineup of additional events taking place around Miami.
"They should be excited about the All-Star Game here in Miami," Conine said. "We've been waiting for this an awful long time. Everybody knows that Miami knows how to throw a great party, and this is going to be a huge event for the city of Miami, for the Marlins, for this stadium, for our fans. I'm really looking forward to being involved in all kinds of stuff, including FanFest, autograph sessions, clinics. You'll be seeing a lot of me."
Conine, who enjoyed a 17-year playing career, was instrumental in both the Marlins' World Series titles in 1997 and 2003. For his hustle and work ethic, he was dubbed "Mr. Marlin." Conine also was the MVP of the 1995 All-Star Game, belting the game-winning home run.
It didn't take long for Conine and Perez to get to work promoting the All-Star festivities. The two were around the community on Friday, giving interviews to various media outlets. They also took part in a photo shoot, being pictured with the All-Star logo before the Marlins faced the Pirates on Friday night.
Perez is a seven-time All-Star first baseman, who had a storied 23-year big league career. Nicknamed "Big Dog," Perez was inducted into the National Baseball Hall of Fame in Cooperstown, N.Y., in 2000, becoming the first Cuban-born player elected by the Baseball Writers' Association of America. A prominent member of Cincinnati's "Big Red Machine" in the 1970s, Perez played for the Reds, Montreal Expos, Red Sox and Phillies. He also managed the Reds and Marlins.
"This is really for the fans," Perez said. "The All-Star Game being in Miami for the first time, and being an ambassador is something I never thought was possible."
Joe Frisaro has covered the Marlins for MLB.com since 2002. Follow him on Twitter @JoeFrisaro and listen to his podcast. This story was not subject to the approval of Major League Baseball or its clubs.