MLB.com Columnist
Jim Callis
Top 100 Draft prospects: Trio separates from pack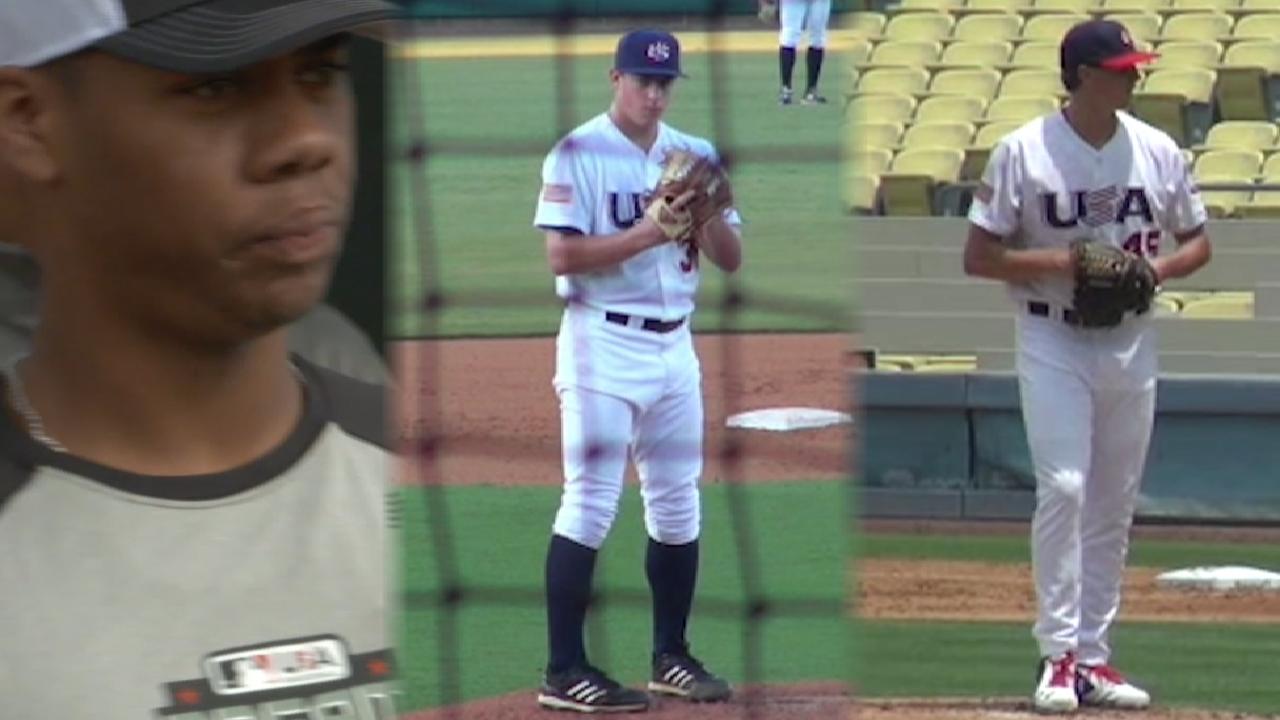 Six weeks before the Twins exercise the No. 1 overall selection in the 2017 Draft, three players have separated themselves from the rest of the pack.
Notre Dame High's (Sherman Oaks, Calif.) Hunter Greene, who is featured on the cover of this week's Sports Illustrated, maintains his No. 1 ranking on MLBPipeline.com's new Draft Top 100 Prospects list and is one of the most electric and athletic prep right-handers veteran scouts have ever seen. At No. 2, Louisville left-hander/first baseman Brendan McKay is the best two-way prospect in more than four decades, the first player who's a lock top-10-overall pick as either a hitter or pitcher since Dave Winfield went fourth overall to the Padres in 1973. Vanderbilt righty Kyle Wright, No. 3 on the Top 100, has recovered from command woes to allow a total of four hits in his past two starts, showing the dominance expected from someone who entered 2017 as the top college arm for several teams.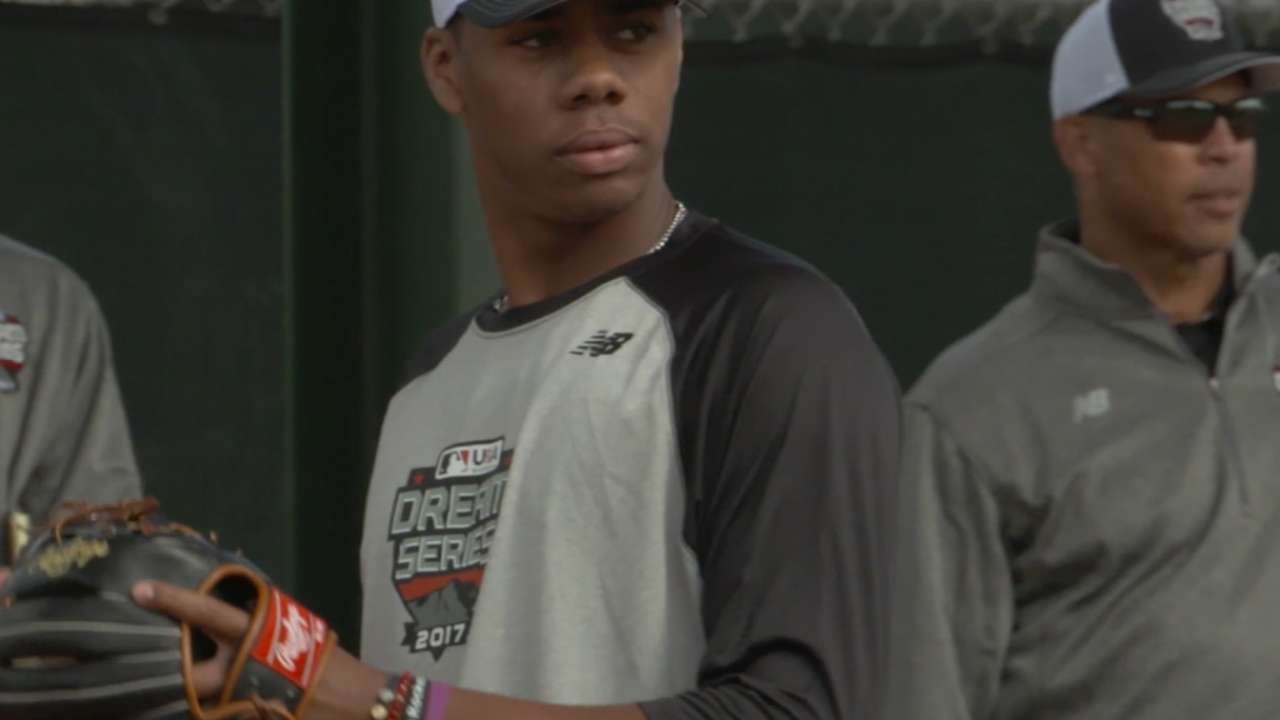 No high school righty has gone No. 1 overall since the Draft began 52 years ago, but Greene could become the first after showcasing a mid-90s fastball all spring and peaking at 102 mph. His slider, curveball and changeup all grade as plus pitches when they're on, and he further excites scouts because he won't turn 18 until August. While Greene's camp has decided that he won't take the mound again this season and his considerable power potential would make him a mid-first-round choice as an infielder, there's no chance he will get picked as anything but a pitcher.
• MLB Draft, June 12-14: Day 1 on MLB Network/MLB.com; Days 2-3 on MLB.com
"From a pure arm-strength standpoint, he's at a different level from the rest of the group," an American League scouting director said. "He throws 100 and he's physical, athletic and has presence. He's better than all of these guys who've gone toward the top of the Draft recently: Tyler Kolek, Riley Pint, Ian Anderson, Jameson Taillon."
Because he offers a higher floor and a quicker return than Greene, McKay may be the slight favorite for Minnesota's selection. Yet it's unclear whether he'll get drafted as a left-hander or a first baseman.
If he becomes a full-time pitcher, McKay could have a plus fastball, curveball and pitchability, and he may make it to the Majors faster than anyone else from this Draft. But many evaluators consider him the best college hitter available, and he showed off his developing power by slamming four homers Tuesday against Eastern Kentucky. McKay is batting .405/.530/.746 with 11 homers in 39 games, and he owns a 1.83 ERA with 83 strikeouts in 59 innings through nine starts.
"The No. 1 pick for me is McKay, hands down, as a first baseman," a second AL scouting director said. "That bat is special. For me, it's a $200 million bat on the free-agent market. His hittability is high, the power will continue to improve and he's a really good first baseman."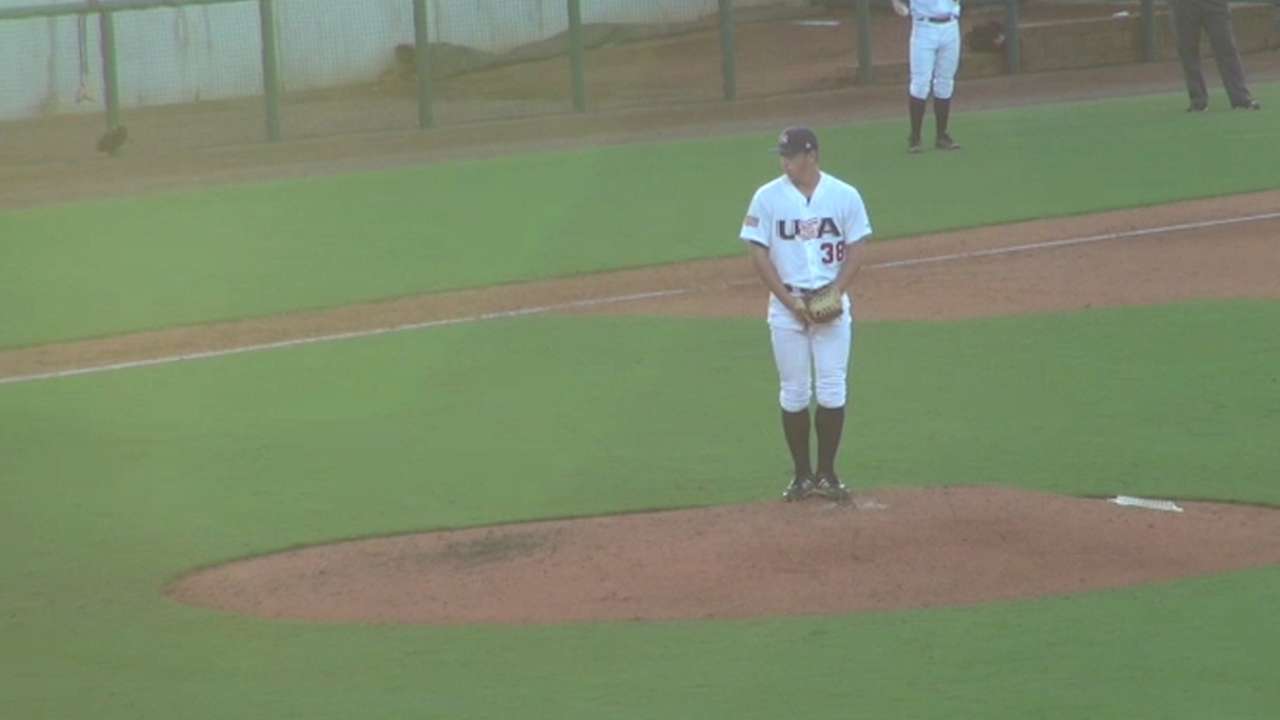 Wright's season hasn't been as spectacular as Greene's or McKay's, but he has a higher floor and better breaking stuff than the former and more upside on the mound than the latter. After failing to command his fastball -- which can reach 97 mph -- or land his curveball and slider for strikes in the early going, he struck out a career-high 13 in a shutout of Florida on April 14 and one-hit Georgia for eight innings on Saturday.
"Last summer, I thought Wright was the best college pitcher," said a National League scouting director who prefers McKay on the mound. "He got off to a slow start, but he's been the guy you expected the last two times out. Now you're hoping he takes this all the way to the Draft."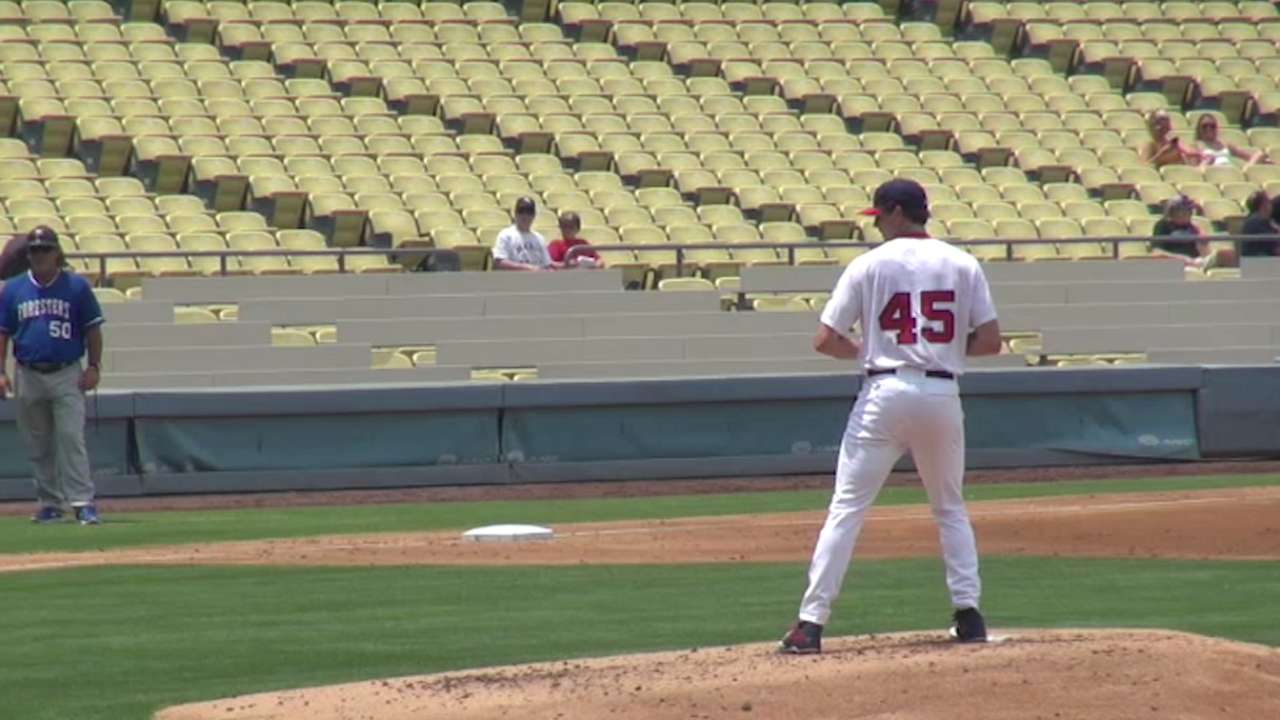 MLB Pipeline's Top 10 Draft prospects
1. Hunter Greene, RHP/SS, Notre Dame (Calif.) HS
2. Brendan McKay, LHP/1B, Louisville
3. Kyle Wright, RHP, Vanderbilt
4. Royce Lewis, SS/OF, JSerra Catholic (Calif.) HS
5. MacKenzie Gore, LHP, Whiteville (N.C.) HS
6. Jeren Kendall, OF, Vanderbilt
7. J.B. Bukauskas, RHP, North Carolina
8. Pavin Smith, 1B, Virginia
9. Austin Beck, OF, North Davidson (N.C.) HS
10. Nick Pratto, 1B, Huntington Beach (Calif.) HS
Complete Top 100 list
After the big three, however, there's little consensus as to how the talent lines up. College pitchers were supposed to headline this Draft, but several first-round candidates have backed up this spring. Of the 10 college arms who ranked among MLBPipeline.com's top 25 Draft prospects in December, only McKay and J.B. Bukauskas (North Carolina) have fully lived up to expectations.
Alex Faedo's (Florida) velocity has dipped since he had arthroscopic surgery on both knees in September. Scouts are becoming more convinced that Tanner Houck (Missouri) and Alex Lange (Louisiana State) are destined for the bullpen in the big leagues. Tristan Beck (Stanford) has yet to pitch because of back issues.
Colton Hock (Stanford) hasn't gotten an opportunity to start and Corbin Martin (Texas A&M) had to wait until late March to get his. Seth Romero (Houston) looked like a top-10-overall choice before an indefinite suspension three weeks ago raised huge makeup concerns.
Some players have stepped up to fill the void. A pair of North Carolina high schoolers, Whiteville left-hander MacKenzie Gore and toolsy North Davidson (Lexington) outfielder Austin Beck, have jumped into top-10 consideration. So have first basemen Pavin Smith (Virginia) and Nick Pratto (Huntington Beach, Calif., High).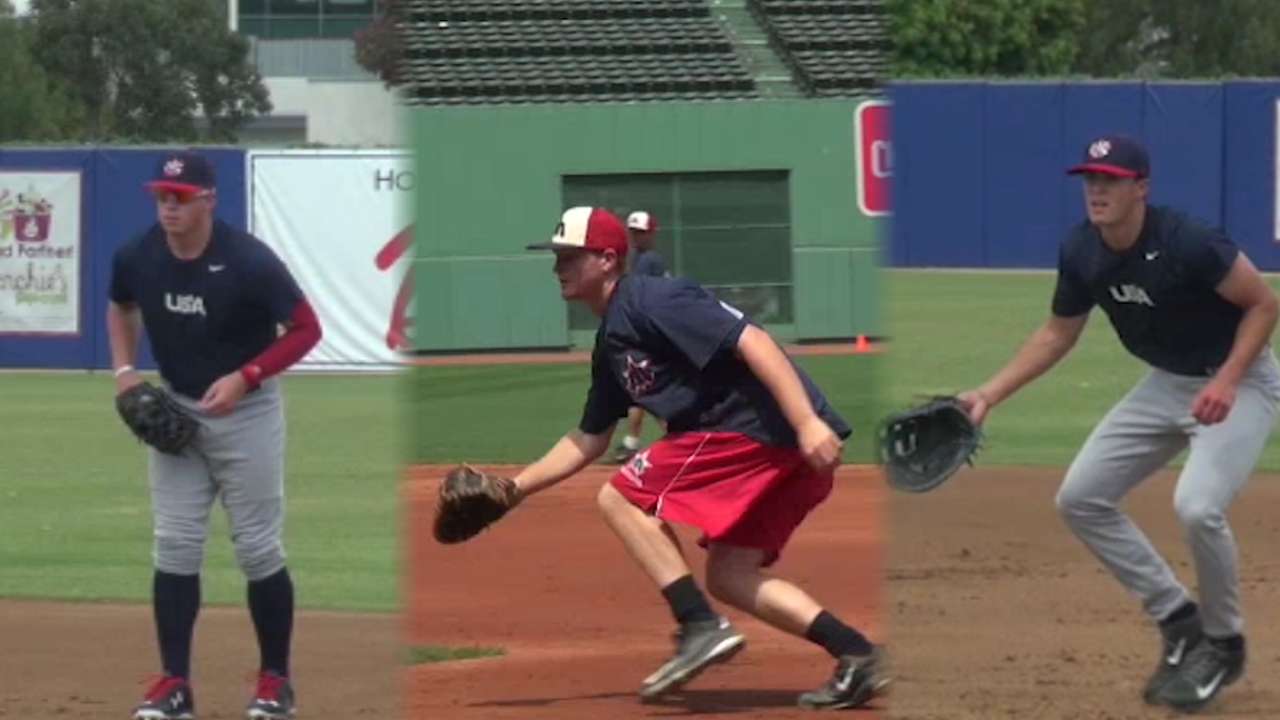 In a down year for college hitters, especially those capable of playing up the middle, Virginia center fielder Adam Haseley and North Carolina shortstop Logan Warmoth have surged into the middle of the first round. Concordia Lutheran High's (Tomball, Texas) Shane Baz and Burnsville (Minn.) High's Sam Carlson could overcome the industry's bias against prep right-handers and go in the same range.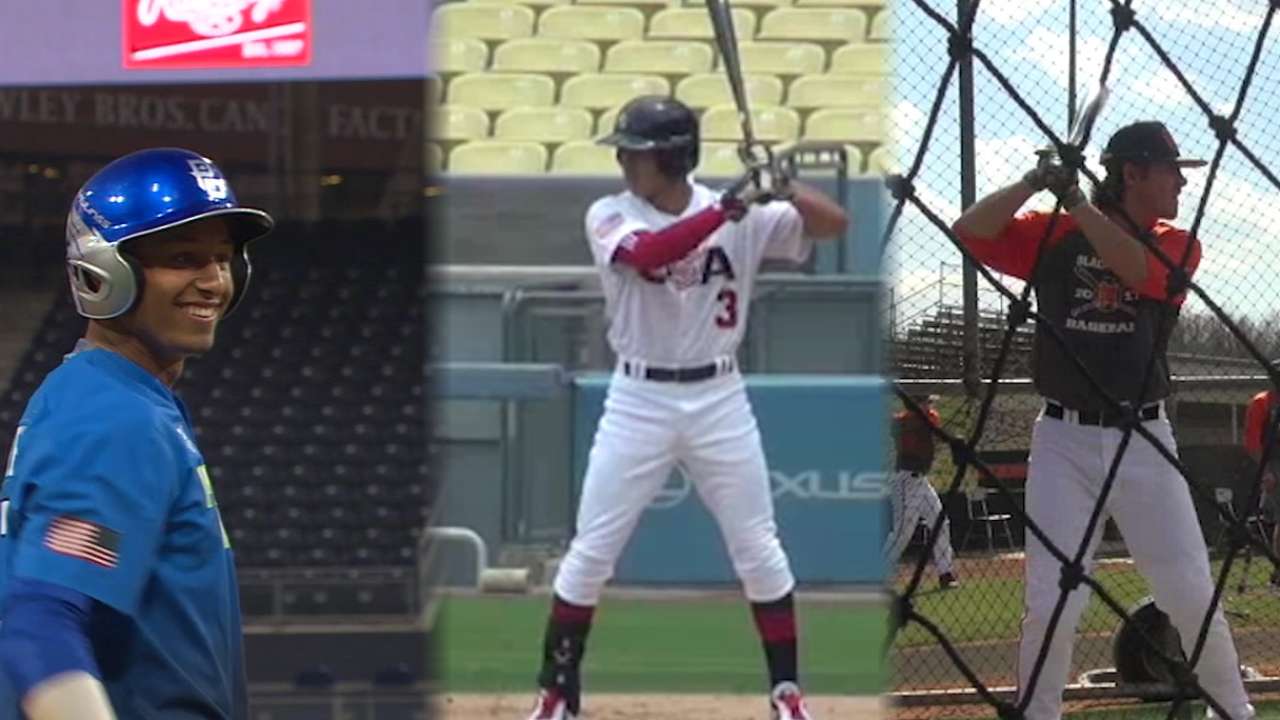 Draft boards look drastically different than they did before the season. With so much uncertainty, they'll likely continue to fluctuate before the Draft begins on June 12.
"I'm a little less excited about this group than I was coming in," the second AL director said. "The top end of the Draft is somewhat weak once you get past the first three guys. The guy who could go at 4 or 5 also could wind up going at 15. It's going to be an interesting year."
Jim Callis is a reporter for MLB.com. Follow @jimcallisMLB on Twitter. Listen to him on the weekly Pipeline Podcast. This story was not subject to the approval of Major League Baseball or its clubs.