Inefficiency continues to plague Norris
Tigers lefty limits walks, but out in 5th after 104 pitches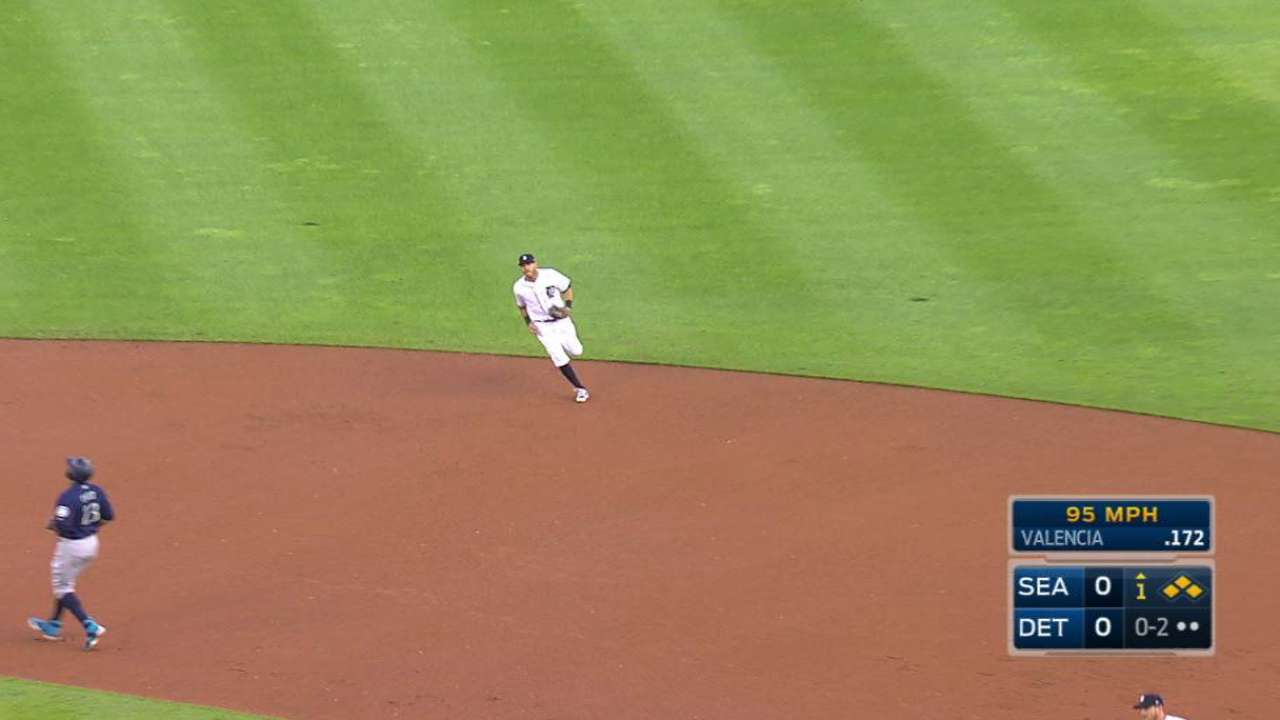 DETROIT -- Daniel Norris needed few words to express his frustration. He has been at this point enough times that he's running out of words to describe it.
"Clearly I have some work to do," Norris said.
He wants to be the starter the Tigers can rely on to pitch deep into games. He wants to be a workhorse in the rotation, which is what left him so flustered after Wednesday's 8-0 Tigers loss to the Mariners. And yet, if Norris needs an example of a pitcher breaking out of that inconsistency, he could look to the opposing starter.
Norris and James Paxton threw nearly similar pitch counts and strikes -- 103 and 66 for Paxton, 104 and 68 for Norris. But while Norris lasted four-plus innings, Paxton went seven.
It's the ninth time in Norris' career that he has topped 100 pitches in a start. Four times, he has done so without recording an out in the sixth inning, including his last two starts. Paxton, for what it's worth, had three of those last season alone.
"It's something I'm always working on," Norris said. "It's something I'd felt I've gotten past."
A longer outing wouldn't have changed the result, the way Paxton was dealing. But it would've changed how the Tigers used their bullpen; Anibal Sanchez went as many innings in relief as Norris did in his start.
The weird part about those inefficient outings is that he has never run up more than three walks in any of them. Wednesday was his third such outing with two walks or less. But deep counts, including full counts to seven of 23 hitters, and foul balls run up the pitch total in a hurry.
Six of the seven full counts ended with the batter reaching base safely, including Guillermo Heredia's home run. So when Norris got to the payoff pitch, he struggled to finish.
"The quality of at-bats and grinding at-bats and the number of pitches we made Norris throw throughout the early part of the game was huge," Mariners manager Scott Servais said. "Everybody was getting a good look at it, feeling really comfortable in the box and we're starting to click a little better offensively."
Norris used 29 pitches to escape a bases-loaded jam in the first, 23 more pitches in the second that put him behind, 18 in the fifth without recording an out. With 11 baserunners, many of those pitches came with pressure.
"He had trouble repeating his delivery, repeating the location of the pitches," Tigers manager Brad Ausmus said. "Pitch count got up early. They didn't score a bunch of runs off him, but his pitch count got up so high that it kind of spelled the end."
It was a reminder that for all Norris' potential, he just turned 24 on Tuesday. And with 31 career starts, he has less than a full season's worth of outings on his resume.
"Young pitchers are generally going to have games like that," Ausmus said, "where their pitch counts get up and they have trouble throwing strikes and they have trouble repeating their delivery. It happens from time to time, especially with young pitchers."
Jason Beck has covered the Tigers for MLB.com since 2002. Read Beck's Blog, follow him on Twitter @beckjason and Facebook. This story was not subject to the approval of Major League Baseball or its clubs.