Hard-hit balls not falling for Swanson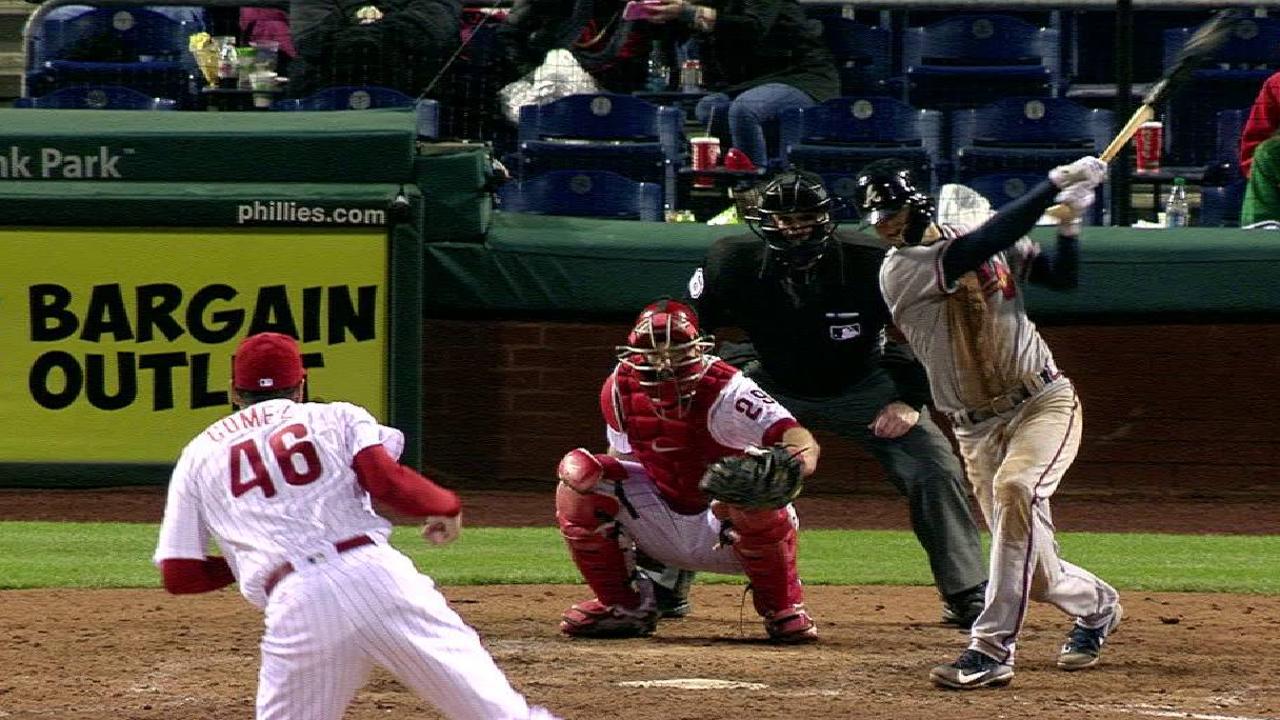 PHILADELPHIA -- What had the makings of a night when Dansby Swanson could jubilantly walk out of the clubhouse feeling like the tide had just turned, instead turned into one that none of the Braves want to relive any time soon.
After a leadoff single in the top half of the 10th inning Saturday night at Citizens Bank Park to help give the Braves the lead, Swanson was involved in one of the tough-luck ground balls that closer Jim Johnson induced during the bottom half of the 10th before Maikel Franco's two-out, two-run single that gave the Phillies a 4-3 win.
Swanson dove behind second base to grab Aaron Altherr's sharp grounder and had a chance to record at least one out had he been able to quickly get the ball out of his glove. The 23-year-old rookie shortstop conceded it was a tough play, but said, "I expect that from myself."
As the regular season's third full week nears an end, Swanson certainly didn't expect to be carrying a .132 (9-for-68) batting average. He hit .302 with a .361 on-base percentage in 32 games after receiving his first call to the Majors in August.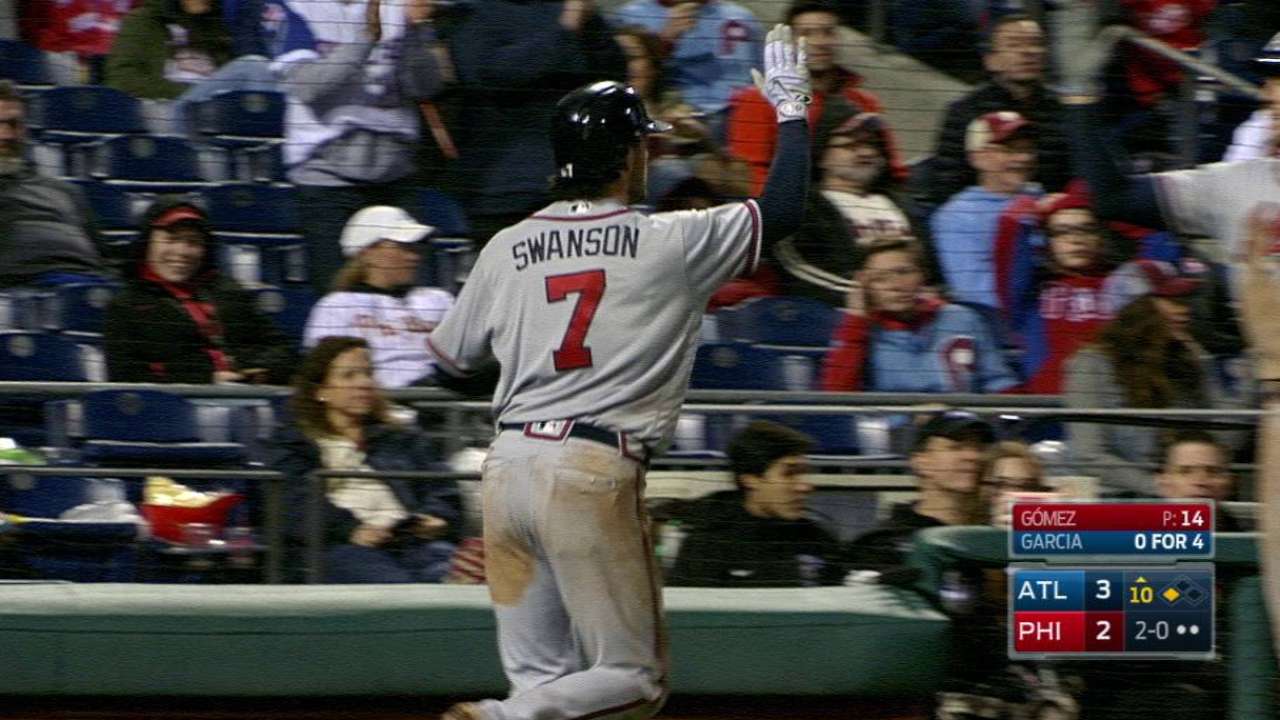 But while the Braves certainly hope their young phenom turns the corner soon, they aren't overly concerned, primarily because Swanson has continued to have nights like Saturday, when each of the three balls he put in play had an exit velocity of more than 100 mph.
"He swung the bat really well," Braves manager Brian Snitker said. "That's good for him. Hopefully, he can just continue to build from that."
After encountering bad luck during his second and third plate appearances, Swanson began the 10th inning by lacing Jeanmar Gomez's 3-1 sinker through the left side of the infield. The single, which had a 101-mph exit velocity, eventually put him in position to score on Adonis Garcia's go-ahead infield single.
Swanson's ability to deliver in this key situation was aided by the mental support he had received from Freddie Freeman and Matt Kemp after experiencing some misfortune in the seventh inning.
Swanson produced a 104-mph exit velocity ball during the fifth inning with a grounder that resulted in an error being charged to Phillies second baseman Cesar Hernandez. In the seventh inning, he produced a 105-mph exit velo with a long drive that Odubel Herrera caught before falling into the right-center-field wall.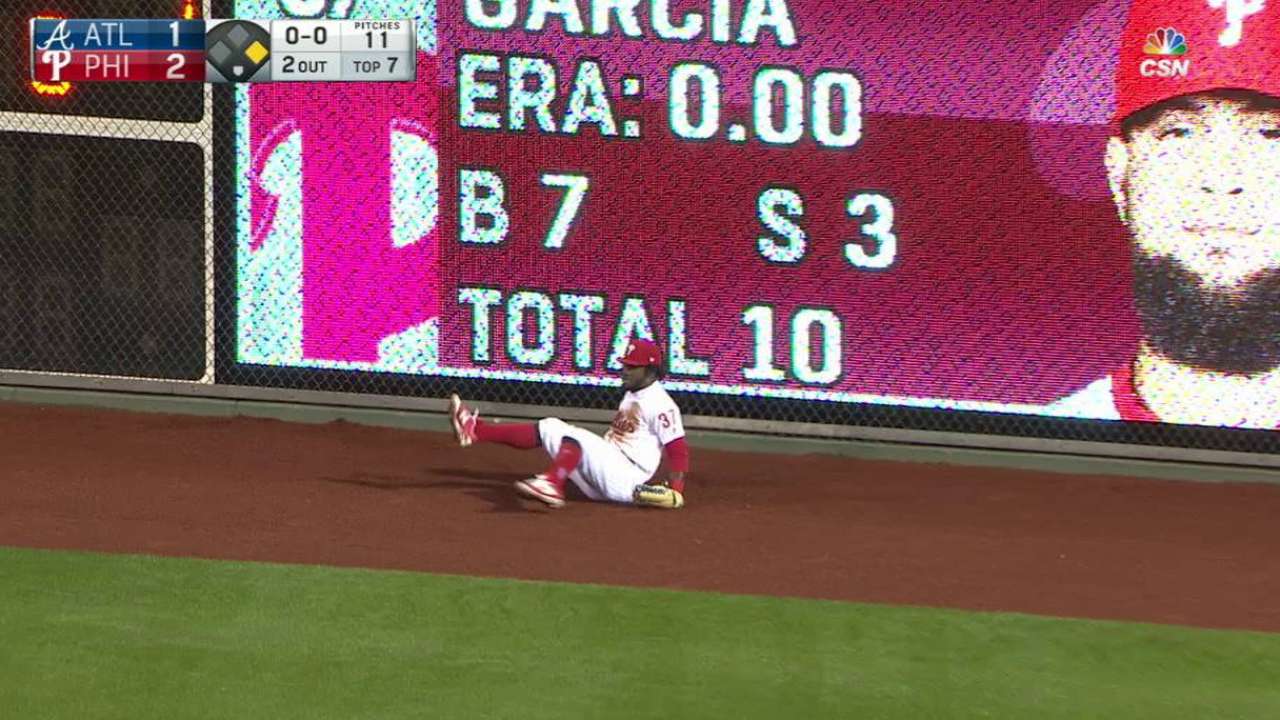 That ball hit by Swanson had a catch probability of just 14 percent. But that's the kind of fortune the Braves' young shortstop has found, as he has gone 6-for-13 on balls put in play with an exit velocity of 100 mph or greater.
"I'm starting to feel a little better about where I need to be," Swanson said. "A lot of that is [Freeman] and [Kemp], and [hitting coach Kevin Seitzer]. I have a lot of good resources around me. A lot of it is mental. They're really good at keeping you positive, and throwing all of the mental things out. So, yeah, it's a blessing to have guys like that around me."
Mark Bowman has covered the Braves for MLB.com since 2001. This story was not subject to the approval of Major League Baseball or its clubs.