Lindor reportedly turned down offer this spring
Indians shortstop under club control through 2021 season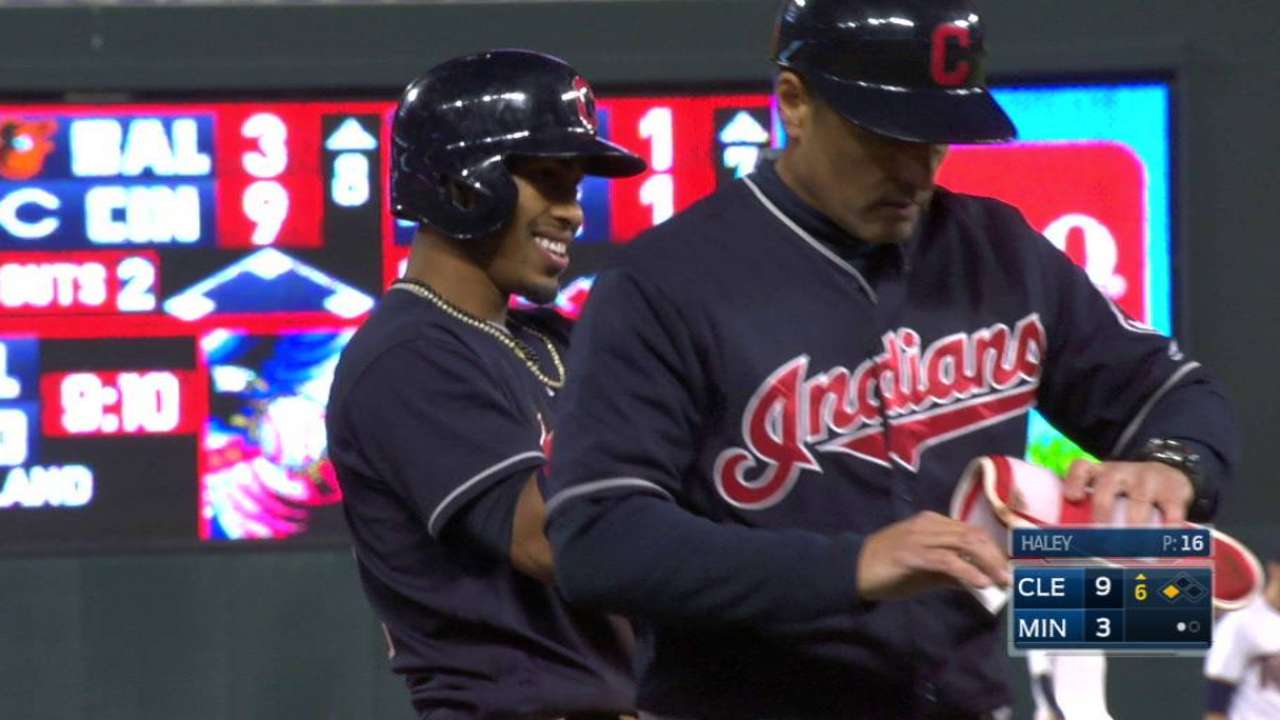 CHICAGO -- Francisco Lindor can picture himself signing an extension and wearing an Indians uniform for a long time. Asked about that possibility on Friday afternoon, Cleveland's shortstop flashed the smile that baseball fans have become familiar with during his recent rise to stardom.
"Why not?" Lindor said. "Yeah, of course, when the time comes, when the right time comes. Is it the right time now? I don't know. I don't think so. I'm just focusing on playing the game, and whatever's going to happen is going to happen."
Prior to Friday's game against the White Sox, Lindor was approached about the topic in the wake of a report indicating that he turned down a lucrative extension offer during Spring Training. Sports Illustrated's Tom Verducci reported Thursday that the offer was around $100 million, though the shortstop was not willing to confirm whether that was accurate.
Lindor said that offer is "in the past," and his preference now is to focus on the games at hand. The Indians share Lindor's stance on the issue, too. While Cleveland is not entirely opposed to in-season negotiations, the team's prefers to keep contract talks limited to the offseason and Spring Training. There are no indications discussions are ongoing.
"To not cause any distractions, I'm focused on the game today," Lindor said. "Once we're in the season, it's all about winning. You guys know me very well. I'm all about winning. I'm all about doing what's right day-in and day-out, focusing on my job. That's what I'm doing right now. I'm focusing on my job."
Indians manager Terry Francona was impressed with Lindor's ability to tune out distractions such as the recent report.
"He does a good job," Francona said. "He likes to play baseball. And I think he's enjoying some of the other stuff, which he should. But, I think he's got his priorities in pretty good shape."
Francisco Lindor discussed the report that he turned down an offer of around $100 million fromTribe. Here's the QA: https://t.co/rhPZiQanqk

— Jordan Bastian (@MLBastian) April 21, 2017
The Indians have the 23-year-old under contractual control through the 2021 season. The shortstop will not be eligible for arbitration until 2019, putting him on target to hit the open market ahead of his age-28 season in '22.
Cleveland currently has 10 players on its roster who signed extensions in either their pre-arbitration or arbitration years. It goes without saying that Lindor is a key component to Cleveland's core group.
Lindor broke onto the Major League scene in 2015, and was runner-up for American League Rookie of the Year Award voting. Last year, Lindor made his first All-Star team, picked up both Gold and Platinum Glove awards for his defense, and helped the Indians to an AL Central title and World Series berth.
The shortstop is off to a blistering start this year. Through 15 games, Lindor has hit .328 with four homers, five doubles, one triple, 10 RBIs, 13 runs and a 1.039 OPS.
Lindor could be in for a huge payday down the road. That puts the shortstop in a position where he has to balance the security of a contract extension with the risk of going year-to-year with the hope of reeling in a blockbuster deal.
"That's why you make sure you've got the right people around you," Lindor said. "Whether it's teammates, whether it's friends, whether it's family members, whether it's the agency you're with, you've just got to be around good people. That will lead you to success."
Jordan Bastian has covered the Indians for MLB.com since 2011, and previously covered the Blue Jays from 2006-10. Read his blog, Major League Bastian, follow him on Twitter @MLBastian and listen to his podcast. This story was not subject to the approval of Major League Baseball or its clubs.