After 7 years, Valdez relishes return to Show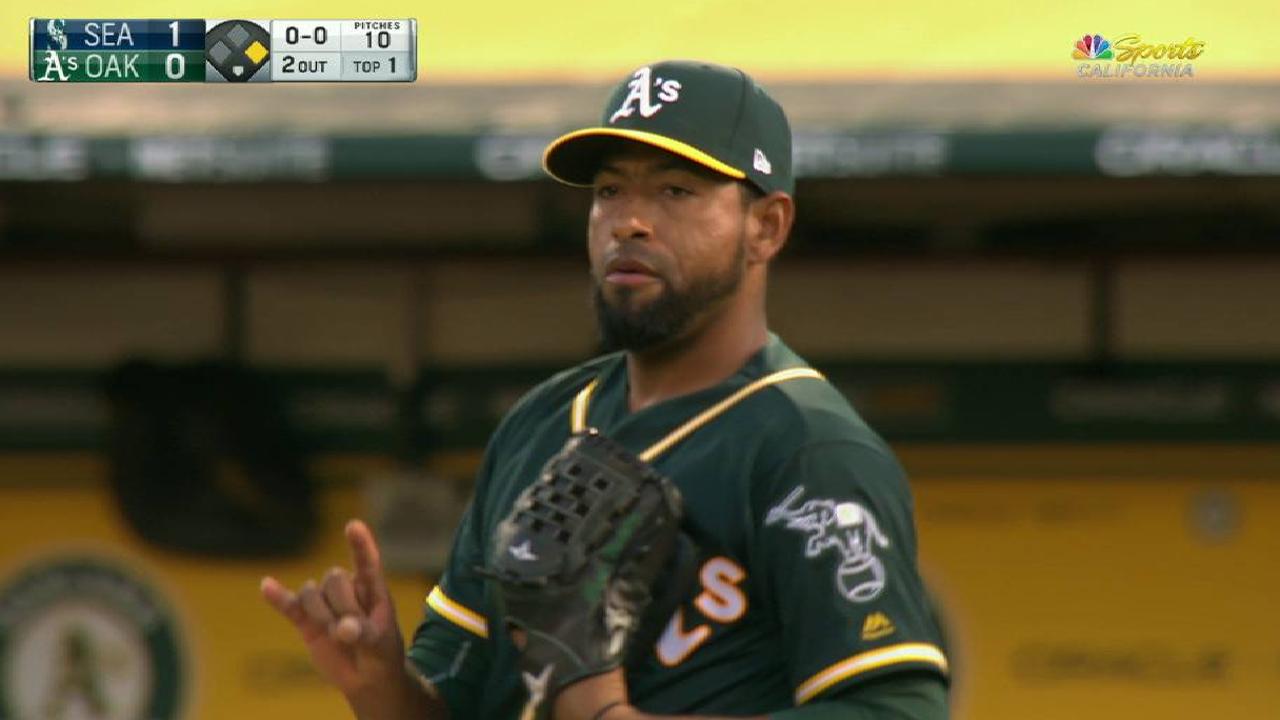 OAKLAND -- Though his doings in Thursday's 9-6 victory over the Mariners might have appeared insignificant by the time the final out was recorded, A's starter Cesar Valdez's story isn't.
The 32-year-old pitcher was back in the big leagues for the first time in seven years, having last stepped on a Major League mound on June 10, 2010, for the D-backs. He was toying in the Minors with five organizations, until the A's offered him a change of scenery this week.
Seeking a spot starter to pitch in place of an injured Kendall Graveman, they made a call to Triple-A Nashville in search of Valdez.
"It was a normal day for me in Nashville," Valdez recalled Thursday night, through team interpreter Juan Dorado. "I had just got done pitching my bullpen. I was sitting in my chair when I got called into the manager's office. It was something unbelievable.
"For the last seven years, I really didn't think I was actually going to get a chance to get back here, so it was exciting for me to come out and pitch."
The right-hander was hit hard in the first inning, and then the next, before settling down to hold the Mariners to three runs in four innings, his pitch count at 76 and the game tied, 3-3.
"We're tied," A's manager Bob Melvin said, "so he really does his job there."
The job wasn't always easy for Valdez in recent years. He lost his father in February 2015 and has since "used that strength to guide me to keep moving forward," he said.
"That has helped me channel all this energy to get to his level. I'm very grateful for this opportunity."
Valdez was struck for two hits that led to a run in the opening frame, and he gave up two more while battling command issues, before retiring seven of his final eight batters.
"In the second inning, I was leaving the ball up," Valdez said. "The ball was getting a little high, but I put it on myself to locate my pitches and execute every one of them and overcome that. I think all my pitches started to find their flow, started to break."
"I mean, he gave us a chance to win," Rajai Davis said. "Seven years. That's amazing."
Valdez will likely soon be sent down, with Graveman only expected to miss one start, but the opportunity has buoyed the pitcher, who was signed by the club to a Minor League deal this winter.
"I want to thank the Oakland organization for getting this opportunity, and I can kind of prepare myself, whether that chance comes again," he said. "I want to be able to give the best of me and do everything I can. It was an exciting win and a happy time for me, but whatever's asked of me next, I'm ready for it."
Jane Lee has covered the A's for MLB.com since 2010. This story was not subject to the approval of Major League Baseball or its clubs.