Statcast of the Day: Trout's high-arcing homer
Line-drive hitter's dinger has 41-degree launch angle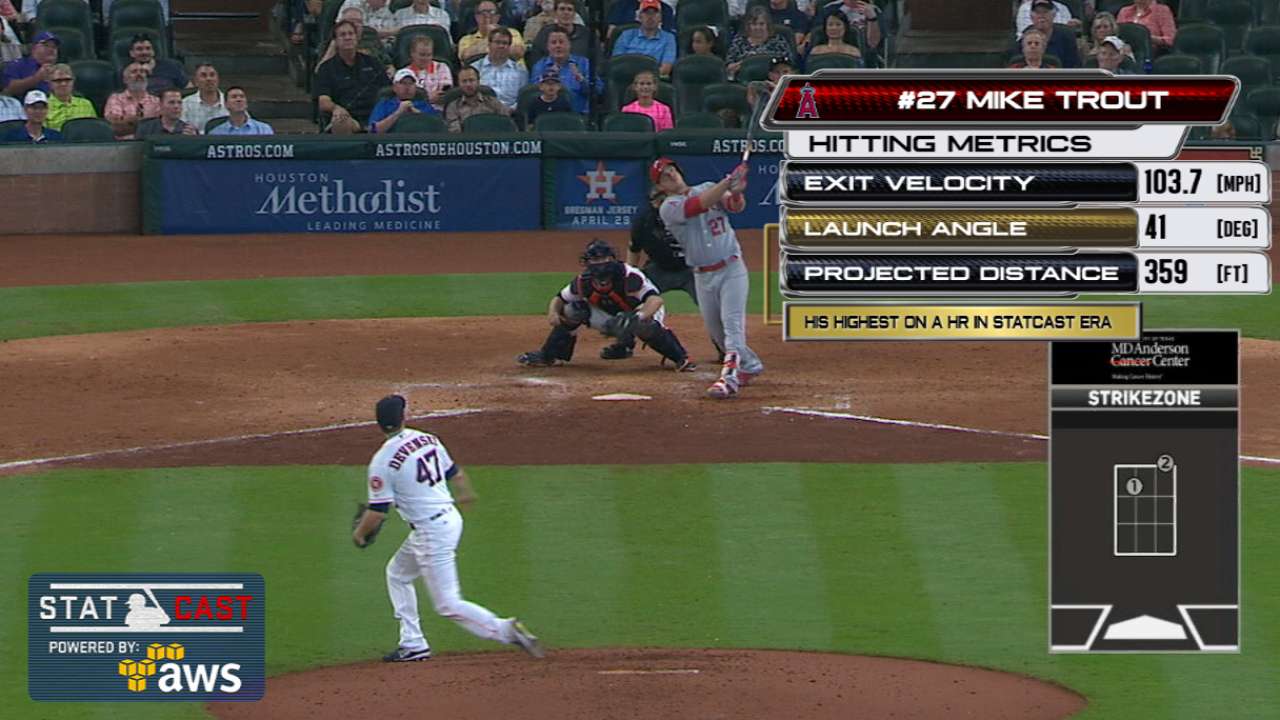 A Mike Trout home run usually doesn't come as much of a surprise. But the one he hit on Thursday, in the Angels' 2-1 loss at Houston, stood out as unusual.
That was a matter of both circumstance and style. Trout was facing an 0-2 hole against a pitcher who, despite his low profile, has been one of baseball's toughest since last season. And when the reigning American League MVP Award winner overcame those odds and connected, he did so with what Statcast™ recognized as a launch angle beyond his typical range.
When Trout stepped to the plate to lead off the top of the ninth inning at Minute Maid Park, the Angels trailed, 2-0. On the mound was right-hander Chris Devenski, who had taken over for Lance McCullers Jr. in the seventh and retired each of the first four batters he had faced.
That was par for the course for the unheralded 25th-round pick, who debuted in the Majors last April and has dominated ever since. Devenski entered Thursday with a 2.04 ERA over 119 1/3 career innings, mostly in relief, allowing just five home runs over that span. In Monday's first game of this four-game set, Devenski faced Trout in the seventh inning, quickly jumped ahead 0-2, then threw a fastball past him for a strikeout.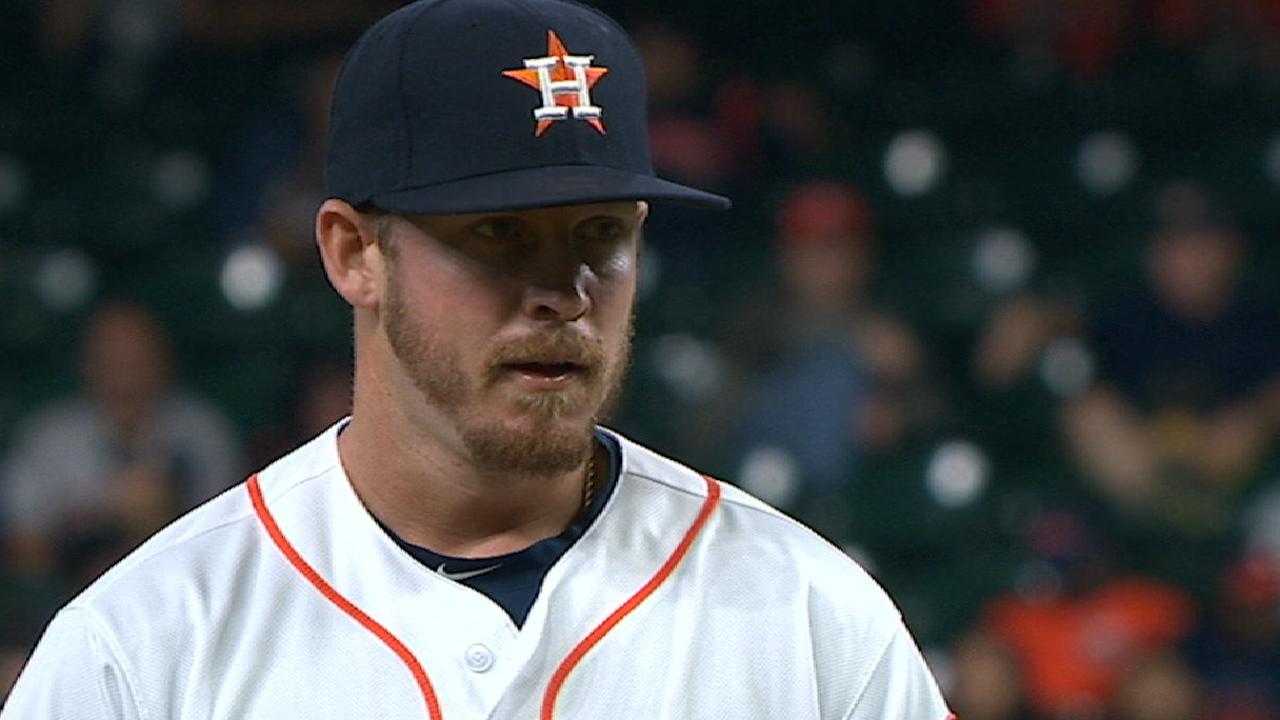 Including that confrontation, Devenski came into Thursday's game holding opponents to a .137 average (7-for-51) on 0-2 counts in his career, with one extra-base hit (a double). For his part, even Trout is human when he ends an at-bat on an 0-2 pitch, carrying a .204 average, .319 slugging percentage and seven home runs in 235 career at-bats into Thursday.
Adding to the challenge for Trout was that Devenski threw him a changeup. Since the start of 2016, among pitchers who had finished at least 100 at-bats with changeups, Devenski's .237 slugging percentage allowed was the fourth lowest. The Cal State Fullerton alum had thrown 57 two-strike changeups and allowed three hits, all of them singles.
This changeup, however, hung in the middle of the plate. Trout whipped his bat into the zone and lifted a high-arcing drive that clocked a 6.4-second hang time before landing beyond the left-field wall for his fourth homer of the season.
This Trout dinger wasn't especially notable for its exit velocity (103.7 mph) or projected distance (359 feet). It was the fact that it came off his bat with a 41-degree launch angle that made it unusual.
That's because Trout is more of a line-drive home run hitter. Entering Thursday, 154 players had hit at least 25 tracked homers in the two-plus seasons of the Statcast™ Era, and Trout's average launch angle of 26.9 degrees was tied for 106th. Previously, his highest angle on a long ball was 40 degrees, a mark set last May 31 against the Tigers' Anibal Sanchez. Only six times in the Statcast™ Era had Trout reached 35 degrees with a homer.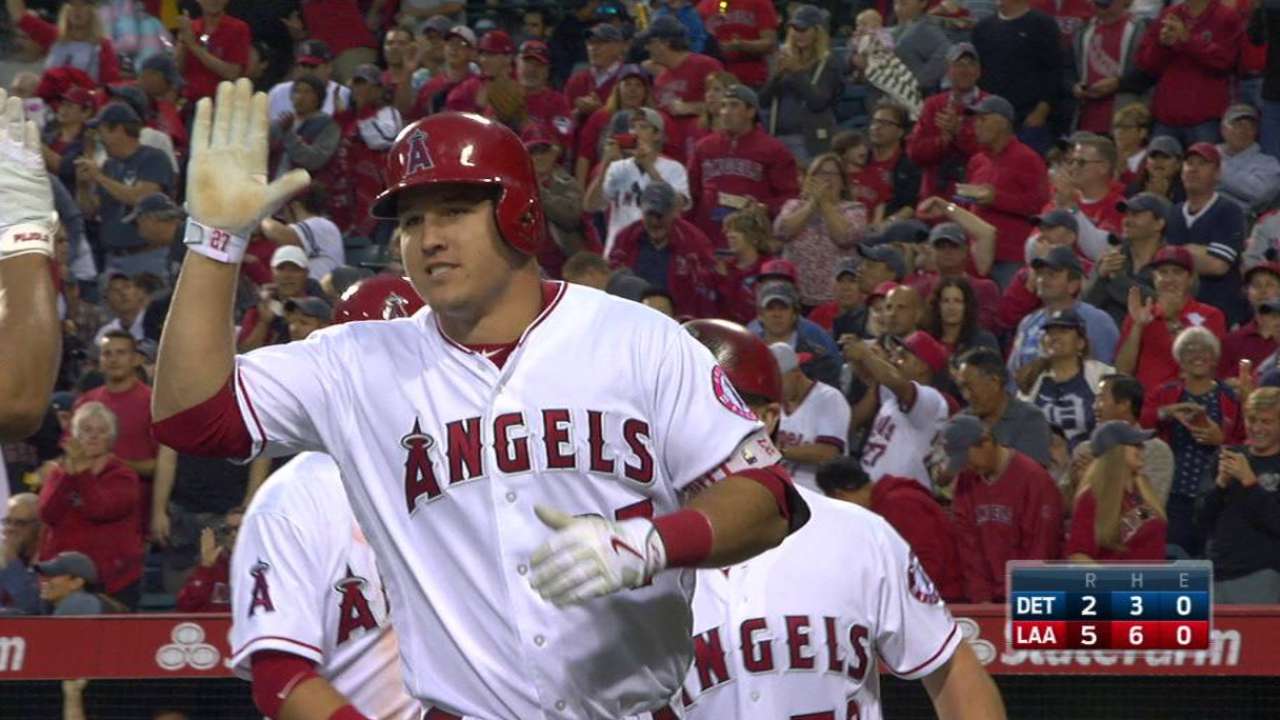 This wasn't one of Trout's prototypical dingers, and it wasn't a common one for any big league hitter. Only three others had gone deep with a launch angle of 41 degrees or higher this season: Carlos Santana, Steven Souza Jr. and Francisco Cervelli.
Andrew Simon is a research analyst for MLB.com. Follow him on Twitter @AndrewSimonMLB. This story was not subject to the approval of Major League Baseball or its clubs.