Martinez struggling with fastball command
Cardinals right-hander has walked 11 over last three starts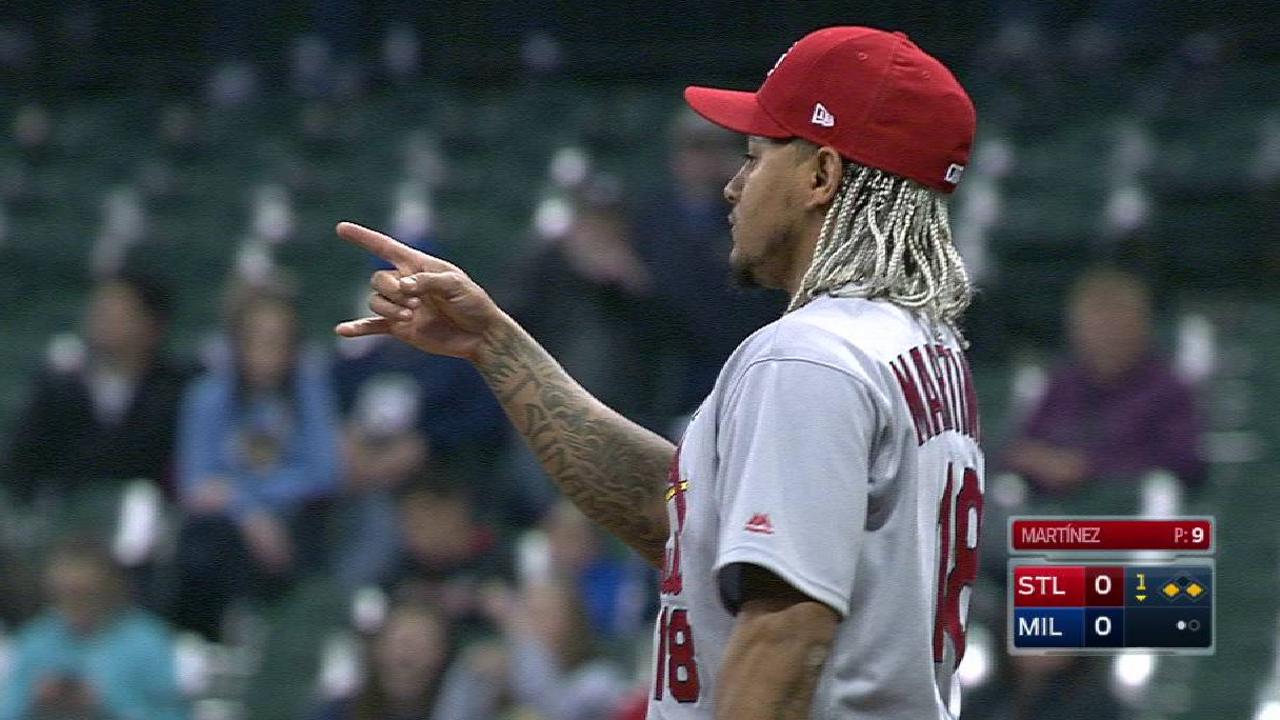 MILWAUKEE -- Pitchers fight inconsistency all the time, but Carlos Martinez has taken it to an extreme over his last two outings.
Similar to his last start, in which he walked eight and struck out 11 in a loss to the Yankees, Martinez struggled with command but also had stretches where everything clicked during the Cardinals' 7-5 loss to the Brewers on Thursday.
The Cardinals right-hander was hit for three first-inning runs, but he then settled in to retire 10 straight. After that, though, he allowed a single and a home run, surrendering the lead in his fifth and final inning. He finished the night having allowed five runs on seven hits and two walks while striking out seven.
"It was a little bit of the same as last time," Cardinals manager Mike Matheny said. "He found it, but he just had a little bit of trouble getting it timed up again for whatever reason. He had some inconsistency with his fastball and some elevated pitches in advantage counts for hitters. It turned into a pretty big first inning. He did find a nice groove after that, but unfortunately by then we had already had some trouble to deal with."
Martinez worked between outings on trying to get a better feel for his fastball early in the game after issuing six walks over the first two innings against the Yankees.
"My arm feels great," Martinez said through a translator. "Physically, I feel great. It is just trying to locate my fastball, which is kind of off right now. It is what I am working on every day. I feel like it was better than my last outing, but it is still what I am trying to be more consistent with."
Martinez allowed consecutive singles to Jonathan Villar and Eric Thames to start the game. He followed with a strikeout of Ryan Braun, but he then left a 1-0 changeup over the plate that Travis Shaw hit 458 feet for a three-run home run.
After working through the first, Martinez tossed three consecutive perfect innings, ending the fourth with a pair of strikeouts in just seven pitches. But he couldn't continue rolling in the fifth, as Villar led off with a single and Thames blasted a two-run home run.
"He got there quicker today, but unfortunately he had damage to deal with by that time," Matheny said. "It is just something he is going to have to work through, because he can't come into the first inning and not have his best stuff facing the top of the lineup that has potential to make things happen in a hurry. That's what they did tonight."
Martinez ramped up early this spring in order to prepare for the World Baseball Classic, in which he allowed just one earned run over eight innings in two starts for the Dominican Republic. He carried over his success to his first start of the season, on Opening Night, when he struck out 10 and didn't walk a batter over 7 1/3 scoreless innings against the Cubs.
It has been a battle with inconsistency for Martinez ever since, who has a 7.05 ERA with 11 walks and 21 strikeouts over 15 1/3 innings in his last three starts.
"I just have to stay focused and forget about any outings that may not have gone the way that I would have wanted them to," Martinez said. "Any kind of negativity, keep it out of mind and just really focus and work hard. I know I can get anywhere or get anything if I keep working hard."
Andrew Gruman is a contributor to MLB.com based in Milwaukee. This story was not subject to the approval of Major League Baseball or its clubs.