Upper Hand: Padres strike out four in seventh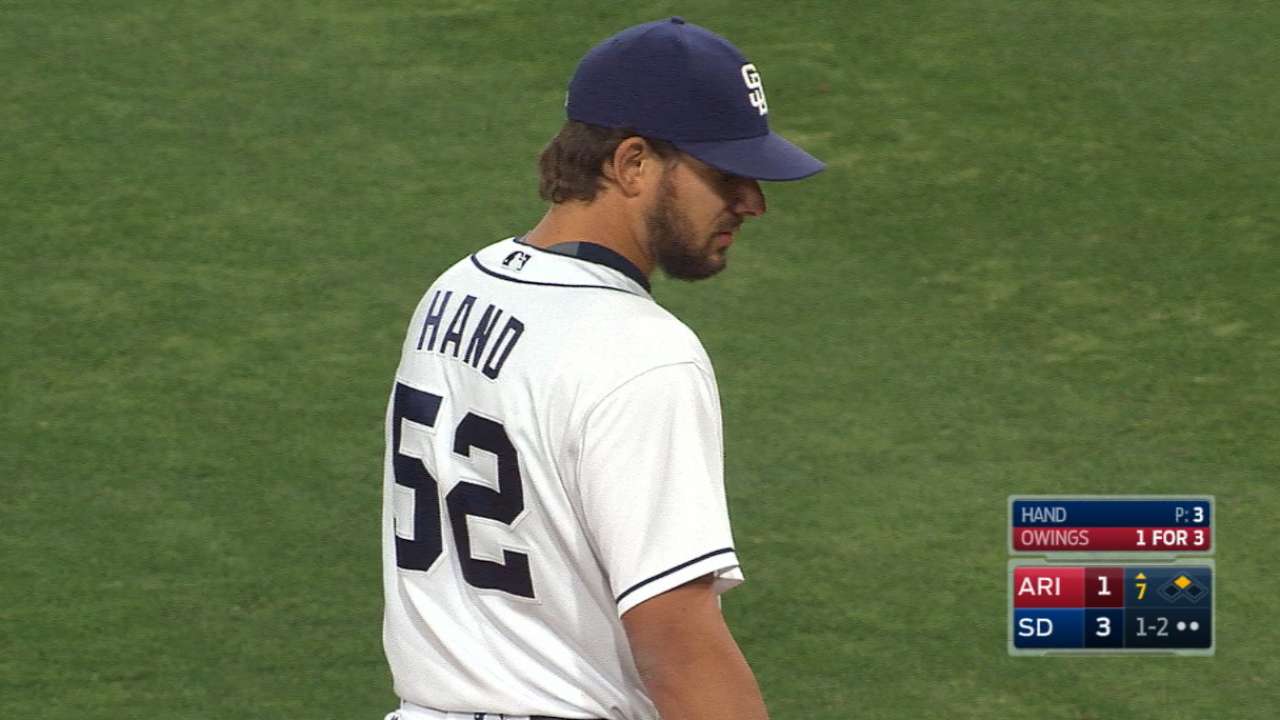 SAN DIEGO -- Clayton Richard opened the seventh inning with two strikeouts on Thursday, before the Padres called for Brad Hand out of the bullpen. In one of baseball's quirky twists, Hand would match Richard with two strikeouts in the frame as well.
Yes, you read that correctly. The two Padres southpaws combined to strike out four D-backs in one inning during Thursday's 4-1 series-clinching victory. A throwing error by catcher Austin Hedges on a pitch in the dirt set the stage for Hand to whiff Paul Goldschmidt and end the frame.
It marked the first time the Padres have struck out four hitters in the same inning since Luke Gregerson did so against the Giants on the final day of the 2009 season.
After the game, Padres manager Andy Green praised Hand's mental makeup -- specifically his ability to compose himself and escape the seventh-inning jam twice.
"Brad Hand is wired right, there's no question whatsoever," said Green. "It doesn't matter what happens, the next pitch is not going to be impacted by what previously happened. He's just not that way. He doesn't allow it."
Hand's performance on Thursday was the perfect example. The Padres entered the frame with a 3-1 advantage, and Richard recorded two quick outs via the strikeout. But A.J. Pollock doubled, and after 6 2/3 innings of one-run ball, Richard's night was done.
Green called on Hand, who has been the Padres' best reliever since he joined the club at the start of the 2016 season. Hand got Owings to chase a slider in the dirt, but first baseman Wil Myers couldn't corral Hedges' high throw.
The error brought Goldschmidt -- the potential go-ahead run -- to the dish in the game's pivotal moment.
"It's not ideal to have Goldschmidt coming up in that kind of situation," said Hand. "But it happens, and you've just got to focus on getting that guy out and doing your job."
Hand did just that, using a devastating slider to punch out Goldschmidt. Hedges' ensuing throw to first was right on the money.
"There's never a feel that it's cascading in one direction when there's a bad break," Green said of Hand. "He doesn't allow that to happen. As soon as that happened, he gets back on the mound, with one of the best hitters in the National League standing up there, he punches him out. Brad Hand expects himself to do that."
AJ Cassavell covers the Padres for MLB.com. Follow him on Twitter @ajcassavell. This story was not subject to the approval of Major League Baseball or its clubs.