Vincent leading way in bullpen's turnaround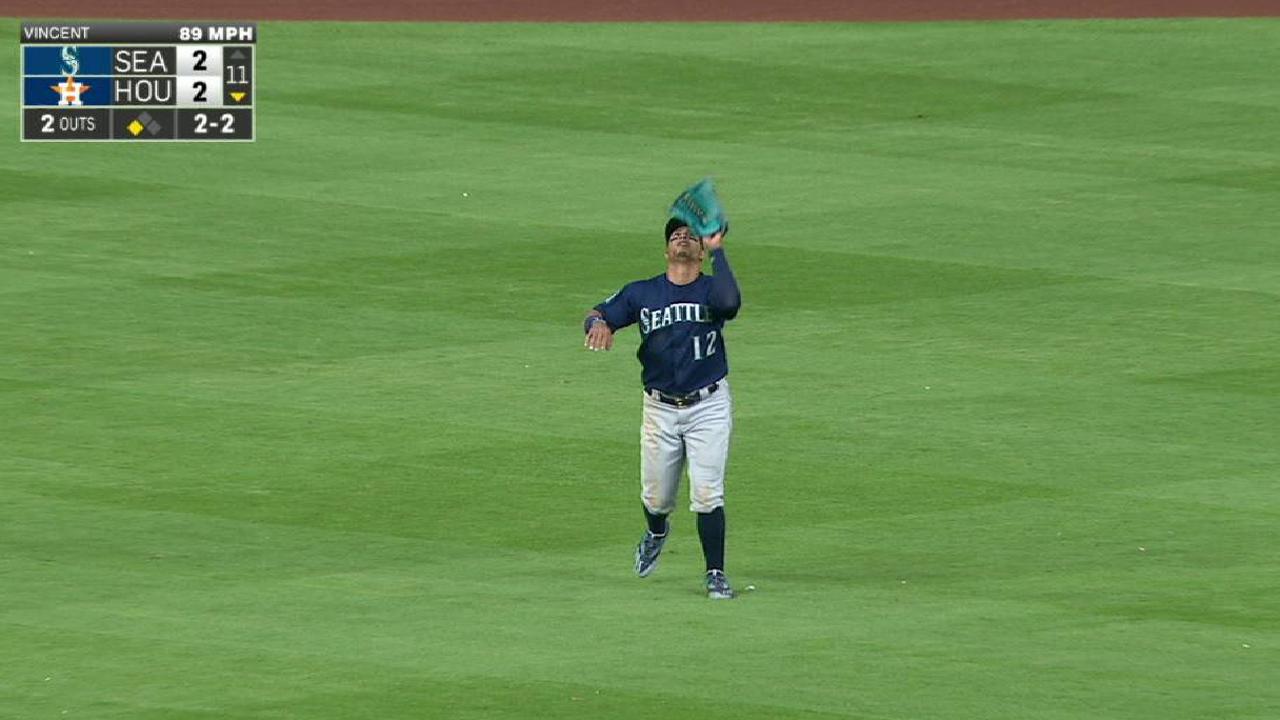 OAKLAND -- After a rough start to the season, the Mariners' bullpen has solidified itself over the past 10 games and veteran right-hander Nick Vincent has played a big role in that improvement.
The 30-year-old right-hander is one of manager Scott Servais' primary late-inning options, but he gave up six hits and three runs with one walk and one strikeout in 3 2/3 innings over his first three outings in Houston and Anaheim.
But in four appearances since, Vincent hasn't allowed a hit or walk in 4 1/3 perfect innings, while striking out eight.
"Nick is throwing the ball really well," Servais said prior to Thursday night's series opener with the A's. "He's probably our most reliable guy down there right now and that's what we saw last year for long stretches. He's making pitches, expanding the strike zone."
Vincent said he fell into a predictable pattern early, but is mixing things up better now and getting back to trusting a fastball this is difficult for hitters to pick up.
"Early I was just throwing fastballs away and cutters away and hitters were just sitting away," he said. "Now I'm using both sides of the plate and trusting the catchers. We're getting on the same page better each day."
Vincent doesn't throw particularly hard, with a fastball that sits in the 89-90 mph range. But his swing-and-miss production has always been impressive with a career 9.66 strikeouts-per-nine innings rate. He posted a 9.70 figure last year and is at 10.13 in the early going this season.
"He lives on the edges of the plate and can expand the strike zone when he needs to," Servais said. "He's deceptive. The hitters do not pick up the ball well."
Vincent said some pitchers, like former teammate Mike Montgomery, have delved into improving the spin rate on their pitches to heighten the effectiveness. Vincent said he just needs to focus on his mechanics.
Why hitters have a hard time picking up his pitches is a trend he's not trying to overanalyze.
"It has to be something I do with my glove hiding the ball and not showing it too early or something," he said. "Whatever it is, I just want to keep doing it."
Worth noting
• Shortstop Jean Segura is reporting to Double-A Arkansas for a rehab assignment as he recovers from a strained right hamstring. Segura will play his first game at designated hitter on Friday. He will play several games at Arkansas before likely rejoining the Mariners on Tuesday in Detroit.
Greg Johns has covered the Mariners since 1997, and for MLB.com since 2011. Follow him on Twitter @GregJohnsMLB and listen to his podcast. This story was not subject to the approval of Major League Baseball or its clubs.