Reds' quirky DP ruled lineout by umpires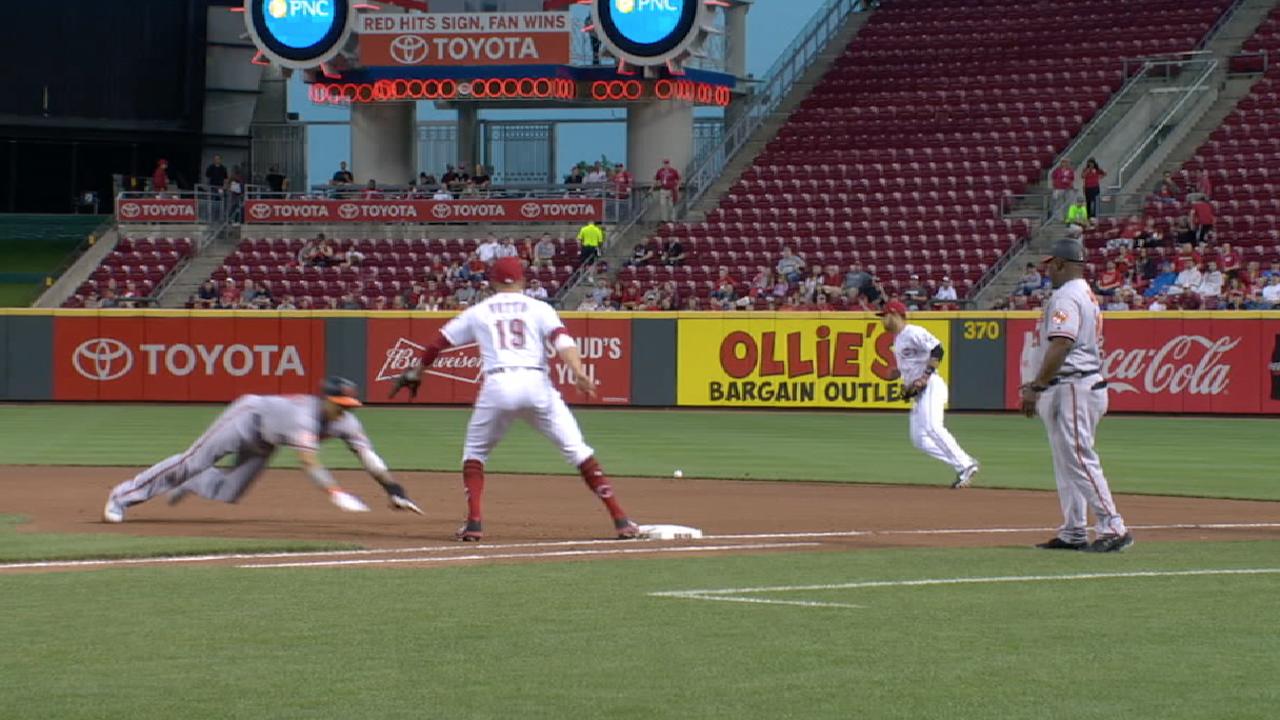 CINCINNATI -- For a minute during the fourth inning of a 2-1, 10-inning loss to the Orioles, it looked like the Reds had a unique double play. But, not quite.
With Manny Machado on first base and one out, the Reds employed a right-side shift against lefty-hitting Chris Davis. On a first-pitch fastball from Scott Feldman, Davis sharply lined a ball to third baseman Eugenio Suarez, who was stationed between first and second base.
Suarez first appeared to drop the ball and alertly fired to Zack Cozart at second base for a force play. With Machado thinking Suarez caught the ball, he scrambled back to first base. Cozart threw to first base in an attempt to get Davis while Machado was on the ground.
No call was immediately indicated from the umpires and both managers -- Cincinnati's Bryan Price and Baltimore's Buck Showalter -- emerged from their dugouts for clarification. All four umpires met for several moments in the middle of the infield to confer on the call.
It was ruled a putout of Davis by Suarez, who dropped the ball on the transfer out of his glove. Machado, who had returned to the dugout, was ordered back on the field to first base.
"They said you have to play it out like it's a line drive that was caught," Price said. "So, the thing is, that ball then went to second base and it was returned to first. When it was returned to first, I knew that Davis hadn't gotten to first base yet. But I didn't know if Machado had gotten back to first base on the return throw.
"I know when we were checking things, when they said, 'Hey, we're going to treat it as a lineout.' Machado was back at first base. I wanted to verify [that] with our replay people, but I'm out on the field. I'm trying to communicate with our dugout. Now, I already know that Davis is out, what I wanted to know was if Machado was on the base when the ball was returned to Joey. Eventually, I found out that he was."
Machado, who had returned to the dugout, was ordered back on the field to first base.
"They got it right," Showalter said. "I can't speak for Pricy. But they called it a catch. Coming out of it to throw to first base, he dropped it."
Defense would erase Machado on the next play, however. When Mark Trumbo hit a two-out single to right field, Machado tried to advance to third base. Scott Schebler made a nice one-hop throw to get him for the third out.
Mark Sheldon has covered the Reds for MLB.com since 2006, and previously covered the Twins from 2001-05. Follow him on Twitter @m_sheldon and Facebook and listen to his podcast. This story was not subject to the approval of Major League Baseball or its clubs.