Nats' reworked bullpen locks down win, sweep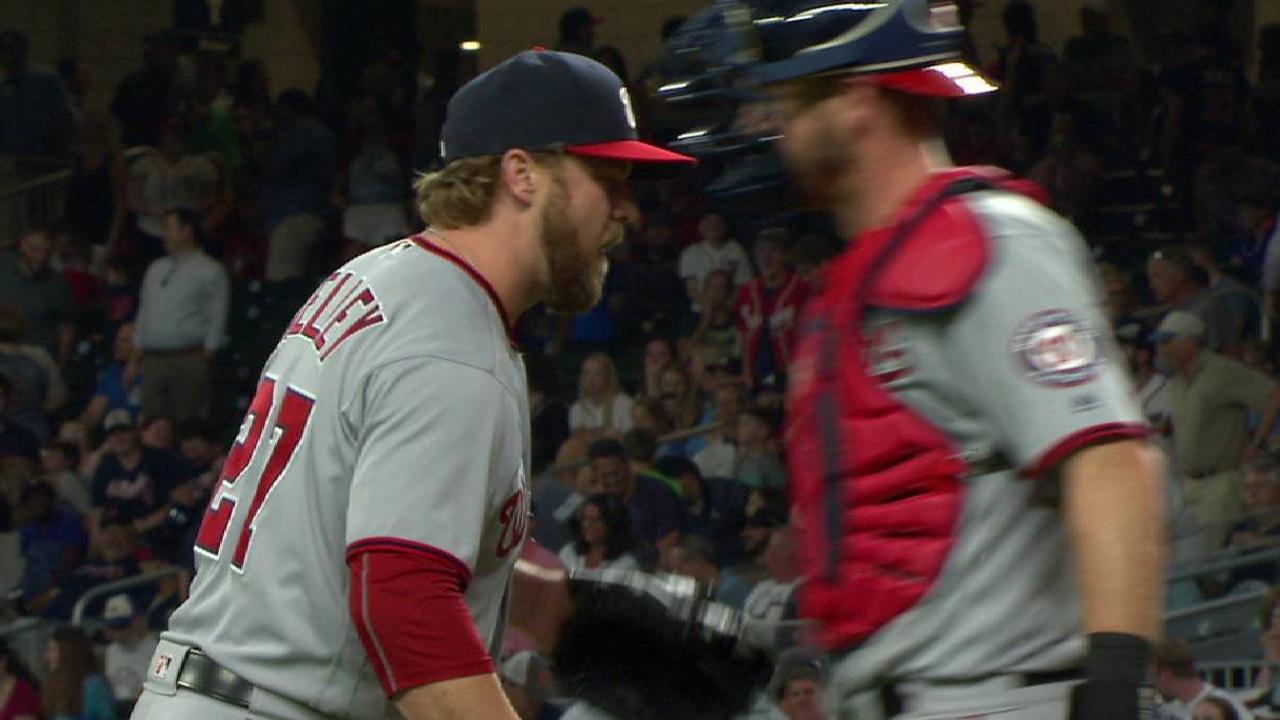 ATLANTA -- In the first save situation since the Nationals reshuffled the team's bullpen roles, Washington received an encouraging outing from its bullpen to secure a 3-2 victory over the Braves on Thursday night. Oliver Perez, Koda Glover and Shawn Kelley combined to get the last six outs of the game and preserve a strong start from Stephen Strasburg.
A day prior, the Nats demoted struggling right-hander Blake Treinen from closer into a lower-leverage situation and decided that Kelley and Glover would share the closer's duties. On the same day, left-hander Sammy Solis went on the disabled list, meaning Perez was likely to take on an increased workload.
Perez had not appeared in a game since April 8, so when he was summoned to begin the eighth inning, his fellow relievers joked to him, "Welcome back to the team," as he left the bullpen in left field to head toward the mound. Waiting for him at the plate was Braves first baseman Freddie Freeman, who entered the game hitting .586 with a 2.021 OPS in his past nine games. But Perez fired a strike to Freeman before getting him to line out to left field on the second pitch of the at-bat.
"You just have to think it pitch by pitch, because he's a very good hitter," Perez said. "You don't want to make a mistake, because he's really hot right now. I was just trying to keep the ball down."
Perez turned the ball over to Glover, who forced Matt Kemp to ground out back to the pitcher before the right-hander struck out Nick Markakis to end the eighth, getting the Nats through the heart of the Braves' order.
"A lot of the times the heart of the order's up, or there's a couple guys in scoring position, and a reliever has to come in, and that's when the game's won or lost," Kelley said. "So for [Perez] to get Freeman and then for Koda to come in there and get Kemp and Markakis just real quick and not let anything get started, that made it easier for me to come in and feed off that momentum."
And Kelley got the first two batters out quickly in the ninth inning before he yielded a single to Kurt Suzuki. Then, once Kelley fell behind the next batter, pinch-hitter Tyler Flowers, he said he was bent on getting Flowers to go after his slider outside the strike zone. Flowers did not do so, but Kelley said he did not mind walking him to take his chances with Ender Inciarte. It was a gamble, but Kelley got Inciarte to fly out to center field to preserve a victory.
"That was what I wanted to do," Kelley said. "It worked out in the grand scheme of things, probably made some people nervous and didn't look attractive, but that was my plan."
Jamal Collier covers the Nationals for MLB.com. Follow him on Twitter at @jamalcollier. This story was not subject to the approval of Major League Baseball or its clubs.