Rainout pushes Indians' starters back a day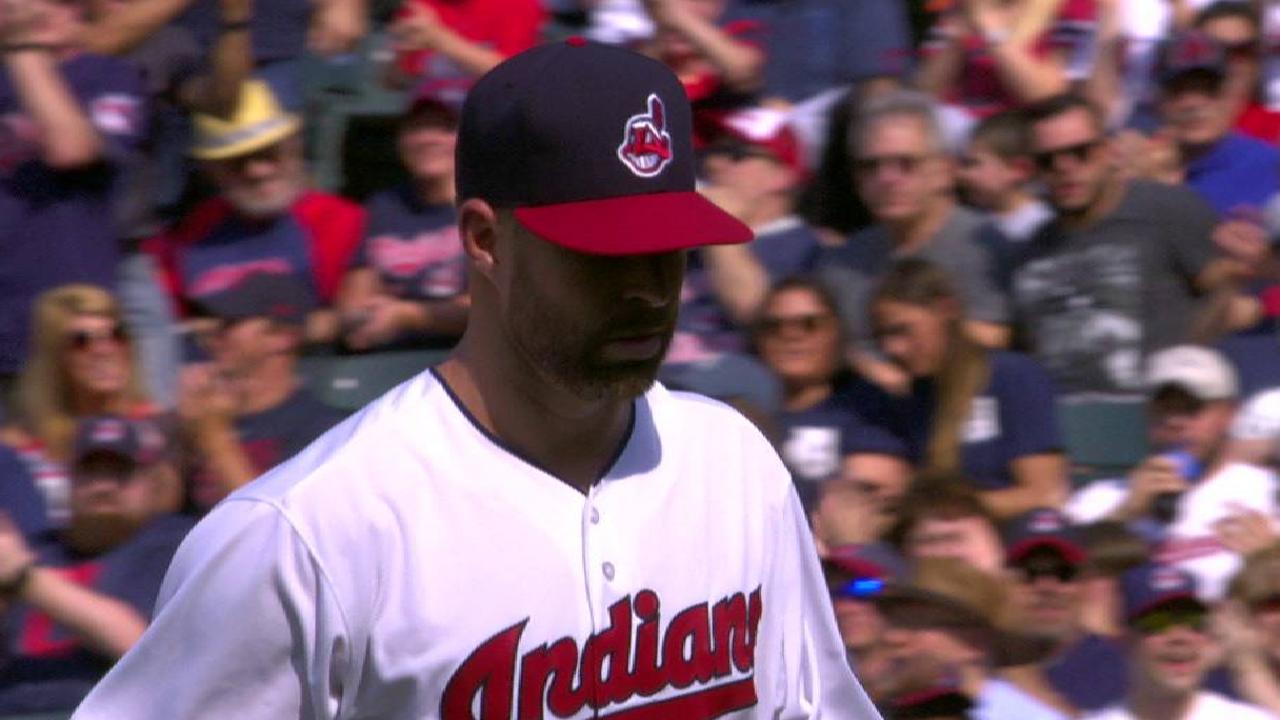 MINNEAPOLIS -- April weather in Minnesota is unpredictable -- the Twins have played in snow before -- and Wednesday's rainout forced both teams to figure out what to do with their respective rotations.
For Indians manager Terry Francona, the decision was to keep his rotation in order. Instead of skipping right-hander Trevor Bauer, who was originally scheduled to pitch Wednesday, Francona pushed his entire rotation back a day.
That meant Bauer got the start for Thursday's matinee. Meanwhile, the Twins missed out on having to face Cleveland ace Corey Kluber (1-1, 6.38 ERA), who otherwise would have pitched in Thursday's finale. In 18 career starts against Minnesota, Kluber is 8-5 with a 3.51 ERA and two complete games.
Minnesota opted to keep Thursday's starter the same as the Twins sent Ervin Santana to the hill. Adalberto Mejia -- the Twins' fifth starter -- had his spot in the rotation skipped as he was originally scheduled to pitch Wednesday opposite Bauer.
"I think when you start flip-flopping, there needs to be a compelling reason," Francona said before Thursday's game. "I think we all felt like giving everybody one day is better than keeping one guy on regular [rest] and then having some other guys go two with a day off coming up."
After a three-game series this weekend in Chicago against the White Sox, Cleveland has an off day Monday before returning home Tuesday to face Houston. Kluber will start Friday's opener against the White Sox, while the rest of the starters move back a day. Right-hander Carlos Carrasco will go Saturday, and Danny Salazar takes the mound for Sunday's finale.
Wednesday's postponement will be made up on June 17 as part of a split day-night doubleheader at Target Field. Given that the rainout came just two weeks into the season, Francona saw no need to juggle his rotation.
"This early in the season, it seems fine to give everybody an extra day," he said."
Worth noting
• Francona didn't have much of an update Thursday on rehabbing second baseman Jason Kipnis, but the Cleveland skipper did say he still expects Kipnis to make his season debut this weekend in Chicago.
"I don't know that we really want to make a final decision before [Thursday's] game, but I think everything is pointing towards that," Francona said.
Kipnis is currently on a rehab assignment as he works his way back from right shoulder inflammation. Francona said earlier this week that the best-case scenario for Kipnis' return would be Friday in Chicago.
Tyler Mason is contributor to MLB.com and covered the Indians on Thursday. This story was not subject to the approval of Major League Baseball or its clubs.