Stras, Zim send Nationals to sweep of Braves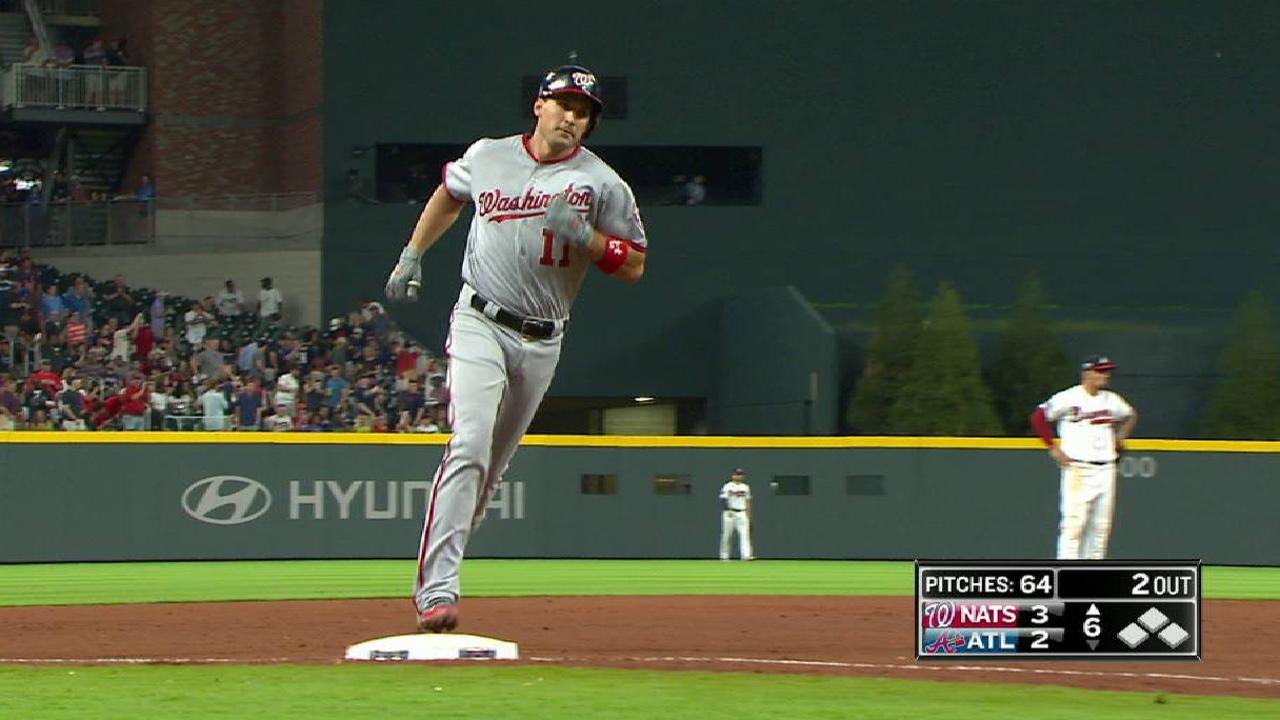 ATLANTA -- Ryan Zimmerman foiled R.A. Dickey's bid for a gem and Stephen Strasburg kept Freddie Freeman's bat quiet as the Nationals completed a three-game sweep with Thursday night's 3-2 win over the Braves at SunTrust Park.
"All games in our division are important," Zimmerman said. "They're a good, young team that's going to continue to get better. This year, there's really no easy games in our division. So any time you can go on the road and take three, it's a plus."
Zimmerman produced a couple of key extra-base hits, including a go-ahead two-run homer with two outs in the sixth, as the Nationals improved to 18-4 against the Braves since the start of the 2016 season. Strasburg limited the Braves to two runs as he completed seven innings for a fourth straight start to begin the season.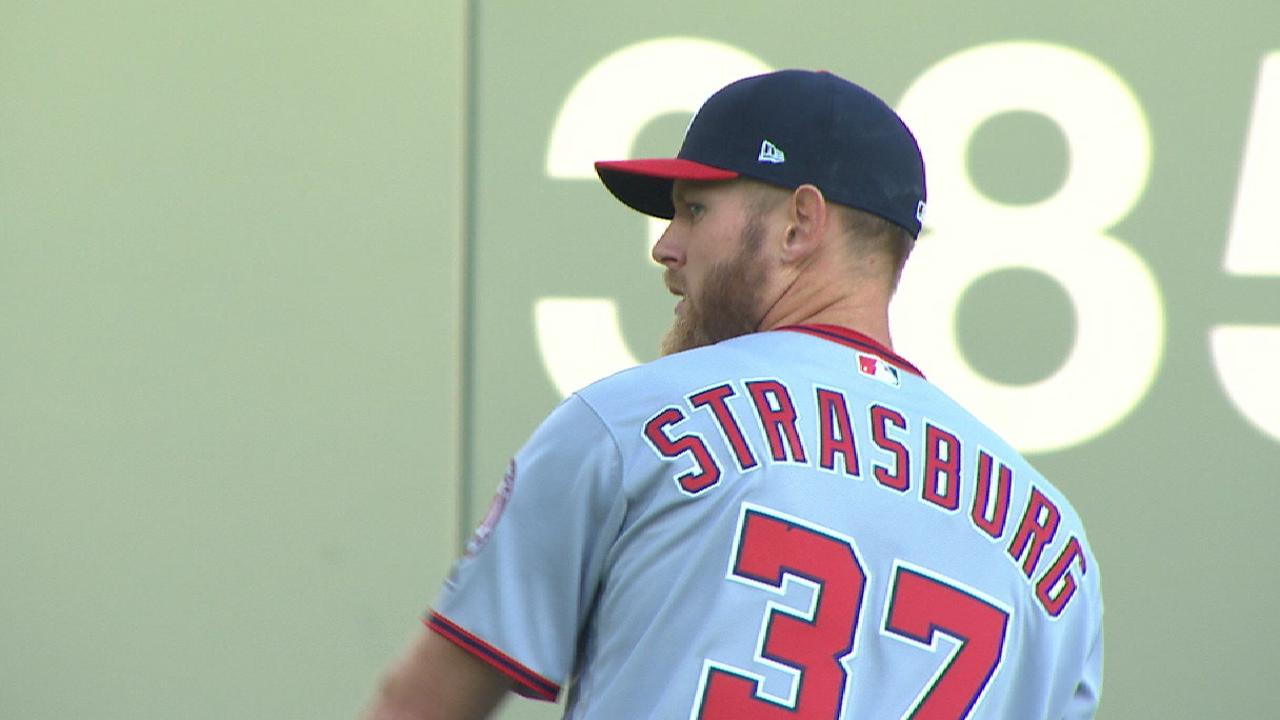 Braves second baseman Brandon Phillips recorded a pair of hits, including a fourth-inning double that put him in position to score on Kurt Suzuki's go-ahead sacrifice fly. But as Dickey allowed three earned runs and three hits over seven innings, he didn't receive the support necessary to overcome the damage created by Zimmerman's big blow.
"Losing games like this, you know your margin of error is real small when you're facing [Max Scherzer], Strasburg or other great pitchers in our division," Dickey said. "So, it hurts a little bit more when you're that close to keeping them where you want to keep them and you let one get away from you like that."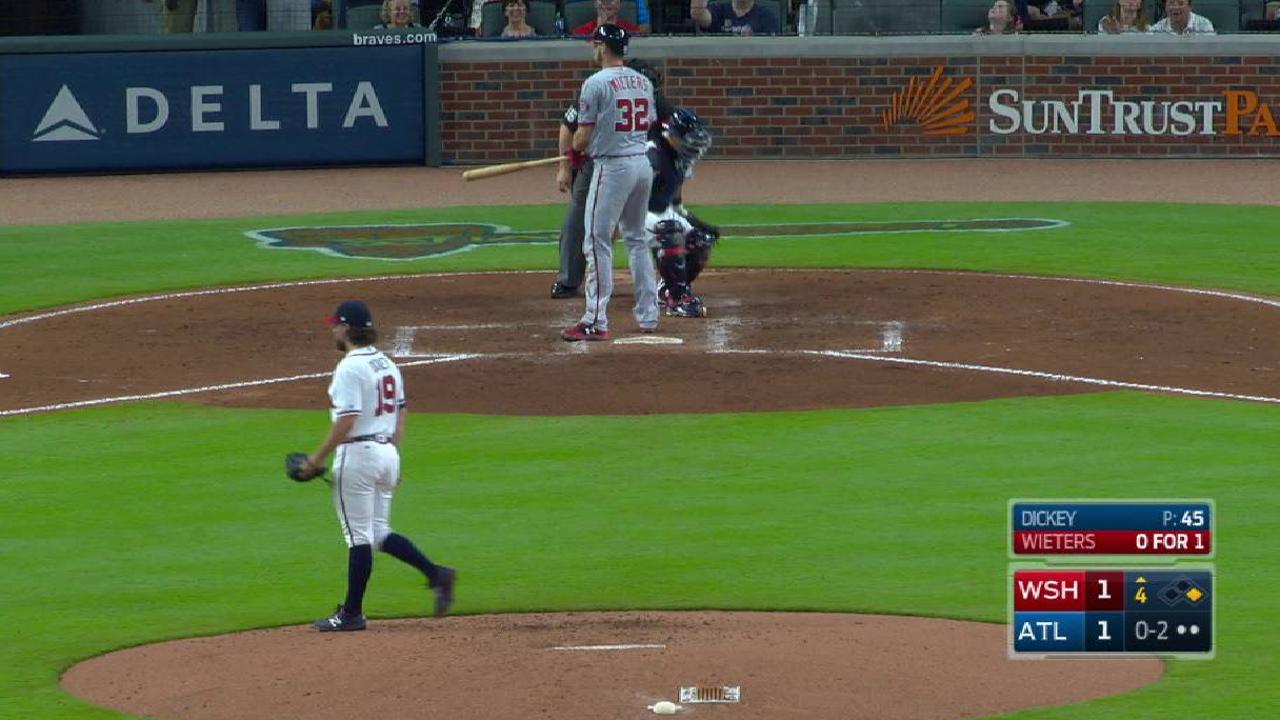 Strasburg had his way with Braves outfielder Matt Kemp, who was playing for the first time since he strained his left hamstring on April 7. Kemp went hitless in four at-bats with three strikeouts against the Nationals' starter.
• Nationals' reworked bullpen locks down win, sweep
MOMENTS THAT MATTERED
Harper's two-out walk: Dickey had retired 14 of the past 15 batters faced before he issued a five-pitch walk to Bryce Harper with two outs in the sixth, with three borderline pitches thrown within that sequence going Harper's way according to plate umpire Fieldin Culbreth. Zimmerman had reached down and out of the zone to produce his second-inning double, but the homer he hit following Harper's walk was a knuckleball that sat in the middle of the strike zone.
"[Culbreth] called a 3-1 and that probably would have changed the at-bat that Harper had, because it would have put him a little bit more in swing mode," Dickey said. "Of course, with the next batter, I've got to flush that and still execute my pitches, and that's the part I have to own. You hope to get calls like that in big situations. We just didn't get that one."
Stellar defensive support: After Nick Markakis drew a one-out walk in the sixth inning, Michael Taylor, who was starting in center field after an injury to Jayson Werth moved Adam Eaton to left, denied Phillips of a hit when he raced into shallow center field to make a sparkling diving catch.
"Our outfield defense was going to come into play, because Stras gets more fly balls, probably, than ground balls," Nats manager Dusty Baker said. "And so that was an outstanding play."
Strasburg had reason to thank Harper for making a shoestring grab of Ender Inciarte's liner with two on and two outs in the second inning.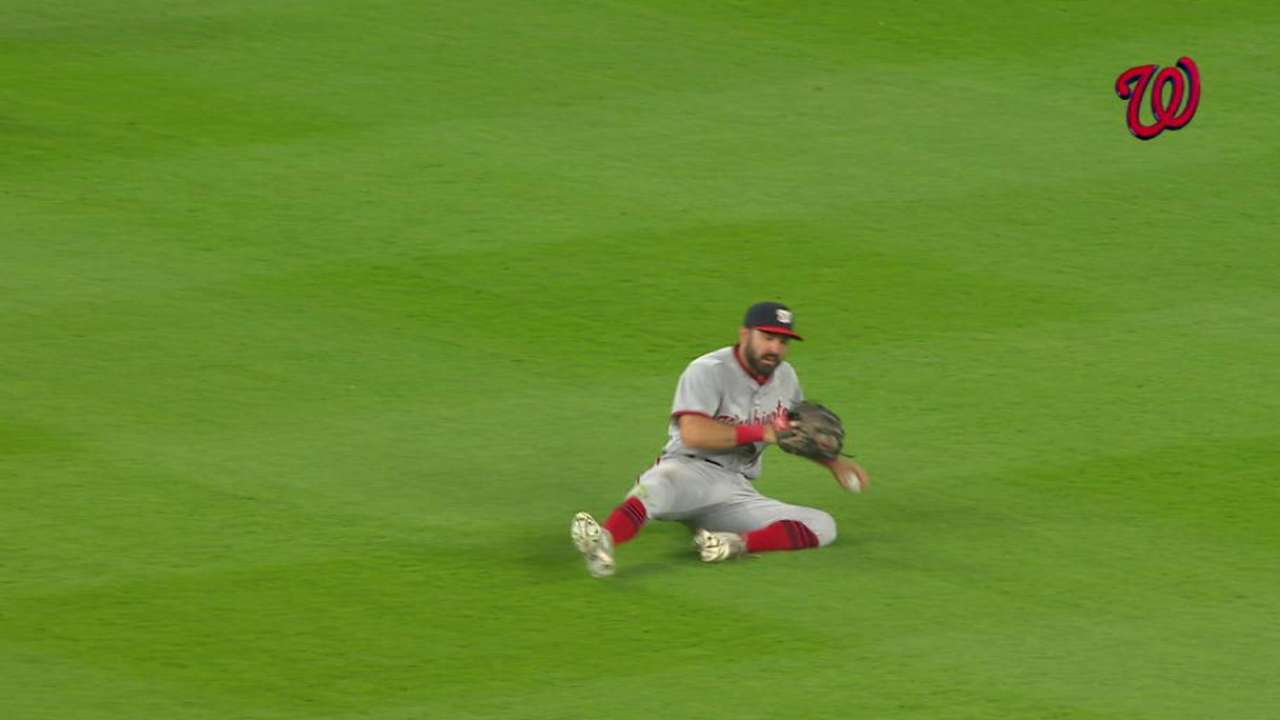 QUOTABLE
"We hit the ball real hard, we just hit them right at people, and plus, they made some great diving plays. So, you can really just tip your cap to those guys. I really thought we had that game, but you know how this game goes, anything can happen." -- Phillips, who has hit .372 (16-for-43) over his past 11 games
"It worked out in the grand scheme of things, probably made some people nervous and didn't look attractive." -- Shawn Kelley, on closing out the ninth inning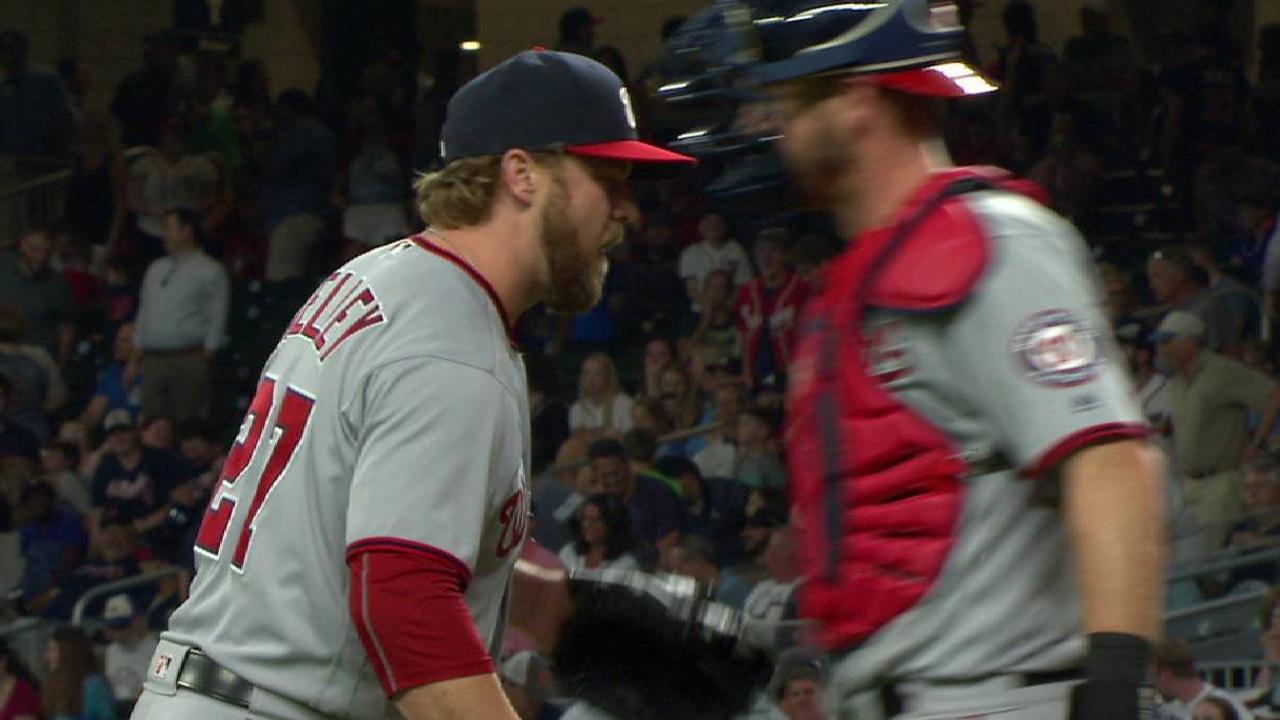 QUICK HOOK
After Suzuki opened the bottom of the seventh with a single, Braves manager Brian Snitker opted to pull Dickey, despite the fact the knuckleballer had thrown just 73 pitches. He instead batted Emilio Bonifacio, who quieted a potential threat with a strikeout. Braves pinch-hitters are 2-for-25 this season.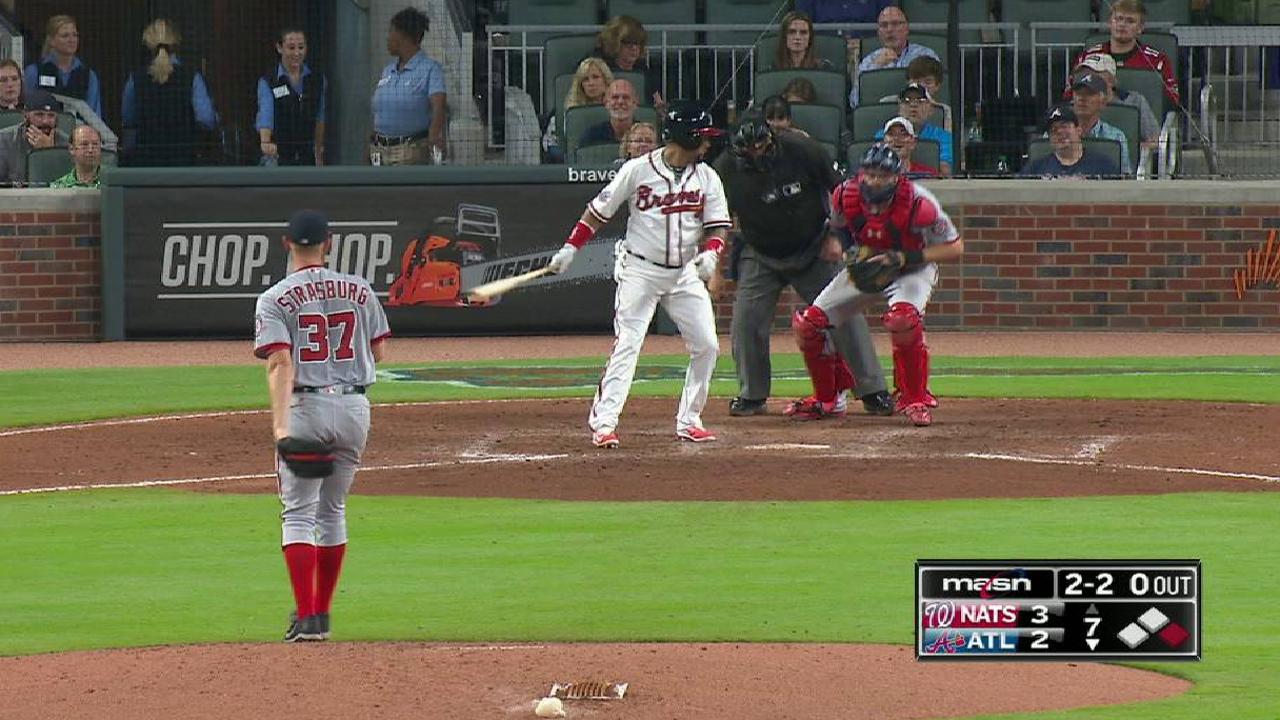 WHAT'S NEXT
Nationals: The Nats head to New York for the second portion of their three-city, 10-game road trip with a matchup with the division-rival Mets on Friday night at Citi Field. Tanner Roark will make the start for Washington opposite New York's Jacob deGrom. Roark tossed seven innings of two-run ball last time out. First pitch is scheduled for 7:10 p.m. ET.
Braves: Bartolo Colon will make his fourth start of the season when Atlanta opens a three-game series in Philadelphia on Friday at 7:05 p.m. ET. Colon allowed just two baserunners to reach safely as he completed seven innings against the Padres on Sunday.
Watch every out-of-market regular-season game live on MLB.TV.
Mark Bowman has covered the Braves for MLB.com since 2001.

Jamal Collier covers the Nationals for MLB.com. Follow him on Twitter at @jamalcollier. This story was not subject to the approval of Major League Baseball or its clubs.