Lack of run support spoils Bumgarner's outing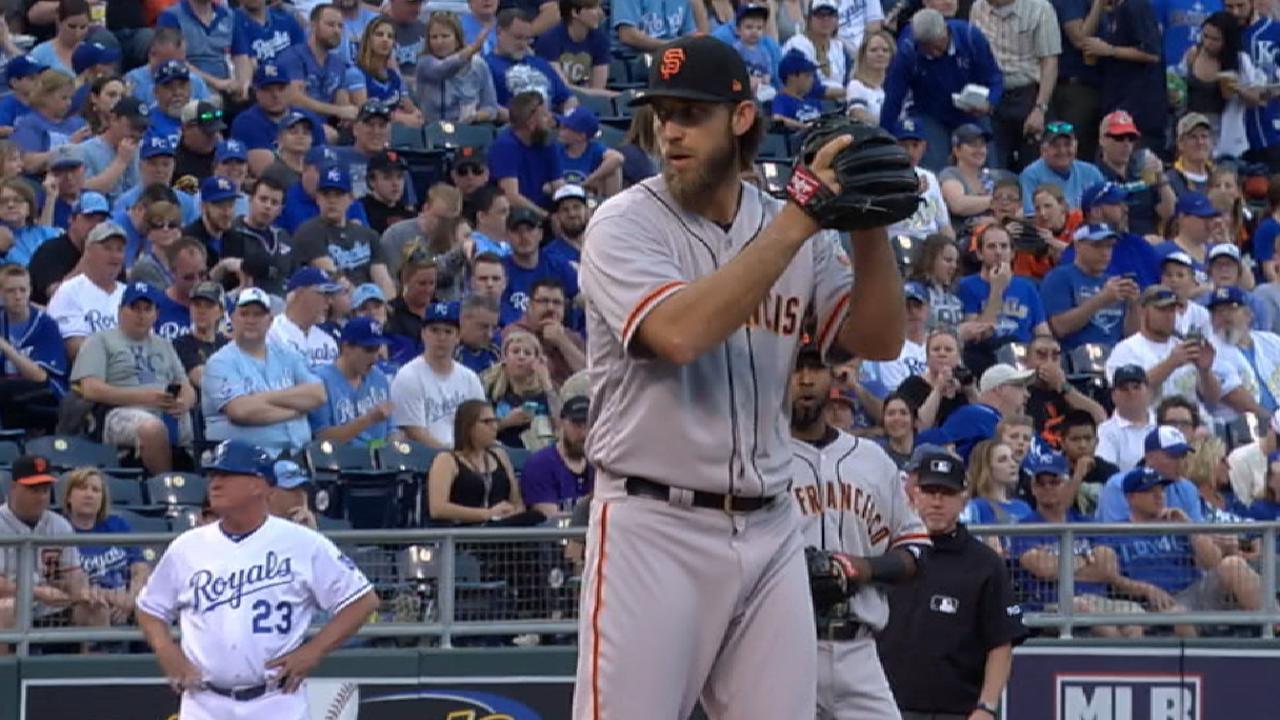 The Royals saw a different Madison Bumgarner than the one who silenced them three years ago in the World Series. Bumgarner's results, however, looked extremely familiar.
Despite lacking his best stuff, Bumgarner threw mostly zeros against the Royals. But the Giants' struggling offense continued to undermine Bumgarner's efforts, resulting in Kansas City's 2-0 Interleague triumph Wednesday.
Bumgarner made his first appearance on the Kauffman Stadium mound since he pitched five shutout innings of relief in San Francisco's 3-2 triumph in Game 7 of the 2014 Series. The left-hander finished that Fall Classic with one earned run allowed in 21 innings.
Bumgarner was dominant through that entire postseason, amassing a record 52 2/3 innings. This time, not so much. Nevertheless, he performed well enough to win, yielding a run and seven hits in six innings.
"He really battled out there tonight," said Giants bench coach Ron Wotus, who served as acting manager while Bruce Bochy continued his recovery from a minor heart procedure, which he underwent Monday. "He didn't have his great command, but he bowed his neck."
Said Bumgarner: "I felt like I made some pretty good pitches that just missed. I had a lot of traffic I had to work through. It was just one of those days where I had to grind it out."
"I think everyone had a different approach. He's so tough you have to try to look for the pitch that works for you," Kansas City's Mike Moustakas said.
Moustakas' approach featured outhustling Bumgarner. With two outs in the fifth inning and Paulo Orlando on third base, Moustakas hit a grounder to first baseman Brandon Belt. Moustakas beat Bumgarner to the bag, enabling Orlando to score.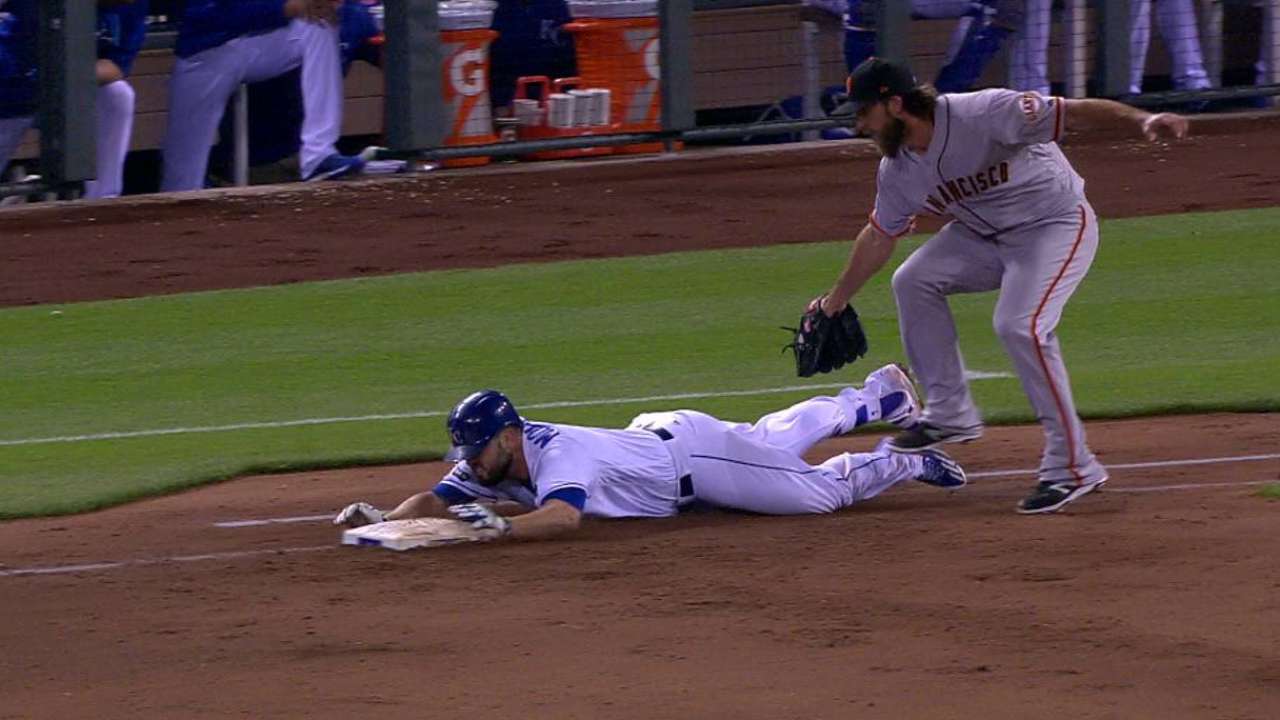 "I was a little bit late getting to first there," Bumgarner said. "I got my feet tangled up a little bit. It's easy to take Belt for granted because he's such a good defensive first baseman. I should have been there a little sooner and saved that run."
Said Wotus: "I'm sure he wishes he had that one back. You don't see that from him very often. But I thought he competed outstanding without his best location. At times, he was overthrowing a little bit. The story wasn't him. He did his job. We just couldn't score a run."
The Giants have scored painfully few runs for Bumgarner: Five, to be precise. That largely explains why he's winless in his first four starts despite compiling a tidy 3.00 ERA. The last time Bumgarner endured such a rough start to a season was 2011, when he went 0-5 with a 4.75 ERA in his first six outings.
Asked if the potential existed for him to apply undue pressure on himself under these circumstances, Bumgarner said, "There obviously is potential for that. But for me, I feel like there's no chance. I've been around and seen enough to know how this works.
"I know what I have to do. You just can't get away from that. You can only worry about what you can control. It's easier said than done sometimes, but you just have to make sure that's what you do."
Chris Haft has covered the Giants since 2005, and for MLB.com since 2007. Follow him on Twitter at @sfgiantsbeat and listen to his podcast. This story was not subject to the approval of Major League Baseball or its clubs.