Castellanos breaks out big with pair of triples
Tigers' home run streak ends; Iglesias takes knee to head on final play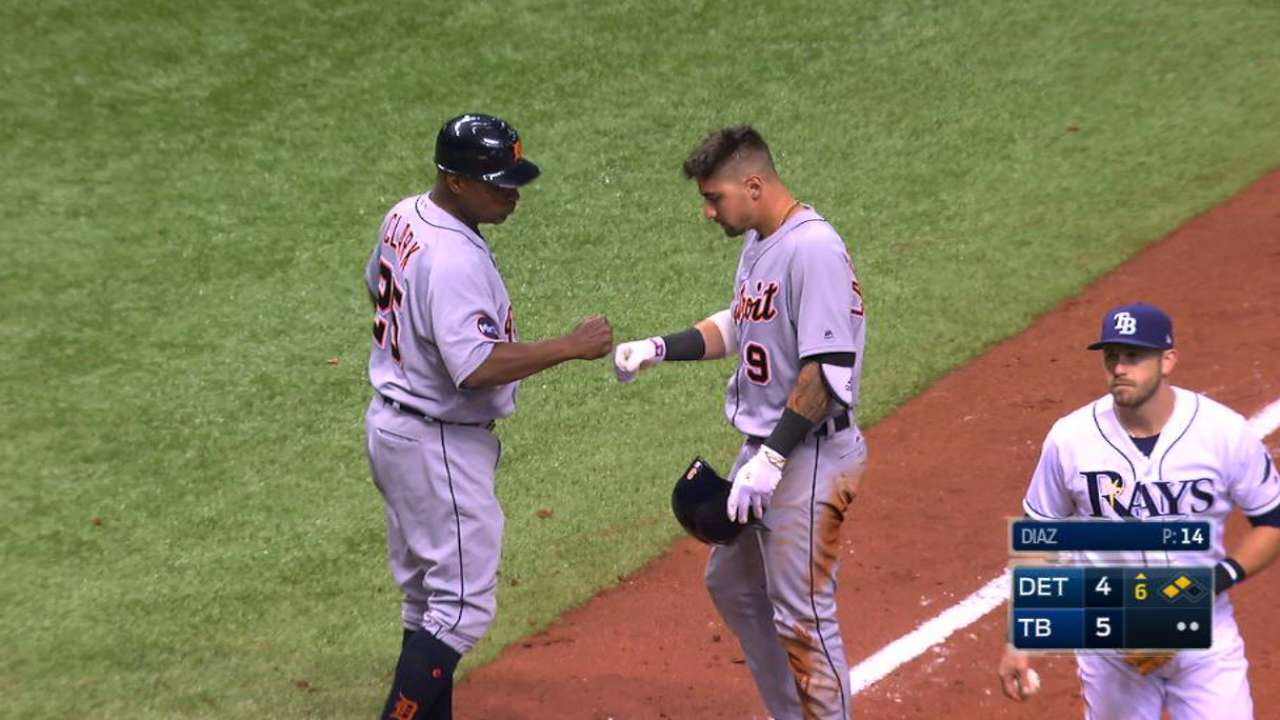 ST. PETERSBURG -- Tigers manager Brad Ausmus said before Wednesday's game that third baseman Nicholas Castellanos was performing better at the plate than his .204 average indicated.
"He is due for a couple of those jam-shot singles," Ausmus said. "In the last 10 days he's hit the ball as hard as anyone, and had very little to show for it."
The Statcast™ numbers back up Ausmus' contention. Entering Wednesday night's game, he'd already hit 24 balls at 95 mph or harder in 2017, tied for the second-most in the Major Leagues. He was second only to teammate Miguel Cabrera in average exit velocity on batted-ball outs, at 94.9 mph. And he was tied with Cabrera with the lead in barrels that went for outs, with four.
Castellanos definitely had something to show for it all after Wednesday's 8-7 loss to the Rays. He went 2-for-5 with a pair of triples, drove in three and pushed his season batting average up nearly 20 points.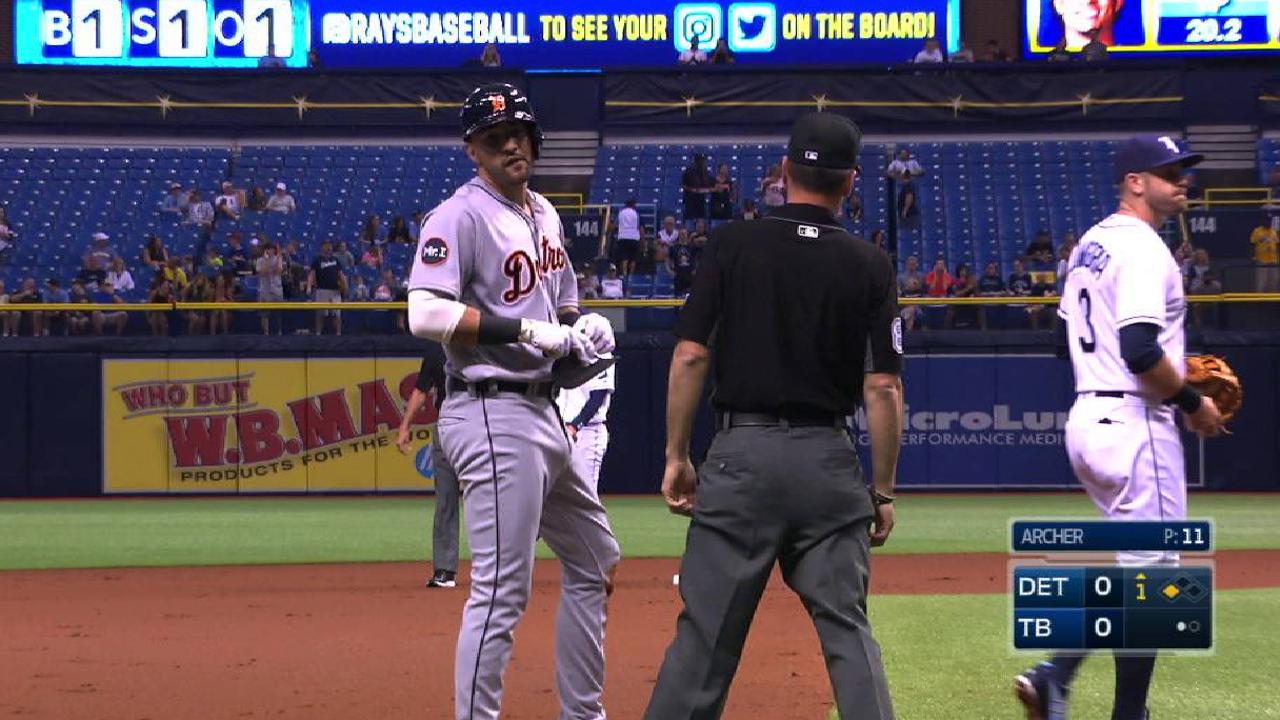 "I'm just happy I could come through for the team right there," Castellanos said.
Castellanos set the tone in the first inning after he sliced a 96-mph fastball off Rays starter Chris Archer just out of reach of Steven Souza Jr. in right for his first triple of the game. He did it again in the sixth, this time off reliever Jumbo Diaz, clearing the bases with a knock just out of reach of a diving Kevin Kiermaier that scored James McCann, Jose Iglesias and Ian Kinsler to give the Tigers a 7-5 lead.
"The only thing I know, was that I was really happy for him not to catch it," Castellanos said.
Ausmus said he noticed added power in Castellanos' swing this spring. Along with his three triples, the 25-year-old has four doubles and a pair of home runs this season.
"I can't point to anything mechanically, but he certainly seems to be driving the ball more since Spring Training, in terms of distance," Ausmus said.
Home run streak ends
Until Wednesday night, the Tigers had been knocking balls out of the ballpark at an historic rate this season.
Detroit's offense had hit at least one home run in each of its first 13 games of the season. It was just one game shy of the 2002 Indians for the longest such streak in Major League history and the second-longest run to start the season in the past 100 years.
"Al I care about is wins and losses," Ausmus said. "I don't care about how long that streak is. I just care about wins and losses."
Iglesias injured
Tigers shortstop Jose Iglesias was injured on the final play of the game and had to be helped off the field by team trainers after colliding with Rays runner Brad Miller as Iglesias attempted to turn a game-ending double play.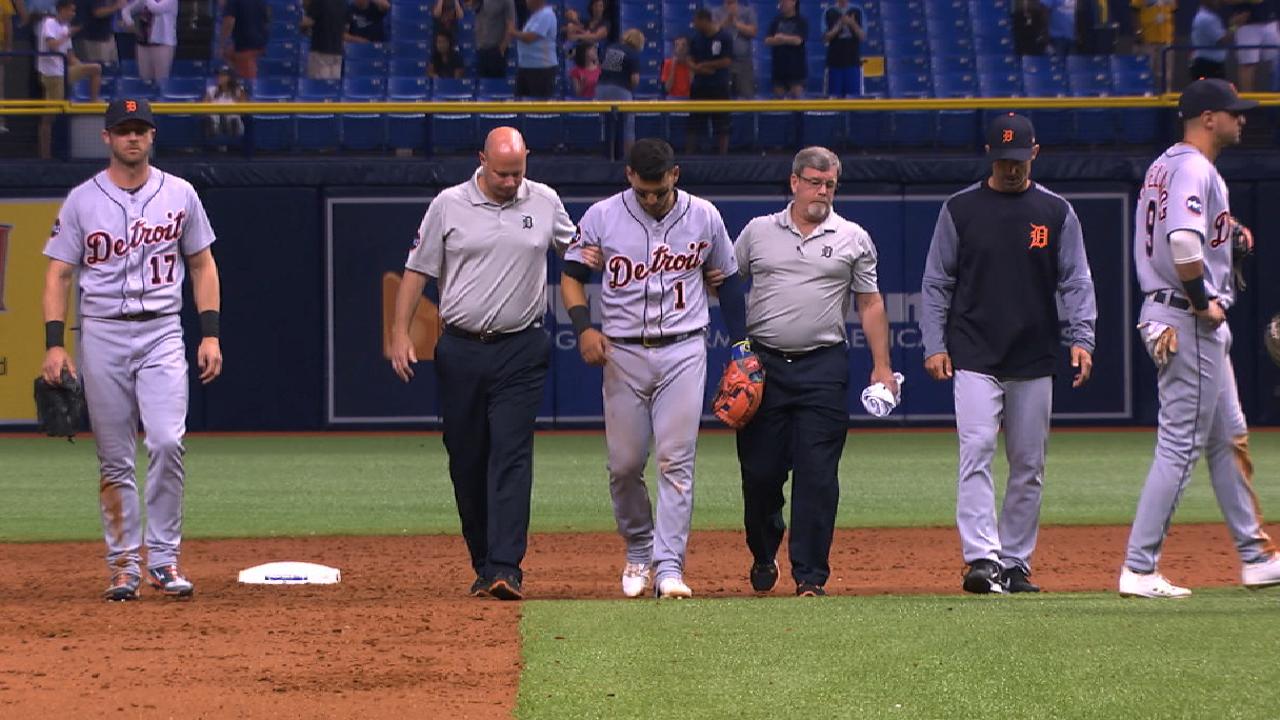 Iglesias stumbled over second base while making the turn and was hit in the head by Miller's knee. Iglesias stayed motionless on the ground as the Rays celebrated their walk-off victory nearby. Updates on his condition were not immediately available.
J. Scott Butherus is a contributor to MLB.com based in St. Petersburg. This story was not subject to the approval of Major League Baseball or its clubs.