Garrett making his mark at big league level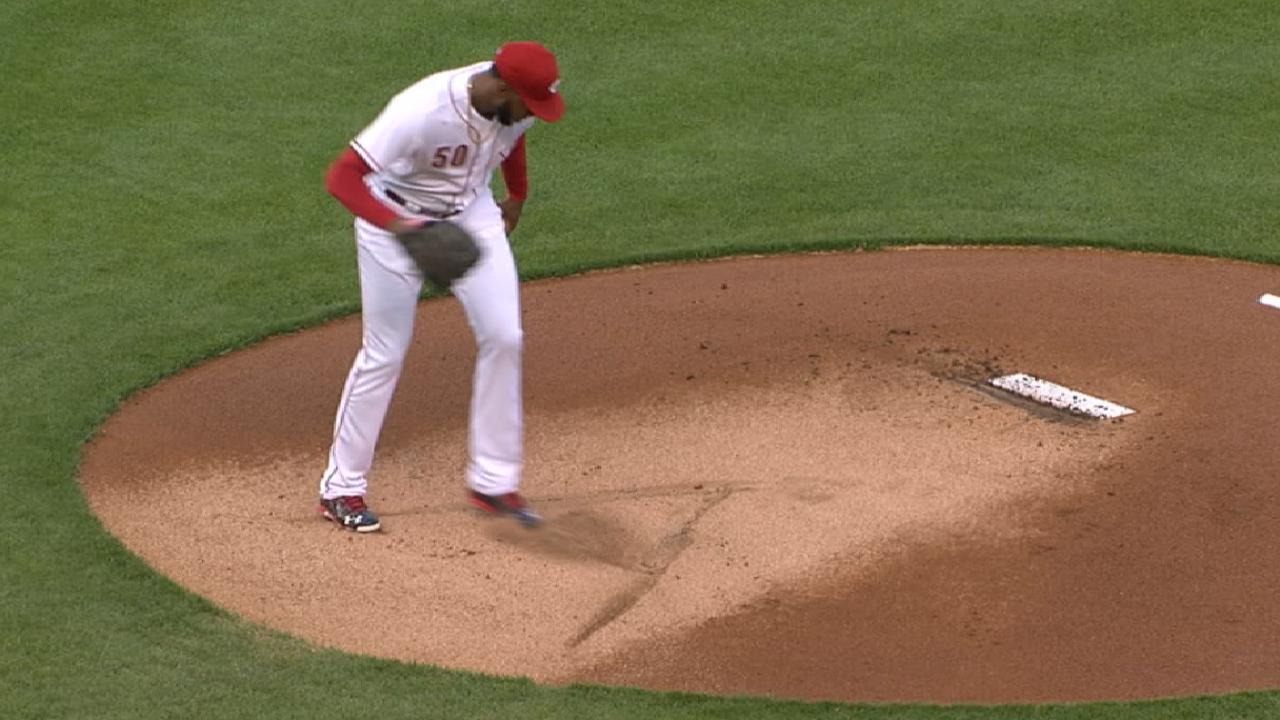 CINCINNATI -- As he gets ready to make each start, Reds left-handed starter Amir Garrett uses his spikes to scrape a big letter "A" on the front of the mound. Three outings into his rookie season, Garrett is already making his mark on the Major League scene.
Garrett came out with the loss during the Reds' 2-0 loss to the Orioles, but was impressive nonetheless. Over his seven innings, he struck out 12 batters and allowed seven hits with one walk on 97 pitches.
"I feel that when I go out there, it's my mound," Garrett said. "It's just a mental thing for me. I've been doing that for as long as I can remember. That's my mound on that day, no matter if we're home or away."
A one-out RBI single by Jonathan Schoop in the second inning and a bases-loaded sacrifice fly from Manny Machado were enough to beat Garrett. His counterpart, Orioles starter Ubaldo Jimenez, limited Cincinnati to two hits over 7 2/3 innings.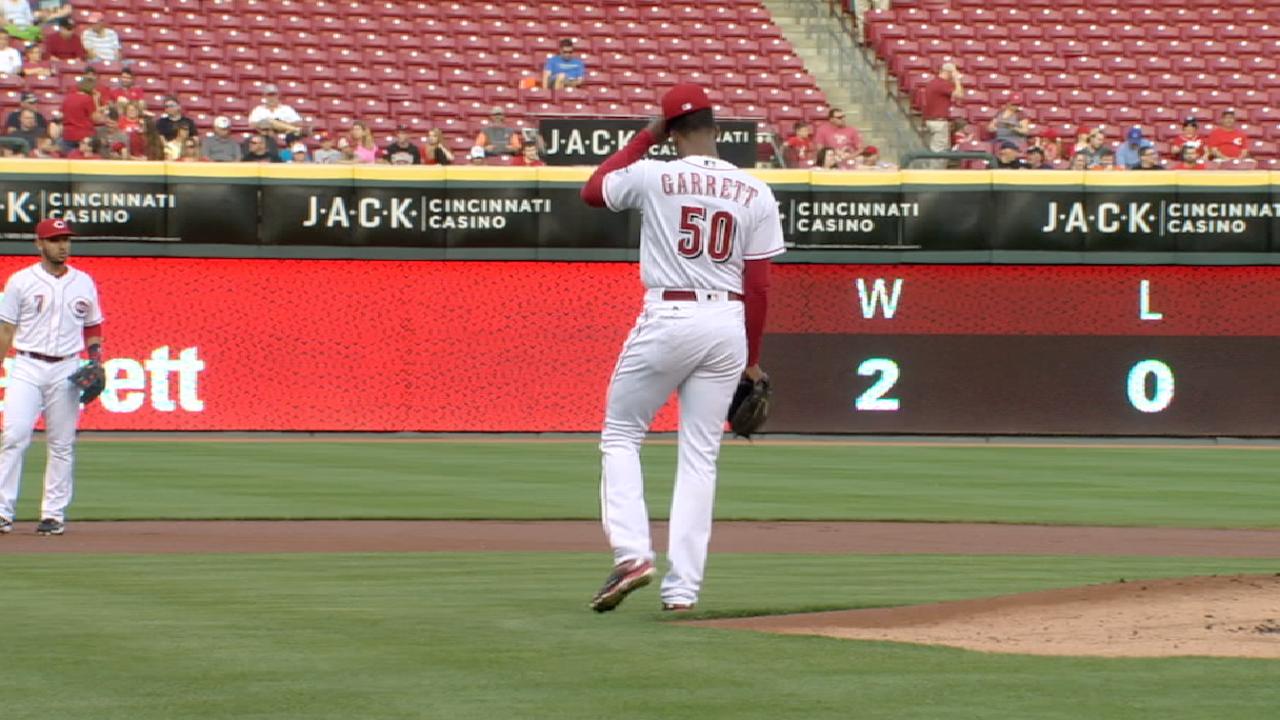 But Garrett -- the Reds' No. 2 prospect according to MLBPipeline.com -- did not shrink from the duel. A few times after he gave up a hit, or missed location with a pitch, he'd will himself to do better by pounding his chest with the ball.
"Of all the accolades we've piled on Amir through his first three starts, the one that stands out the most is just his willingness to compete every moment he's on the field," Reds manager Bryan Price said. "That is not something that everybody just has because they're a big leaguer. There's a lot of guys who will fold their tent when things get tough, even at this level. And he doesn't."
Garrett, who turns 25 on May 3, also continued to show diverse pitch quality. Besides a fastball and slider, his changeup has developed strongly even since Spring Training ended and he earned a rotation spot.
Entering the night according to Statcast™, Garrett threw 61.8 percent of his 13 changeups to right-handed batters for strikes with whiffs on seven of their 16 swings (43.8 percent). Hitters were 0-for-4 when putting it in play, with an average exit velocity of 80.2 mph. On Wednesday, he threw 22 more changeups with 11 balls, four whiffs, three fouls, three outs in play and one single. He has yet to throw the changeup to a lefty hitter.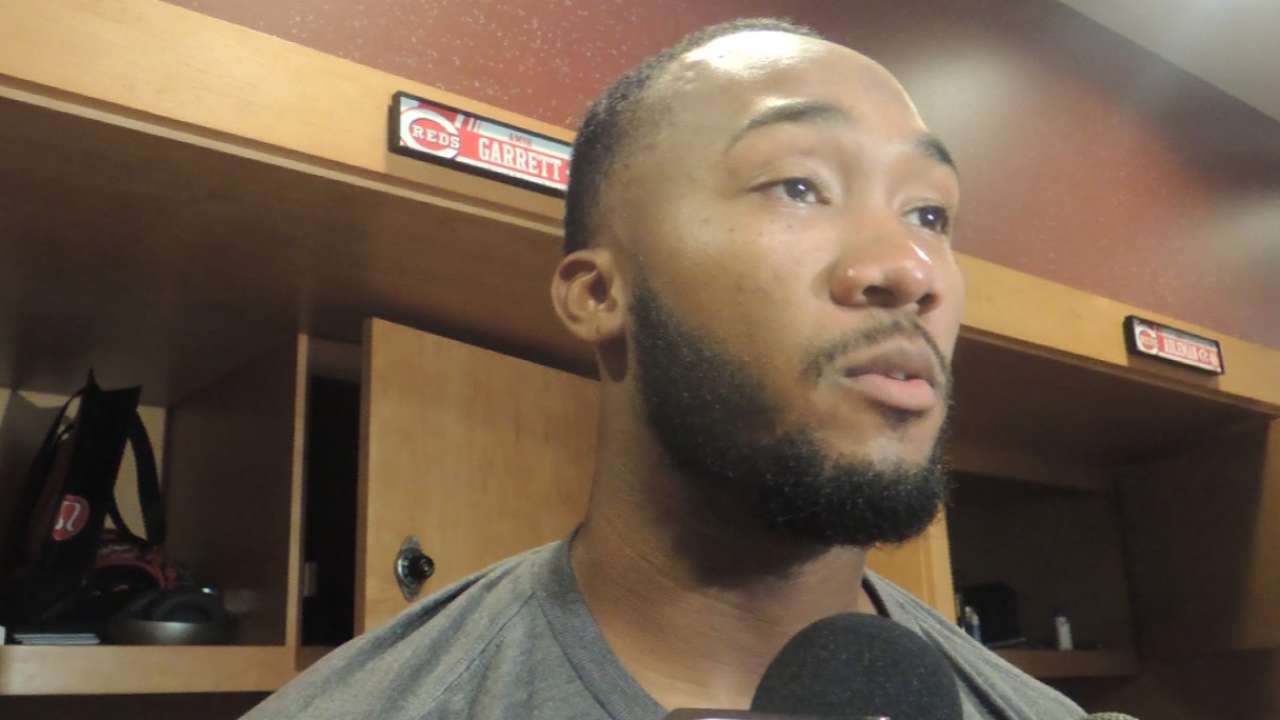 "If you don't have a changeup, it's going to be an uphill battle to be a quality Major League starting pitcher," Price said. "It's paying off immediately. There's an immediate response. It's a third pitch. It's a soft pitch he throws for strikes in fastball counts. It's not the reason for his success, but it's one of the reasons."
Through his three starts, Garrett has a 1.83 ERA, with 21 hits, five walks and 30 strikeouts over 19 2/3 innings. The 12 K's on Wednesday tied the Reds record for most strikeouts by a rookie left-handed pitcher held by Dennys Reyes on Aug. 20, 1998, vs. the Pirates.
"I don't put any limitations on myself. I can be as good as I want to be," Garrett said. "I don't let anybody tell me how good I can be. I'm definitely confident in the start I've had so far. I'm just going to continue to work hard and continue to just go out there and compete."
Making the night sweeter for Garrett was that his father, Darrow, was in attendance at Great American Ball Park. Health problems in California prevented him from making the first two games.
"They said he was cleared to fly and he got on the first plane out here. I was very happy to have him in the stands today," Garrett said.
Mark Sheldon has covered the Reds for MLB.com since 2006, and previously covered the Twins from 2001-05. Follow him on Twitter @m_sheldon and Facebook and listen to his podcast. This story was not subject to the approval of Major League Baseball or its clubs.