In Ichiro's old spot, rookie Haniger delivering
Mariners RF runs hitting streak to 13 games, drives in 4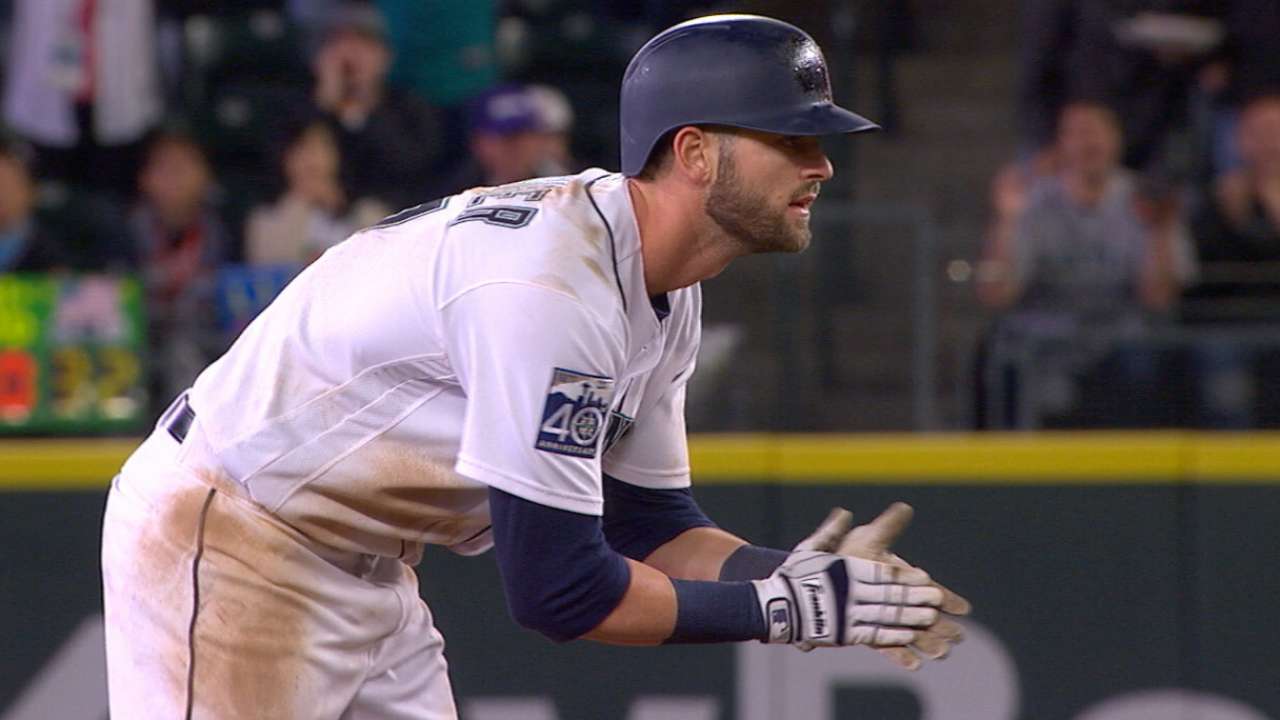 SEATTLE -- On what may well have been the last day Ichiro Suzuki patrolled right field at Safeco Field, an emerging rookie continued to rise up at that position for the Mariners as Mitch Haniger again played a key role in Seattle's latest win.
Haniger racked up four RBIs on Wednesday while going 3-for-4 with a double, two singles and a walk in the Mariners' 10-5 win over the Marlins, who had Ichiro make just his third start of the season at his old familiar position in the series finale. Ichiro capped things off with a ninth-inning home run over Haniger's head.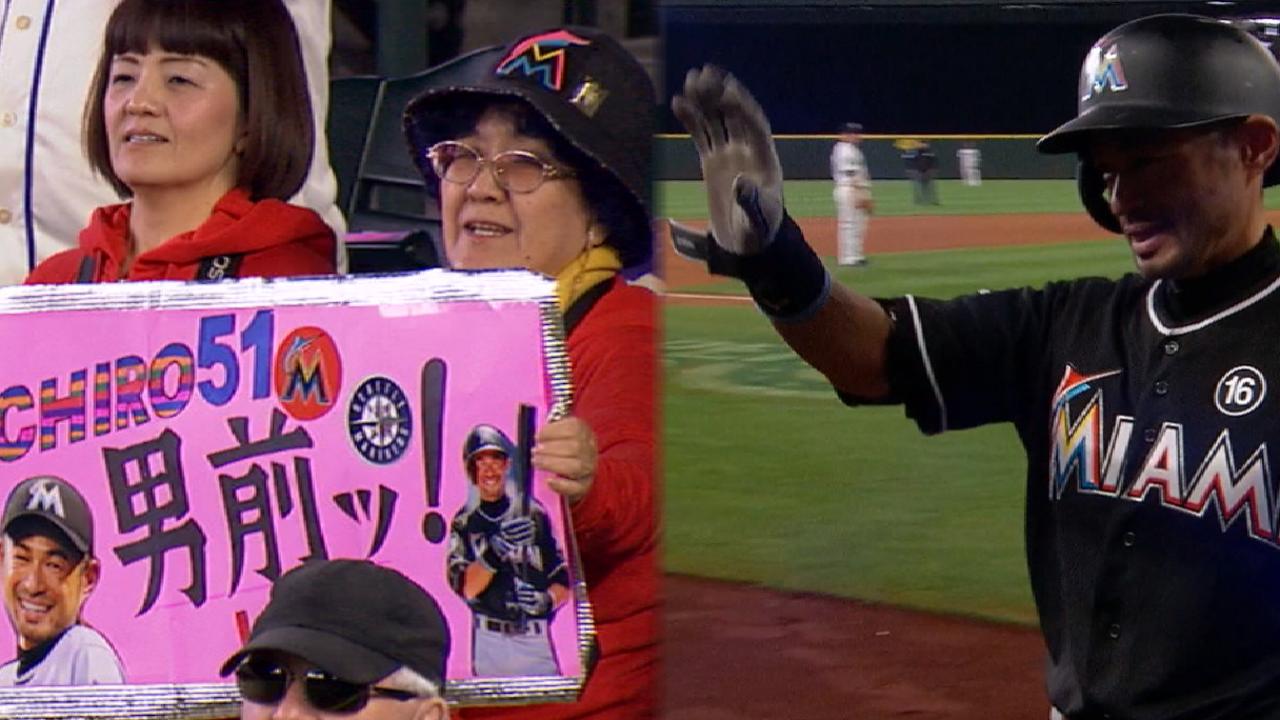 Handling that same position for the Mariners wasn't lost on the 26-year-old Haniger, who is 17 years younger than Ichiro.
"It's cool," Haniger said. "He's an icon, and I definitely watched him growing up. He's a great player."
Ichiro burst on the scene in Seattle in 2001, when he won the American League Most Valuable Player Award and AL Rookie of the Year Award. Haniger has a long way to go to achieve that sort of impact, but he's certainly off on the right foot as he extended his hitting streak to 13 games, during which he's batting .380 (19-for-50) with 13 runs, four doubles, four homers and 15 RBIs.
"I can't say enough about him," Mariners manager Scott Servais said. "The quality of at-bats, the walks, the big hits, working into his count and understanding situations. It's been huge for us and really a boost. Obviously, when the guys behind him get rolling, we play really well."
Haniger became the fourth Mariners rookie to hit safely in 13 or more consecutive games and the first since James Jones in 2014, while his 15 April RBIs are the fourth most by a Seattle rookie and just two shy of Alvin Davis' record of 17 set in 1984.
How good has Haniger been this month? He leads all AL rookies in runs, walks, extra-base hits, on-base percentage, doubles and RBIs.
A day after his ninth-inning double spoiled the Marlins' no-hit bid, Haniger walked and scored Seattle's first run in the first, added a two-run, bases-loaded single in the second and broke things open with his two-run double off the wall in the fourth.
• Haniger, Barraclough go back beyond near no-no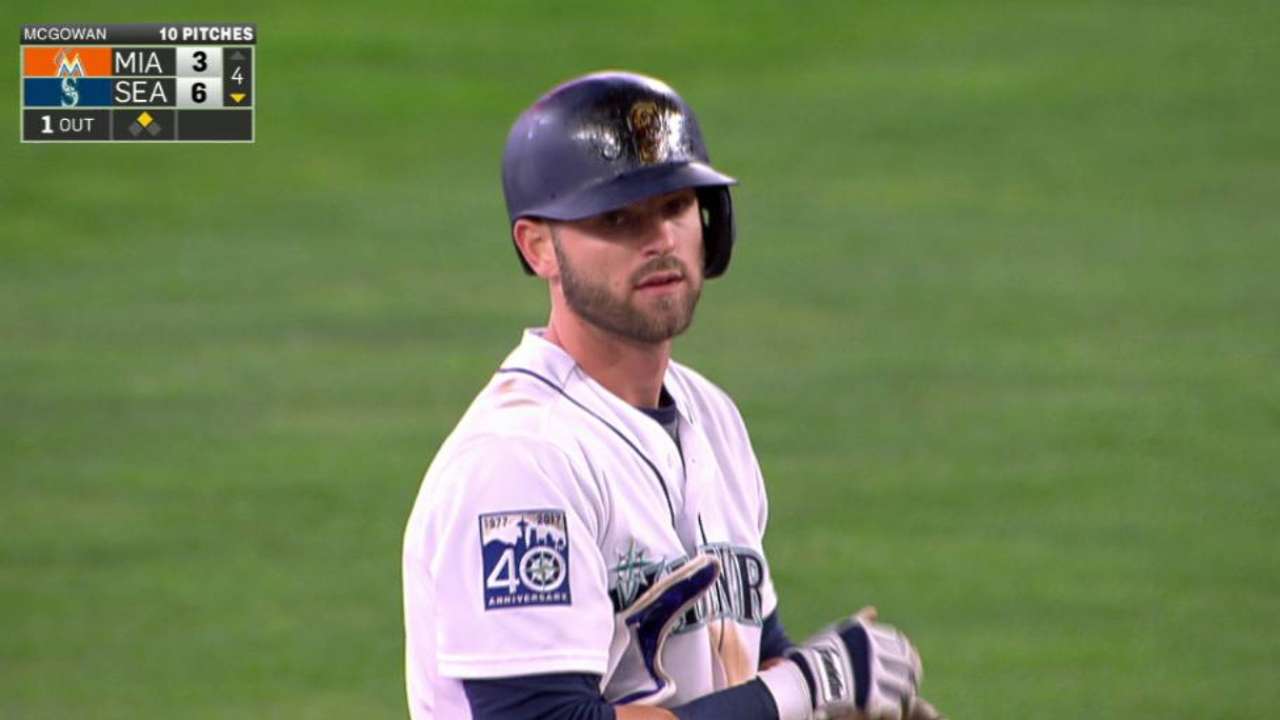 Servais has been so impressed with Haniger's mindset at the plate that he invoked the name of Mike Trout in comparing the rookie's mental approach.
"He's really grinding through [at-bats]," Servais said. "There's a guy in Anaheim that was pretty good, too, when he first came up. I'm not comparing him to Mike Trout, but just as far as the grind and going through it.
"Mitch understands his swing and who he is and where he's at on our team, and he's just going out and having fun. That's the big thing. All the guys are starting to relax a little, and the talent comes out."
Haniger spent five years working his way through the Minors, but he says the mental approach finally clicked in a year or two ago.
"I think I've gotten better at that over the years," Haniger said. "It's something now I try every pitch, have a purpose, have a plan and try to win each pitch. Just over time, I got better and smarter at it."
And now he's playing a key role on a Mariners team in a spot long owned by a future Hall of Famer.
"That guy is taking advantage of his opportunity," said teammate Jarrod Dyson "He's making a name for himself, doing a great job. He's on base every game, he's getting his doubles, getting his homers. He's doing a little bit of everything."
Greg Johns has covered the Mariners since 1997, and for MLB.com since 2011. Follow him on Twitter @GregJohnsMLB and listen to his podcast. This story was not subject to the approval of Major League Baseball or its clubs.