Walk-off win epitomizes Cubs' resiliency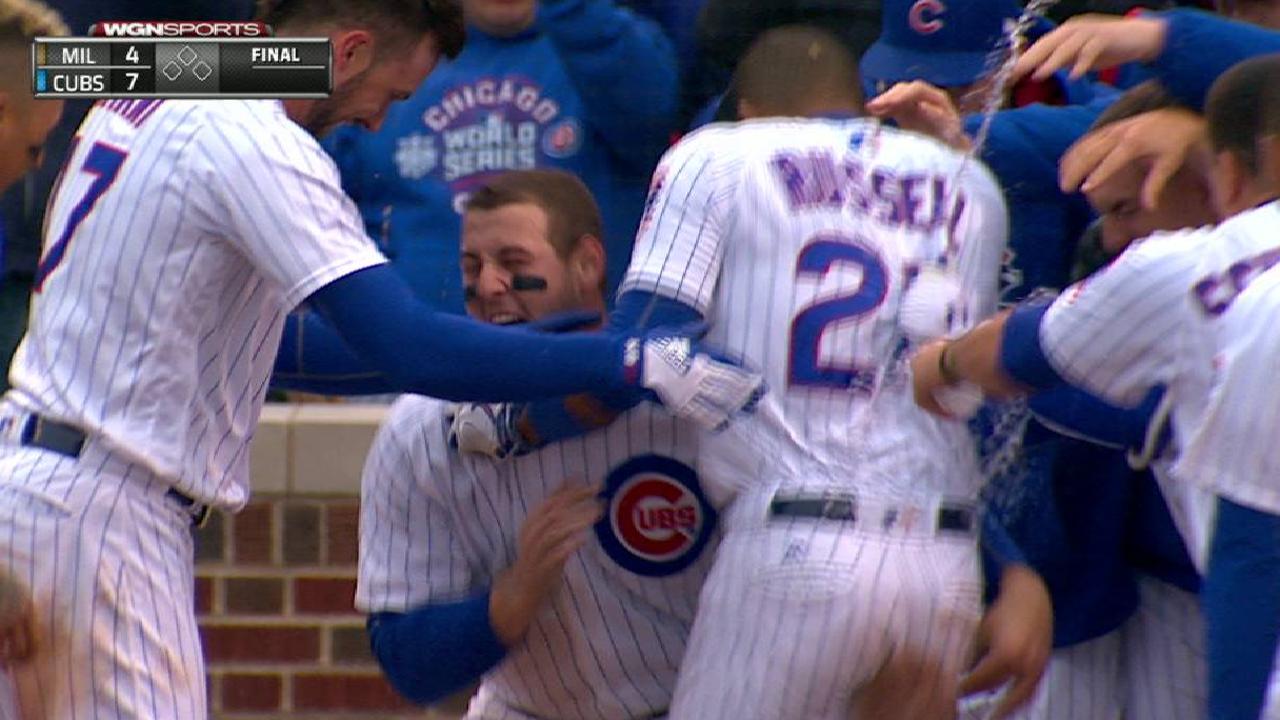 CHICAGO -- Engraved on the Cubs' championship rings is the phrase, "We never quit." It was their motto last season as they won 103 games and eventually the World Series. That may be the theme for 2017 as well.
For the second day in a row, the Cubs rallied for a win as Addison Russell smacked a walk-off three-run homer with two outs in the ninth inning Wednesday to beat the Brewers, 7-4. On Tuesday, the Cubs had to rally from a 5-0 deficit for the win.
"It's one of those ugly wins but we'll take it any day of the week," Cubs manager Joe Maddon said. "It is the resiliency, it is the fact that we do not quit. It's on the ring. We don't quit. It's on the ring, man, and that's a perfect example today."
The Cubs have had daily reminders about the franchise's first World Series championship in 108 years during this nine-game homestand, which began on April 10 when they raised the banners. Anthony Rizzo won that game with a walk-off RBI single in the ninth against the Dodgers.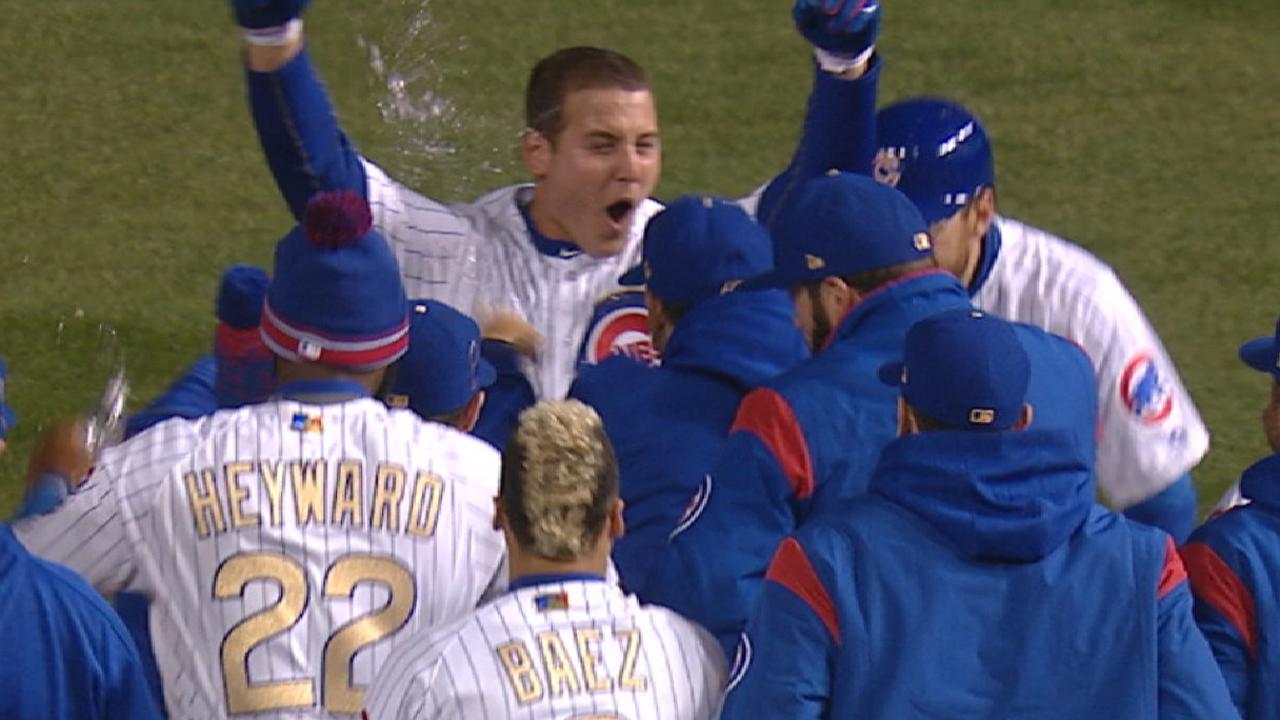 Since then, the Cubs players have received their rings, celebrated former teammates and alumni, and tried to get back to just playing baseball. One of last year's themes was to "embrace the target." They feel as if the bullseye is on them.
"Teams are coming for us, we have targets on our backs," starter Kyle Hendricks said. "They're playing their best baseball. Our guys, to be able to grind it out and win a few ballgames, is good to see."
The Cubs trailed 4-3 with one out in the ninth when Jon Jay drew a walk against Neftali Feliz, and reached third on pinch-hitter Miguel Montero's single. Kris Bryant tied the game with an RBI single, and he and pinch-runner Carl Edwards Jr. both moved up on Rizzo's groundout.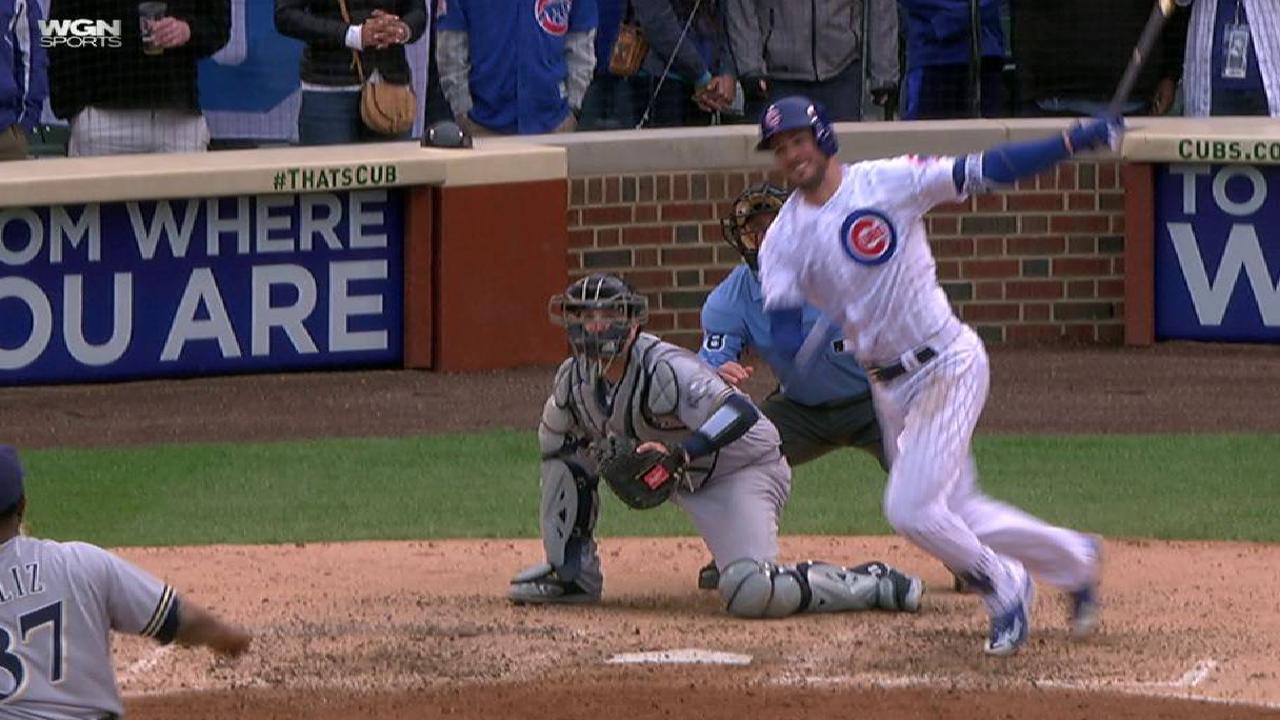 Russell then launched a 2-0 pitch into the left-field bleachers for his second homer of the season. Left fielder Hernan Perez glanced up, then headed to the dugout as the ball sailed into the seats.
It was Russell's second career walk-off hit; he also hit a walk-off double on May 26, 2015.
"He's definitely not afraid," Maddon said of the young shortstop, who leads the Cubs with 12 RBIs. "Today was a classic example, really staying with it mentally. He's just learning his craft."
Being versatile is another theme from last season, and Edwards chipped in by pinch-running. Third-base coach Gary Jones told the reliever what to be prepared for. He didn't have to worry once Russell made contact.
"It was just a nice little trot running home," Edwards said.
Russell, 23, is growing up quickly. He came through in Game 6 of the World Series, hitting a home run and a double and driving in six runs. This homestand, a lot of those memories have been rekindled. He knows the inscription on the ring.
"We feel very strongly about that," Russell said of the "never quit" attitude. "It seems like you can never count us out. We seem to have a spark. That's all it takes is one hit, one walk and we get rolling."
Carrie Muskat has covered the Cubs since 1987, and for MLB.com since 2001. She writes a blog, Muskat Ramblings. You can follow her on Twitter @CarrieMuskat and listen to her podcast. This story was not subject to the approval of Major League Baseball or its clubs.