Werth day to day with groin spasm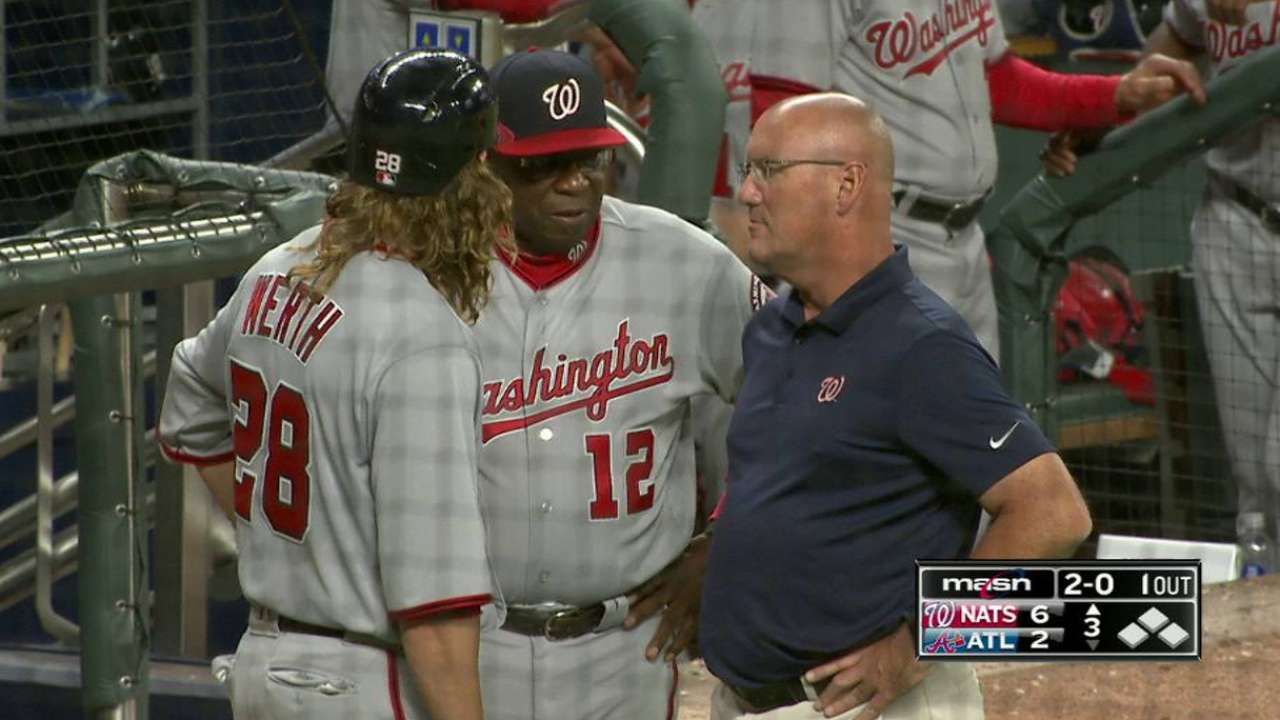 ATLANTA -- Nationals left fielder Jayson Werth exited in the third inning of Wednesday's 14-4 victory over the Braves at SunTrust Park after sustaining a groin spasm on a check swing.
After holding back on an offering from right-hander Julio Teheran, Werth grimaced and called trainer Paul Lessard from the dugout before he left the game for what Werth called precautionary reasons. Chris Heisey continued the at-bat and remained in left field.
Werth said he has dealt with the injury before, but he has never landed on the disabled list for it and usually feels better after a few days.
"There's been times where I don't miss any time," Werth said. "But we'll see how I wake up. Even if I'm feeling good, I doubt [manager] Dusty [Baker] will have me in there tomorrow, but that's entirely up to him. We'll see how I wake up and go from there."
Werth, 37, had been playing well to start the year, hitting .289/.347/.489 with three home runs in 13 games. He knows his body well, and he and Baker are usually cautious in order to get the veteran through a full season.
Normally, Werth said he feels the injury starting to develop before it gets aggravated, but he had not felt anything leading up to it this time. Still, Werth did not sound overly concerned on Wednesday night.
"I'm thinking hopefully just a couple days, maybe," Werth said. "But we got to see how I am tomorrow. It's something I've had in the past, been able to manage it. So I'm hoping it's nothing serious."
Jamal Collier covers the Nationals for MLB.com. Follow him on Twitter at @jamalcollier. This story was not subject to the approval of Major League Baseball or its clubs.