Brewers on record-setting homer pace
Milwaukee leads the Majors with 29 dingers through 16 games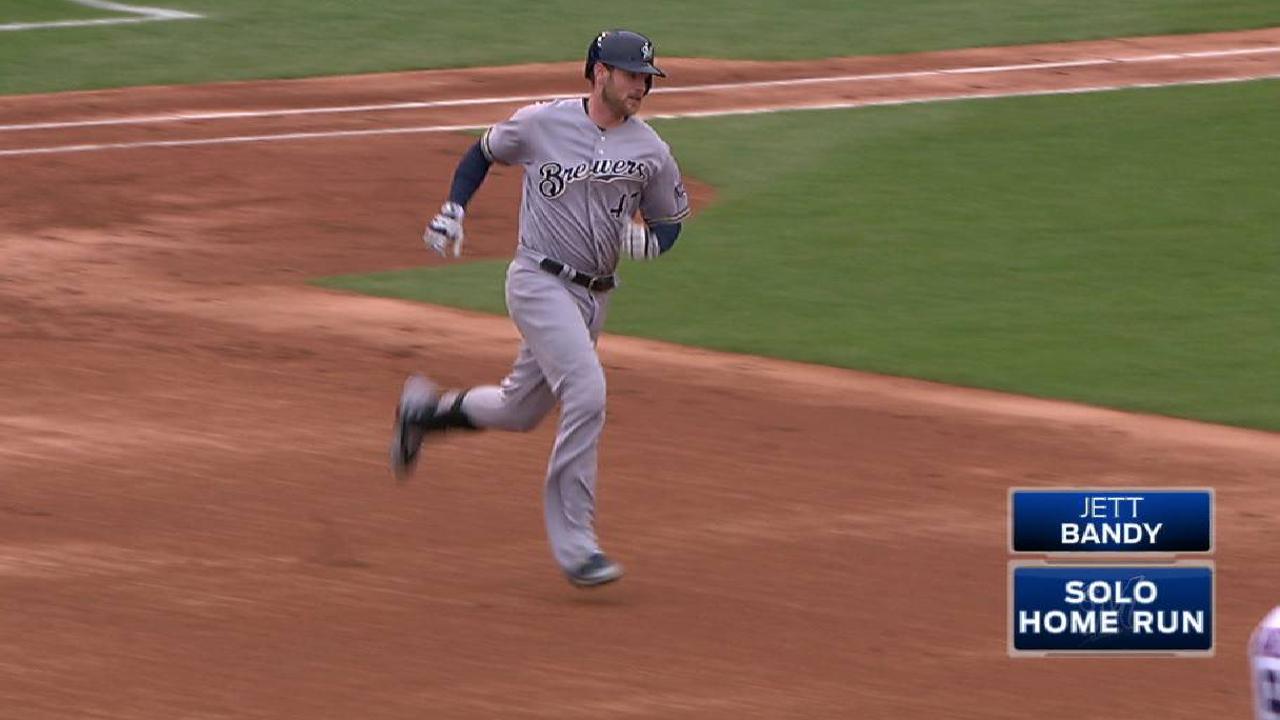 CHICAGO -- The Brewers became the first team in history to release a reigning home run champion when they cut loose Chris Carter in November, but one wouldn't know it from the way baseballs have been leaving ballparks so far in 2017.
A home run beat the Brewers on Wednesday -- Addison Russell's three-run shot in the bottom of the ninth -- but Travis Shaw and Jett Bandy went deep earlier in the game to account for three-quarters of Milwaukee's offensive output in a 7-4 loss at Wrigley Field. Sixteen games into the season, the Brewers lead the Major Leagues with 29 home runs, putting them on a record-breaking pace.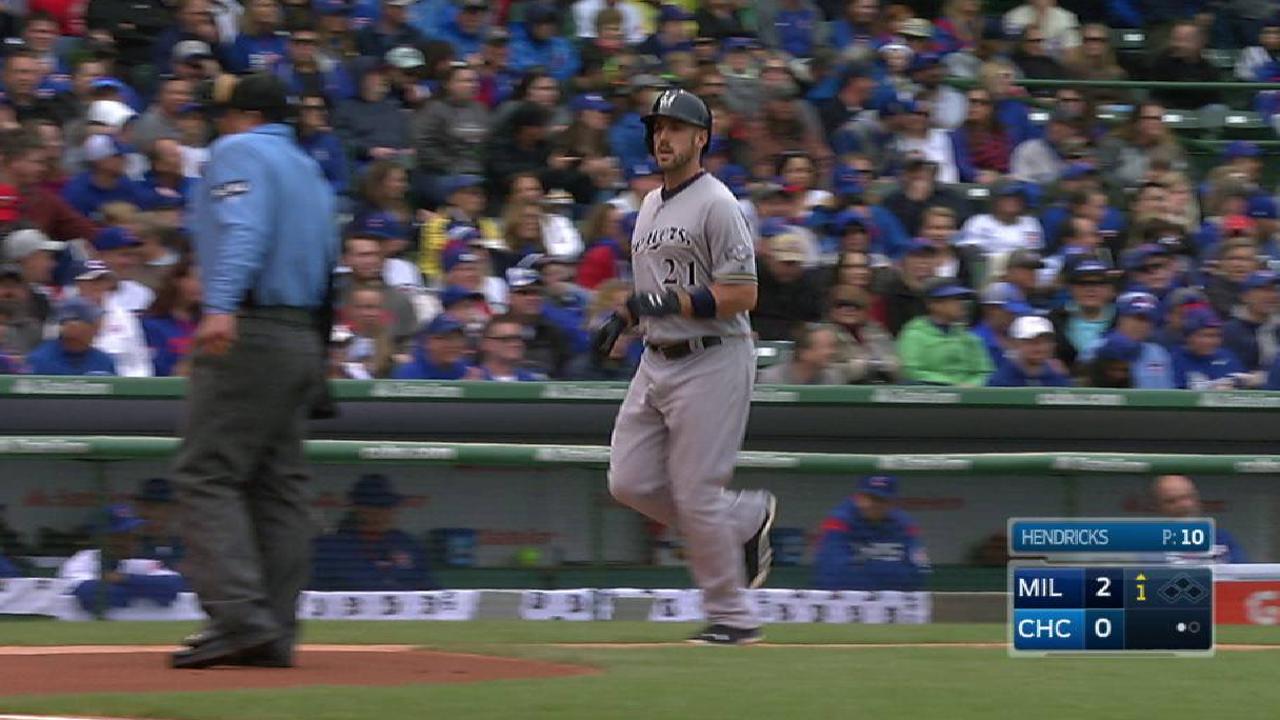 "Look at the Brewers. They've been puncturing hurricane force stuff," Cubs manager Joe Maddon said, a reference to home runs into the wind during the opening and closing games of the series. "It's incredible what they've been doing. To beat them two out of three here when they're at the top of their offensive game is pretty good."
At their current rate, the Brewers would hit 293 home runs this season. That would be an all-time record, breaking the mark Ken Griffey Jr. and the Seattle Mariners set by blasting 264 dingers on the way to winning the American League West in 1997.
The Brewers' record is 231 home runs in 2007, led by Prince Fielder's 50. They last led the NL in home runs in 2012, with 202.
Could this year's team pack similar punch?
"It's two weeks into the season so I haven't thought twice about that," manager Craig Counsell said. "You just put some good swings on the ball and right now it's going out of the park. I don't have any idea if it's going to continue. You hope it does, obviously.
"We're going to be a high-strikeout team and I think we're going to hit some home runs. But that's offense. That's runs. The No. 1 thing is putting runs on the board -- however we do that, I'm happy with."
Led by Eric Thames (seven home runs), Ryan Braun (five) and Shaw (four), the Brewers have gone deep in 14 of their 16 games (88 percent), and have hit multiple home runs in 10 of 16 (63 percent), including the last five games in a row. The franchise records in those categories, not surprisingly, come from '07, when Fielder & Co. homered in 80 percent of their games and hit multiple home runs in 40.7 percent.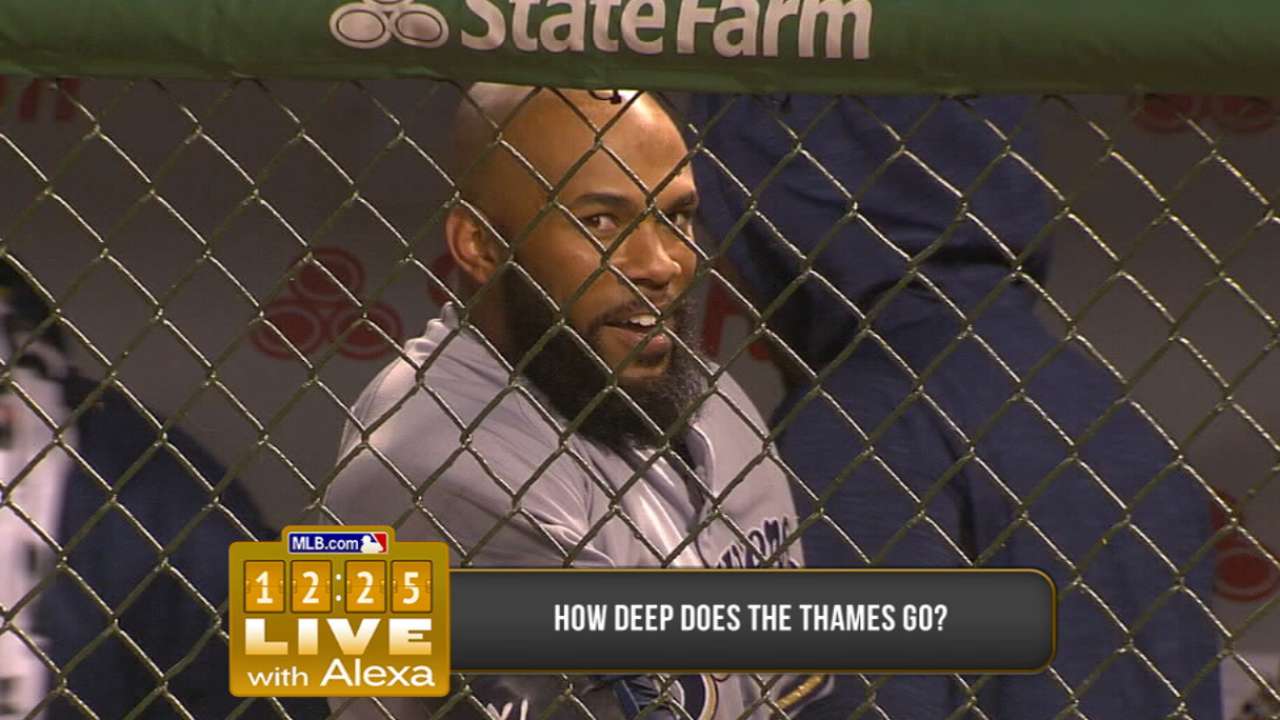 Is this sustainable?
"I'm not sure right now," said Shaw, whose two-run homer in the first inning Wednesday put the Brewers on the board. "This is my first time in this division, and from what I've been told, most of the parks are pretty hitter-friendly. Once the weather warms up, you would think that it would continue a little bit. Some guys are on stretches right now that I don't think are sustainable for the whole year, but, again, you never know."
Shaw may be one of those players, not in terms of his home run total -- four -- but the rate he's hitting for extra bases. Twelve of his 14 hits have been extra-base hits.
"I can't explain that," Shaw said. "I mean, I would like my average [.237] to be a little higher, but for where it is and the damage I have done with that average, I can't complain so far."
Adam McCalvy has covered the Brewers for MLB.com since 2001. Follow him on Twitter @AdamMcCalvy, like him on Facebook and listen to his podcast. This story was not subject to the approval of Major League Baseball or its clubs.