Bryce as nice: Harper's 2nd HR of night a slam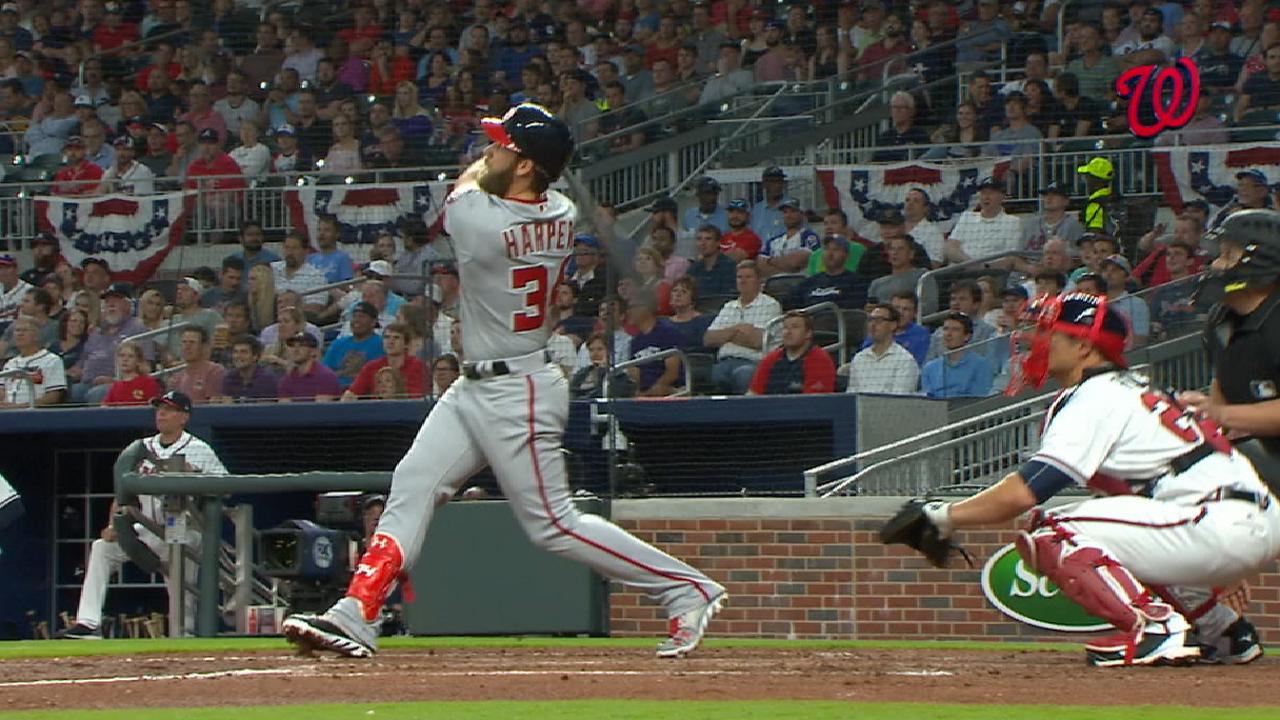 ATLANTA -- Bryce Harper insists he has no explanation as to why he has had so much success against Braves ace Julio Teheran. And yet, he bested him again in the Nationals' 14-4 victory on Wednesday night at SunTrust Park.
Harper hammered a pair of home runs -- on the first pitch he saw from Teheran in the first inning for a solo homer and in the second for a grand slam. Harper is now 15-for-33 in his career against Teheran with three doubles and seven home runs, the most he has hit against any pitcher.
"Obviously, he's hit me pretty good. He's one of the best hitters in the game, and I give him the credit," Teheran said. "But this is a long season. Today was his day. He got me twice, and we'll see what is going to happen the next time we face him."
• Grand slams mean 40% off pizza
Added Braves first baseman Freddie Freeman: "That's one of those things you can't explain. I'm sure Julio has thrown every pitch to him. It's just one of those things when you're in the box, you're just comfortable. The first 35 at-bats went Bryce's way, hopefully these next 35 go Julio's way."
Harper recorded his 12th career multi-home run game after he began the day with a solo shot in the first inning that came off his bat at 103 mph and traveled an estimated 388 feet, as tracked by Statcast™. In the second, Harper launched his third career grand slam -- two of which have come off Teheran -- which traveled 415 feet into center field.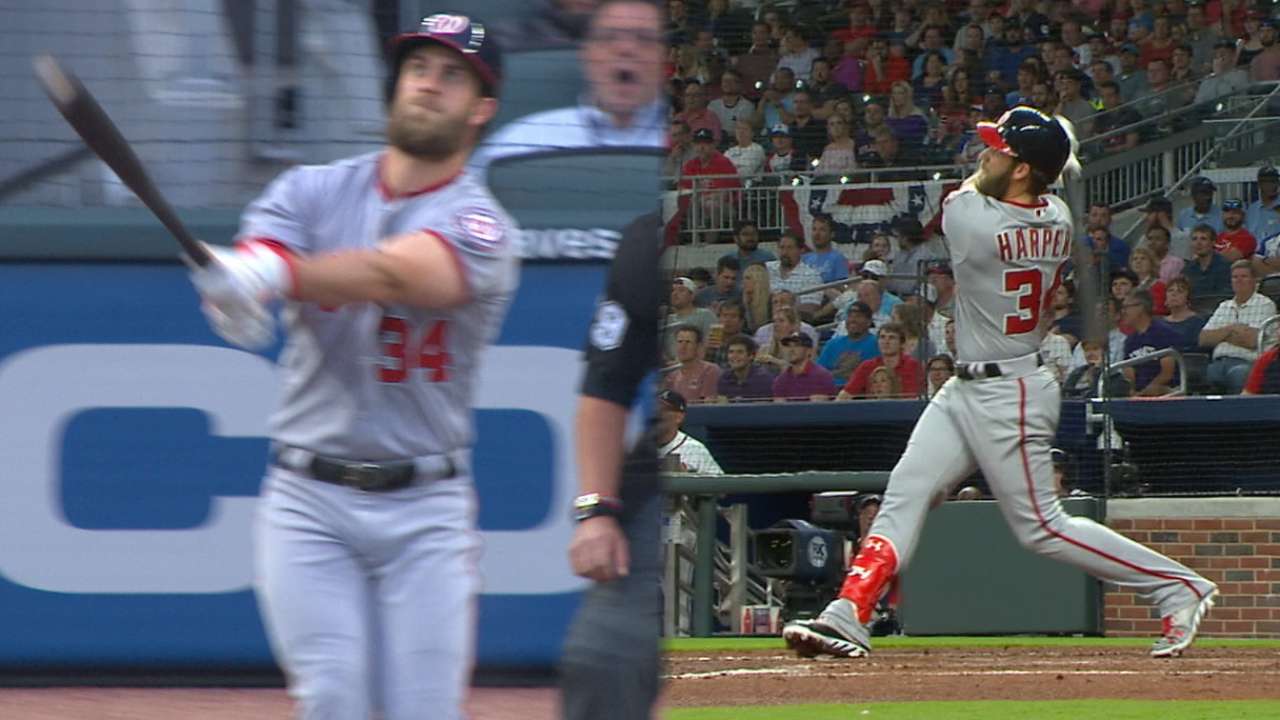 "Any given day they can make you look dumb," Harper said. "Good pitching always beats good hitting. It's just part of the game, part of the process. I just try to go up there and respect the guy on the mound, of course, and try to have good at-bats. I try to see a pitch over the plate and get it done."
But perhaps it does not matter who is on the mound against Harper right now. He finished the game 4-for-4 with a walk and five RBIs. He has reached base in eight consecutive plate appearances, one shy of his career high. Harper is batting .404 on the year with a 1.362 OPS and six home runs, and he continues to look like one of the most fearsome players in the Majors.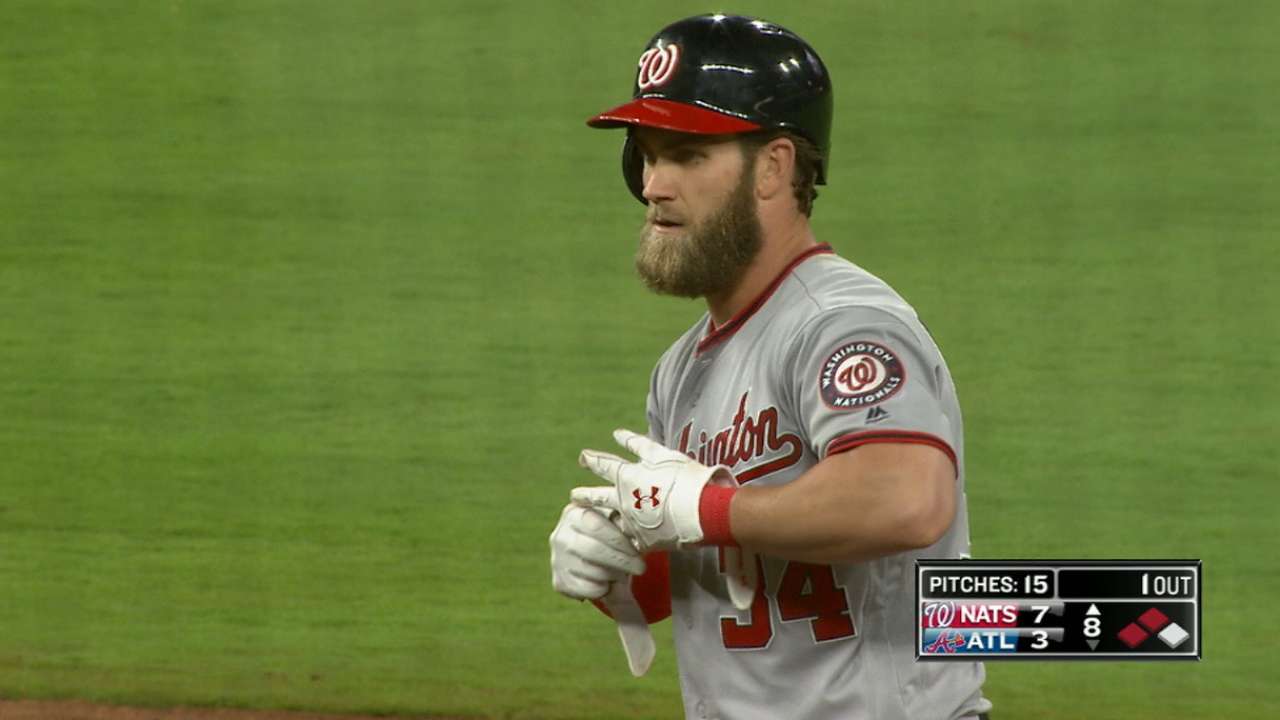 "He can be a really good player at times," Nats left fielder Jayson Werth said. "That season he had a couple years ago, that was one of the best seasons I've ever seen."
Jamal Collier covers the Nationals for MLB.com. Follow him on Twitter at @jamalcollier. This story was not subject to the approval of Major League Baseball or its clubs.