Freeman sets Atlanta record on home run
Braves 1B reaches safely in 12 straight plate appearances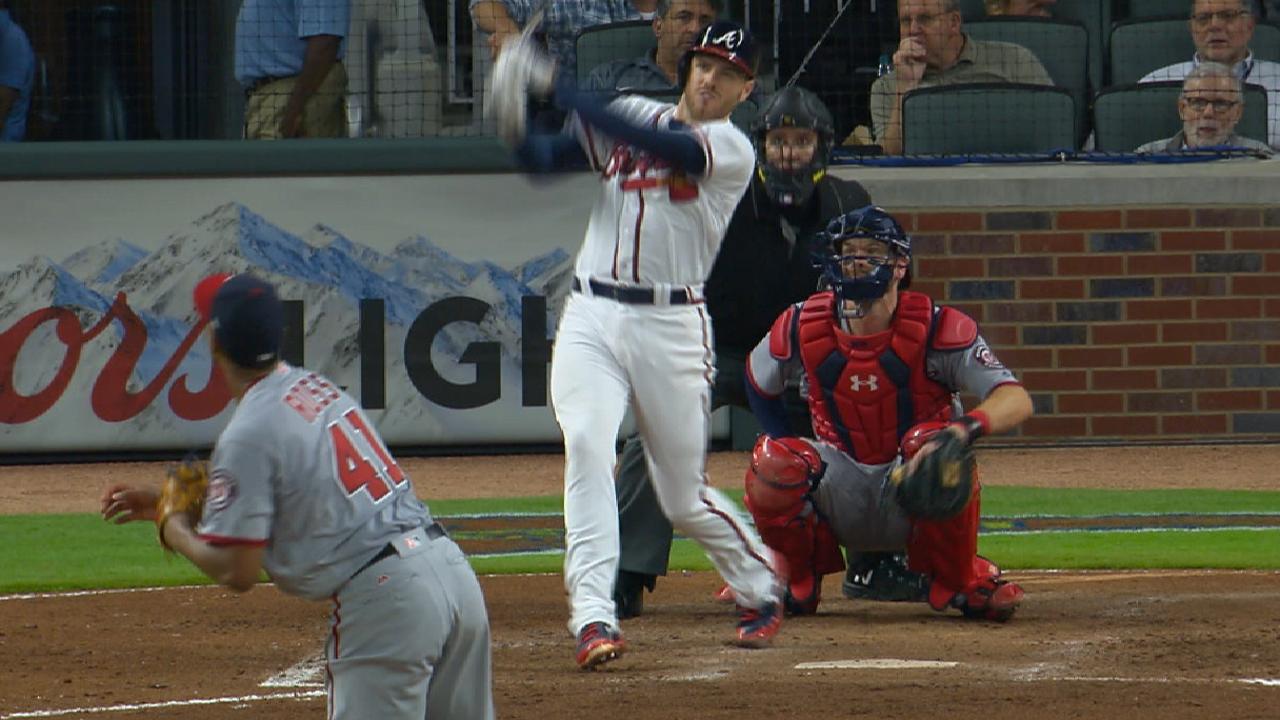 ATLANTA -- Freddie Freeman can now lay claim to having done something never previously accomplished in Atlanta Braves history. As for what he has achieved over the past 10 days -- or even the past 10 months -- there are countless Major Leaguers who only dream of generating that kind of production.
Freeman extended one of the most impressive hot streaks of his career and secured another spot in the record book during Wednesday's 14-4 loss to the Nationals at SunTrust Park. His third-inning solo homer off Joe Ross made him the first player in Atlanta Braves history to reach safely in 12 consecutive plate appearances.
"What he just did was pretty unbelievable," Braves outfielder Nick Markakis said. "You don't see that too often. It just shows you what kind of player he is and what kind of presence he is at the plate."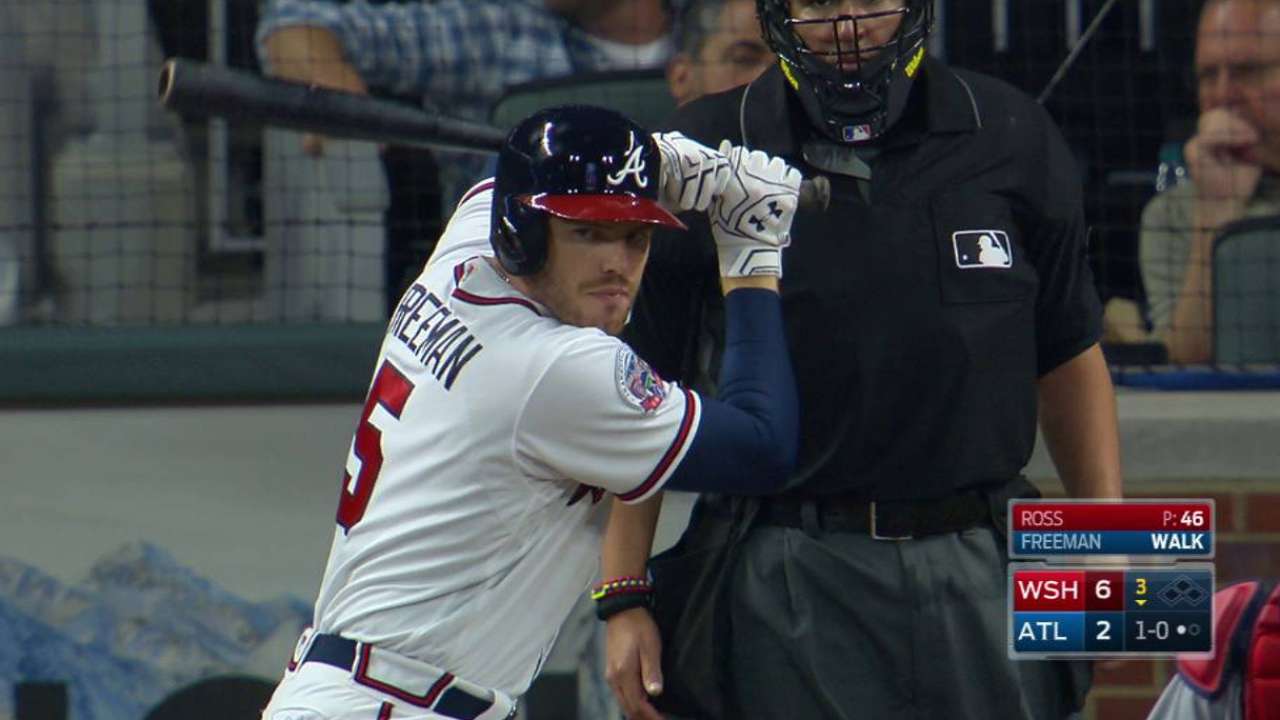 Freeman matched the Atlanta record Jeff Burroughs had previously set in 1978 with a first-inning walk, then made it his own with the solo shot, which accounted for his sixth home run within a span of 27 at-bats dating back to April 9, when he cleared the outfield wall twice during a loss in Pittsburgh.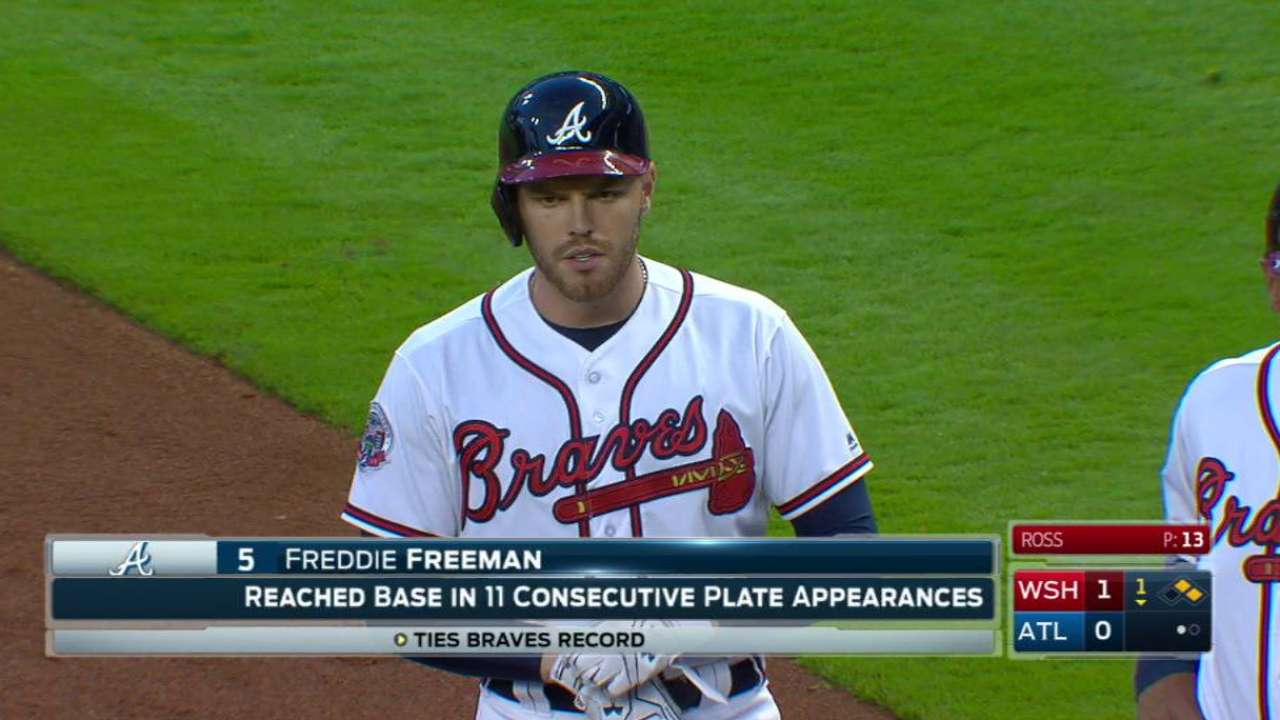 Before the record-setting streak concluded with a sixth-inning groundout against Ross, Freeman had collected seven hits and drawn five walks within a span of 12 plate appearances dating back to Sunday's sixth inning against the Padres. Freeman's streak marked the longest in the Majors since Boston's Dustin Pedroia reached safely in 12 consecutive plate appearances last August. It was the longest by a National League player since San Diego's Brian Giles was not retired over 13 straight plate appearances in June 2005.
"It's one of those streaks you really can't explain," Freeman said. "I've just been feeling pretty good. It was going to end sometime, I was hoping it wasn't going to end tonight. I feel good up there. Hopefully I can keep it going tomorrow."
Freeman has slashed .440/.533/.920 and tallied six home runs through this season's first 14 games. Over his past nine contests, he has been on a different level, hitting .586 with a 2.021 OPS. He has amassed 39 total bases in 37 plate appearances during this span.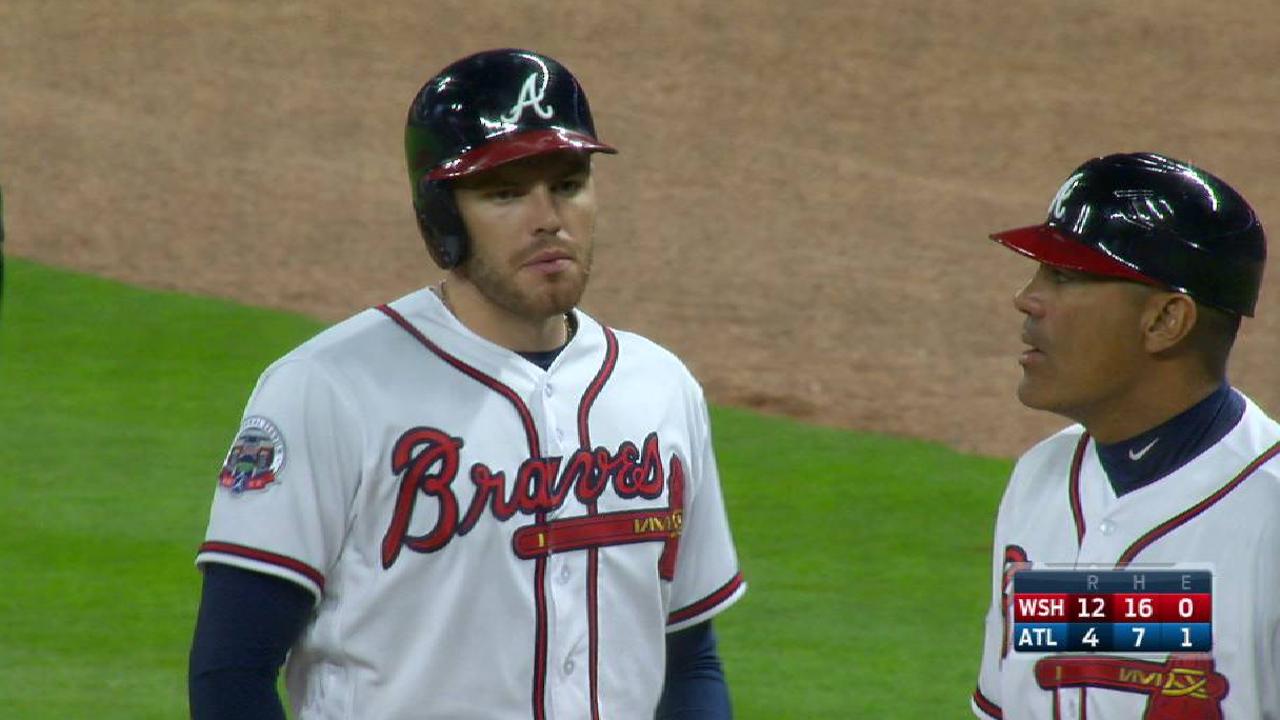 While this might be the best short stretch of his career, Freeman has been producing eye-popping statistics since the middle of June 2016, when he distanced himself from an early-season slump and the wrist ailment that had burdened him throughout the '15 season.
Freeman has compiled a .351/.448/.691 line and tallied 30 home runs over the 482 plate appearances dating back to June 15, 2016. The 1.139 OPS easily leads the Majors. Joey Votto ranks second at 1.066, with Mike Trout third (1.023).
"I can't tell you what clicked, it just has," Freeman said. "I don't really want to figure it out because I don't want to think I've figured it out and then all of a sudden it's gone. I'm just trying to hit a soft line drive to the shortstop. I'm just trying to use my hands, and good things are happening."
Mark Bowman has covered the Braves for MLB.com since 2001. This story was not subject to the approval of Major League Baseball or its clubs.