MLB.com Columnist
Phil Rogers
5 reasons Cubs are better than so-so start
World Series champions feature strong rotation, crafty manager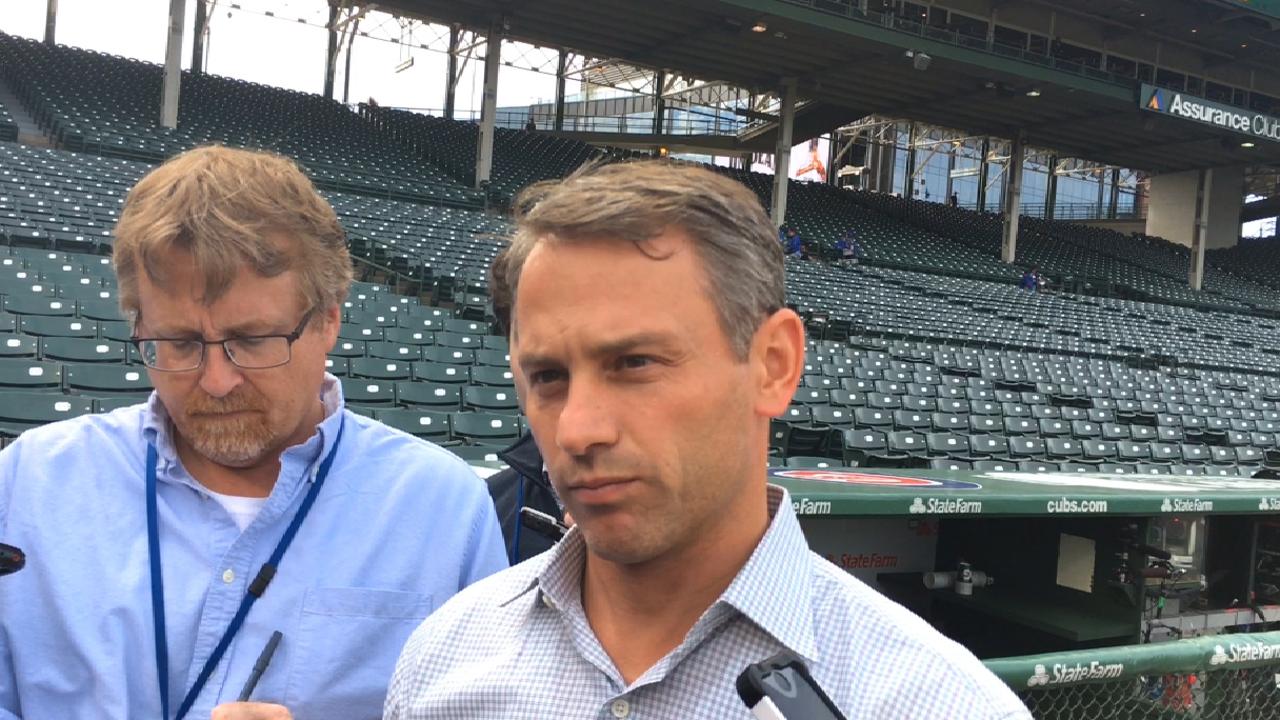 CHICAGO -- Got a problem with the Cubs? I thought I had something until I talked to manager Joe Maddon on Wednesday.
Kyle Schwarber, if you haven't noticed, isn't your prototypical leadoff hitter. Maybe he's the reason the Cubs scored three runs or fewer eight times already -- well, not Schwarber himself (who doesn't like Schwarbs?), but Maddon batting him leadoff.
Hey, Joe, Babe Ruth didn't hit leadoff, you know.
"Honestly, I love where we're at [with the leadoff spot]," Maddon said. "I think it enhances his potential to be productive. ... I'm looking at his opportunities to drive in runs, and I think they're there. To see him up at the plate more often is really fun. Honestly, I don't see it inhibiting his anything; I think it's enhancing."
Well, as usual, Maddon has a point.
In part because Maddon has generally been hitting his pitcher eighth and a rotating cast including Javier Baez, Albert Almora Jr. and Jon Jay ninth, Schwarber is averaging one at-bat per game with runners in scoring position. That's about the same as he had as a rookie in 2015, when Schwarber generally hit second (behind Dexter Fowler).
But here's a big difference between now and then: Schwarber has already drawn seven walks in runners-in-scoring-position situations. That equals the total of walks he had in those spots in 2015, when he came up in June and played 69 games.
Even with Kris Bryant, Anthony Rizzo and Ben Zobrist stacked behind him, pitchers aren't consistently challenging Schwarber. He's hitting only .232 but he has three homers, eight RBIs, a .368 on-base percentage and an .814 OPS.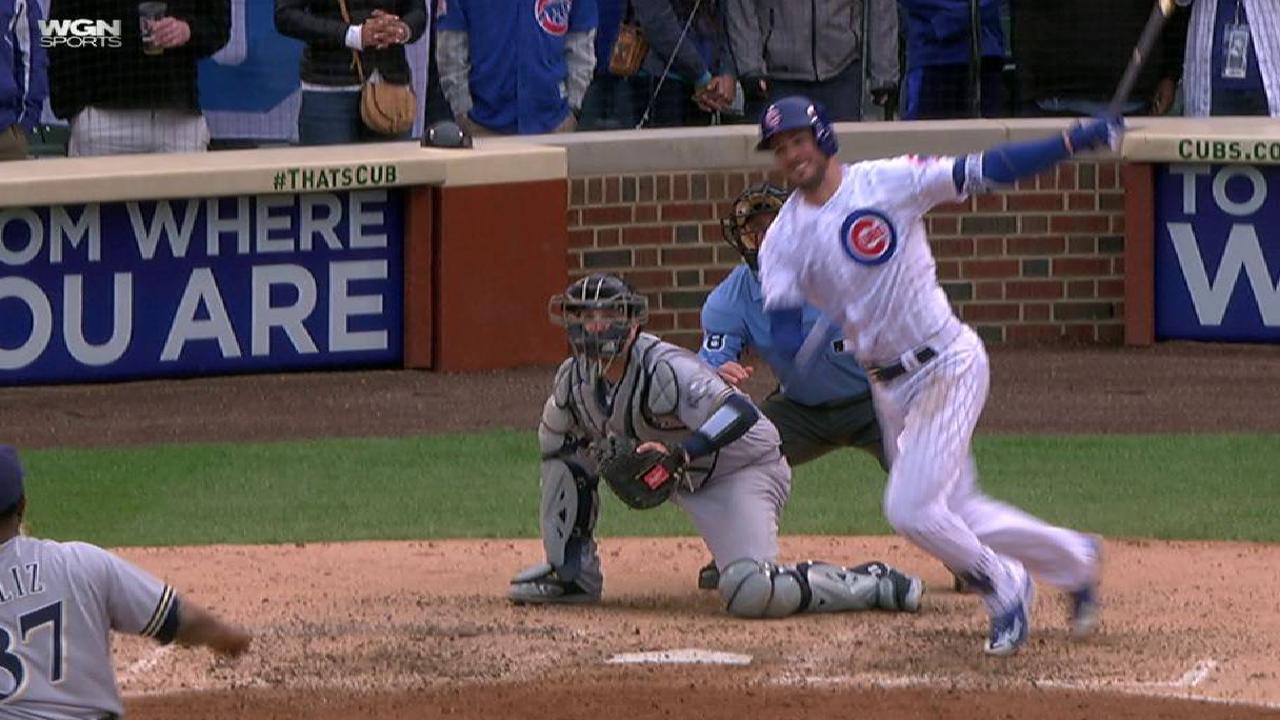 "I love where he's at," Maddon said. "I think he's doing a great job. If you look at his numbers, they're pretty spectacular, already."
It's easy to find issues with the Cubs, but even as they've mostly sparred in the early rounds the knockout punch is never far away.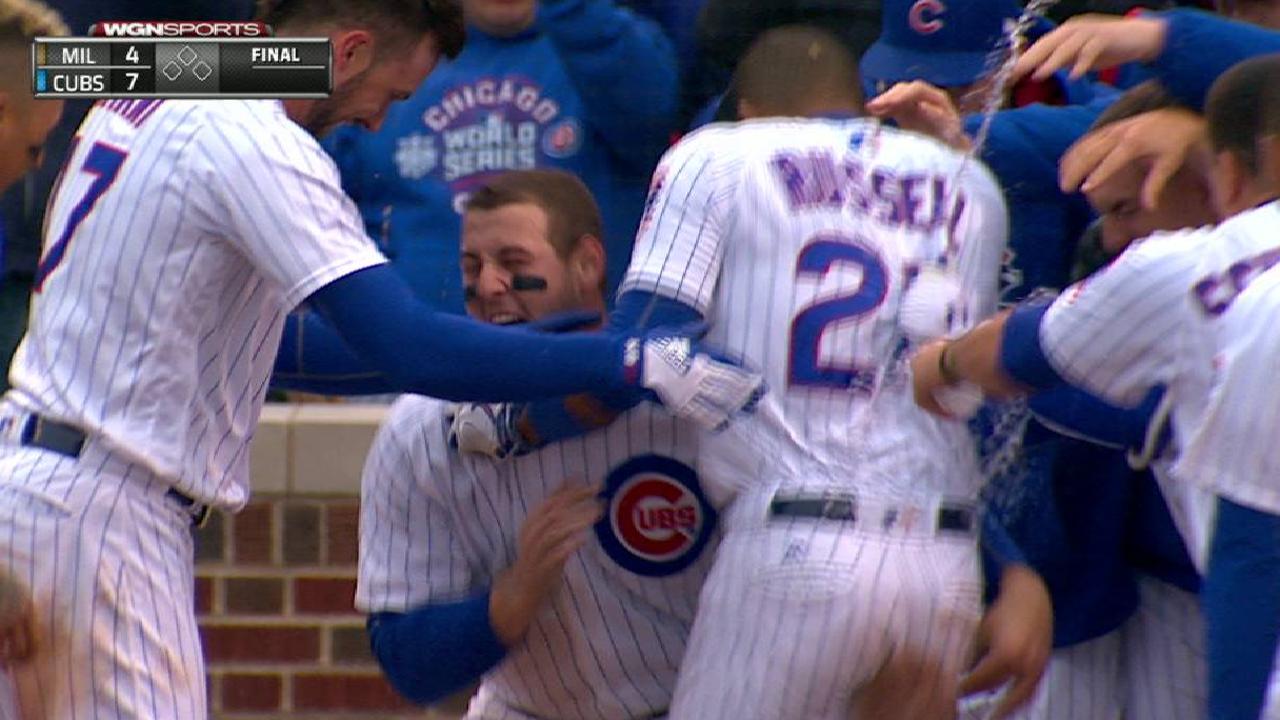 Ask the Brewers, who wound up with a 7-4 loss on Wednesday after asking Neftali Feliz for a three-out save. This is largely the same group that took off after Schwarber arrived in 2015, playing .659 baseball over 226 regular-season games. Don't write off another run at 100 wins because the Cubs were only 6-7 a couple of days ago.
Among the many things going for them:
1. The rotation is money.
Despite the 2016 exploits of Bryant, Rizzo and fielders who played the best team defense in more than 40 years, Maddon consistently praised his starting pitchers as the key to his 103-win team. The group that posted a 2.96 rotation ERA is back mostly intact and likely to continue piling up quality starts, if not another sub-3.00 ERA.
There's some question whether Brett Anderson will fill the departed Jason Hammel's shoes, but not much doubt about Jon Lester, Jake Arrieta, Kyle Hendricks and John Lackey. The Cubs' rotation ranks seventh in the National League with a 3.60 ERA, with only Lester having operated at a consistently high level.
2. The options are plentiful, both on the 25- and 40-man rosters.
Take the leadoff spot, for example. If Maddon wanted, he could move Jay or Almora (both of whom have .440 on-base percentages) to the top of the order and hit Schwarber in the middle. Or he could switch Zobrist into the top spot. He had a .386 on-base percentage last season. Even Jason Heyward (.345 on-base percentage) is at least a theoretical candidate.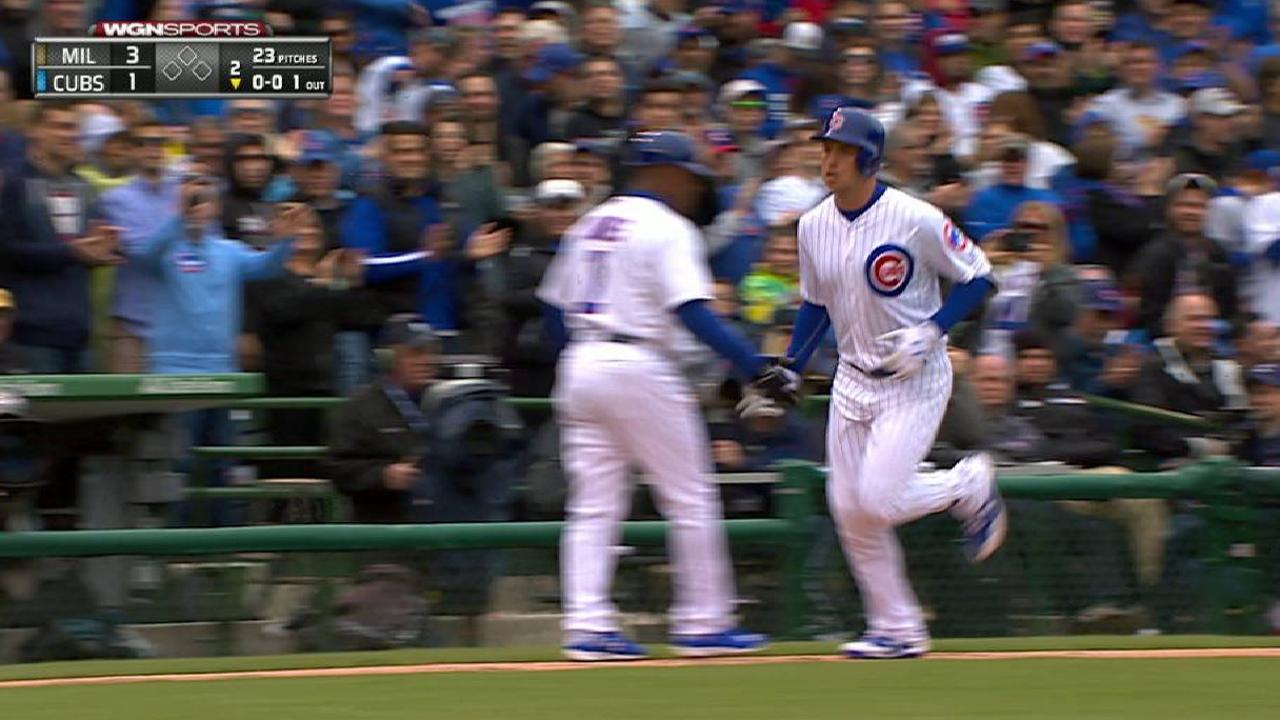 With Schwarber healthy again, the Cubs essentially have nine regulars for eight spots, with the overlap lying at second base between fielding whiz Baez and Mr. Reliable, Zobrist. Matt Szczur has been valuable as an extra outfielder, but it will be impossible to fit both him and lefty pinch-hitter Tommy La Stella onto the bench if Theo Epstein and Maddon add a 13th pitcher, which seems likely.
The Cubs also have at least two Major League-ready hitters at Triple-A in Ian Happ, yet another second baseman and ranked as the club's No. 2 prospect by MLBPipeline.com, and Jeimer Candelario, a switch-hitting third baseman. Their deep farm system puts them in good shape to add a part at midseason, but it killed Epstein to send Gleyber Torres to the Yankees for Aroldis Chapman last July. He'll loath to trade Eloy Jimenez, Happ or other elite prospects this summer.
3. Wade Davis is along for the full ride, and Mike Montgomery, too.
There should be no need to rebuild the bullpen in midseason this season, not with Davis added in the offseason to replace Chapman, who supplanted Hector Rondon as the closer. Davis is a high-level arm in a low-drama package, and that's the perfect fit for a team looking to repeat as World Series champions.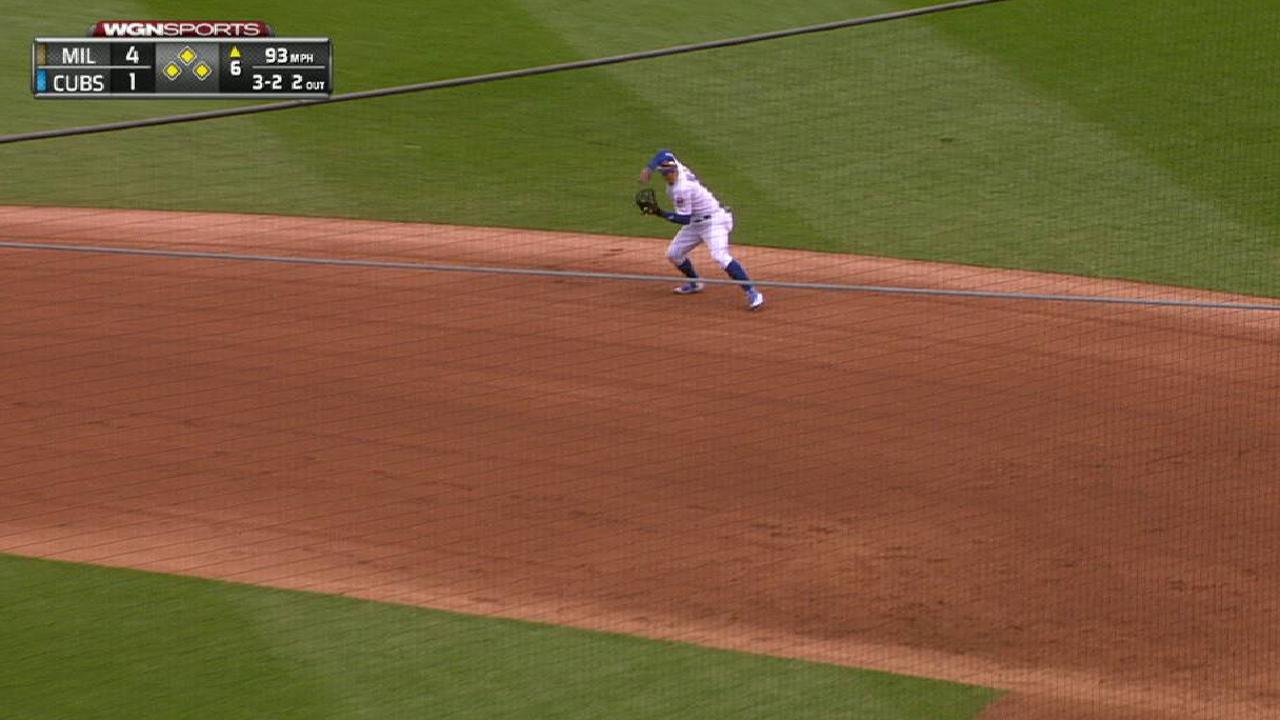 While early results have been mixed, this should be a deep bullpen. Koji Uehara brings a durable arm and a different look, and both Montgomery and 2016 rookie Carl Edwards Jr. are nice pieces to have all season. Lefty Travis Wood -- Maddon's version of "Every Day" Eddie Guardado -- will be missed, but Pedro Strop and Rondon are capable of hitting their strides again after health-related downturns late last season.
4. Speaking of health, there's no healthier team in the Major Leagues.
Lefty Brian Duensing is the only Cubs player who has been on the disabled list this season, and he was activated last week. Arrieta, Lester, Hendricks and Lackey combined to start 132 games last season, and they will look to duplicate that feat.
Teams won't talk about good health for fear of tempting fate. But outside of the Schwarber-Fowler collision last season, it's been smooth sailing for Epstein and Maddon.
5. Maddon is a long-haul trucker of a manager.
Nobody has a better understanding of how to consistently get Major League teams into September with a head of steam than Maddon. He rested Schwarber, Zobrist and Heyward on Wednesday heading into an off-day on Thursday, as he's always looking for ways to use his bench to lighten the load.
The Cubs were 23-10 and 21-11, respectively, the last five weeks of the past two seasons. Those are the numbers that stand the test of time, not a so-so start.
Phil Rogers is a columnist for MLB.com. This story was not subject to the approval of Major League Baseball or its clubs.