Outfield D has rough day behind Ramirez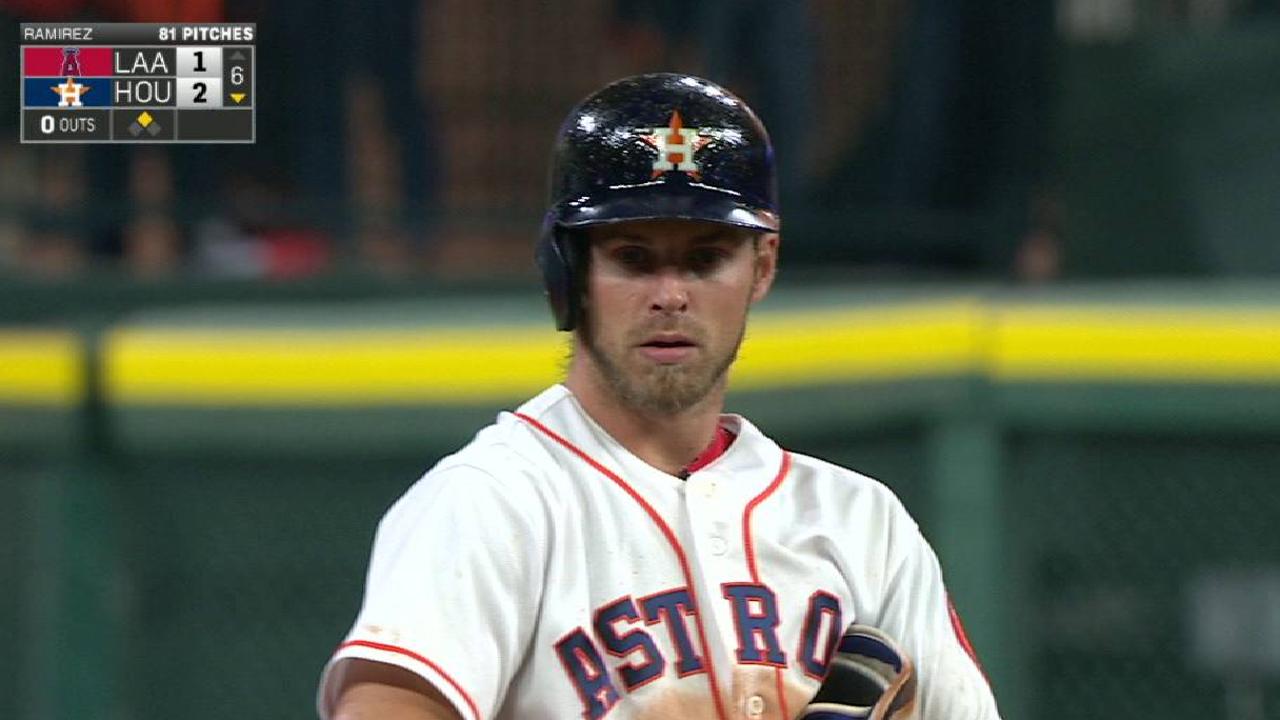 HOUSTON -- Right-hander JC Ramirez struck out a career-high nine batters in his second Major League start, but he was let down by the Angels' outfield defense in a 5-1 loss to the Astros on Wednesday night at Minute Maid Park.
Ramirez, who had made 111 relief appearances in the Majors before earning his first start against the Royals last week, allowed three runs on six hits with one walk over 5 1/3 innings. He effectively mixed his curveball and slider with his upper-90s fastball and at one point retired 10 consecutive Astros, including five strikeouts in a row.
It was a step forward for Ramirez, who surrendered five runs over five innings in his start in Kansas City on Friday.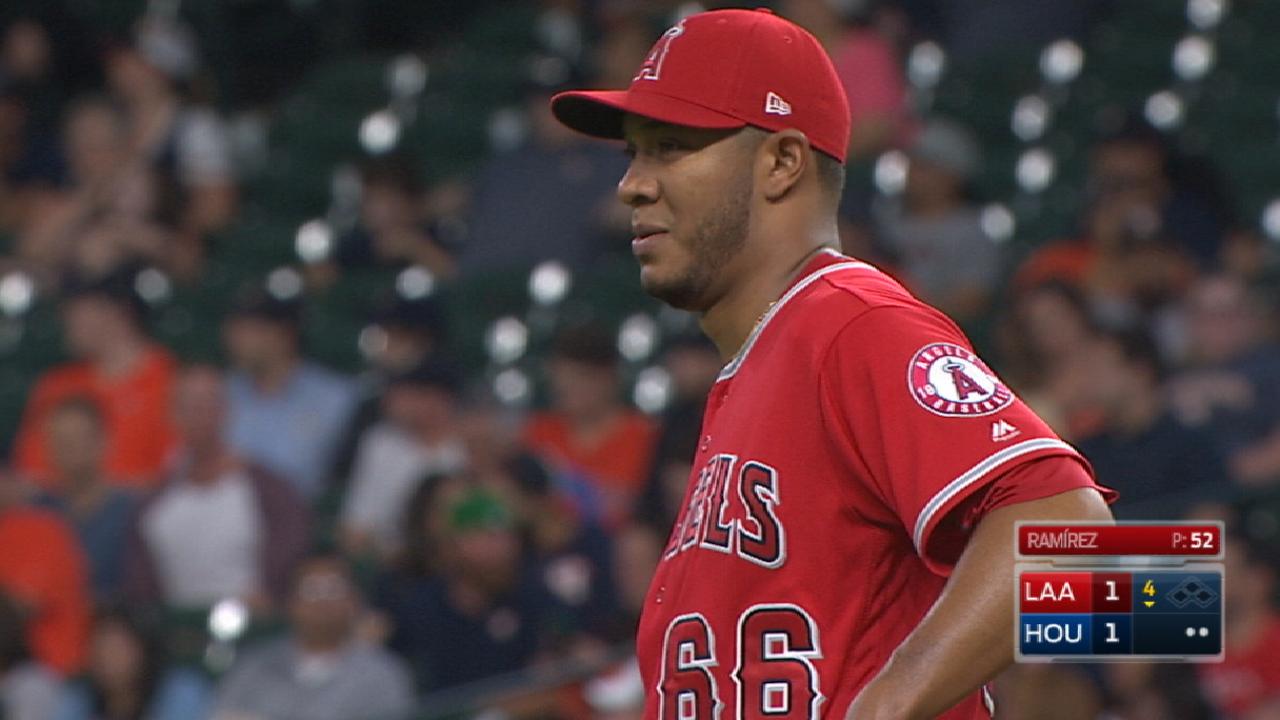 "Better than the last one," Ramirez said. "I think I was pounding the strike zone. I liked what I did today, but I think I threw too much off-speed. But it helped me when I was behind in the count, and it helped me put away those guys. I was pounding the zone pretty good."
Still, Ramirez was hurt by a few misplays in the outfield, which on Wednesday featured two players out of position with Jefry Marte in left field and Cameron Maybin in right. With left-hander Dallas Keuchel starting for the Astros, manager Mike Scioscia wanted to insert as many right-handed bats into the lineup as possible, so he gave the left-handed-hitting Kole Calhoun -- the Angels' primary right fielder -- a day off, deploying Maybin in right and Marte in left.
But Maybin and Marte have limited experience at those respective positions, and it showed.
In the first inning, Marte let a fly ball off the bat of Josh Reddick fall under his glove for a one-out triple. Maybin was subsequently fooled by Jose Altuve's blooper to right field, allowing it to fall for an RBI single, giving the Astros a 1-0 lead. Marte had a 35 percent catch probability on Reddick's triple, while Maybin had a 52 percent catch probability on Altuve's single, according to Statcast™.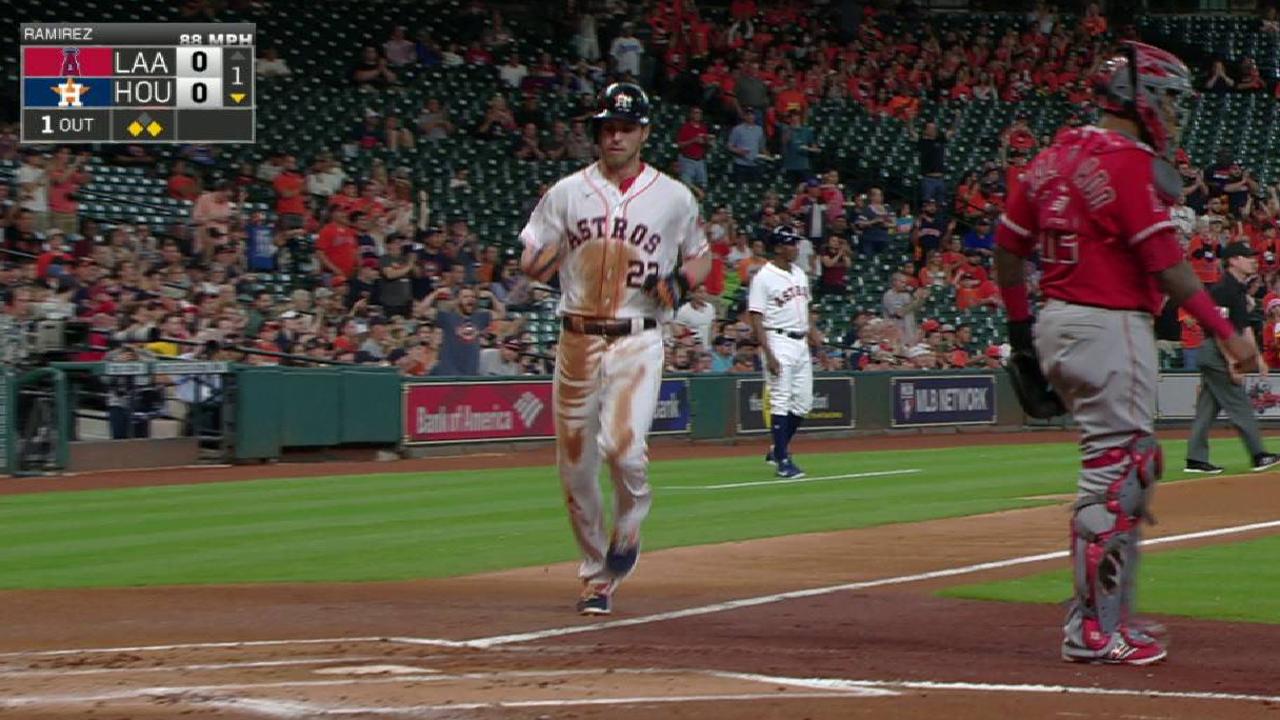 "I think I might have jumped just a tick too early," said Maybin, who was making his first career start in right. "Looking at it, it barely went under my glove. But what can you do? The effort was there, but no catch."
Maybin has spent most of his career as a center fielder and said that he believes he might have only shagged balls in right once before Wednesday's game.
"I'll make sure the following days, the following weeks, that I just kind of rotate and make sure I get comfortable out there," Maybin added. "Because when Kole needs a day, I'll probably be out there."
Marte also could not handle a fly ball at the left-field wall in the sixth, which led to a leadoff double for Reddick. That ball had a hit probability of just 16 percent, according to Statcast™. Reddick later scored on Evan Gattis' RBI single to put Houston ahead, 3-1.
Marte is a natural corner infielder, but he started playing left field for the first time in his career last year and made 27 appearances there in '16. Despite not playing any left field during Spring Training, Marte insisted that he feels "comfortable" at the position.
"Those two balls were just out of his reach," Scioscia said. "He's fine. He's not going to be Cam [Maybin] and he's not going to be Ben [Revere], but we need his bat in the lineup, and that's one way to get it in there."
Maria Guardado covers the Angels for MLB.com. This story was not subject to the approval of Major League Baseball or its clubs.